MD MILLION: MISS NONDESCRIPT GIVE SIRE MOSLER FIRST STAKES WIN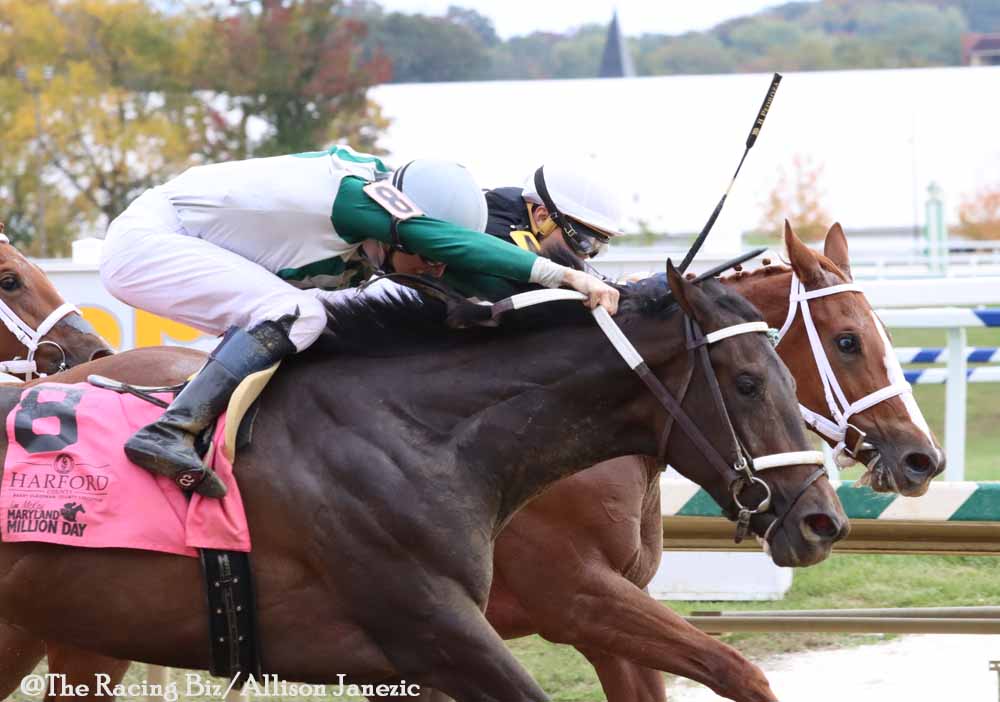 Frank Vespe

October 24, 2020
It took Miss Nondescript just about every inch of the stretch, but in the end she had just enough to surge late to win the $100,000 Maryland Million Lassie Saturday at Laurel Park.
The win was her first in stakes company, and the first stakes win, and Maryland Million win, for her sire Mosler. Mosler, whose oldest are two-year-olds this year, stands at Country Life Farm in Bel Air, MD.
"I thought this filly gave me a great effort today," said winning rider Trevor McCarthy, who one race previously had won the Maryland Million Ladies on the turf. "She had a nice break, and the pace was quick."

That quick pace came courtesy of Trip to Freedom, who led by two lengths after an opening quarter-mile recorded in 21.93 seconds, and by a length-and-a-half after a half-mile in 44.38 — both blazingly fast times for two-year-old fillies. Trip to Freedom, trained by Ricky Sillaman, had won at first asking against maiden claiming company by nine lengths.
Trip to Freedom's nearest pursuer through the opening half was the favorite, Street Lute, the winner of the Small Wonder Stakes at Delaware Park who is trained by Jerry Robb. But as the field turned for home, Trip to Freedom spurted clear again, while Miss Nondescript was beginning to rev up her run on the outside.
Trip to Freedom was still clear leaving the furlong grounds, but she was tiring, and Miss Nondescript was maintaining a grinding run. In the late stages, Street Lute mounted one last try in between rivals, and she and Miss Nondescript hit the wire together a length clear of Trip to Freedom, who held third.
The winning margin was a neck. Running time for the six furlongs on a fast main track was, officially, 1:10.13, though observers who hand-timed the race recorded a time a second slower.
Miss Nondescript paid $8.40 to win, and the exacta with the favorite returned $12.50 for a buck.
Miss Nondescript was bred in Maryland by her owner, Barak Farm. She began her career with a win at Monmouth Park under the tutelage of Wayne Potts, before shifting to Mike Trombetta's barn a few weeks back. Potts is forbidden from racing in Maryland.
"We've had this horse, you know, three or four weeks now, and she's done everything perfectly," Trombetta said. "Trevor did a great job."
"She really finished up strong today, and it was nice we had a pace to run at," McCarthy added.
The win, of course, is meaningful for Miss Nondescript's owner-breeder, but perhaps more consquential for Country Life Farm, where Mosler stands. Mosler is the leading first-crop sire in the Mid-Atlantic by starters, winners, and earnings. Getting the first stakes win is an important step, and doing it on a high-profile day like Maryland Million day raises the stakes.
"To have his first stakes winner here, those are big things for young sire," said Mike Pons, whose family owns Country Life. "And there's national eyes on all these guys, and there's, you know, a lot of pressure these two-year-old races all over."
Mosler, a son of War Front, won stakes on turf and dirt, and Trombetta had tried to start this filly on the lawn but the race came off the grass. That race, an easy win, proved she could handle the main track; Trombetta allowed she might yet find her way to the grass at some point.
First, though, he'll try to chart a course that gets her to the Maryland Juvenile Filly Championship. That race takes place at seven furlongs at Laurel Park on December 5.
Meanwhile, whether Mosler will make it as a stallion remains to be seen, but he checked off one important box with Miss Nondescript's win today.
"You haven't arrived until you win on Maryland Million day," Pons said.
LATEST NEWS