MD MILLION: HELLO BEAUTIFUL ROMPS IN DISTAFF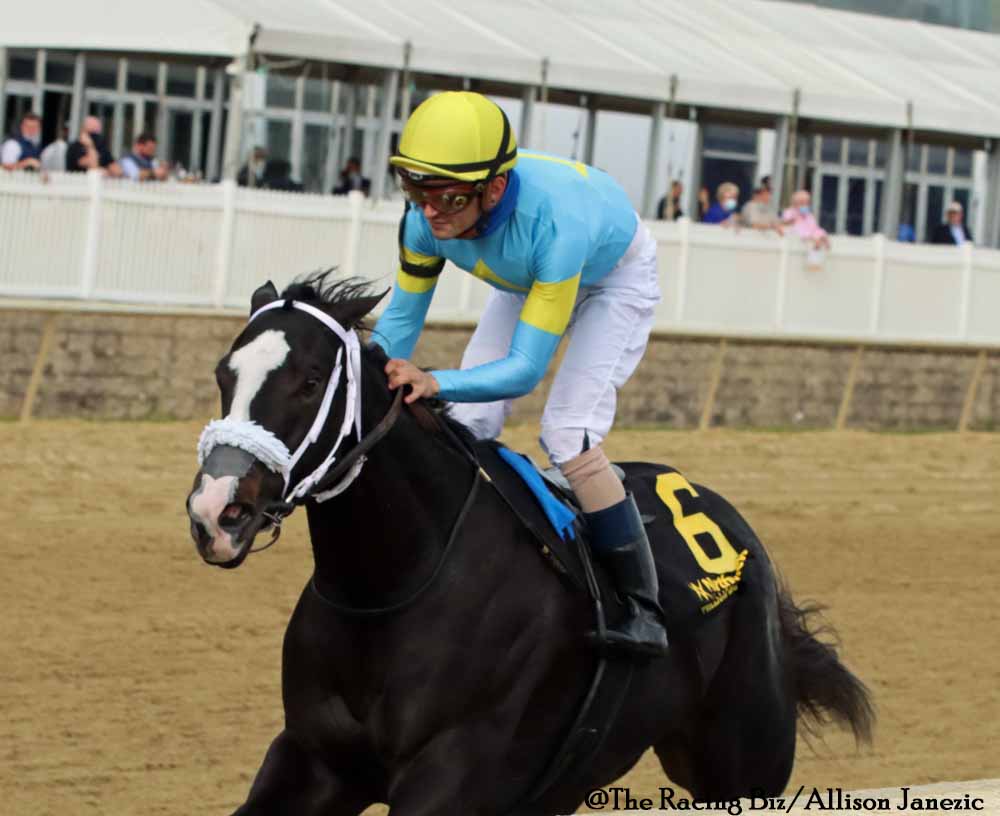 Ted Black

October 24, 2020
Heading into the latest edition of the $100,000 Maryland Million Distaff for fillies and mares at seven furlongs on the main track, much of the attention was focused on Hello Beautiful. The sophomore filly had attained Maryland Million success one year earlier in the Lassie and was seeking to regain that form for trainer Brittany Russell.
Sent out as the 1-2 choice with regular pilot Sheldon Russell — the husband of the conditioner — Hello Beautiful rarely had an anxious moment en route to an 11 1/4-length win.

Away first, Hello Beautiful was quickly forced to cede the early advantage to Limited View. The latter led the field the backside in a quick 22.30 seconds for the opening quarter-mile opener, but Hello Beautiful reclaimed the lead soon and led past the half in 45.06.
Hello Beautiful began to widen her advantage on the far turn and romped home in a sharp 1:21.84 for the seven panels.
A three-year-old daughter of Golden Lad trained by Russell for owners Madaket Stables LLC, Albert Frassetto, Mark Parkinson, K-Mac Stable and Magic City Stables, Hello Beautiful recorded just her second win from five starts this year and she now owns a 5-2-1 slate and nearly a $260,000 bankroll from 11 career outings. Her second Maryland Million victory helped atone for a tough campaign.
"This win means so much to me," said an emotional trainer Brittany Russell. "It's been a rough year for sure, but having her back at home and having Sheldon back aboard really made all the difference. He gets her on in the mornings and no one knows her as well as he does. She's very special to me. Her success is the reason that I have a lot of other horses in the barn right now. She truly is special to me."
Hello Beautiful had ended her freshman campaign in style, taking the Maryland Million Lassie then the Maryland Juvenile Filly Championship. She finished seventh in her sophomore debut on the turf on June 1 and won an allowance three weeks later.
But that hardly proved the springboard to success her connections were seeking. Hello Beautiful finished 11th in the Audubon Oaks at Ellis Park then sixth in the Grade II Prioress Stakes at Saratoga. She did, however, tune up for the Distaff by breezing five furlongs in a 1:00.8 on October 15, a bullet move that signaled her readiness for another Maryland Million triumph.
"She's always shown at home that she could be something special," jockey Sheldon Russell said. "Obviously at Ellis, we had no luck with the break. We've always thought she would rate, but it was just a clunker, so we threw that one out. Obviously, you take your chances at Saratoga and it just looked like, watching the race, that she was outrun by better horses."
When it comes to summarizing her success, jockey Sheldon Russell agreed with his wife's assessment that Hello Beautiful is far more fond of Laurel Park than she is of traveling to other ovals.
"Like Brittany says, she might be a horse for the course," Russell said. "She loves Laurel. She gives me some sort of feel here, and time-wise it's shockingly good how fast she can run and keep going. I wanted to put her to the test today because the waters get deeper and let's see what she really has. Ideally, I'll leave it up to them and see where she goes, but she gave me a dynamite performance today. It was a great job by Brittany and her team. It was against older horses, too, so I just wanted to see what she's got and she showed up today. Hopefully, we can keep it going and win a big one with her somewhere down the line."
LATEST NEWS