HOPPING HENRY LOOKS TO STRETCH – AND STRAIGHTEN – OUT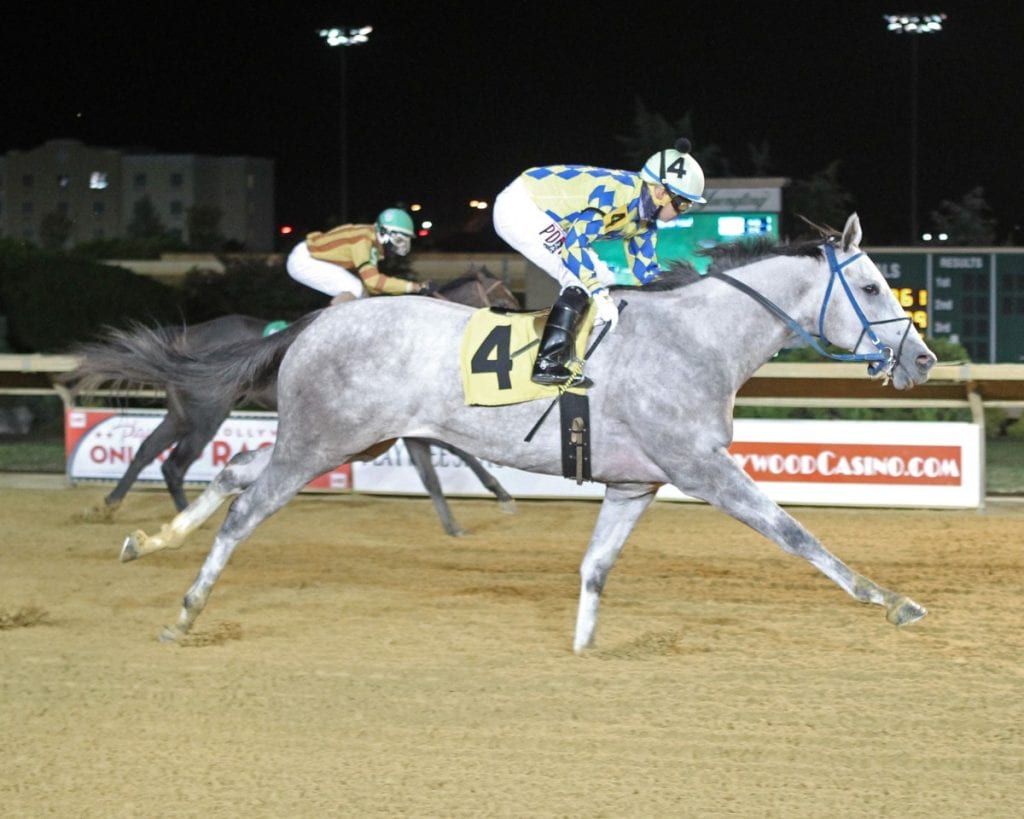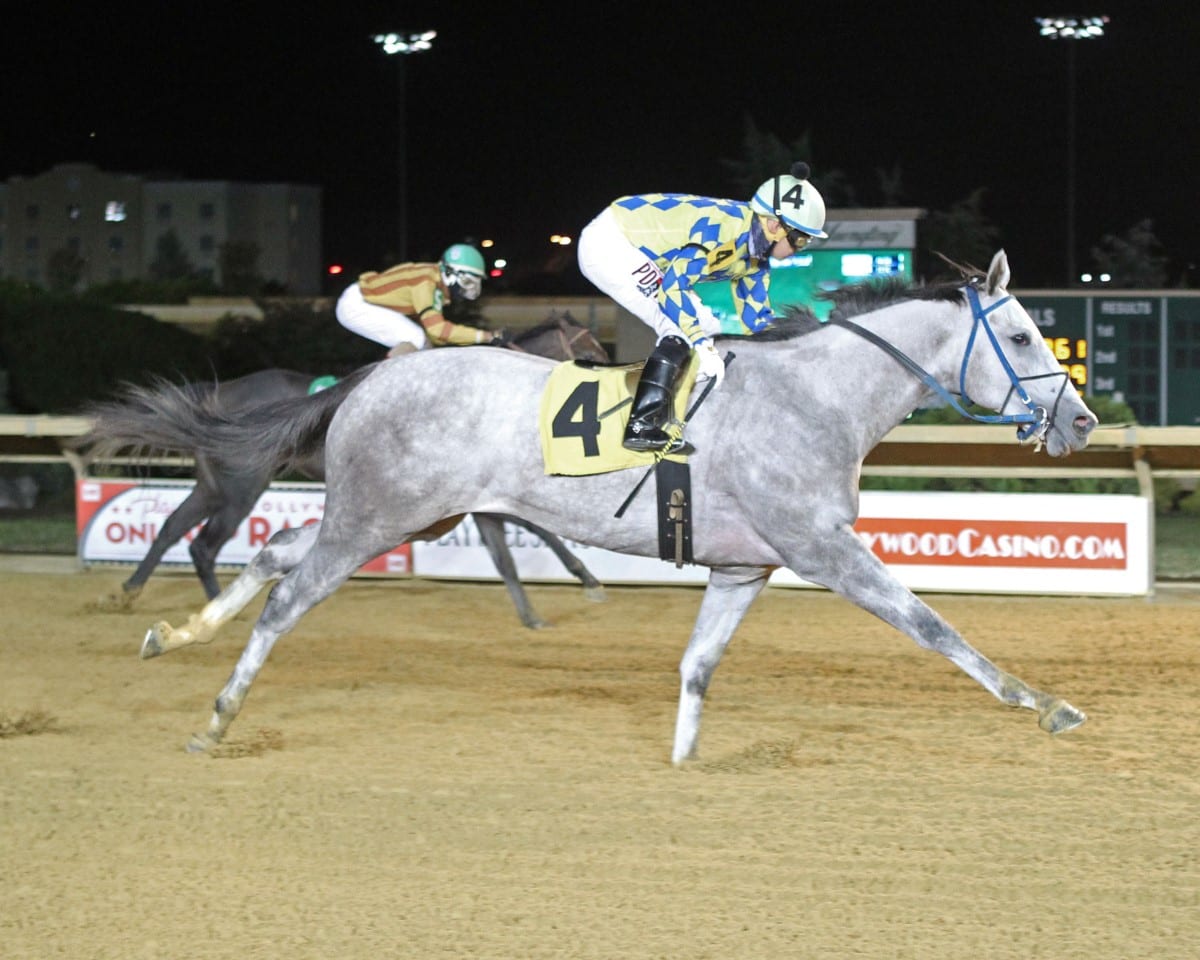 But in each of his last two starts, both of which were wins, Hopping Henry drifted out considerably in the lane. That prompted jockey Wesley Ho and Sterling to add blinkers for his workouts, a move the stewards initially did not allow for races.
"We worked him in blinkers prior to his last start, but the stewards wouldn't let us add them for his race," Sterling said. "I think he's really going to improve with the blinkers. He's worked with them and he's a lot better with them. I think the additional distance is also going to help him. He's learning to relax. He's got plenty of natural ability; he just needs the blinkers to keep his mind on what he's doing."
He'll need to relax. The 6 ½-furlong Moscarelli will be his first start around two turns.
Ho has been aboard the Juba gelding all three starts and had seen him improve considerably with each outing. But even he was unable to convince Charles Town head steward and former jockey Danny Wright that Hopping Henry needed the blinkers until after the Sterling trainee won the Mercer. He broke well to prompt the early pace then surged to command on the far turn while in the four- or five-path and held sway through the lane despite drifting well out into the center of the track.
"He really had worked well with them before his last start," said Ho, who will be seeking his first WVBC triumph since steering Fred High to a victory in the 2013 Classic for trainer John [Jerry] Robb. "I even asked Danny Wright if we could add them for the stakes, but he wasn't convinced that he needed them since he broke his maiden without them. But after the stakes, when he was five-wide on the turn and seven- or eight-wide in the lane, I think that showed him that he needs the blinkers. He's good now, but he's probably eight lengths better with the blinkers."
Hopping Henry had arrived for his career debut on July 4 off three consecutive bullet workouts, and the Sterling homebred was promptly made the 4-5 favorite at first asking. He broke alertly but engaged in a spirited duel with Youthinkthatsfunny through the first half-mile. That enabled Natural Attraction to rally from well of the pace and overhaul the top pair for a 25-1 shocker for trainer Javier Contreras.
Both Hopping Henry and Youthinkthatsfunny exited that event and graduated in their respective subsequent starts. Those two were then reunited in the Henry Mercer, but both avoided a speed duel, as longshot Uncle Funky sped to the early advantage. In the end, of course, Hopping Henry prevailed in the Mercer, while Youthinkthatsfunny was along for second.
"That first start he was just going easily through the first part, but he never saw that other horse [Natural Attraction] coming," Ho said. "He was even better that second start, but he was still drifting and looking around. Then in the stakes he was really good. I mean, he was just going easily down the backside and on the far turn and then in the lane we were seven- or eight-wide. I never really got after him. After that race I think the stewards were finally convinced that he needed blinkers."
Hopping Henry is listed as the 6-5 morning line favorite for the Moscarelli, which will be his first start with blinkers and first try around two turns. Although onlookers might view those changes as variables that could prove his undoing, Ho is convinced both will enable fans to see Hopping Henry's untapped potential.
"When we galloped him the other day with blinkers he was so much better," Ho said. "He's going to love the added distance. I don't think the two turns will be an issue. I think that's going to make him better. He's been improving with every start and now he gets to run with blinkers. I know he's much better with blinkers and the two turns will be to his liking."
Among the rivals he'll see in the Moscarelli are old friend Youthinkthatsfunny (9-2); the runner who bested him first time out, Natural Attraction (5-1); the Jeff Runco-trained Pilot in Command (4-1), who's been favored in all three of his starts; and Officer Appeal (12-1), the only horse here to own a win at the distance.
LATEST NEWS