AMID WORST OF TIMES, PIMLICO OFFERS BEST OF RACING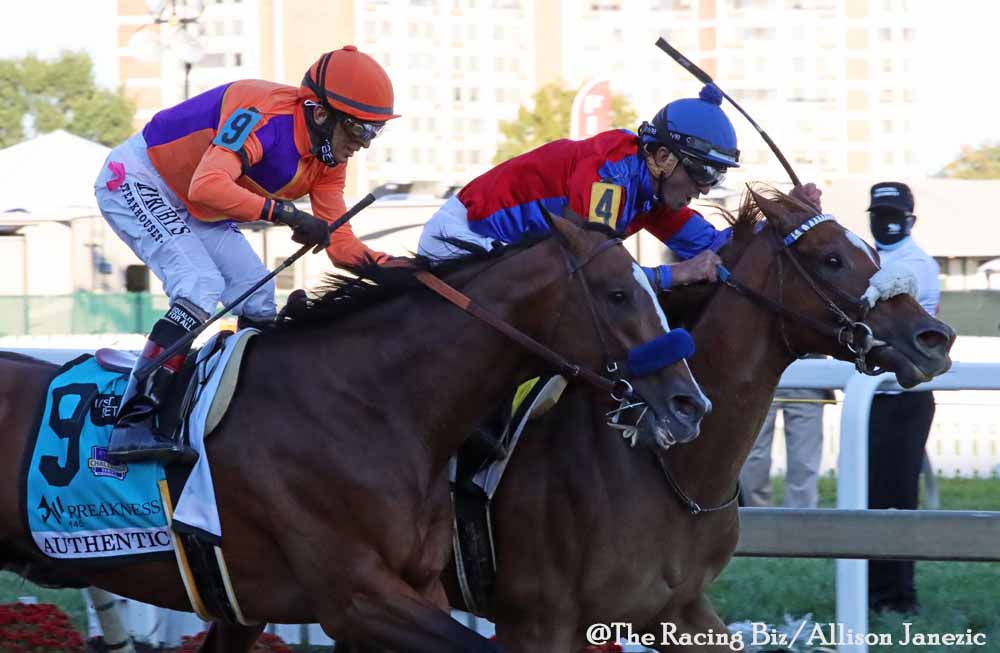 There was the Covid screening to get into the track, the security officer warning you not to remove your mask indoors, the news that the President had managed to get himself infected. Even – or perhaps most of all – the eerie quiet on what is normally Maryland racing's most boisterous day. If the bad guys – whoever they are – don't get you, the world seemed to say, the virus probably will.
This was no way to have a Preakness.
But then the racing started, and two of the races, in particular, were as good as horse races can be. If you weren't moved by Saturday's racing card at Old Hilltop, then it's fair to say you don't like horse racing.
First came the Grade 3 De Francis Dash, which seemed to be Landeskog's to lose. The Brad Cox trainee was 4-5 at post time. But after pressing the pace for a half-mile, Landeskog was all in and en route to a last-place finish.
Instead, there were Laki, Eastern Bay, and Nitrous – the first two Maryland-breds – head-bobbing on the wire in a thrilling finish. Laki, the always-trying seven-year-old Cuba gelding trained by Damon DIlodovico, got the nod, winning by a nose over a fast-closing Eastern Bay, who himself was a nose ahead of Nitrous.
Races don't come more exciting, and results rarely are more satisfying. Dilodovico, who also works in audio-visual at the track for International Sound, had won over 730 races but zero graded stakes in a nearly-30-year career prior to Saturday. His barn is a family affair, with wife Christine working side-by-side with him.
When he'd won this race previously, with the millionaire Immortal Eyes in 2013 when the De Francis was ungraded, it had been for the late Bobby Abbo, a Washington, DC restaurateur who at the time was fighting the disease that would ultimately kill him. There'd been few dry eyes in the post-race that day, the thrill of victory tinged with sadness, but Saturday's win brought only smiles.
"This is unbelievably exciting," Dilodovico said. "It means the world to me."
That was the seventh race. Who knew what awaited us just four races later?
It's safe to say that when two horses hook up three-eighths of a mile from home, duel shoulder-to-shoulder all the way to the wire, and record the second- and third-fastest Preakness times in history, that's some kind of horse race.
Add in that it's a filly, Swiss Skydiver, outdueling the Kentucky Derby winner, Authentic, and it's fair to put that race on the short list of the greatest Preaknesses.
When jockey Robbie Albarado astutely sliced Swiss Skydiver, an aptly named daughter of Daredevil, between horses and then down to the rail, where she stuck her neck in front, they were still nearly half a mile from home. Yet he and his mount had established the winning margin.
Which isn't to say the race was over.
In fact, Authentic and Swiss Skydiver virtually flew home. They traveled the quarter-mile from six furlongs to one mile in 23.50 seconds – faster than the race's opening quarter – and the final three-sixteenths in 18.54 seconds.
While they were laying down those fractions, the rest of the field receded further and further into the rear-view mirror. It was nearly 10 lengths back to show horse Jesus' Team.
The final chart margin was a neck, but what a long neck that proves to be. It reaches all the way from Baltimore to racing history, as Swiss Skydiver became just the sixth filly to win the Preakness. The most recent before her, Rachel Alexandra, kept right on running into the Hall of Fame after the Middle Jewel.
"I've had a lot of special horses in my career, but she's definitely right there at the top right now," trainer Kenny McPeek said of his first Preakness winner. "And I don't see a long time until another one does something like that to me."
Back when I was just getting into horse racing, I'd often, after a big race day, want nothing more than to read all the articles, listen to all the commentary – to relive, just hours later, what I'd just seen.
Time goes on, of course, and that sense of wonder fades.
But Saturday's races brought that feeling back. When will we see the like of it again?
In some ways, these days – with economic dislocation, rampant disease, political bitterness, and social unrest – are the worst of times in our nation.
But on a perfect fall day in Baltimore, Saturday was, for horse racing, the best of times. Maybe it's just for one day, but at least it's something to tide us over.
LATEST NEWS