CAUTION IN THE AIR FOR FASIG-TIPTON YEARLING SALE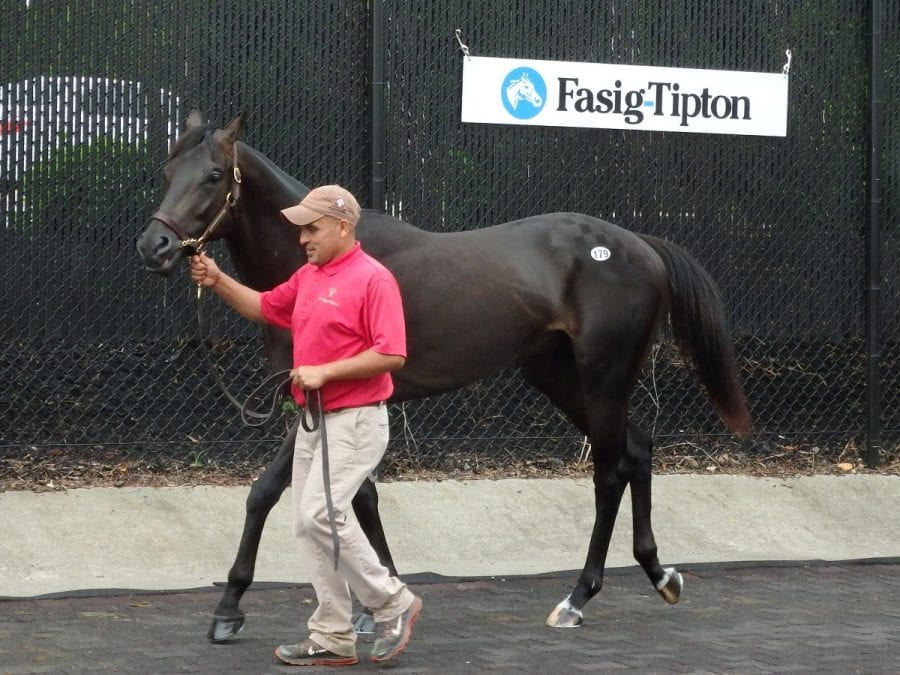 Fasig-Tipton's 2-year-old in training sale at Timonium in May has traditionally benefited from the Preakness hangover, but in these non-traditional times, the racing and sales calendars have been scrambled.
The Midlantic catalogue features 553 yearlings, an increase of 27 percent over last year. In a move certainly apropos for the times, Fasig-Tipton decided to kick off the first day by placing together a large group of New York-breds as Hips 1-154. The first session starts at 1 p.m. Monday, while the second goes at 10 a.m. Tuesday.
The sale has annually provided a marketplace for Midlantic horsemen to purchase quality yearlings at reasonable prices, with the added bonus of being eligible for the region's rich state-bred programs. There are 10 state-bred programs represented in the catalogue.
"Consignors have a lot of confidence in the Midlantic marketplace and have supported the sale with increased sire power and quality," said Paget Bennett, Midlantic's Director of Sales. "We are also pleased to welcome major Kentucky and New York-based consignors to (the sale) this year."
Longtime Midlantic consignor Bill Reightler is back with a 41-horse contingent, featuring a strong mix of Kentucky-breds and those bred in the region. He expects the sale once again to reflect the national trend, with the market being polarized between the top and middle.
Reightler said that the first three books at Keeneland were strong but nearly half of the horses were not sold, either due to buy-backs or "outs." That's because, he said, owners at that level can afford to set their reserves higher and then are willing to race the horses themselves if the horse isn't sold, whereas those in the middle will adjust reserves in order for the horse to sell.
"A well-conformed horse with a good pedigree and no issues will do well at Timonium," said Reightler. "But there is no tolerance off that mark, and horses that fall short will be severely discounted. The good news is that the better horses are selling, and it is a buyer's market."
Keeneland concluded with average price and median price each down 19 percent from last year, and gross revenues down 36 percent.
Freshman sires are well represented at this year's Midlantic sale. Gun Runner, who leads all freshman sires by yearling price through September 27, with 44 selling for an average of $256,182, according to statistics provided by The Blood-Horse, has a pair of Pennsylvania-bred yearlings catalogued – Hips 371 and 553 – both bred by Jon A. Marshall.
Practical Joke has a $126,639 average through the same time period, and is represented by six yearlings. Hip 305, a filly, was bred in Pennsylvania by Equinevine Farm and is out of Queen of Races, whose dam is a half-sister to Gr. 1 winner and major sire Harlan's Holiday, while Hip 526 is a Maryland-bred colt out of stakes winner and graded stakes-placed Dynamic Deputy, and is a half-brother to stakes winners Dynamic Strike and Another Broad.
Classic Empire, with a $97,578 average, has three yearlings catalogued, including Hip 235, a Pennsylvania-bred colt out of the graded stakes winner Medea (IRE).
Other freshman Kentucky stallions represented at Timonium include Lord Nelson, Unified, Gormley, American Freedom, Cupid, and Klimt.
Locally, Country Life Farm's Divining Rod is well represented in the catalogue, with 27 yearlings, while Madefromlucky, who stands at Northview Stallion Station, has seven.
Kobe's Back, standing at Bonita Farm, has one yearling entered, Hip 288, a colt out of the Tiznow mare Pearly Beach. The colt, consigned by Becky Davis, agent, is a half-brother to the stakes-placed Benergy.
Reightler has nine yearlings by Divining Rod in his consignment. Divining Rod, a graded stakes-winning and Grade 1-placed son of Tapit, was retired to Maryland by his owners, Roy and Gretchen Jackson. Divining Rod has enjoyed robust early books.
"The Divining Rods are very attractive and have good substance," said Reightler. Among the group is Hip 313, a Maryland-bred colt out of Reappearance, by Kafwain, who is a half-sister to graded stakes winner Mr. Impatience, as well as Hip 527, a filly out of stakes-placed Easter Fashion.
Another Country Life Farm stallion, Mosler, has seven yearlings in Reightler's draft and nine total, including Hip 251, a filly out of multiple stakes winner Moonlit Malibu ($256,288), who is by Malibu Moon. Hip 329 is another filly out of a stakes-winning Malibu Moon mare, that being Sagamoon ($195,097).
At the time of this writing, Mosler, a son of War Front, was the leading first-crop sire in the Mid-Atlantic region, with five winners from 13 to run.
Reightler is also offering a colt from the first crop of Santa Anita Derby (Gr. 1) winner Gormley (Hip 475), who is out of the multiple stakes-winning mare Beware of the Bop, and a filly from the first crop of Grade 1-winning sprinter Lord Nelson (Hip 199), whose second dam Grand Merger, by A. P. Indy, is a full sister to Gr. 1 winner Stephen Got Even.
Another veteran Timonium consignor, Marshall Silverman, echoed Reightler's thoughts about the upcoming sale.
"The right horses will sell decently, and people will key in on them early," said Silverman. "But if they're not perfect, it's going to be a tough go. People are picky – not to say that a horse that's not perfect can't be a champion. I hope it's a good, strong sale."
Among Silverman's offerings is Hip 460, a colt by Uncle Lino out of Avani Force, by Forestry, and thus a half-brother to graded stakes winner Call Paul, stakes winner Pink Caddy, and recent stakes-placed gelding Maythehorsebwithu.
Silverman noted that Hip 167, a Virginia-bred Upstart filly, is out of Green Punch, by Two Punch, who is a half-sister to graded stakes winner Just Call Kenny.
Other fashionable sires that have progeny at Timonium include Daredevil, the sire of Preakness Stakes winner Swiss Skydiver who has six yearlings entered; Honor Code (two); Not This Time (three); and Nyquist, one.
LATEST NEWS