PREAKNESS MEMORIES: AFLEET ALEX AND ADVERSITY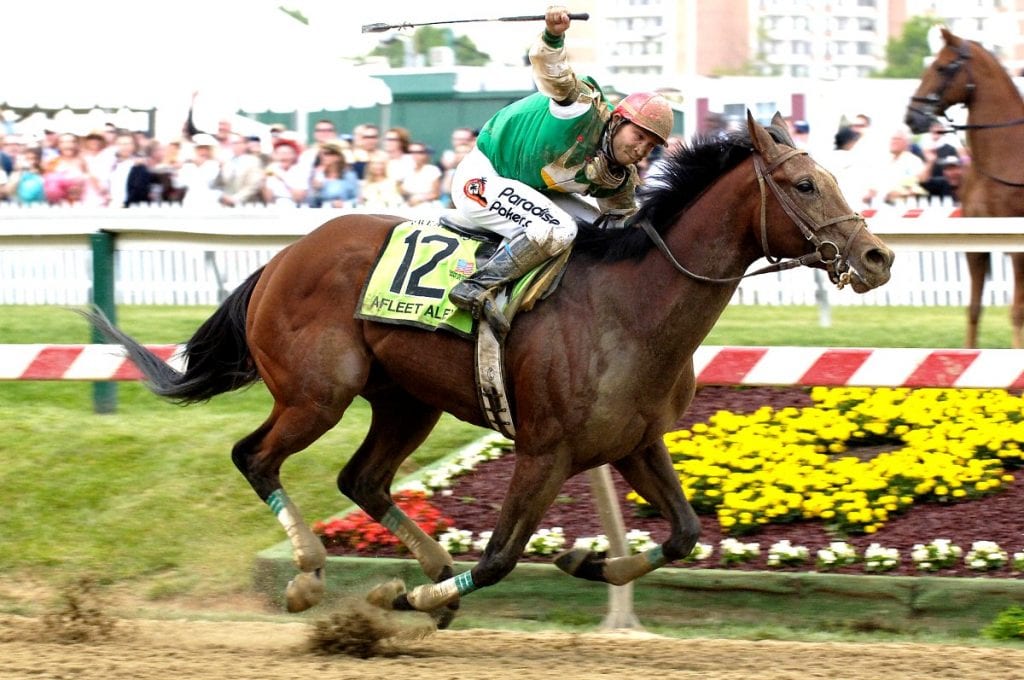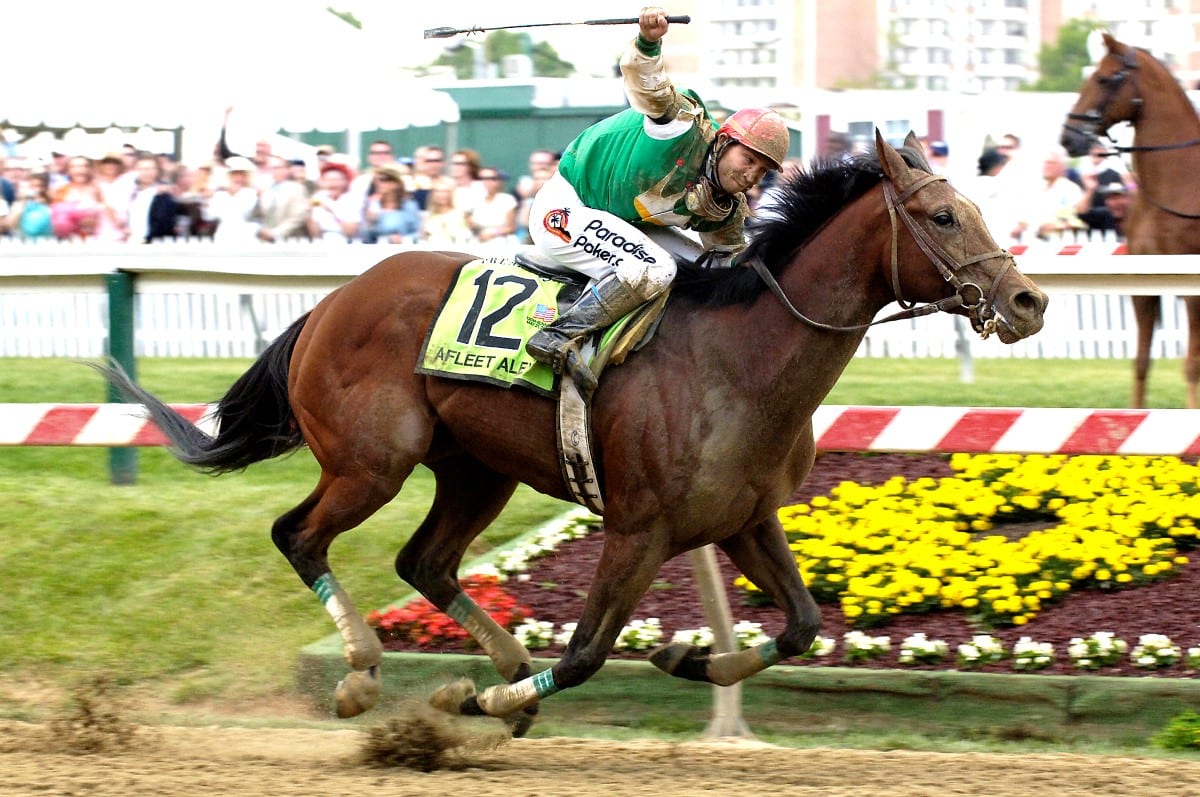 After defeating the odds that surrounded his rough start, Afleet Alex grew into a strong colt and was eventually offered at auction at the Fasig-Tipton Midlantic Two-Year-Olds in Training Sale in Timonium, MD. The final price for the bay colt ended at $75,000 with Cash is King LLC winning the bid. At the time, no one could have guessed what a bargain that would end up being, for Cash is King Stable had just purchased a thoroughbred that possessed the heart of a lion.
Afleet Alex was placed in the training of Timothy Ritchey and joined forces with young and upcoming jockey Jeremy Rose.
But Afleet Alex's tale is not just that of a horse and his connections – because Afleet Alex was also racing for a cause. The connections of Afleet Alex had pledged to donate portions of the colt's earnings towards Alex's Lemonade Stand, which was created by Alex Scott who had started the stand in order to raise proceeds for pediatric cancer research before her own life was claimed by the affliction at the age of eight. With the permission of Alex Scott's family, the connections of Afleet Alex were able to convince several racetracks to host Alex's Lemonade Stand fundraisers, with the event eventually making its way to the 2005 Preakness Stakes and Belmont Stakes.
Afleet Alex's owners had told the Scotts, early on, that their colt was "pretty good." In fact, he was much more than that – which was apparent almost from the first jump. He ran his first race just weeks after Cash Is King had purchased him, and he won by 11 lengths.
"[A]fter he broke his maiden, you could tell he was a special horse, and obviously he proved it," Ritchey said.
Afleet Alex rattled off four consecutive wins to start his career, including a dominating score in the Sanford Stakes (G2) and a late surge to victory in the Hopeful Stakes (G1) at Saratoga. It wasn't until his last two starts of his 2004 season when Afleet Alex tasted defeat for the first time. After runner-up efforts in the Champagne Stakes (G1) and Breeders' Cup Juvenile (G1), Afleet Alex was ready to take a break for the season and prepare to emerge with a vengeance as a stronger, faster three-year-old.
Afleet Alex made his 2005 debut a winning one with a facile score in the Mountain Valley Stakes at Oaklawn Park.
However, Afleet Alex would finish a disappointing sixth in his next start, the Rebel Stakes (G3) at Oaklawn Park. It would be the first and only time that the nimble bay would finish off the board in his career. When it was discovered afterwards that a lung infection was the culprit of the colt's uncharacteristically poor performance, connections of Afleet Alex knew that they had nothing to fear moving forward with elite competition once the colt recovered.
Afleet Alex returned to action in the Grade 2 Arkansas Derby, in what was his final prep before the Kentucky Derby. Afleet Alex returned to brilliant form off of his loss and romped away to win the Arkansas Derby by a record-breaking eight lengths.
Afleet Alex put up a formidable battle in Louisville, Kentucky, splitting foes and rallying gamely beneath the Twin Spires to finish third, just a length behind upset winner Giacomo, who closed from the clouds to steal the race at odds of 50-1. Closing Argument, another underdog, snuck in to claim second at odds of 71-1.
That year, the first Saturday in May belonged to the underdogs. However, the Triple Crown was just getting started, and Afleet Alex was not done yet. The first race was over, but there were still two more to go, and it was on to Pimlico Racecourse for Afleet Alex.
Despite his third-place finish in Kentucky, Afleet Alex went off as the 3-1 favorite for the middle jewel of the Triple Crown. Derby winner Giacomo was, at 6-1, the third choice in the field of 14.
Afleet Alex broke smartly from post 12 and cruised closer towards the inside of the track. Not one to flash early speed, Afleet Alex hung back by several lengths, allowing many of his rivals to get a head start in the race. As High Limit and Going Wild led a swift early pace in the Preakness Stakes, Afleet Alex nestled in on the rail and waited for his moment to strike.
As the field neared the turn for home, Jeremy Rose unleashed the powerful force of Afleet Alex, who was fully loaded and pulsating with power beneath him. With breathtaking acceleration Afleet Alex began shooting by rivals while down on the fence. In a blur, the flying bay had passed every foe except Scrappy T, who was now leading the way into the stretch.
Afleet Alex came roaring around the final bend with dead aim on the leader. Sensing the oncoming confrontation of Afleet Alex, Ramon Dominguez, the rider on Scrappy T, cracked his whip left-handed. It was that simple motion that triggered an incident that almost ended in disaster.
Apparently startled by the sting of the whip, Scrappy T swerved unexpectedly and ducked right into the path of Afleet Alex, who was charging full speed into the stretch. Unable to avoid collision, the two colts clipped heels as the fans gasped. In the blink of an eye, Afleet Alex went to his knees in the stretch, nearly sending his rider airborne. In a desperate attempt to remain aboard, Rose clung to Afleet Alex's mane as he struggled to adjust himself back in the saddle.
Remarkably, Afleet Alex swiftly recovered and took off down the stretch as if nothing had even happened. In what can only be described as the perfect marriage of teamwork and athleticism, both rider and horse worked together to avoid a catastrophe, jump back into the thick of the game after being knocked out of it, and win the race despite briefly appearing battered and out of time.
Racing fans across America watched in pure awe and disbelief as Afleet Alex not only put himself back in the race after being sent to his knees but blew past Scrappy T. Afleet Alex made the impossible become reality as he recovered in time to win the Preakness Stakes by 4 ¾ lengths in 1:55.04.
"How much the best is he?" wondered track announcer Dave Rodman as Afleet Alex neared the wire.
 "I thought for sure we were going down," Rose said in the aftermath of the race. "The thought process was I was going to get run over. The instinct was just to hang on and try to get my balance back. If he goes down, I don't have any chance. I was scared. I had enough time to think about hitting the ground, but he came back up underneath me."
The rider continued. "He picked himself right up, and after that I knew he had it won. He's an amazing horse. I've never seen a horse stumble like that and then win a race like this."
Everyone who had witnessed the incredible recovery by Afleet Alex in the stretch of the Preakness seemed to be in a state of shock and admiration.
"Over 30 years, I've seen some horses take some bad steps in races and still win," Ritchey declared. "I've never seen a horse stumble that badly and lose his momentum that much to come back on and win in a Grade I race like this."
Afleet Alex continued his reign into the 1 1/2 -mile Belmont Stakes three weeks later, destroying his competition by seven lengths. Afleet Alex appeared unstoppable in terms of strength and power, but in July of that same summer, his decorated career came to a sudden and unexpected end.
A hairline fracture on the right front cannon bone of Afleet Alex was discovered in July 2005, and the colt was forced to the sidelines to recover. The hope was for Afleet Alex to return for a try in the Breeders' Cup Classic at the end of the season, but it was not meant to be. It was later discovered that Afleet Alex had a condition known as avascular necrosis, which creates brittle patches in the tissues of the bone. As a result of the condition, Afleet Alex was retired from the racetrack with eight wins from twelve starts and earnings of $2,765,800.
Today, Afleet Alex stands as a stud at Gainesway Farm in Lexington, KY. As a stud, Afleet Alex has sired countless stakes winners and multiple millionaires, including Breeders' Cup Juvenile (G1) winner Texas Red.
While the mighty horse may be living out his days as a stallion now, not a Preakness Stakes will go by where Afleet Alex's victory will not be remembered and admired as perhaps the bravest and most impressive win of them all.
LATEST TRIPLE CROWN NEWS