Pimlico picks and ponderings September 25, 2020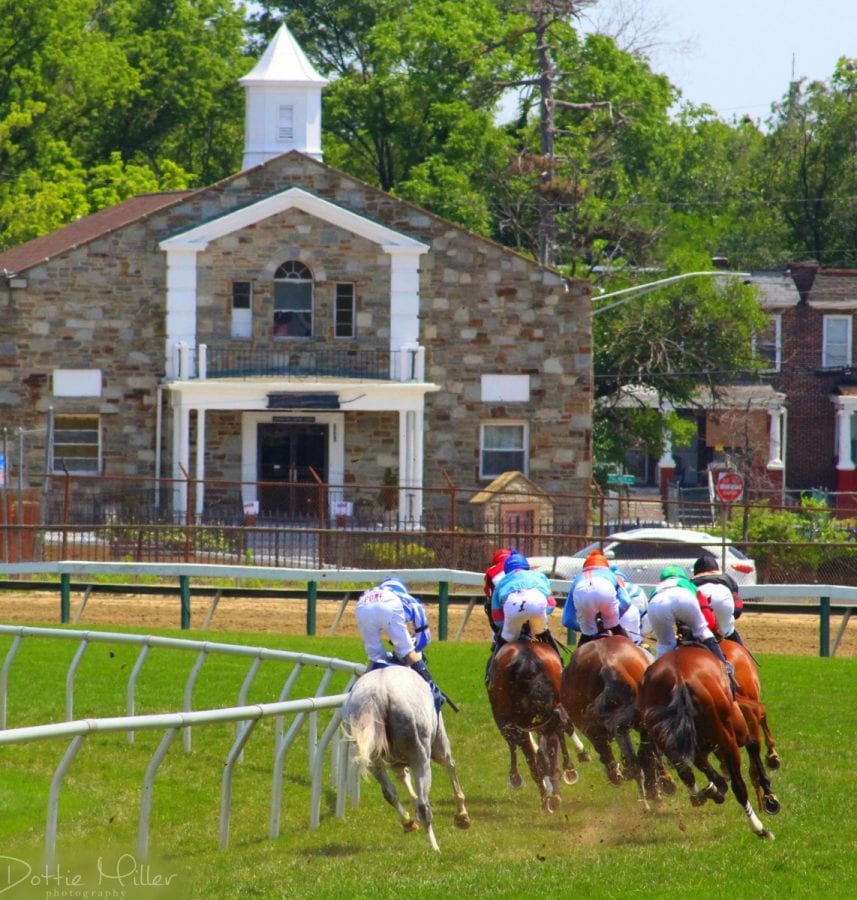 Horses round the turn at Pimlico. Photo: Dottie Miller
In which we pick the races from Pimlico each day…
Post time: 12:40 p.m.
Carryovers: Rainbow Jackpot Pick 6 — $390  Super High 5 –$0 Late Pick 5 — $6,033
Notable: Until further notice, no fans are allowed to attend the races at Laurel Park. For more info, click here.
 ANALYSIS
RACE 1: CLAIMING $10,000 (CONDITIONED), 3-YEAR-OLDS AND UP, FILLIES AND MARES, 6 FURLONGS
6-5-1-3
#6 Fille d'Esprit (4/1): Goes first off the claim for John Robb, who's 21% with that angle. This filly got up to beat a n/w2L claiming field in her last race, which was just her third start overall. The win came in spite of her not changing leads in the stretch. 
#5 Lovely Lady Lexi (9/2): Another one racing first off the claim, she was taken out of her last-out victory by Kieron Magee. She came from way behind in that race, surging to just get up. That race, which was her first off a nine-week break, is an aberration. Usually, she's much closer to the pace.
#1 Stay Out (3/1): Races third off the layoff for Dale Capuano, after making what might've been a premature move in her last race. Jorge Ruiz picks up the mount from New York-bound Charlie Marquez. This filly should get a good trip stalking the pace on the inside, and if the move is timed well, she'll be dangerous. 
RACE 2: MAIDEN CLAIMING $40,000, 3-YEAR-OLDS AND UP, FILLIES AND MARES, 1 1/16 MILES (GRASS)
3-7-8-1
#3 Zola B (3/1): Although the trouble in her last race was not as dramatic as the running lines would indicate, it was still a strong effort. She closed from well behind to lose by three lengths, improving her brisnet figure to 79 second time out. Horses were able to close on the Pimlico grass yesterday, so her deep-closing style shouldn't be an impediment.
#7 Beckon (8/5): 0-for-11, with five seconds, is a pretty unsightly record for anyone. For a likely heavy favorite, it's a very bitter pill to swallow. Still, she looks like the primary speed, and will be tough to catch on the front end if allowed to catch a cozy pace. 
#8 Conga in Paris (8/1): She looked sharp in her debut at Delaware Park, coming from behind to lose by less than two in a five-furlong sprint. Based on her breeding, I'm not sure how far she wants to go. Still, she's shown promise, it's not the greatest field, and the price looks like it will be right. 
RACE 3: ALLOWANCE OPTIONAL CLAIMING (N/W1X), 2-YEAR-OLDS, FILLIES, 6 FURLONGS
7-2-4-3
#7 Tiz Ferguson (5/2): A disappointing grass try last out may obscure how impressive her maiden win was. She drew off to a strong five-length win, with a brisnet figure of 85. Now, she gets back to her favorite surface, at a shorter distance. Lauralea Glaser, who has been riding very well as of late, gets back aboard.
#2 Kewpie Doll (7/2): The stablemate of Tiz Ferguson has a similar profile. She broke her maiden two races back on dirt in impressive style, then was a non-factor on grass last out. Worth noting that Glaser also rode her in her debut, but is on Tiz Ferguson instead. J.D. Acosta, who returns to Maryland after spending the past few months at Charles Town, gets in the saddle. 
#4 Proper Attire (5/1): Stole away on the front end last out, and drew off to an impressive victory. You have to figure Angel Cruz will try a similar strategy here, the question is: will it work?
ANALYSIS
RACE 4: MAIDEN CLAIMING $40,000, 3-YEAR-OLDS AND UP, 5 FURLONGS (GRASS)
11-6-3-7
#11 Zip Line to Heaven (2/1): Closed frantically in his last grass race, at Colonial Downs, to lose by just a neck. It was a more visually impressive race than his first grass start, but it represented a figure decline of about three points. Should once again roll from behind. 
#6 Mosby's Ranger (6/1): Cuts back around one turn after showing speed and fading while going longer at Delaware Park. He ran an insane race in his debut, setting brutal fractions by himself and holding second at 88/1. You won't get quite that price here, but he could still fall through the cracks and offer some value. 
#3 Hushed Hijinks (5/2): Monmouth Park-based gelding ships here for trainer Jane Cibelli, in his first grass start for this low a tag. He had consistently shown speed and faded on the lawn at Gulfstream Park; will the shorter distance be more beneficial to his style?
RACE 5 – CLAIMING $10,000 (CONDITIONED), 3-YEAR-OLDS AND UP, FILLIES AND MARES, 1 1/16 MILES
2-1-4-7
#2 Polished Copper (5/2): Fought on gamely in her last race, battling down the stretch to win by a neck against similar. She beat two of the rivals she'll have to face here in that spot.
#1 Ortinola (7/2): One of the aforementioned rivals, she lost to Polished Copper by a neck after sitting far behind early on. She's hit the board four times this year without winning, with her grinding closing style. Looking for her to once again grab a piece. 
#4 Princess Georgia (9/2): Similar to Ortinola, she sits towards the back early on, tries to rally, and falls short. On the plus side, she consistently runs figures in the upper 70s, one of the few in the field who can consistently do that. Has she found a field that she can beat? Quite possibly. 
RACE 6: MAIDEN SPECIAL WEIGHT, 2-YEAR-OLDS, 5 FURLONGS (GRASS)
1-2-4-5
#1 Gallant George (7/2): Ran a big race in his grass debut last out, battling on the lead and grudgingly giving way in the stretch. He's got a bullet workout since that race, going five furlongs in 1:01 on September 15. He'll be a tough opponent on the front end.  
#2 Helms Deep (6/1): He got plenty of wagering action on debut, going off at 4/1 in a dirt sprint. Unfortunately for him, he had a rough break and lost all chance. The tote board will largely dictate my feelings about him: if he gets action, I'll feel pretty good. 
#4 Twist of Grace (9/2): He's guaranteed to get overbet, due to being a Graham Motion trainee. Motion, while a great grass trainer, isn't that great with horses debuting on the surface. Still, this one's got a bullet workout under his belt, to go along with some other sharp drills. A contender for the underneath spots, at least. 
ANALYSIS
RACE 7 – ALLOWANCE (N/W1X), 3-YEAR-OLDS AND UP, 6 FURLONGS
7-4-1-5
#7 Seven on the Rocks (9/2): He got disqualified from his last-out win, but it was nonetheless an impressive effort. He came from off the pace, something he doesn't do all the time, and drew off to the win. His figure of 93 from that race is a lifetime top. 
#4 Karan's Notion (7/2): This might be a prep race for the Maryland Million Sprint. Lost a heartbreaker last out at the level, as Dirtyfoot defeated him by a nose after a prolonged stretch battle. His maiden win from a few back left a powerful impression, and I still think he could be a very good horse. 
#1 Market Analysis (9/5): He was kind of a Kentucky Derby contender going into his last race, the Tampa Bay Derby. After finishing sixth, he entered the Jeremiah O'Dwyer barn and was given time off. Now, he returns. This might just be a screw-tightening race to prepare for stakes down the road, but it's also possible that he's so much better than these, he'll run off the screen even if he's not 100%. He beat Attachment Rate in his maiden win back in January, while earning a figure of 94. 
RACE 8:  MAIDEN SPECIAL WEIGHT, 2-YEAR-OLDS, 6 FURLONGS
10-4-2-5
#10 King Alan (5/1): On Thursday's card, Claudio Gonzalez and Angel Cruz teamed up to win a race. Later in the day, a 2-year-old race was won by a horse with experience. This horse checks both of those boxes! He recovered after a disastrous break on debut to finish third. With a clean break here, he'll be tough. 
#4 Jaxon Traveler (5/2): Here's something that will make you look twice: Steve Asmussen is debuting a 2-year-old at a Maryland track! He's been working up a storm at Belmont Park, and is likely coming down here to pick up some Maryland-bred bonus money. He'll likely get blasted off the board as long as he doesn't look like he's about to fall down on the track, so I would look elsewhere for some value. 
#2 Speightster Red (10/1): Has two bullet workouts in his recent lines, and trainer Robert Bailes is a respectable 15% with first-time starters. 
RACE 9: ALLOWANCE OPTIONAL CLAIMING (N/W2X), 3-YEAR-OLDS AND UP, 1 1/16 MILES (GRASS)
7-11-12-14
#7 Taxable Goods (4/1): Might've been in a bit over his head last out in the Henry Clark Stakes. In his last try at the level on this surface, he was third, behind two horses much better than anyone he'll see here. Look for him to stalk the pace and pounce.
#11 Cannon's Roar (6/1): A winner of two in a row, most recently against Maryland-breds. He just missed earning a lifetime top figure last out, while improving nine points from two back. Wouldn't be surprised to see him take another step forward in his third grass start of the year. 
#12 Clear Vision (6/1): Came from way back off a strong pace to win last out, in his first race in six months. He will be roaring late, especially if he gets another favorable setup up front. 
RACE 10: STARTER OPTIONAL CLAIMING $25,000, 3-YEAR-OLDS AND UP, FILLIES AND MARES, 6 FURLONGS
6-7-3-2
#6 She's a Black Belt (4/1): Another New York invader, she's making her third start off the layoff after knocking on the door against n/w2L claiming types up there. She didn't show much speed in her last two races, a contrast from last year. Perhaps her third race off the bench and some softer rivals will perk her up.
#7 Patriotic Punch (5/2): The "lightbulb" angle would have to apply for her to win this one. Matched a lifetime top when winning handily last out, breaking her maiden in her twelfth try. Showed the most late run she ever has in that race. 
#3 Positive Force (2/1): Chased and finished second at this level last out. She tends to get outrun late and grab a piece; perhaps Trevor McCarthy getting aboard will help push her over the top.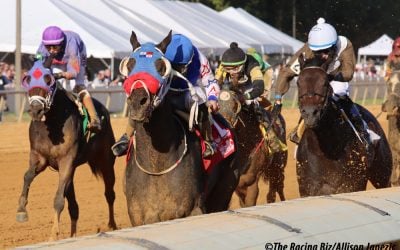 We provide full-card picks and analysis for this afternoon's races at Laurel Park.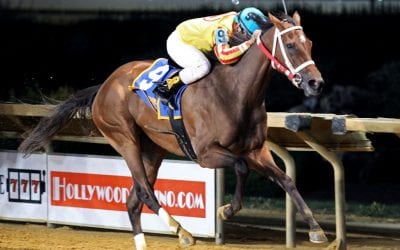 We provide picks and analysis for this evening's card at Charles Town Races.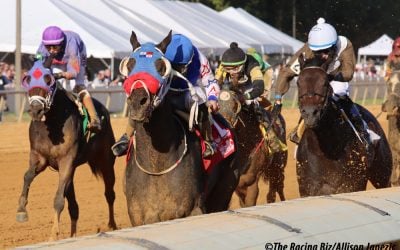 We provide full-card picks and analysis for this afternoon's races at Laurel Park.