PREAKNESS: ART COLLECTOR POSTS STRONG MOVE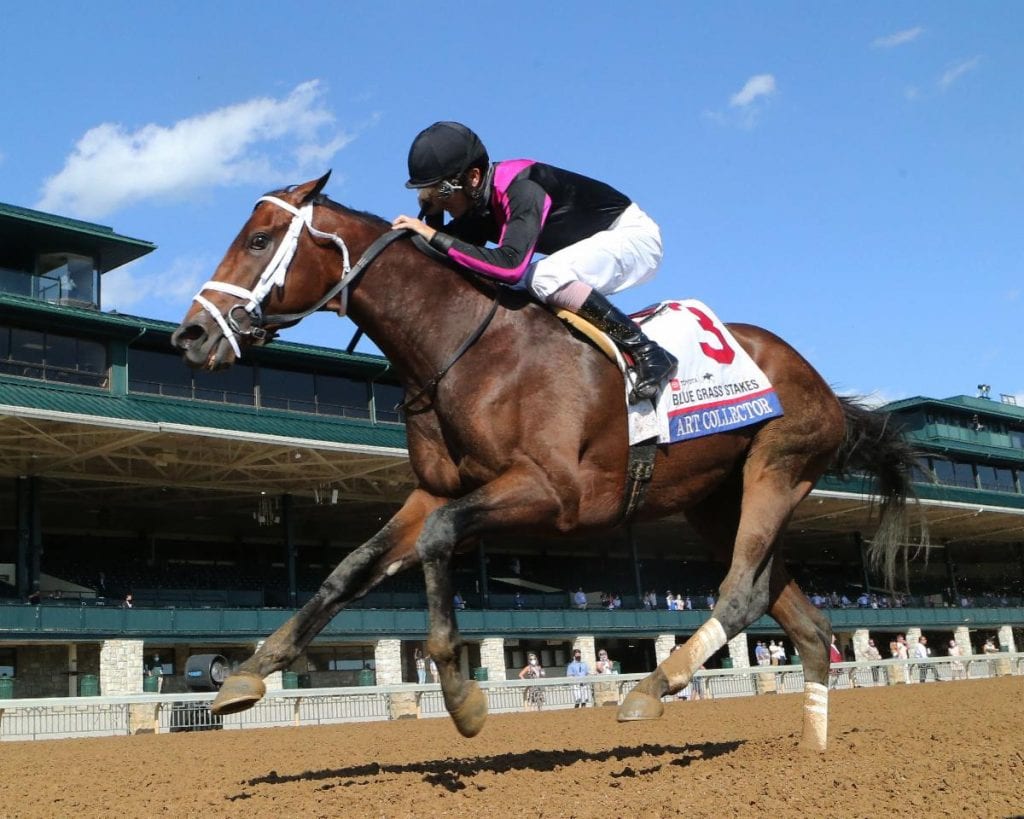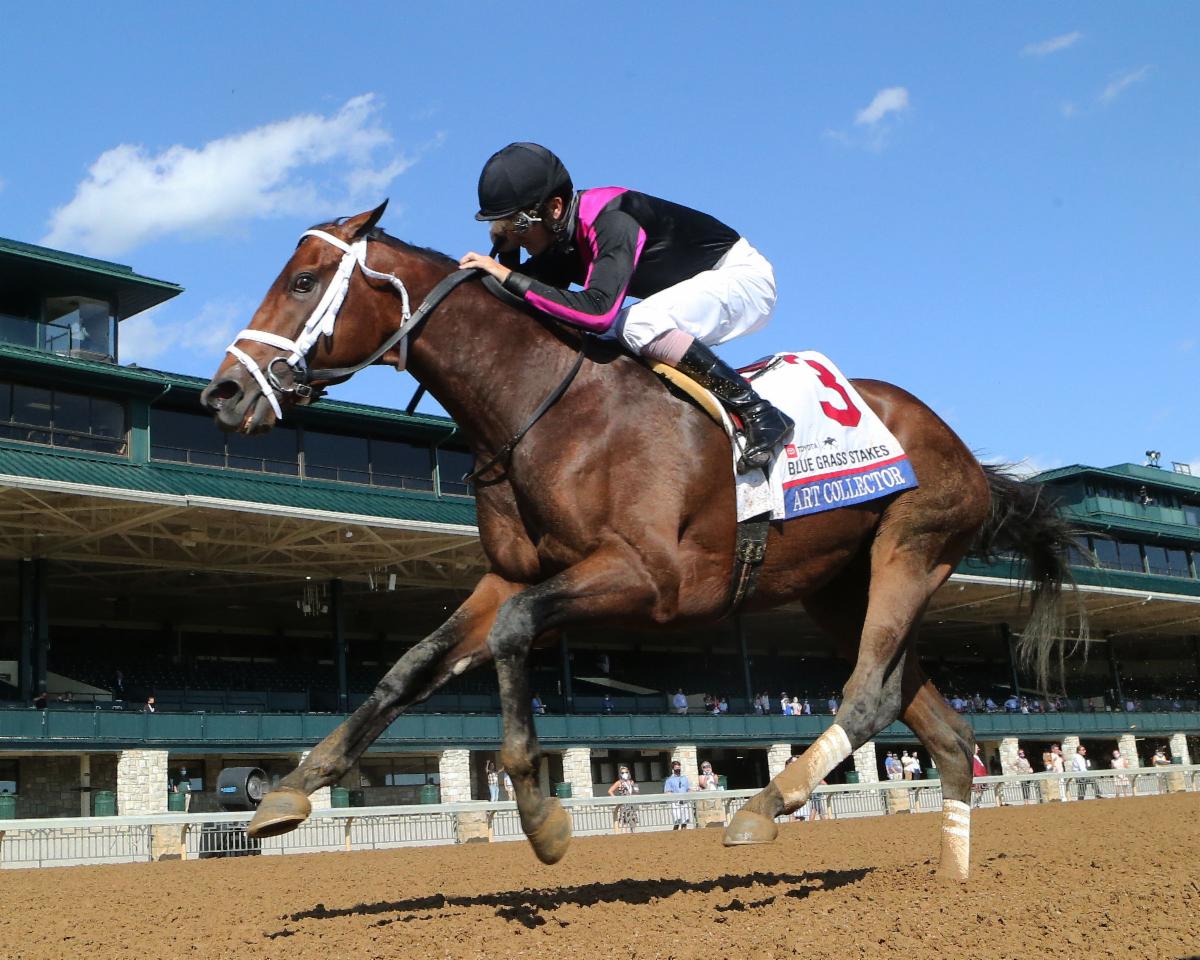 Press Release

September 19, 2020
Bruce Lunsford's Art Collector, who would have been co-second choice for the Kentucky Derby (G1) until a minor foot issue forced him out of the race, worked five-eighths of a mile at Churchill Downs in a strong 59.40 seconds – a time for the distance eclipsed Saturday only by Kentucky Derby winner Authentic's 59.20. 
Post Time returns with a flourish

Last year's champion 2-year-old Maryland-bred made his first sophomore start in impressive fashion, winning the PImlico allowance feature.
"I thought it was good," said trainer Tommy Drury, who will have his first Preakness starter. "We wanted to make sure we did enough today. They had him in 59-and-change, and I had him three-quarters (of a mile) in 1:12. It was what we were looking for. We went a little longer between races than we'd hoped to be. We just wanted to make sure we're where we want to be. Leading up to the race from here, now you're just kind of back on a maintenance program. You know you've got him where you want him, and hopefully we'll be on the flight the Tuesday before the Preakness (G1) and we'll take our best shot."
The fractional times for Art Collector's work were 24.20 seconds for the first quarter-mile, and 36 for three-eighths, reflecting a final quarter-mile time in 23.40. He then galloped out six furlongs in 1:11.60, with jockey Brian Hernandez Jr. reporting that the gallop-out extended to a mile.
"He worked a really good five-eighths and then his gallop-out was huge," Hernandez said. "He galloped out a really, really good mile. We knew going into this work that we needed it to be a pretty stiff one because we're going into the Preakness, and they're not going to give you anything. We needed to make sure our horse was in good shape. What was nice about him was that he came back after the work and it was like he didn't even do anything. We seem to be on the right page…. I had him on my watch in '12s' the whole way, 11-and-2 from the eighth pole to the wire, and then he galloped out the same way, just kind of cruising along."
Turned over to Drury in January, Art Collector is 4 for 4 as a 3-year-old after breaking his maiden last year on grass at Kentucky Downs and finishing first in an entry-level allowance race, only to be later disqualified for registering over the permitted level for a dewormer. After ripping off a pair of allowance races to start 2020, the son of 2006 Preakness Stakes winner Bernardini powered to victory in Keeneland's rescheduled Toyota Blue Grass (G2) and then in the $200,000 Ellis Park Derby.
The Ellis race on Aug. 9 was meant as a bridge between the July 11 Blue Grass and the Sept. 5 Kentucky Derby. But to the chagrin of his team — all from Louisville — Art Collector nicked the bulb of his left front heel in a routine gallop the day before Derby entries were to be taken. While a minor issue, it was bad timing, leaving the foot tender and with strict medication rules limiting how it could be treated.
"He's been good," Drury said when asked how Art Collector is doing now compared with how he was doing before the foot mishap. "Fortunately he's been good mentally and he's certainly happy enough. He had his ears thrown up galloping out this morning. He's doing all the things you want to see a horse do at this stage of the game. The nice cool morning I think had them all feeling good, and he certainly was one of them."
Art Collector would have been the first Derby starter for Drury, a lifelong Louisvillian, and the 72-year-old Lunsford, who has lived in the city most of his adult life. Hernandez has made Louisville his home since he began riding full-time in 2004.
While missing the Derby at home was a huge disappointment, Art Collector's team quickly set their sights and enthusiasm on a road trip to Baltimore.
"If you'd asked me in January, 'You've got a shot to go to the Preakness, what do you think about that?' I'd have been doing backflips," said Drury, whose first graded-stakes victory in 30 years of training came with Art Collector in the Blue Grass. "It's one of the most historic races in the country. We'd have loved to have been in the Derby because this is home for us, but gosh, to be able to run in the Preakness four weeks later. That's the one thing that gave me comfort, knowing that we've got a huge race coming up right around the corner, that we can miss this one and be ready for that one — be on our game and take our best shot. That's really all we've been trying to do: make good decisions, use good judgment and make sure that our horse is taken care of.
"Ever since the morning that we didn't enter for the Derby, the Preakness has been our primary concern. He seems like he's going into it the right way, and now we've just got to stay out of his way a little longer."
LATEST NEWS