Laurel Park picks and ponderings September 18, 2020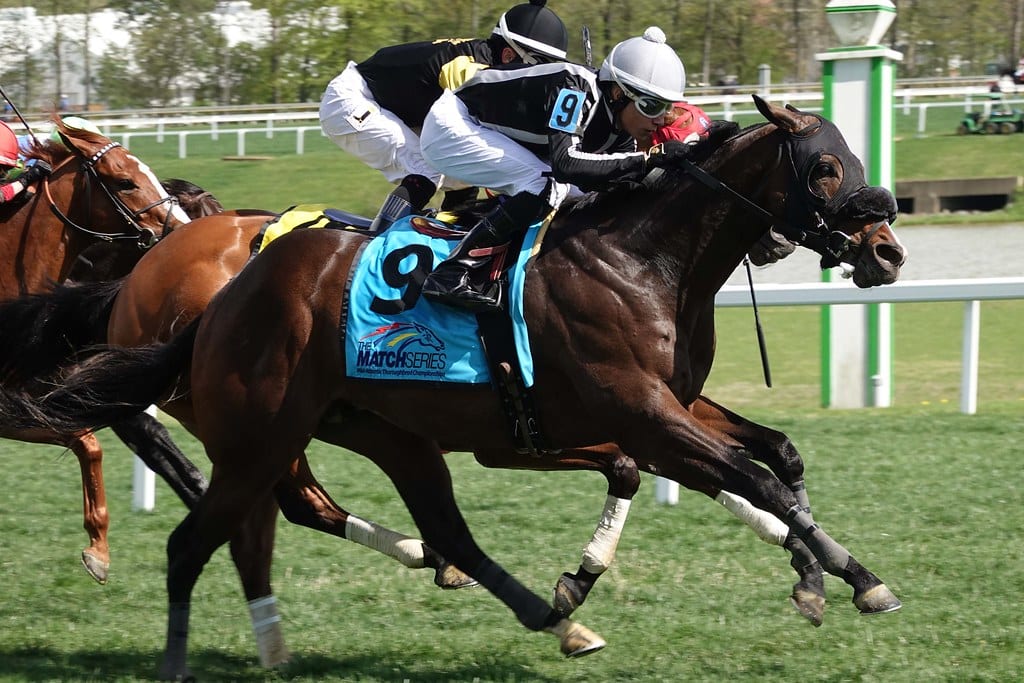 Dirty. Photo by Allison Janezic.
In which we pick the races from Laurel Park each day…
Post time: 12:40 p.m.
Carryovers: Rainbow Jackpot Pick 6 — $0  Super High 5 –$11,481 Late Pick 5 — $0
Notable: Until further notice, no fans are allowed to attend the races at Laurel Park. For more info, click here.
 ANALYSIS
RACE 1: MAIDEN CLAIMING $10,000, 3-YEAR-OLDS AND UP, FILLIES AND MARES, 7 FURLONGS
3-1-4-5
#3 Thundrinthevalley (2/5): She's been pounding the door at this level, hitting the board in her last two while running speed figures that tower over those of the rest. Goes first off the claim for Carlos Mancilla, who is 21% with that angle. A free square in the early pick 5.
#1 My Super Sally (9/2): Lightly-raced filly showed speed in her lone dirt race, before backing up. Could be interesting late if she can sustain it a bit better. 
#4 Susi Sole (10/1): Ran on better than her running line looks in her last race: she was eighteen lengths behind the winner, but only three lengths behind the runner-up. Now cuts back in distance after steadily running figures in the 50s. A good exotics candidate. 
RACE 2: STARTER OPTIONAL CLAIMING $25,000, 3-YEAR-OLDS AND UP, 6 FURLONGS
2-10-1-11
#2 Glory Song: In his last start, he was in the midst of getting a perfect stalking trip when he was forced to check hard and lose crucial ground. In the race before that, he battled on to win at Delaware Park, with a sharp figure of 87. He's the only horse in the race to run an 85 or higher in each of his last two starts.
#10 Inside Risk: Even though Charlie Marquez lost his whip in the stretch, this horse still battled on last out to win by half a length, his second victory in his last three races.  He beat a few of the rivals he'll see here in that spot. Should get a good stalking trip, and he's got the late speed to pounce effectively. 
#1 Gins and Tins: Comes back to Maryland after a non-effort last time at Saratoga. Tired in a speed duel going a mile in his last dirt start, now cuts back to six furlongs. Based on his efforts going long on dirt, the cutback should be a blessing. 
RACE 3: CLAIMING $5,000 (CONDITIONED), 3-YEAR-OLDS AND UP, 6 FURLONGS
3-6-7-5
#3 Victory Given (3/1): Made a pretty badly-timed move in his last race, and it ended up costing him. He's reunited with Horacio Karamanos, who won with him the last two times he was aboard. His figures have been declining lately, but getting back to sprinting at Laurel should do the trick. 
#6 Strive for a Cure (5/2): He's got plenty of early speed, but not a lot of stamina. In his most recent win, three starts back, he opened up a big lead in the stretch, but got leg-weary in the last eighth and saw his winning margin cut in half. Look for Marquez to take him as fast as he can, as far as he can. 
#7 Time Flies By (5/1): Drops in class and seeks a rebound off a dull last race. Prior to that, he had been running on well and getting checks here and at Delaware. 
ANALYSIS
RACE 4: CLAIMING $12,500, 3-YEAR-OLDS AND UP, 6 FURLONGS
3-2-4-5
#3 Cause He's Western (5/2): One of two for Kieron Magee in here, I'll give the slight advantage to this one. He finished third behind much better last out. Won three in a row earlier in the year, two of them against open claimers. Getting Trevor McCarthy aboard for the first time helps the cause. 
#2 Jack Straight (3/1): Edged out Cause He's Western two races back, then shipped to Delaware and beat a bunch just like this one handily. He's gotten better just about every time out since the break, and packs a strong middle punch that will make him a presence late. 
#4 No More Talk (9/2): Comes out of the same race as Cause He's Western. I would've liked to see him show more, but it was a tough group, and he still ran a solid speed figure. Won with a great trip two back, should get a similar setup here. 
RACE 5 – MAIDEN CLAIMING $16,000, 3-YEAR-OLDS AND UP, 6 FURLONGS
1-9-11-4
#1 Confectioner: He looked much the best on paper in his last race, which was very similar to this one. As a result, he was pounded at the windows. Unfortunately for him, he stumbled at the start, was rushed up, and didn't do much afterward. Toledo gets back aboard; he guided him to a runner-up finish two back. If he breaks cleanly, he'll be very tough. 
#9 More Twirl: Finished second behind Extremelyexclusive last out, who was much the best in that spot. He also never changed leads in that race. Tries this level on dirt for the second time, and should keep moving forward.
#11 Hushed Hijinks: Raced well in his debut, but had the misfortune to run into Karan's Notion, who beat him by thirteen lengths. Should be forwardly placed on the outside. 
RACE 6: CLAIMING $16,000 (N/W2L), 3-YEAR-OLDS AND UP, 1 MILE
1-2-8-13
#1 Classy Solution: His last few have been visually dull, but he's been running (relatively) gigantic speed figures. Boxed on to get fourth against a solid n/w2L field last out, now stretches out. Based on his running style, he should enjoy the longer distance. 
#2 Hostile Witness: Claudio Gonzalez and Angel Cruz team up again. Came from way downtown to break his maiden going away in his last race. Historically, he's run his best races around one-turn miles.
#8 Mint Game: Broke his maiden on dirt, in a hard-fought match race. Checked multiple times in his last race, but still battled on and lost by less than two lengths. 
ANALYSIS
RACE 7 – CLAIMING $5,000 (N/W2L), 3-YEAR-OLDS AND UP, FILLIES AND MARES, 6 FURLONGS
5-1-2-4
#5 Roaring Sidecar (10/1): Lightly-raced filly broke her maiden in her first start off a long layoff three races back. She's improved steadily in her two races against winners, finishing in the hunt last out. Goes first out for Anthony Farrior, who is 21% with such horses. 
#2 Girl Next Door (9/5): Surged and just missed in her last two races, both at this level. Daniel Centeno gets aboard for the first time. 
#1 Lucky Ninety Nine (7/2): Drops in class after two dull tries at the $10,000 n/w2L level. She's gotten the trips in those races, but hasn't been able to replicate the strong kick she showed three back. Perhaps facing easier rivals will wake her up. 
RACE 8: STARTER OPTIONAL CLAIMING $16,000, 3-YEAR-OLDS AND UP, FILLIES AND MARES, 5 1/2 FURLONGS
5-1-9-4
#5 Morgan's Z Va: Comes off an impressive win at Presque Isle Downs, where she found her way out of traffic and kicked away powerfully when clear. Both the second and third-place finishers came back to win next out. 
#1 Di: Another one dropping from the allowance level, she was third at Monmouth Park last out, with a big figure of 88 earned while finishing third. It looked like she recaptured her form from earlier in the year in that spot; can she keep it up?
#9 Foggy Dreams: Gets back to dirt for the first time since January 17, after two recent fast-closing efforts on grass. It's not clear if she'll be able to rally quite as strongly on dirt, but she's in top form currently, and it's not the strongest field.
RACE 9: CLAIMING $16,000 (N/W2L), 3-YEAR-OLDS AND UP, 6 FURLONGS
2-5-8-6
#2 Kickstarter: Takes a big drop in class from the starter optional claiming level. In that race, he trailed throughout, but still matched his career-top speed figure of 76. Should make a bigger impact against softer. 
#5 Tastes Like Plaid: Another class dropper, he was in excellent form prior to the break, then was no factor last out. He's had some time off since that July 3 effort, and has been working well since then. 
#8 Shelly Island: Goes third off the layoff, after a solid fourth-place finish in his return to dirt. He earned a career-high dirt figure of 70 in that spot. He'll do his best running towards the end.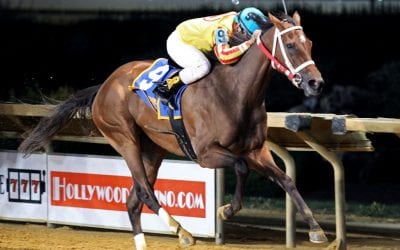 We provide picks and analysis for this evening's card at Charles Town Races.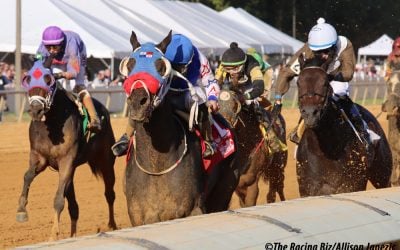 We provide full-card picks and analysis for this afternoon's races at Laurel Park.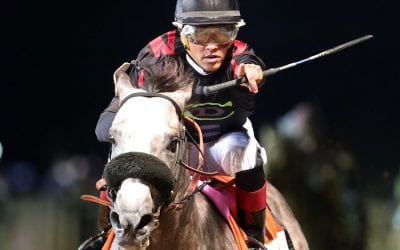 We've got Charles Town picks and preview today as the track presents its Friday card!