OPINION: RACING'S TIME FOR CHOOSING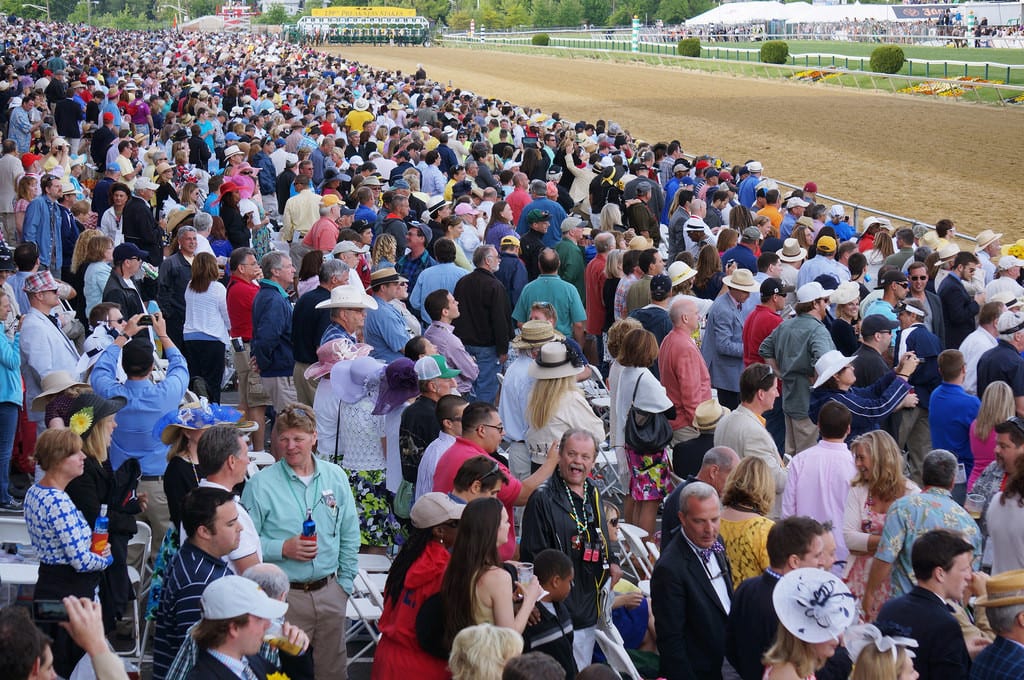 It's been a Triple Crown season unlike any other, and not just because of coronavirus-induced schedule changes. Despite the sport's best efforts to ignore the world around it, the protests that represent the nation's reckoning with race and racism have come – literally – to racing's front door.
Sorry, Churchill Downs. Sorry, horse racing. Head-in-the-sand is no longer a viable strategy. We have come, as Reagan styled it, to a time for choosing.
While the slave narrator of Kentucky's state song longed for his old Kentucky home, Breonna Taylor just wanted a good night's sleep in hers. Taylor, 26, was fatally shot in her own home by Louisville police who were executing a raid in search of a former boyfriend of hers (who was not present).
Her death – which occurred in March and for which no one has been charged – has spurred protests in Louisville that have now reached the 100-day mark. Some of those protests are taking place directly outside Churchill Downs.
It's into this charged atmosphere that Tagg – 82, and understandably concerned for the well-being of his horse, Derby favorite Tiz the Law – stumbled.
"I don't know what these guys are going to do, these rioters," Tagg said after the Derby post position draw Tuesday. "Who knows? All I know is you're not allowed to shoot them, and they're allowed to shoot you. That's what it looks like to me, so I don't know what to think about it."
Barclay Tagg, trainer of Ky Derby favorite, asked about concerns over protests, just said: "I don't know what these guys are going to do, these rioters, Who knows? All I know is you're not allowed to shoot them and they're allowed to shoot you. That's what it looks like to me." pic.twitter.com/UCyMGKAQ4k

— Eric Crawford (@ericcrawford) September 1, 2020
There is, of course, a lot wrong with Tagg's statement. It's factually dubious, for one thing, and its heart is in the wrong place, for another. Breonna Taylor wasn't rioting, and she still ended up dead. Whom does Tagg want to shoot, and why? How about a world in which nobody's allowed to shoot anybody?
Some folks will defend Tagg on the grounds that he's entitled to have, and express, an opinion. No question: both are true, and let's hope nobody's trying to change that.
Others will say they prefer their horse racing without a side of politics, whatever those politics may be. But that's no longer a tenable position.
Perhaps no other sport is as political as racing. The day before the post position draw, representatives of Churchill, Keeneland, and The Jockey Club, among other racing grandees, just about broke their arms patting themselves on the back for having convinced Sen. Mitch McConnell (R-KY) to support legislation federalizing racing's medication rules. And, of course, virtually all racing states nowadays have purses "enhanced" by other forms of gambling – which is an indirect way of saying, "subsidized by the state."
More to the point, silence in the face of the protests and the legitimate grievances they raise is not neutrality; it's assent to the status quo, to avoiding reckoning with the issues of race that have bedeviled the country past and present.
Churchill Downs issued a statement September 3 acknowledging as much.
"We are not doing enough, quickly enough," the company wrote. "That is true in our country, in our city and in our sport… We are committed to taking real, concrete action to address institutional roadblocks to progress and playing our part in advancing the changes America so desperately needs."
The statement, if vague and not as strong as it should have been, is at least something. A start, perhaps.
A stronger statement could have included language specifically disavowing Mr. Tagg's comments; "he's a great horse trainer, but we don't agree with what he said about the protests, and he doesn't speak for us" shouldn't be all that hard to say.
And a stronger statement might also have said that it's time to leave "My Old Kentucky Home" for a better future. That song and "Maryland, My Maryland" may have sentimental value for some, but both are relics of a time when it was acceptable to romanticize slavery and the Confederate cause. Both are long past their sell-by dates.
Adding in these steps might have put a little meat on the bones of Churchill's statement. Sure, these are merely symbolic – but symbols matter. That's why we fight so hard over them.
Days before the Derby, The Jockey Club, which to my knowledge has said not a word about the protests or issues of race, announced the election of five new members: four White men and a White woman. The more things change…
The Stronach Group – err, 1/ST (the slash is silent) – often refers to horse racing as a "legacy sport," which is a corporate way of saying "old and hidebound."
The company is right, of course, and there is much racing needs to do to modernize. Leaving a romanticized past that never existed to begin living in 21st century America – a multi-cultural, multi-racial society that's becoming more multi all the time – might be a good place to start.
LATEST NEWS