MCCONNELL TO OFFER NEW RACING INTEGRITY BILL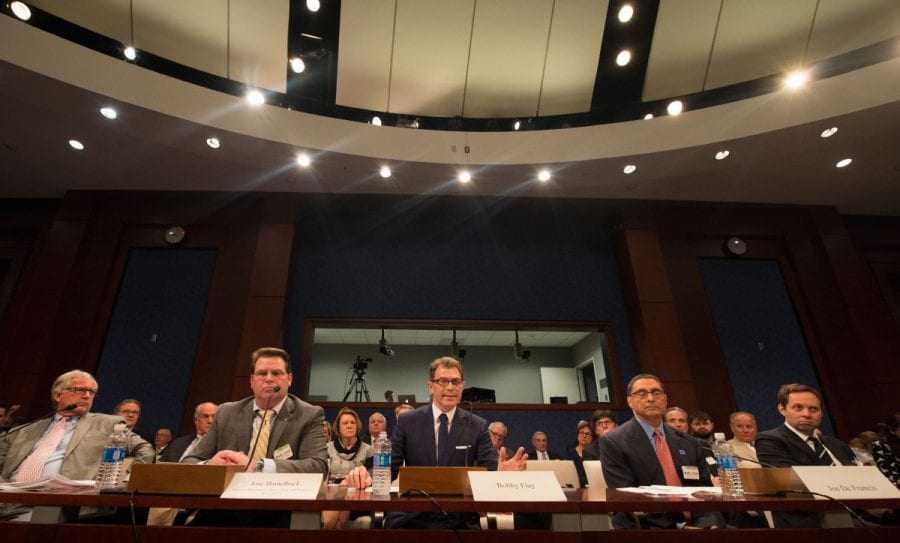 McConnell, joined by leadership from Churchill Downs, Inc.; Keeneland; Breeders' Cup Ltd.; and the Jockey Club, said that he would in September introduce the Horseracing Integrity and Safety Act in the U. S. Senate. Rep. Andy Barr (R-KY) will introduce companion legislation in the House.
The bill McConnell will introduce is a modified version of H. R. 1754/S. 1820, the Horseracing Integrity Act, that was introduced in the House by Rep. Barr and Rep. Paul Tonko (D-NY) and in the Senate by Sen. Kirsten Gillibrand (D-NY).
The window of opportunity for the legislation to pass in this Congress is relatively small. The Congress is out of session until after Labor Day; once it returns, it will be in session until the end of September, at which point members return to their districts until the elections. Following the election, the Senate is scheduled to be in session for parts of five weeks, the House for parts of three.
"I'm proud to be joined by prominent horseracing leaders in Kentucky as they take the courageous step to increase nationwide safety standards for horses, jockeys, trainers, breeders, and fans. I'm grateful to Congressman Andy Barr for his strong leadership on this important issue," Senator McConnell said in a statement.
The bill would create an independent, nine-member Horseracing Integrity and Safety Authority. That body would address medication use, track conditions, and other safety standards for the well-being of horses and riders. It would contract with the United States Anti-Doping Agency (USADA) to enforce medication rules.
Advocates immediately cheered the announcement, which puts a long-sought goal – national medication regs and enhanced uniformity – within reach.
"U.S. Senate Majority Leader Mitch McConnell and others are right to press the industry to create a uniform anti-doping standard that will protect the horses and the sport against the worst impulses of some of its actors," said Marty Irby, whose organization, Animal Wellness Action, has pushed for the legislation.
"We strongly believe that the Horseracing Integrity and Safety Act is vital to developing uniform and effective medication and safety regulations that will enhance the integrity and safety of American horse racing and improve the sport," agreed Stuart Janney III, chairman of The Jockey Club.
"Without federal legislation mandating that USADA enact 'clean' drug rules, reliable testing, qualified labs and strict penalties for violators, the sport of American horse racing faces an uncertain future," added Staci Hancock of the Water Hay Oats Alliance (WHOA).
Even a horsemen's group got into the act.
New York Thoroughbred Horsemen's Association (NYTHA) president Joe Applebaum issued a statement of support Monday afternoon.
"Horsemen should view today's developments with the Horseracing Integrity and Safety Act with hope," Applebaum wrote, going on to add, "I'd like to personally commend the industry participants for working together to overcome their differences."
Less than five hours after NYTHA's statement, however, the National Horsemen's Benevolent and Protective Association fired back, saying that it was not among those participants who'd worked together "to overcome their differences."
In fact, the group's CEO, Eric Hamelback, said in a statement, his group had been left completely in the dark.
"As CEO, I can tell you we were never consulted on the recently-announced Horseracing Integrity and Safety Act," Hamelback said. "Contrary to an erroneous statement made by another elected official at today's announcement, the HBPA was not made aware of any 'compromise' negotiations until a deal had already been reached, nor has the Board of the National HBPA even been asked for its support."
Which, if Hamelback is correct, suggests that the "collaborative solution" cited by Janney may have been nothing more than an agreement among those who'd already agreed on the need for federal intervention.
Hamelback's organization, he said, represents 30,000 owners and trainers around the country. It has affiliates in 23 states and five Canadian provinces.
Meanwhile, NYTHA's parent organization, Thoroughbred Horsemen's Associations, Inc. (THA), chimed in Tuesday morning.
In a vaguely worded statement, THA chairman Alan Foreman in part validated Hamelback's concern – noting that "we have yet to see the proposed legislation" – but also pledged the organization would continue to "be a constructive participant since the legislation, if enacted, will require substantial industry support and assistance."
Monday's announcement left many details unresolved, and since the legislative language has not yet been released, it is uncertain how the bill will address a couple of important issues. One of those is the funding of the new organization and the safety regime; another is the composition of the Authority, and yet another is the especially contentious matter of raceday medication, particularly Lasix.
Many horsemen had perceived iterations of the federal bill introduced in previous years as a stalking horse to ban the anti-bleeder medication. The versions introduced earlier this year make such a ban explicit.
It is unclear how the McConnell legislation will address the issue. Many perceive Lasix to be a critical tool to protect horses, while others see it as a performance-enhancing drug routinely administered to horses who don't need it.
Either way, two matters are clearer now than they were previously. First, the possibility of federal intervention is much greater now that the Senate Majority Leader is on board. And second, the announced "compromise" hasn't done much to bring racing's divided factions closer together.
"Because the legislative text has not yet been released, the National HBPA will reserve final judgement, but we caution our elected leaders to not be misled by the wealthy few who continue to promote federal legislation in service to their own, private interests," Hamelback wrote.
LATEST NEWS