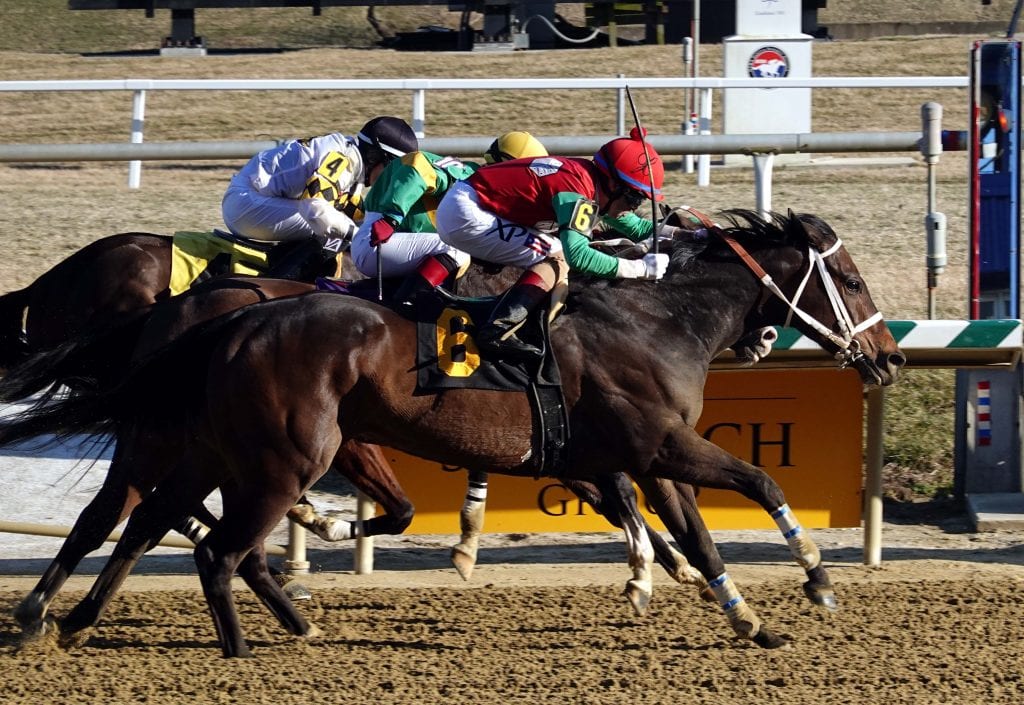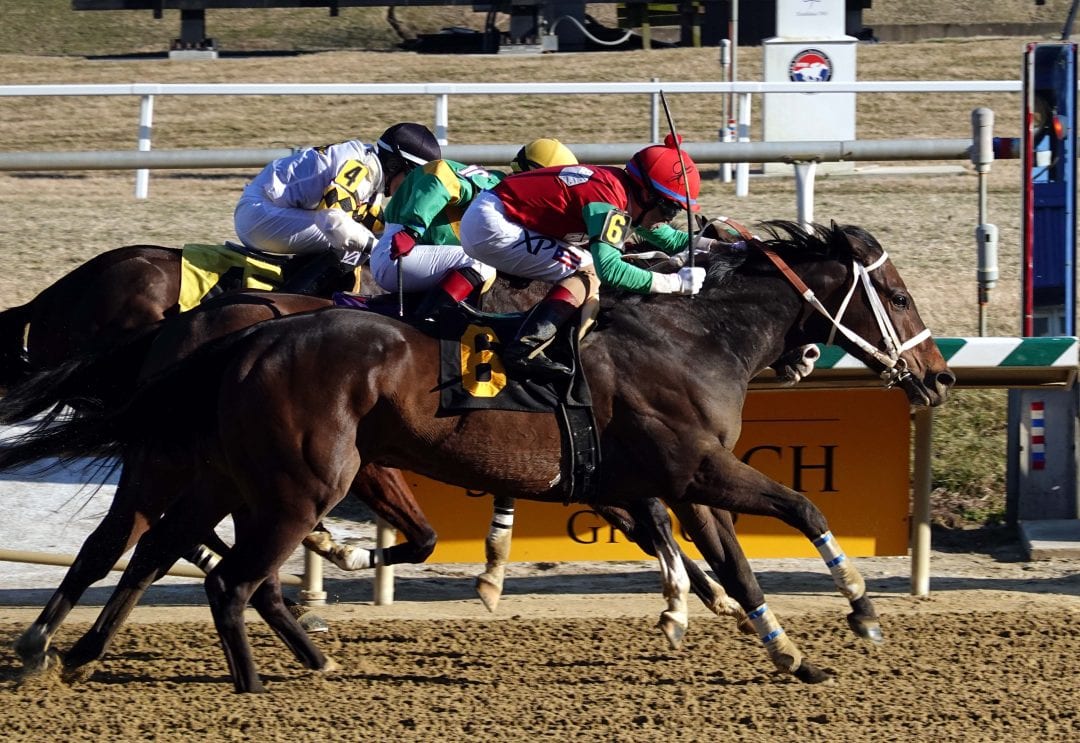 Anna's Bandit. Photo by Laurie Asseo.
In which we pick the races from Laurel Park each day…
Post time: 12:40 p.m.
Carryovers: Rainbow Jackpot Pick 6 — $0  Super High 5 — $0 Late Pick 5 — $0
Notable: Until further notice, no fans are allowed to attend the races at Laurel Park. For more info, click here.
ANALYSIS
RACE 1: STARTER OPTIONAL CLAIMING $25,000, 3-YEAR-OLDS AND UP, FILLIES AND MARES, 5 1/2 FURLONGS
7-5-1-4
#7 Gloriously: Broke her maiden impressively in her last dirt start, cruising to a maiden claiming win at Gulfstream Park after being on the lead. She's improved substantially in each of her dirt races, earning an 83 brisnet figure last out, the best last-out number in the race by ten points. Drops in class after a wide trip against n/w1x allowance company on grass last out. Getting back on dirt should help the cause.
#5 Bluefield: Shook off some challengers in her debut and won gate-to-wire. There's some speed signed on to this one, too, but she's shown that she can withstand pressure. She's also the only one in the race who has not lost against winners. 
#1 Positive Force: The most serious challenge to Bluefield's front-running supremacy. Lasted through a speed duel to break her maiden two dirt races back at Parx, then battled all the way around with a speedy rival in her most recent try on the surface. In that race, she won the battle, but lost the war, finishing second overall. Ness has been tough all meet long, and Toledo should be aggressive from the inside post. 
RACE 2: STARTER OPTIONAL CLAIMING $16,000, 3-YEAR-OLDS AND UP, 1 1/16 MILES
5-4-1-3
#5 Belfour (7/5): Ran huge in his first race off the claim for John Robb, blowing away a classy field at this level by seven lengths.  His only kryptonite may be his outside post: with the short run into the first turn, and speed drawn to his inside, he may have a hard time clearing to the front. 
#4 General Paddy (3/1): The perfect horse to round out exactas. He's always in the hunt late, and runs fantastic speed figures, but never wins. Last out at Delaware Park, he was the 4/5 favorite, and got a great stalking trip, but couldn't get by late and ended up second. It won't pay much, but a Belfour-General Paddy cold exacta looks like the play. 
#1 Oldfashioned Club (4/1): Last out, he broke slowly, was rushed up, and was a non-factor from there. Prior to that, he had won three of six, stalking the pace on the inside and drawing off. Looks to get a similar trip here. 
RACE 3: CLAIMING $12,500, 3-YEAR-OLDS AND UP, 5 1/2 FURLONGS
3-8-1-6
#3 Successful Zip: Showed some successful zip indeed in his last race, taking a weaker field gate-to-wire. Goes first off the claim for Kieron Magee, who has been heating up a bit lately after a slow start.
#8 Fly E Dubai: Tries dirt for the first time since January 16, when was hung wide throughout and faded. He ran some big figures at Penn National back in December, even though the races weren't visually impressive. This isn't a super strong race, so he's in with a big shot. Look for him to make a middle move and grab a piece. 
#1 Boppin Anda Weavin: Has high-quality speed from the inside, and has about equal ability on dirt as he does on grass. In his most recent dirt start, he was on the early pace against tougher and hung in there before drifting out. Should be a factor early on from the inside. 
 ANALYSIS
RACE 4: MAIDEN CLAIMING $25,000, 3-YEAR-OLDS AND UP, 6 FURLONGS
6-4-7-5
#6 I'd Like to Know (3/1): First off the claim for Claudio Gonzalez, and has blazing speed. He ran well in his first start off a long layoff last out, setting a sharp pace and grudgingly yielding in the last eighth. Looks like an excellent contender to beat the heavy morning line choice.
#4 Extremelyexclusive (1/1): Ran a giant figure in his last race, finishing second after trying to close off a relatively moderate early tempo. Should get a pace to run at, and if I'd Like to Know falters, he can get past him and win. 
#7 Man Up Dude (8/1): Lightly-raced gelding battled on in his last race, holding second after fading from a fast early pace. Improved his figure sharply in that race; he can definitely hang around here and grab a piece of the exotics. 
RACE 5 – MAIDEN CLAIMING $40,000, 3-YEAR-OLDS AND UP, 5 1/2 FURLONGS
10-2-8-6
#10 Chauffeur: Ran on well in his last race, closing to lose by half a length at this level. Hasn't quite been able to put the pieces together in his last few, but he's never faced a field as soft as this one. Should once again rally on late.
#2 Officer Country: Tried to close on the speed-favoring Saratoga grass in his last race. It went about as well as you'd expect over that surface, finishing fourth behind a gate-to-wire winner. In his lone dirt race, he finished third at Gulfstream Park after a rough break. If he gets an honest setup, he's going to be heard from late.
#8 Charm City Band: Goes out for the first time since January 17, when he faded after getting caught up on the pace. Outside of cheap speed King Shawn, I'm not sure anyone can run with him early on. If he can get away with a reasonable pace, he'll be tough to catch.
RACE 6: CLAIMING $5,000 (N/W2L), 3-YEAR-OLDS AND UP, 6 1/2 FURLONGS
7-8-3-1
#7 Five Card Draw (3/1): Raced well in his first start at the level, running on valiantly to try and catch a leader who got away with a temperate pace. The horse who inhaled both of them late, Irishtown, came back to win his next race at 29/1. 
#8 Talented Dr. B (7/2): Comes out of the same race as Five Card Draw, which was his first race in six months. I'm willing to forgive the very mild effort, considering he may have been a bit rusty. He was improving before going on the sidelines, running two figures in the 70s over the winter. Looking for a step up second off the layoff. 
#3 First in Show (6/1): Recent California invader runs third off the layoff for Cal Lynch, after racing wide throughout in his last race. He showed speed to spare over grass and synthetic on the west coast, can he recapture that form here? He'll be dangerous if he can get loose, and the price might be right to take a shot.
ANALYSIS
RACE 7 – MAIDEN CLAIMING $10,000, 3-YEAR-OLDS AND UP, 6 FURLONGS
5-7-9-4
#5 G Man (5/1): Looked like he was home free last out at Delaware, but got tired in the last sixteenth and got caught. Outside of a non-effort two back after a rough break, he steadily runs figures in the 60s, which should be good enough to win this race. Should sit a good stalking trip, and hopefully has a better-timed move. 
#7 Elusive Motion (7/2): Gets a much-needed cutback after trying to go a mile last out. In that race, he held well until the last eighth of a mile or so, then stopped. His speed will be a major asset going a shorter distance. 
#9 Favor Maker (9/2): Ran on well in his dirt debut last out to get fourth at 75/1. Earned a figure of 66 in that race, representing a lifetime top by eleven points. This is also just his fifth career start, making him the second-least experienced horse in the field. 
RACE 8: ALLOWANCE (N/W1X), 3-YEAR-OLDS AND UP, FILLIES AND MARES, MD-BRED, 5 1/2 FURLONGS
1A-3-2-5
#1A A Great Time: Both halves of the Mike Trombetta entry look formidable; I'll give the edge to this one. She's dropping out of stakes company in New York, and ran big figures over the synthetic at Woodbine last year. In her lone start on conventional dirt, she finished second at this level, after making a premature move. 
#3 Nightlife: Stopped cold over the tiring Parx track last out. Now, she'll race over a more speed-friendly surface, and she's got speed to spare. While not a need-the-lead type, she has some of the best early pace figures in the race, so it wouldn't surprise me to see her cruising out there, and this time, not getting caught. She can also stalk and pounce.
#2 Maybe an Omen: Another speedy filly, you can draw a line through her last race, as she broke slowly. Prior to that, she had been on the lead every time, and when uncontested, she either won, or got a placing with a big figure. Trevor should send from the inside. 
RACE 9: MAIDEN CLAIMING $25,000, 3-YEAR-OLDS AND UP, 1 MILE
8-5-13-9
#8 Hard Sting: Makes his first start of the year, and drops for a tag for the first time. Lost to some pretty nice horses in maiden special weights last year in New York, now gets to race against this ragtag bunch. He might need a race off the break, but might win anyway.
#5 Silent Malice: Just missed last out, boxing on in the stretch after a bad break. He's had a hard time passing horses in his last two races, but if anyone's going to get him by the leaders, it's Trevor. Getting an honest pace would also help his cause. 
#13 Souper Cohiba: Sucked up for a piece under similar circumstances in his last two races at Monmouth Park. He'll be a factor on the early pace.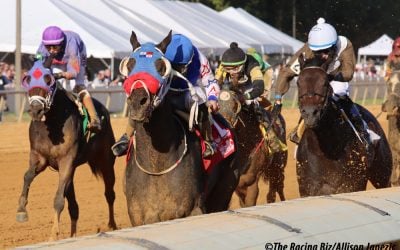 We provide full-card picks and analysis for this afternoon's races at Laurel Park.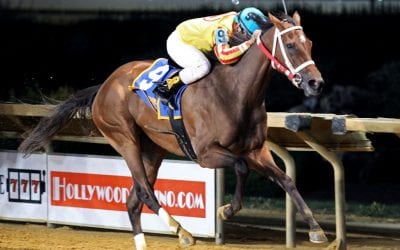 We provide picks and analysis for this evening's card at Charles Town Races.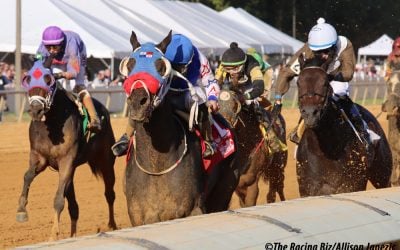 We provide full-card picks and analysis for this afternoon's races at Laurel Park.