Mid-Atlantic Three Stars: August 25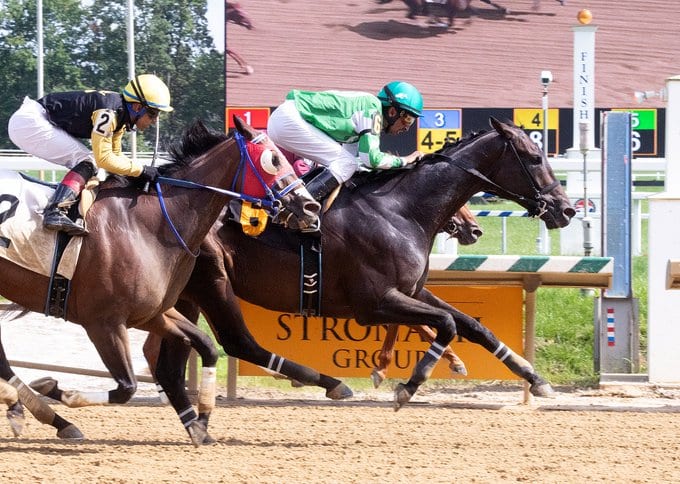 Arch Cat won the Thursday feature at Laurel Park. Photo by Jim McCue, Maryland Jockey Club.
Plenty of racing action took place throughout the Mid-Atlantic this past week.
Here's a look at the "three stars" of each track:
LAUREL PARK
FIRST STAR: ARCH CAT. Thursday's feature race, an open allowance at seven furlongs, was expected to be a showdown between two of Maryland's top sprinters, Eastern Bay and Laki. However, Arch Cat upset the party, winning by a neck at 10/1. Early on, Arch Cat stalked the pace three-wide, prompting Laki and Onemoregreattime towards his inside. In the stretch, Laki, who was sent off as the 4/5 favorite, opened up a one-length lead, but was unable to pull away from his rivals. Arch Cat kept grinding on the outside, and re-rallied for the victory. That's the second win in a row for this 6-year-old gelding, after a score at Delaware Park in early July. He's owned by Burns Thoroughbred Racing, trained by Daniel Velazquez, and ridden by Julian Pimentel. 
SECOND STAR: ELVIS TRUJILLO. With Voodoo Valley's win in Saturday's second race, longtime mid-Atlantic jockey Elvis Trujillo got his first career training win. Read more about it here. 
THIRD STAR: CARL DORAN. Trujillo wasn't the only trainer to get a milestone win last week at Laurel. Carl Doran, who's been training in the mid-Atlantic since 2007, won Thursday's eighth race to get his 100th career win. Heavy favorite Breviary took an off-the-grass allowance field gate-to-wire, cruising under the wire 3 1/2 lengths in front. That was the third win in a row for Breviary,  who is responsible for 75% of the wins in Doran's stable this year.
CHARLES TOWN RACES
FIRST STAR: PENGUIN POWER. Last year, Penguin Power was one of the top sprinters in West Virginia, winning three stakes races, and eight races overall. He's maintained his strong form this year, and further asserted his dominance on Saturday with an impressive allowance win. Sent off as the 1/10 favorite in the seven-furlong contest, Arnaldo Bocachica immediately put him on the rail and on the lead. He dismissed an early challenge from a longshot, then opened up two lengths up the backstretch. In the end, he cruised under the wire 2 3/4 lengths in front, going the distance in 1:25.01. He's owned by David Raim and trained by Jeff Runco.
SECOND STAR: CATCH MY CABOOSE. Friday night's feature went to this gelding, who crushed a West Virginia-bred allowance field by six lengths. He dropped over to the inside from post position six in the early stages, and encountered plenty of pressure on the early pace. Despite those challenges, he shook off his rivals heading to the seven-furlong point, and drew off to an easy score. He covered the 1 1/16 miles in 1:47.36, for his first win of the year. He's owned by Walter Holloway, trained by Michael Weeks, and ridden by Leshawn Ratchman. 
THIRD STAR: ARNALDO BOCACHICA. Charles Town's leading jockey had five wins this week, including a hat trick on Saturday. In addition to his win on Penguin Power, he scored in race 6 with 2/1 Canttakeitanymore, and the 7th race aboard 9/5 Navy Sword. On the meet, Bocachica has 102 wins, far and away the most of any jockey at Charles Town.
MONMOUTH PARK
FIRST STAR: WARRIOR'S CHARGE: The favorite won Saturday's feature, the Philip Iselin Stakes, after a disqualification. The 3/5 favorite crossed the wire second, but was put up to first after the original winner, Pirate's Punch, was disqualified. Read more about the race here. 
SECOND STAR: ARCHIDUST. In a dramatic blanket finish, Archidust won Sunday's feature, the Get Serious Stakes at 5 1/2 furlongs on the grass. Off a win in the Wolf Hill Stakes, he was sent off as the 4/5 favorite, and sat fourth in the early stages. In the stretch, he was still two lengths back, while Spikes Shirl and Completed Pass battled amongst themselves for control. In the last strides, Archidust surged, and got up to win by head. Spikes Shirl edged Completed Pass for second. The winner was ridden by Hector Diaz, for owner Crawford Farms Racing and trainer Steve Asmussen. 
THIRD STAR: BRAMBLE BAY. Earlier on Sunday, this Jersey-bred won for the third time in the last four starts, defeating her state-mates in an allowance on the grass by 1 1/2 lengths. As expected, she was near the back of the pack early on, and trailed the field as they rounded the final turn of the one-mile contest. When she was asked, she gave her usual closing punch, and rolled by to win. She's owned by Ballybrit Stables, trained by Michael Dini, and ridden by Joe Bravo. 
DELAWARE PARK
FIRST STAR: BLUE BUFF. Don't touch this gelding; he's sizzling. He won for the sixth time in a row on Saturday, taking a n/w2x allowance optional claiming race by 2 1/4 lengths. Early on, he sat at the back of the five horse field, only about three lengths off the lead, He rallied four-wide on the turn, then set his sights on early leader Beyond the Victory, who had opened up a commanding advantage. Blue Buff had plenty left, though, and rolled by him late. The winner has now earned more than $100,000 this year, while racing at Delaware, Parx, and Gulfstream. He's owned by D.J. Stable, trained by John Servis, and ridden by Angel Suarez.
SECOND STAR: ALEX CRISPIN. He's been having a fantastic meet at Delaware, and continued his hot riding with a five-win week. Monday saw him get a hat trick, winning race 1 with Tiz Samurai, race 4 aboard Dazzle Me, and the 5th race on Cam's Carter. For good measure, he added two winners on Wednesday's card. He has 28 wins on the meet from 118 starters, good for third behind Carol Cedeno and Angel Suarez. 
THIRD STAR: MISS AURAMET. 3-for-3 to begin the year, this filly snapped a 3-race losing streak in Thursday's feature, a n/w2x allowance optional claiming race at five furlongs on dirt. She broke on top, shook away from her competition, and drew off to an impressive 8 1/4 length win. She stopped the timer in an impressive 57.34 seconds, for owners David Melin, Leon Ellman, and Laurie Plesa, trainer Jorge Duarte, and jockey Roberto Alvarado.
PARX RACING
FIRST STAR: CORN OFF THE COB. This Claudio Gonzalez-trained filly took Wednesday's feature, a n/w1x allowance at seven furlongs, by 7 1/2 emphatic lengths. She got a great trip stalking the pace, then powered past on the turn and drew away. She's won three times from eight starts on the year, and has hit the board seven times. MCA Racing Stable owns the winning filly, with Luis Ocasio in the saddle.
SECOND STAR: LUVINMEISEASY. Final Prospect, off two wins in a row, was sent off as the 1/1 favorite in a salty starter allowance race on Monday. However, he showed little and was fourth. Meanwhile, Luvinmeiseasy, who won three races in a row earlier in the year, recovered his good form and won by 1 3/4 lengths. He got a great trip off three horses vying for the lead, then moved on them turning for home and drew off. Frankie Pennington was in the saddle, for owner Albert Lupcho and trainer Robert Mosco.
THIRD STAR: ANGEL RODRIGUEZ. He had quite the day on Tuesday, with three riding wins. He won race 3 with Penance, race 7 with Quiet Please, and the 11th race aboard Madam Meena. That big day elevated Rodriguez to third place in the rider standings, with 39 victories.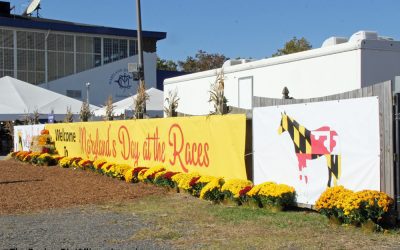 A bevy of defending champions and local stars headline the pre-entries for Jim McKay Maryland Million, which will take place at Laurel Park on Oct. 14.