Laurel Park picks and ponderings July 23, 2020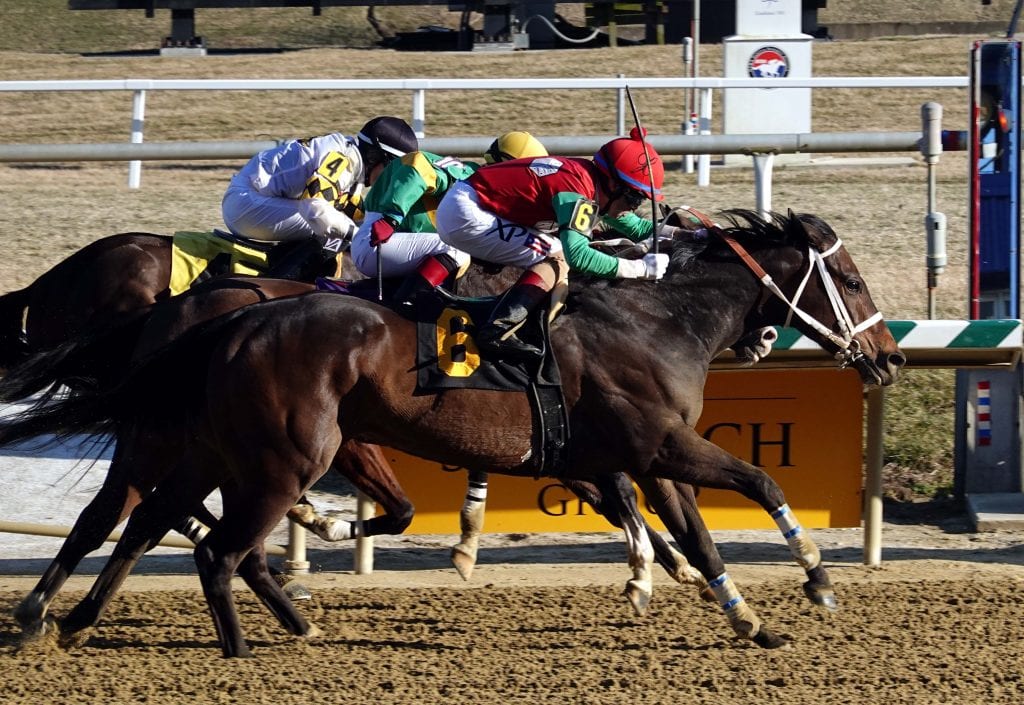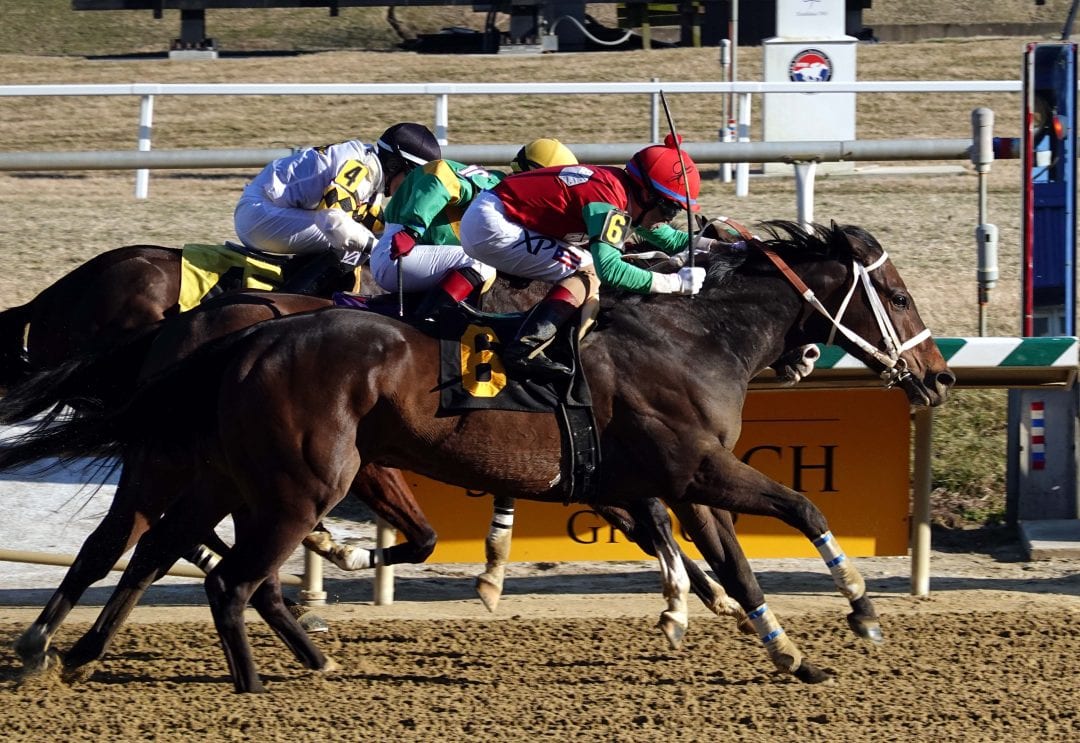 Anna's Bandit. Photo by Laurie Asseo.
In which we pick the races from Laurel Park each day…
Post time: 12:40 p.m.
Carryovers: Rainbow Jackpot Pick 6 — $0  Super High 5 — $0 Late Pick 5 — $0
Notable: Until further notice, no fans are allowed to attend the races at Laurel Park. For more info, click here.
ANALYSIS
RACE 1: STARTER OPTIONAL CLAIMING $25,000, 3-YEAR-OLDS AND UP, FILLIES AND MARES, 6 FURLONGS
3-6-1-5
#3 Mary's Jewel (8/5): Got parked wide in her last dirt start, and still ran on gamely in the stretch to finish a close second. Going to the grass last time didn't help matters; now returns to her preferred surface. She should be just off what could be a hot pace, and hopefully not as wide.  
#6 Landing Zone (2/1): Claudio Gonzalez has a pair in here; this is the better half. She raced against Mary's Jewel two races back, and was hung wide as well. Last out, she made a good move to the lead in a two-turn affair at Delaware Park, but couldn't get the distance and flattened out. Ran a big race four back against similar in February, splitting late in the stretch and drawing off. Should finally get a set of favorable circumstances here.
#1 Uncommon Factor (12/1): Tampa Bay Downs shipper has speed to spare, and this can be a speed-favoring track. If she manages to get a somewhat easy early lead, she's going to be tough to catch.
RACE 2: CLAIMING $16,000 (CONDITONED), 3-YEAR-OLDS AND UP, FILLIES AND MARES, 7 FURLONGS
4-2-7-1
#4 Calypso Ghost (4/1): It looked like she needed her last start at Parx; it was a pretty dull effort. She raced well against fellow three-year-old fillies over the winter, winning twice with brisnet figures in the high 70s/low 80s. Should get a great trip stalking a potential speed duel.
#2 Magical Luna (7/2): Looks fast enough early to possibly outrun her dueling partner, drawn directly to her inside, and has the superior speed figures. Could be tough to catch if things break her way. 
#7 Ortinola (10/1): Another one coming off a race where it looked like she was shaking off some rust. Has hit the board ten times out of thirteen at Laurel Park, and looks like the type who can plod along and get a piece of the exacta or trifecta. 
RACE 3: ALLOWANCE (N/W1X), 3-YEAR-OLDS AND UP, 1 1/8 MILES (GRASS)
8-6-5-7 (DIRT: 4-8-1-2)
#8 Nick Papagiorgio (5/2): He's been climbing the class ladder with ruthless efficency: he won an open claiming race three starts back, then ran big against Maryland-bred allowance horses, now jumps up to open company. It's only a slight jump compared to last out, and he's clearly in the best form of anyone in the race. Should get the same stalking trip he's had in his last few.
#6 J. Bereford Tipton (3/1): Has burned a lot of money in his last few starts, although his last race wasn't entirely his fault. He got stuck behind a slow early pace after checking early on, and his usual closing punch was rendered worthless. Still, there isn't a ton of pace signed on for this race, either, so if Toledo isn't careful, he could find himself in a similar spot.
#5 Bee Catcher (10/1): Comes in from Keeneland and goes second off the layoff, after a dull effort against better n/w1x foes. He's another one with no early speed, but should be rolling late to get a small share.
ANALYSIS
RACE 4: MAIDEN CLAIMING $40,000, 3-YEAR-OLDS AND UP, 5 1/2 FURLONGS (GRASS)
2-4-6-1 (DIRT: 1-3-4-5)
#2 Mosby's Ranger (6/1): Showed speed and gave way in his last start against straight maidens at Delaware Park. He cuts back to a sprint here. In his last start against sprinters, he finished second at 85/1, holding on to the lead until the last eighth of a mile. He outfinished a few of his rivals today in that spot. 
#4 Hushed (6/1): In his debut, he was in the midst of a move on the turn, when he was forced to check and lose momentum. In spite of that, he closed well to get fourth, showing some life in the final eighth. Now, he gets lasix for the first time. Should take another step forward.
#6 Dreaming of Carats (9/2): Improved his figure by ten points last out, all the way up to an 83. The horse he lost to in that race, Fiya, came back to dominate a Maryland-bred allowance race last Friday, and looks like a potential stakes horse. When you take him out of the mix, he was second, beaten less than two lengths, after being on a tough early pace.
RRACE 5 – CLAIMING $5,000 (CONDITIONED), 3-YEAR-OLDS AND UP, 1 1/16 MILES
1-6-7-5
#1 Dedicated (4/1): Raced against better last out, and made some mild ground in the stretch to lose by less than two lengths. Easily beat a field similar to this one four starts back, and now makes his second start off the break here. 
#6 Campari (9/2): His only bad race within his last few was when he fell way too far behind off a slow pace, and never lifted a hoof. Last out, he was fanned six-wide in the stretch, but closed ground stoutly and lost by just half a length. Might be better suited to one-turn miles, but should but in a good account of himself here as well. 
#7 McLean House (5/1): Comes off a n/w3L win at Delaware Park, where he dramatically closed ground nearing the 3/4 pole, and boxed on for the win. He's been steadily improving in his last few starts, and runs for the first time off the layoff.
RACE 6: MAIDEN CLAIMING $25,000, 3-YEAR-OLDS AND UP, 5 1/2 FURLONGS (GRASS)
4-8-10-1 (DIRT: 8-9-7-10)
#4 Next Stop Pokipc (3/1): He might have made a premature move in his last start, when he was clear in the stretch, but got collared late. Makes his second start off the layoff, and was knocking on the door against similar over the winter at Gulfstream Park. Notably, he came from mid-pack in those races at Gulfstream, last out, he was closer to the pace. It's going to be interesting to see what strategy Hamilton employs here. 
#8 Confectioner (6/1): Gets back to the grass after a dull try going long on dirt last out. Closed well to finish fifth in that race, despite some bumpy waters. Feargal Lynch, who has been riding well on the grass as of late, gets back in the saddle. 
#10 Zip Line to Heaven (8/1): Ran seventh in his grass debut last out, the same race that Fiya won, and that Dreaming of Carats exits earlier in the card. His figure of 79 in that race is the best last-out figure in the field by eight points, but I don't know if he can duplicate that, considering I doubt there's a Fiya type in this race. Still, he's third off the break for Trombetta, so he's worthy of respect.
ANALYSIS
RACE 7 – STARTER OPTIONAL CLAIMING $25,000, 3-YEAR-OLDS AND UP, 1 1/16 MILES (GRASS)
1-3-5-6 (DIRT: 6-2-1-9)
#1 So Innocent (10/1): Faced much better on the grass last year, but steadily ran figures in the mid-80s during that stretch. Tried dirt without much success earlier in the year, now gets back to her favorite surface against the boys. She's shown the ability to either be on the pace or come off it. 
#3 Lucky Ramsey (9/2): Narrowly missed against Nick Papagiorgio two races back, then battled gamely in the stretch last out and just missed. He's run in the 80s and above each of his last five grass races, and is one of the few in here with good recent grass form. 
#5 Epic (7/2): Mountaineer Park shipper closed strongly to get an allowance win there in his last stat. This is a stronger field, but he turned in some good closing kicks against better over the winter at Tampa Bay Downs and Gulfstream. Should be rolling late. 
RACE 8: ALLOWANCE (N/W1X), 3-YEAR-OLDS AND UP, 6 FURLONGS
4-5-3-2
#4 Bull Shark (8/5): Looked like a monster in his first two career starts last summer, winning them by a combined 7 1/2 lengths. However, he hasn't been seen since July 7 of last year. He ran brisnet figures above 90 both times, and has blazing early speed. If he runs back to those races off the break, he'll crush these. His recent worktab has been very strong, most recently going four furlongs in 48 seconds. 
#5 Popizar (7/2): Raced wide all the way last time at Parx, while well off the pace, and managed to close well to secure second. He's been having trouble breaking in his last few, but he's still the best closer in this race. As long as he can secure a midpack spot, he should be in good shape.  
#3 Day the Music Died (4/1): Two races back, he narrowly lost to Wondrwherecraigis, who went on to cross the wire second in the Gold Fever Stakes at Belmont Park. Last out, he matched the 89 figure, finishing third after a big big entering the stretch. This looks like somewhat of a class drop from that starter optional claiming field he faced last out. 
RACE 9: ALLOWANCE OPTIONAL CLAIMING (N/W2X), 3-YEAR-OLDS AND UP, 5 1/2 FURLONGS (GRASS)
1-2-7-8 (DIRT: 1-5-9-10)
#1 Eastern Bay (9/5): A type with equal ability on dirt or grass, he's coming off a n/w2x allowance win against a strong field on dirt last out. This'll be his first grass start since August 10, when he was third in a stakes-quality allowance. Generally runs in the mid-90s on the grass,which would be good enough to win this race.
#2 Clever Triad (9/2): Makes his second start off the layoff, with his first once coming against a tougher field last week. He ran a game fifth after checking in the stretch, behind horses that are much better than the ones he'll see here. Only question is how he does off the five-day vacation.
#7 Tempt Me Twice (3/1): Led briefly in the stretch before being caught late, in a game effort. He improved his figure sharply in that race; the 91 he earned is better than anything he'd done in his last five. He had approached those numbers last summer; is he just now rounding into his usual form?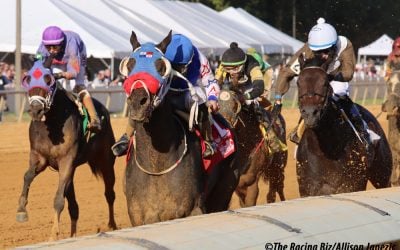 We provide full-card picks and analysis for this afternoon's races at Laurel Park.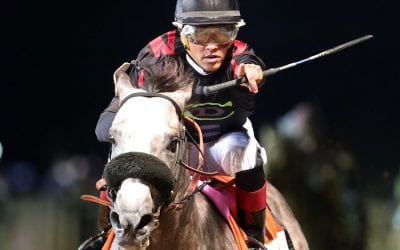 We've got Charles Town picks and preview today as the track presents its Friday card!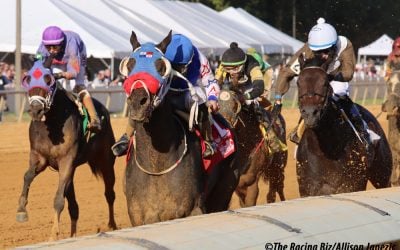 We provide full-card picks and analysis for this afternoon's races at Laurel Park.