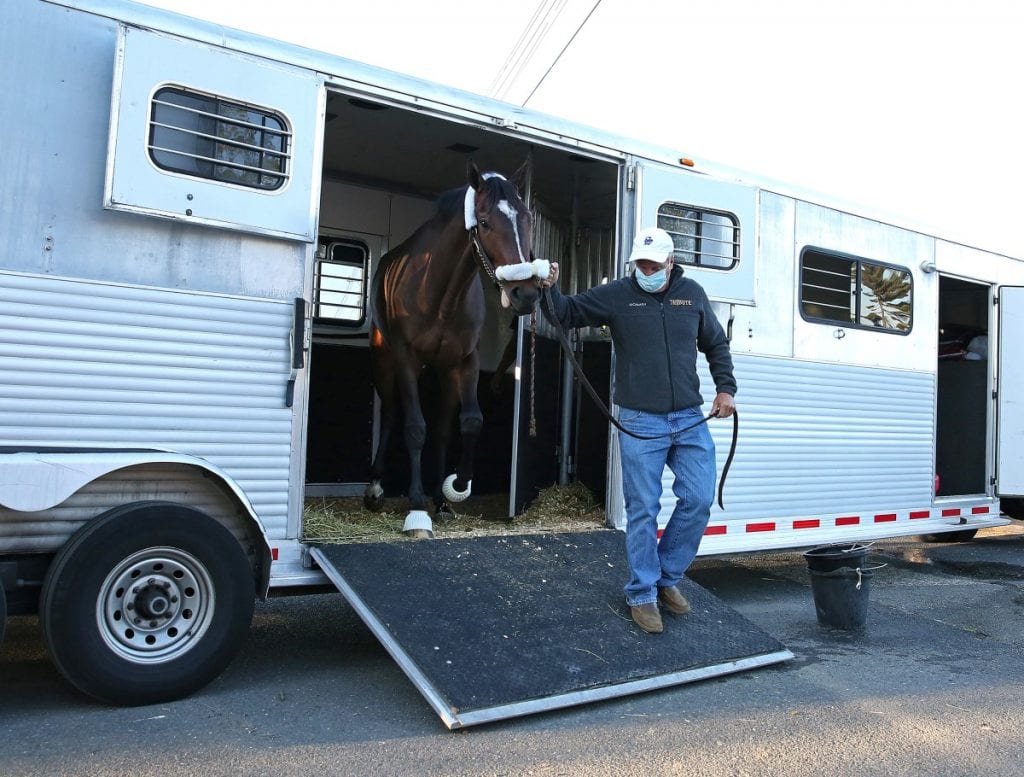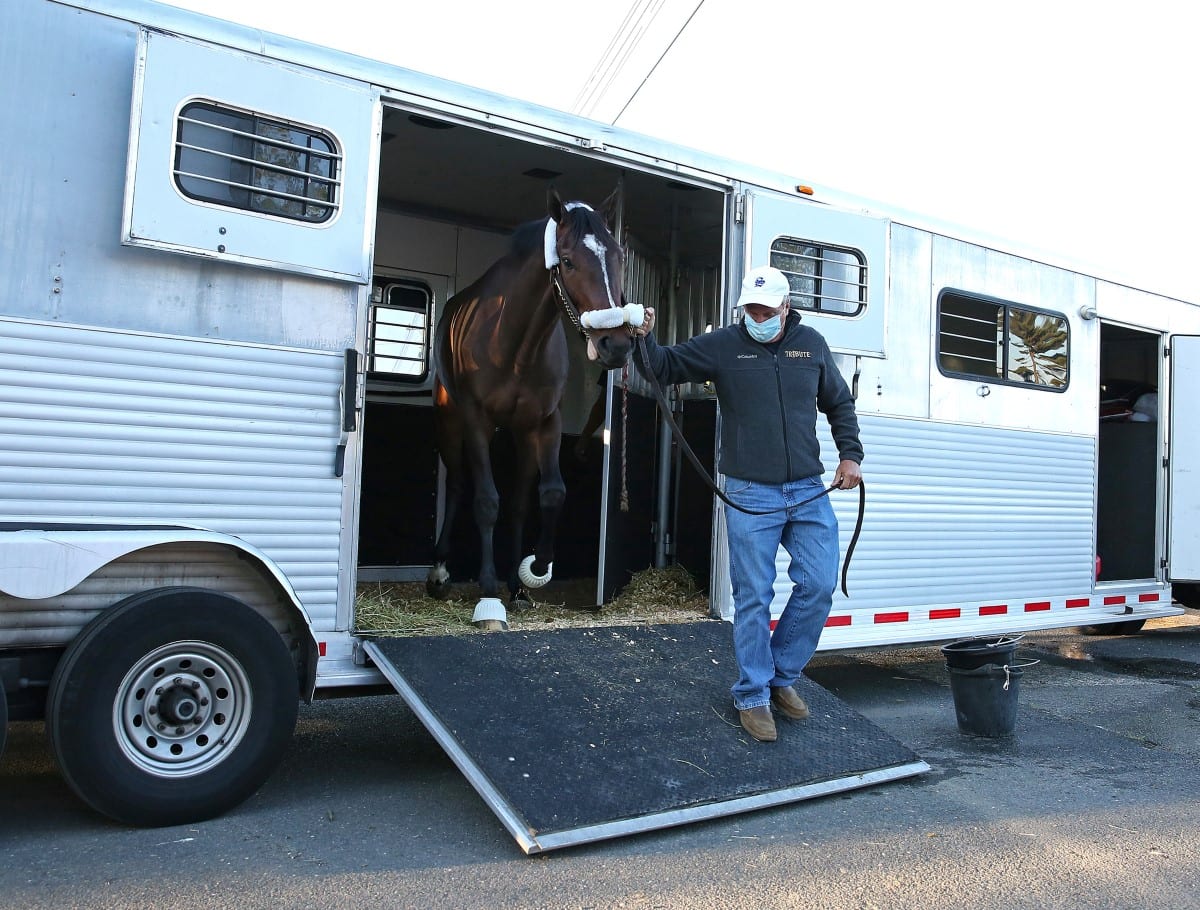 Only three of the nine runners entered in Saturday's $300,000, Grade 1 United Nations Stakes have double-digit morning lines. And if one of those seems to be tilting at windmills, another might just be a live longshot.
Corelli, a homebred for George Strawbridge, Jr.'s Augustin Stable is trained by Jonathan Thomas. At 10-1 on the morning line, he is the third-longest shot in the field. Daniel Centeno will ride. But he rates a legit shot to outrun those odds.

The 5-year-old Corelli, whose only start this year was a seventh-place finish June 4 in the $80,000 Tiller Stakes at Belmont at a mile and 3/8 on the turf — just like he will run Saturday – has made 10 of his 11 career starts in Great Britain and owns three wins. In the Tiller, he closed willingly to be beaten just over three lengths; the winner, Paret, is 6-1 on the morning line for the U. N.
A son of Point of Entry, he'll be making his second start for Thomas.
"He's been training real well," Thomas said. "He's had a consistent pattern at Belmont. He needs to break better out of the gate. It's a rare opportunity to [go such a long distance on the grass]. We're going to learn a little more about him. He's definitely bred for the grass on both sides. This will be a good test for him. It all depends if he improves. He trains like a horse of quality."

Even though his charge is listed in double digits in the morning line, the confident Thomas doesn't look at his horse as being a heavy underdog.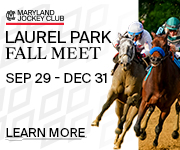 "I don't know if it's a major challenge," Thomas said. "I think this is a respectable field, but it's a wide-open race."
Corelli will race on Lasix for the first time Saturday, and Thomas will also add blinkers.
Thomas said that the break in action forced by the coronavirus pandemic caused a little havoc to the horses in his barn, including Corelli.
"It knocked us out of rhythm a little bit," Thomas said. "The owners are the ones financing the horses and they lost a lot. You don't know how lucky I am as a trainer to have the owners that I work with. They've made it incredibly easy for us, especially with the quality of care they're giving. The horses aren't running and the owners are not making any money. But they've given us the paddle to navigate the climate. It's very refreshing to have these big races still on the schedule."
At the other end of the spectrum is Eve's Medal.
John Stephens knows that his 3-year-old Eve's Medal might be over his head in the U.N. The New York-bred has career earnings of… $9,000.
"This might be a little ambitious," said Stephens, who by late Thursday afternoon, didn't really know if Eve's Medal, a maiden who at 30-1 is the longest shot on the board in the morning line, would even head to the starting gate with the other eight older horses. "We might be throwing him to the wolves here. It's a big step for him, this kind of stakes race."
But Stephens, who also owns the horse, figures that the surface and distance of the grassy 11-furlong U. N. should hit Eve's Medal right between the eyes.
"We know that he wants to go the distance," said Stephens, who has saddled one winner in 27 starts this year. "We're going to put him in there and see what happens. I think he relishes the distance."
Stephens reported that Eve's Medal is moving in the right direction after Thursday's morning works.
"I was pleased with the way he went out," Stephens said. "I'm very pleased with the way he's been training for this race."
Stephens also liked Eve's Medal's lone past performance, a second-place finish after he stumbled badly at the start before rallying a 1 1/16–mile maiden special weight race at Monmouth July 5. Jomar Torres was aboard Eve's Medal that day and is named again on Saturday.
Eve's Medal is stabled at Monmouth along with Stephens' other 14 horses. He's a colt by Medal Count out of the Unbridled Jet mare Ptarmigan. Ptarmigan was the champion steeplechase mare of 2010.
Stephens, who has saddled 48 winners in his career including one stakes winner, admits that being a horseman is strictly a hobby.
"For me, it's a little different," Stephens said. "I come here for fun. I really enjoy coming to Monmouth. I started coming here in the early 1980s. I'm usually here for five-to-six months. I just try to make the best of it."
Sure, this spot could fairly be described as quixotic for Eve's Medal. But then again, why the heck not?
"We're here at home," Stephens said. "Eve's Medal is bred to go the distance. I'd say we're the underdog. My horse is the only 3-year-old in the race. But the horse has a good mind. He's doing all the work and seems happy. We're just going to see what happens."
Six-year-old Arklow, trained by Brad Cox and ridden by Hall of Famer Mike Smith, is the morning line favorite at 5-2. Standard Deviation, the Graham Motion-trained 4-year-old ridden by Trevor McCarthy, is 2-for-2 over the Monmouth turf and is the morning line second choice at 7-2, followed by Current, the Todd Pletcher-trained 4-year-old ridden by Antonio Gallardo, at 4-1.
Others in the field for the United Nations include 6-year-old Muggsmatic (Mike Maker and Monmouth's leading jockey Paco Lopez) at 8-1; 7-year-old Aquaphobia, the oldest horse in the race (also trained by Mike Maker and ridden by "Jersey" Joe Bravo) at 9-2; and O Dionysus (Cyril Murphy-Victor Carrasco) at 20-1.
LATEST NEWS