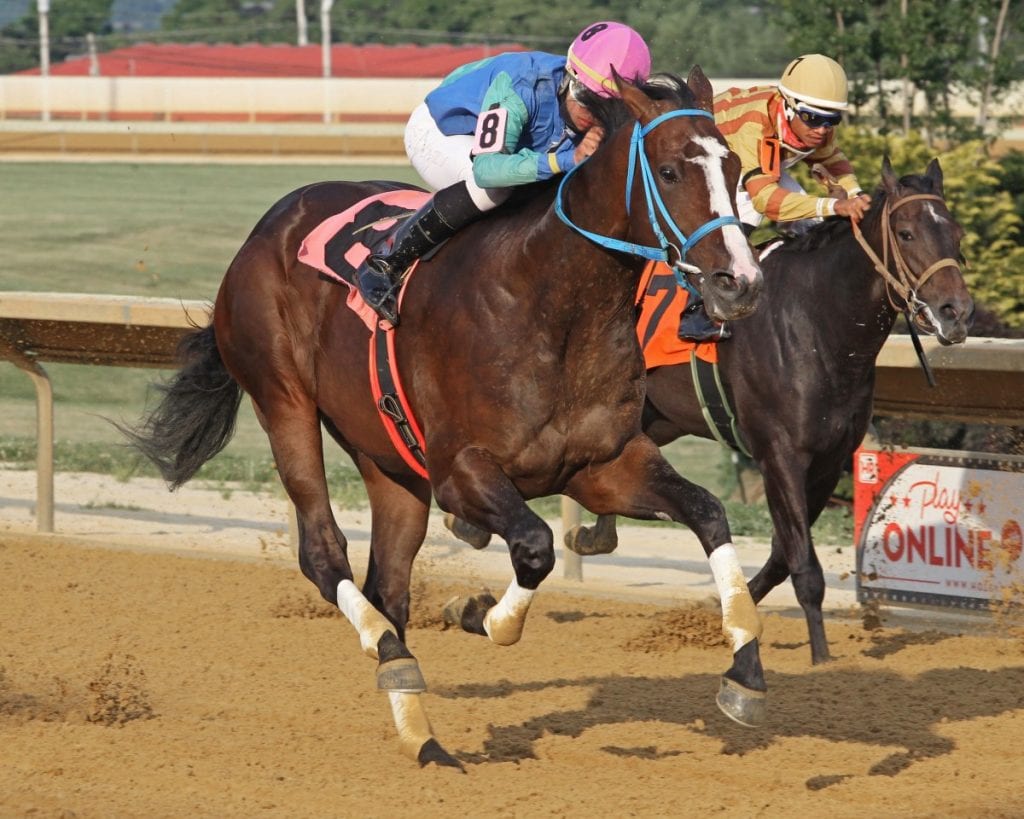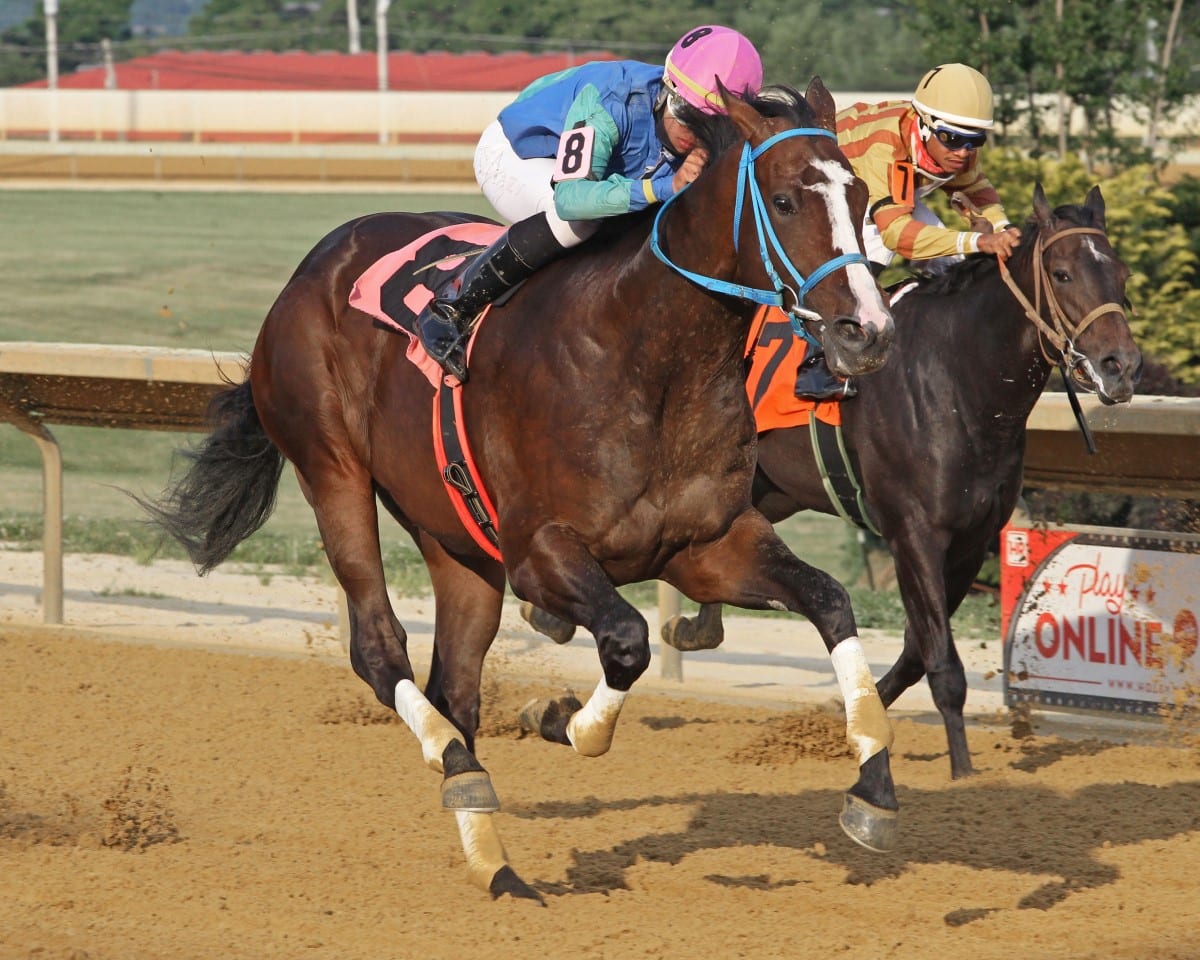 While the nation celebrated its independence over the July 4 weekend, there were fireworks of a different sort at Charles Town Races, as the track carded its first baby races of 2020. The weekend featured the first two maiden special weight races for West Virginia-bred two-year-olds, both at 4 ½ furlongs, and included the first winner for a local sire.
Last Friday evening, Shutupn'kissme (Wesley Ho), the 7-5 second choice in the field of six fillies, disposed of her co-favored rival Got Your Number down the backside, opened up a clear lead on the far turn, and held safe the late bid of stablemate Theladyistrue for a 3 ½-length score while stopping the timer in 53.69 for the 4 1/2-furlongs.
John McKee, who owns, bred and trains the top two finishers, had been impressed with Shutupn'kissme throughout her training process.
"We kind of felt all along that Shutupn'kissme was the best of the four that we had entered last weekend," said McKee, 80, whose first-timer Youthinkthatsfunny finished third in a maiden special weight event on Saturday. "Wesley had really been high on her. She had worked really well from the gate, while [Theladyistrue] was really a handful. Wesley told me that he had a lot of horse left the other night. She had showed a lot of speed early, which I knew she had. But even after that early duel she still had a lot left."
Theladyistrue broke well to sit just off the dueling leaders early then easily gained the runner-up spot with a strong move on the far turn, finishing almost nine clear of the show horse, Got Your Number, while never a threat to the winner.
McKee said that his two fillies had displayed different temperaments in the weeks leading up to their respective career debuts.
"It was tough for me to convince Fredy [Peltrouche] to ride her," McKee said of Theladyistrue. "She has always been a little difficult to handle in the mornings and she had trouble at the gate early on. She would either break out to the left or the right, but she would not stay in a straight line. I finally decided to put blinkers on her and then she came out straight. I told Fredy that once I put the blinkers on her she would be okay. But he was a little slow to believe me."
On Saturday night much of the attention prior to the first maiden special weight event for state-bred open company was focused on Hopping Henry, who opened as the 1-9 favorite and eventually went off as the 4-5 choice based on a trio of bullet workouts, two from the gate. The homebred Juba gelding owned and trained by Michael Sterling was compromised by an early speed duel with another McKee homebred, Youthinkthatsfunny, and both were overhauled in the lane by 25-1 outsider Natural Attraction.
That Natural Attraction would be dismissed by the public seemed unlikely. Listed at 6-1 on the morning line, the son of West Virginia-bred Golden Years was one of two horses in the field trained by well-respected local conditioner Javier Contreras; both runners had been bred by longtime local stalwart O'Sullivan Farms, which has produced local stars like Confucius Say and Julie B.
As it happens, Contreras' other runner in the field, Uncle Funky, is out of Julie B, an Eastover Court mare who earned nearly $900,000 in her career. Uncle Funky was restless in the gate and then never much involved while finishing seventh of eight.
"I thought both of them had shown plenty of ability in the morning heading into this race," Contreras said. "I was surprised my other one did not show more speed. I thought he might be out there early with [Hopping Henry].
"But [Natural Attraction] really likes to finish up well. I think he'll be better going two turns. I love the stallion [Golden Years]. I have three other colts by him and they all look good. I know he didn't race much, but he looks like a good stallion and my other ones by him all look good."
Natural Attraction was the first winner for Golden Years. Golden Years, a son of Not for Love, had a brief racing career for trainer Rodney Jenkins and owner Hillwood Stable [Ellen Charles]. After graduating at first asking against maiden special weight foes, Golden Years came right back to capture the Maryland Million Nursery. Two starts later, he romped to victory in the Marylander Stakes, but he raced only one more time. He was retired shortly after running third in the 2015 Miracle Wood Stakes at Laurel at age three.
Natural Attraction, with Sunday Diaz, Jr. in the irons, made up a half-dozen lengths in the final eighth of a mile to win going away in 53.46 seconds.
"I don't remember [Golden Years] as a runner because he never raced here, but he's going to be a good stallion," Contreras said. "I know all the ones that I have by him are good looking.
"I liked [Natural Attraction] a little bit today, but I thought my other one would show more speed. This guy has a really long stride. Once he was able to stay that close early I knew he had a shot to run by those other horses. All the money was [bet] on that other horse [Hopping Henry]. But when they turned for home, I knew my horse was going by him."
LATEST NEWS