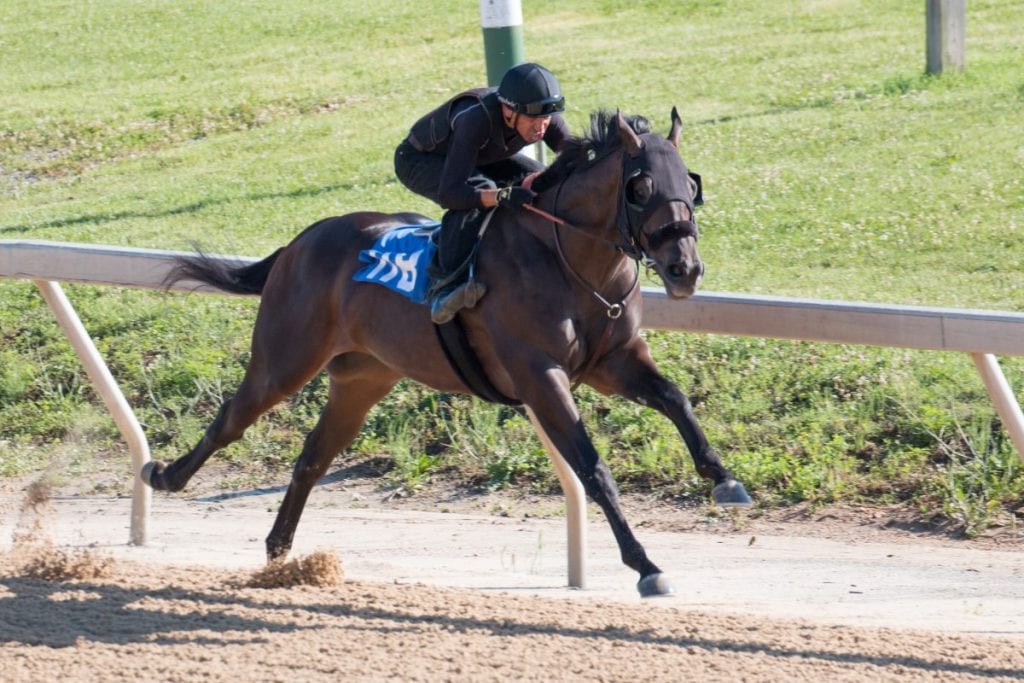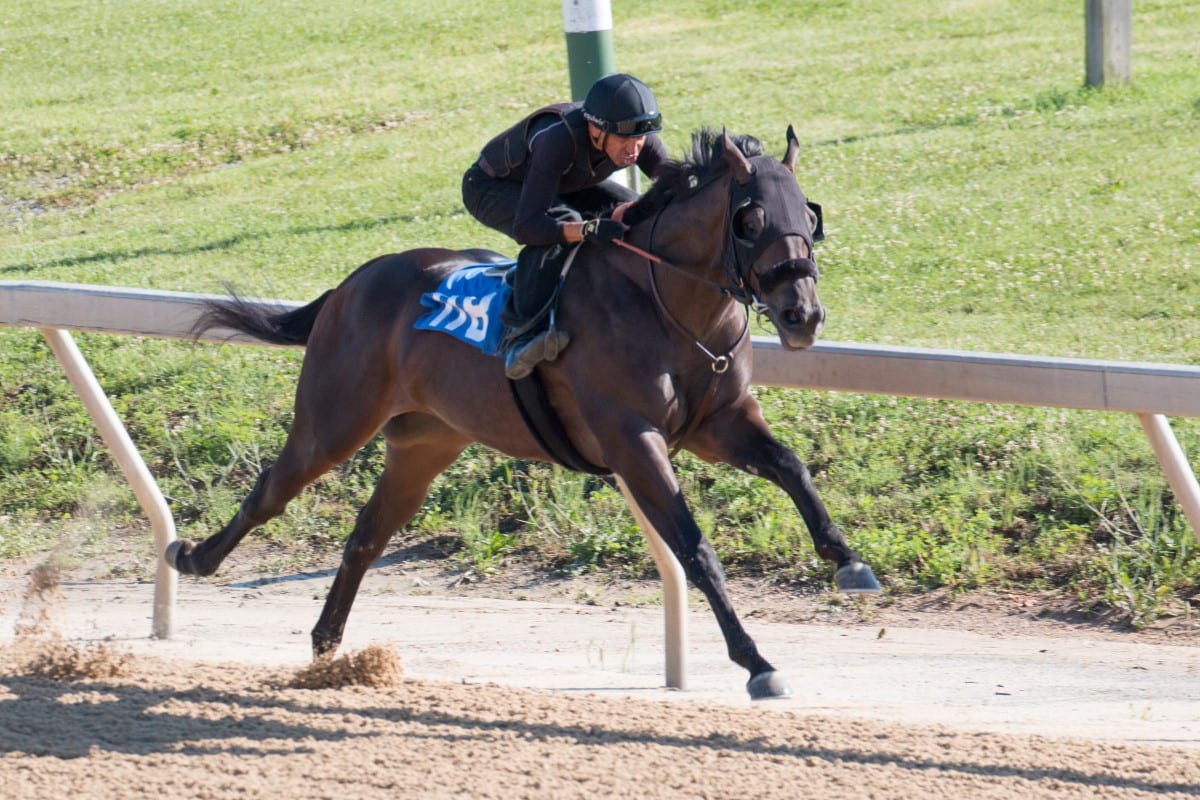 Despite the looming uncertainty and concern about the health of the thoroughbred sales market because the ongoing Covid-19 pandemic, buyers were out in force at the Fasig-Tipton Midlantic sale of 2-year-olds in training at Timonium June 29 and 30.
Demand was especially strong for Maryland-breds, whose average price was nearly $17,000 higher than the overall sales average.
Topping the sale was a Virginia-bred Uncle Mo colt (Hip 118), who was purchased by Donato Lanni as agent for Baltimore resident Michael Lund Petersen for $1.1 million from the consignment of Pike Racing, agent. The dark bay or brown colt, a half-brother to Gr. 1 winner Azar, had turned heads when he worked an eighth of a mile during last week's Under Tack Show in 10 seconds flat.
Petersen made a splash last year when he paid a record $1.8 million for recent Grade 1 winner Gamine from the Midlantic sale.
Some consignors were unsure how the sale's delay – from mid-May to late June because of the pandemic – would affect the preparation of their juveniles. Indeed, not long ago, some doubted whether the sale would be able to go forward at all. But in the end it was a vibrant marketplace, and if it didn't quite scale last year's record-setting heights, that was to be expected given the state of the economy.
The average price of $77,797 for 303 horses that sold for $23,572,500 slipped 13.7 percent from last year's all-time high of $90,104. The gross was also down, by 19.8 percent from last year's record-setting event, which posted sales of more than $29 million.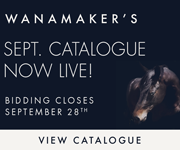 The buy-back rate this year was only 19.2 percent, and median price was $40,000.
This was also the first sale in which online bidding was offered by Fasig-Tipton, and the company reported more than 50 horses received online bids, with 15 selling online.
"Overall, I thought the sale was a huge success," said Paget Bennett, Fasig-Tipton Midlantic's sales director. "There was a lot of uncertainty going in, but we were always determined to have a sale here. We had to make sure we followed Maryland health protocols to a 'T' and everyone complied. Consignors and buyers stuck with us and were rewarded."
Bennett said sneeze guards, stickers indicating six-foot separations, and masks were among the protocols employed by Fasig-Tipton to help keep people safe.
There was solid representation by Midlantic horsemen and owners throughout the two-day venue, with horses bred in the region and thus eligible for the rich racing and breeding programs proving popular.
Thirty-two Maryland-breds were sold for an average price of $94,656, with a median price of $40,000.
Lauren Carlisle, agent was the winning bidder for Hip 213, a son of Not This Time named Mr. Penny, paying $650,000 to top all Maryland-breds. That was the third most expensive horse at the sale.
Consigned by Classic Bloodstock LLC, Agent III, the chestnut worked an eighth in 10 1/5 seconds during last week's Under Tack Show. Bred by Cordelia Stables, the colt is the first foal out of the winning Indian Charlie mare Sanctissima, a half-sister to graded stakes-placed Flying Private ($346,203).
Carlisle also bought the sale's top-priced filly, as she went to $500,000 for Hip 4, a daughter of Into Mischief. She struck again late in the second session when she went to $310,000 for Hip 552, a Dialed In-Fall Fantasy filly, who is a full sister to graded stakes winner Chalon.
All told, Carlisle purchased four horses for a total of $1.5 million.
Second-highest price for a Maryland-bred was the $400,000 paid by Nick Sallusto and Hanzly Albina, agents, for Hip 173, a daughter of Upstart out of Plum, by Pure Prize, from the consignment of Cary Frommer.
Frommer had been high on the dark bay or brown filly, bred by Dark Hollow Farm, and the market agreed. The filly had stepped an eighth of a mile in 10:0 during the Under Tack Show. "I couldn't be happier," said Frommer of the sales results. "It was better than I imagined. We were afraid that people wouldn't show up, but they came and wanted to buy horses. There was a nice selection and the prices were strong. I had a great sale, personally."
Frommer sold 19 horses for a total of nearly $2.4 million – an average of $126,105.
Prominent Pennsylvania owner Chuck Zacney, who races under the Cash is King LLC banner, bought seven juveniles, by himself or in partnership. That included Hip 256, a Kentucky-bred son of Constitution for $350,000 from the consignment of Golden Rock, agent, for Global Thoroughbreds LLC, in partnership with DJ Stable.
The colt, who's out of the Unbridled's Song mare Sonorous and is a half-brother to stakes-placed Drip Brew, worked an eighth in 10 2/5 seconds.
"The colt was our top choice; we loved him," said Zacney, who has campaigned many prominent horses over the years including dual-Classic winner Afleet Alex and Kentucky Oaks winner Cathryn Sophia. "I went to the sales grounds on Sunday (June 28) with my son and saw him again, and we were prepared to go to $500,000 for him, so we were fortunate and got a bit of a discount. He's just an incredible horse."
Zacney said the Constitution colt will be campaigned in partnership with DJ Stable and LC Racing, and is going to the barn of trainer John Servis.
Constitution, the sire of Belmont Stakes winner Tiz the Law, proved a popular young sire. Ten of his offspring sold during the two days, generating an average price of $76,000, topped by Zacney's purchase.
As for the sale overall, Zacney said it was crowded not only for the two days of the sale, but the day before, as well.
"I saw a lot of people, and as a matter of fact I had a hard time finding a parking spot," said Zacney. "I thought both days of the sale were well done and Fasig-Tipton put on a good show. This is one of my favorite sales, and I'm very, very happy."
Zacney also bought three Maryland-breds, paying $175,000 for Hip 359, a filly by Twirling Candy-Who's Cozy from the consignment of Julie Davies, agent; $150,000 for Hip 242, a colt by Paynter-Sincerely from Grassroots Training & Sales, and $115,000 for a colt by Bandbox-Buffgirl from Cary Frommer.
Another notable Maryland-bred was Hip 286, a daughter of Maryland sire Bourbon Courage, who zipped one of the fastest quarter-miles last week and was sold for $135,000 to William S. Sparks. Offered by Nomad Farm Training & Sales LLC, agent, the filly was bred by Dr. Ronald Harris Parker and is out of the stakes-placed Malibu Moon mare Sunday in Malibu, and is a half-sister to stakes-placed Faze the Nation ($226,295).
Topping all Pennsylvania-breds was Hip 128, a Jump Start colt purchased by Michael Mellen for $80,000 from Kirkwood Stables, Agent XIV. The colt, a half-brother to three winners of more than $100,000, worked a quarter-mile in 22 1/5 seconds during the Under Tack Show.
Trainer Butch Reid, as agent, went to $75,000 for a Fed Biz filly (Hip 505) from the consignment of Clovis Crane, who worked an eighth in 10.0. 
In all, 17 Pennsylvania-breds were sold for a total of $616,000, an average price of $36,235 and median of $27,000.
LATEST NEWS