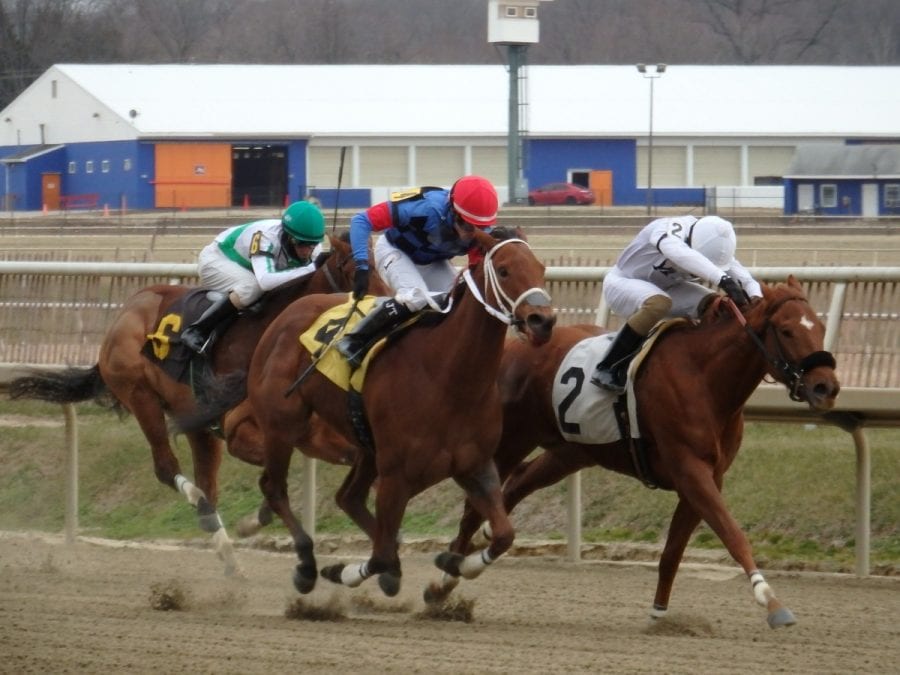 The issue of Lasix-free two-year-old races came before the Maryland Racing Commission Thursday afternoon, and it wasn't pretty.
The Stronach Group (TSG), parent company of the Maryland Jockey Club (MJC), which owns the state's two so-called "mile tracks," Laurel Park and Pimlico Race Course, came to the meeting seeking the Commission's imprimatur on its plan to conduct two-year-old races without Lasix.
What it got instead was a tongue-lashing.
By the end, a clearly exasperated Commission chairman Michael Algeo described the meeting, which was conducted by phone because of the covid-19 pandemic, as "one of the most unfortunate and frustrating" meetings he's experienced in four years on the body.
Ultimately, on the advice of its legal counsel, the Commission told the MJC that it may not card two-year-old races – or any races at all – without permitting Lasix. The Commission stopped short of requiring the MJC to card two-year-old races with Lasix; the company has yet to card a baby race in 2020.
It referred the matter of drug-free baby races to its safety and welfare committee – newly constituted as a result of a provision in the legislation providing for the rebuild of Laurel and Pimlico – for further analysis and a recommendation.
Alan Rifkin, the attorney representing the MJC in the matter, replied that he understood the company would "have no intent" to card any two-year-old races if it could not do so Lasix-free.
Not carding baby races, said Commission member Tom Bowman, a veterinarian, will have "a devastating effect on Maryland racing."
The standoff leaves approximately a hundred juveniles at Laurel Park all trained up with no place to run – except out of state.
Legally, the debate turned to some extent on how the two sides interpret the word "permissible."
Maryland's regulations say that the administration of Lasix to a horse "is permissible" if the horse's vet recommends it, the state vet is notified, and the trainer declares it at the time of entry.
In a legal memorandum disseminated June 23, just two days prior to the meeting, and in his presentation Thursday afternoon, Rifkin argued that the word permissible vests owners, trainers, and the racetrack itself with the authority to permit or deny the use of Lasix.
"Just as these regulations do not require owners and trainers to use Lasix, it does not prevent MJC from carding drug-free races," he and his colleague, Barry Gogel, wrote.
Not so, Algeo said.
"It is our position that the statute is clear on its face, and the statute continues to allow individuals to use raceday Lasix," he said.
Yet while perhaps arcane legal interpretations played a role in today's outcome, the racing community's real ire was directed at a process one person described as "truly egregious."
"Our concern in this is not just the issue," Algeo told Rifkin, "but how we got here."
How we got here, Algeo and others said, was via what they characterized as a last-minute ultimatum from the Stronach Group, whose position, said Maryland Thoroughbred Horsemen's Association (MTHA) general counsel Alan Foreman, was "totally disrespectful" of local and regional industry participants.
The Stronach Group announced its proposed change to Lasix-free juvenile racing, which it currently conducts at its three other properties, via a press release and letter to Algeo on June 18. The company followed that up with its June 23 memorandum, along with supporting documents that included a letter from The Jockey Club. The company indicated it intended to begin carding such races following today's meeting. To date, there has not been a single two-year-old race run in Maryland.
While the company portrayed the shift towards Lasix-free as a movement on the right side of history, Foreman said that it all amounted to a statement: "Either you do it our way, or we're not going to write those races," he said of the Stronach Group.
"It's preposterous to me that the Stronach Group can come in like this" with such a mandate, agreed MTHA chairman Tim Keefe, a trainer based at Laurel.
Keefe and Foreman both indicated that in meetings last year regarding the horsemen's support for the company's Pimlico/Laurel bill, TSG chair Belinda Stronach indicated that she would work with state racing interests to help craft a regional solution on Lasix that recognized Maryland's place in a crowded marketplace.
That never happened, they said.
"It's incredibly disappointing," Keefe said. "This is something they sprang on us at the last minute."
"As of right now, there has been zero conversation," added Foreman.
The committee to which the Commission referred the proposal was created by the Pimlico/Laurel rebuild legislation. It's chaired by commissioner Tom Bowman and includes 14 members, Commission executive director Michael Hopkins said this afternoon.
But it's also brand new, and Algeo cautioned against expecting quick action from it on deciding the matter of Lasix-free racing, which he repeatedly called a "significant issue."
All of which leaves Maryland's horsemen with their least favorite circumstance: uncertainty.
"Our industry is being held hostage once again," Foreman said. "We deserve better."
LATEST NEWS