Laurel Park picks and ponderings June 20, 2020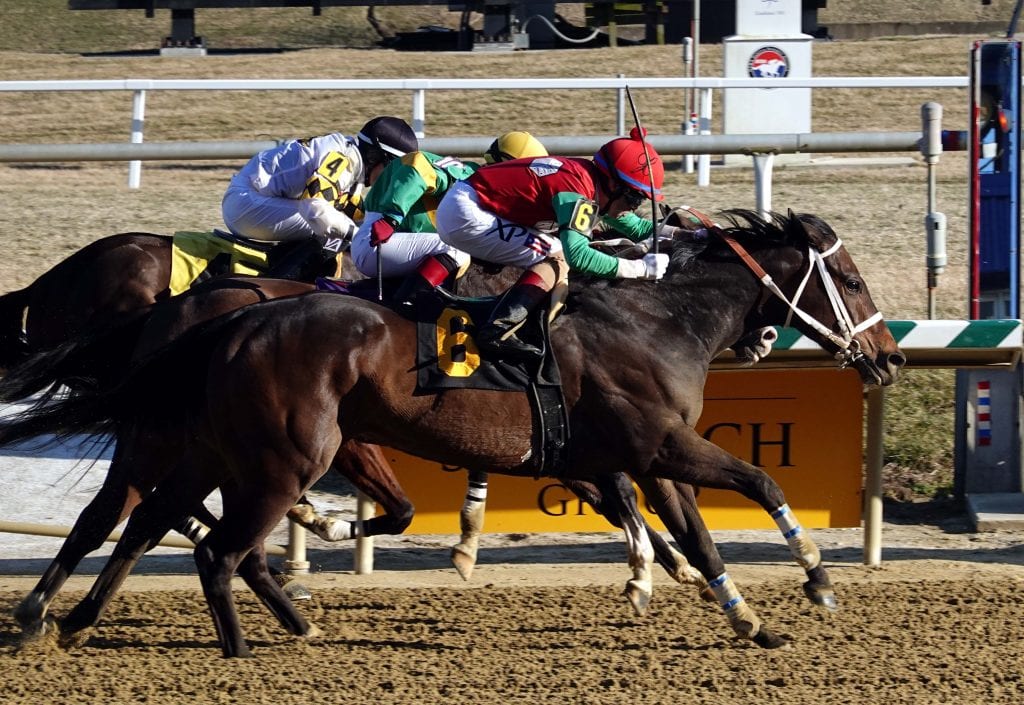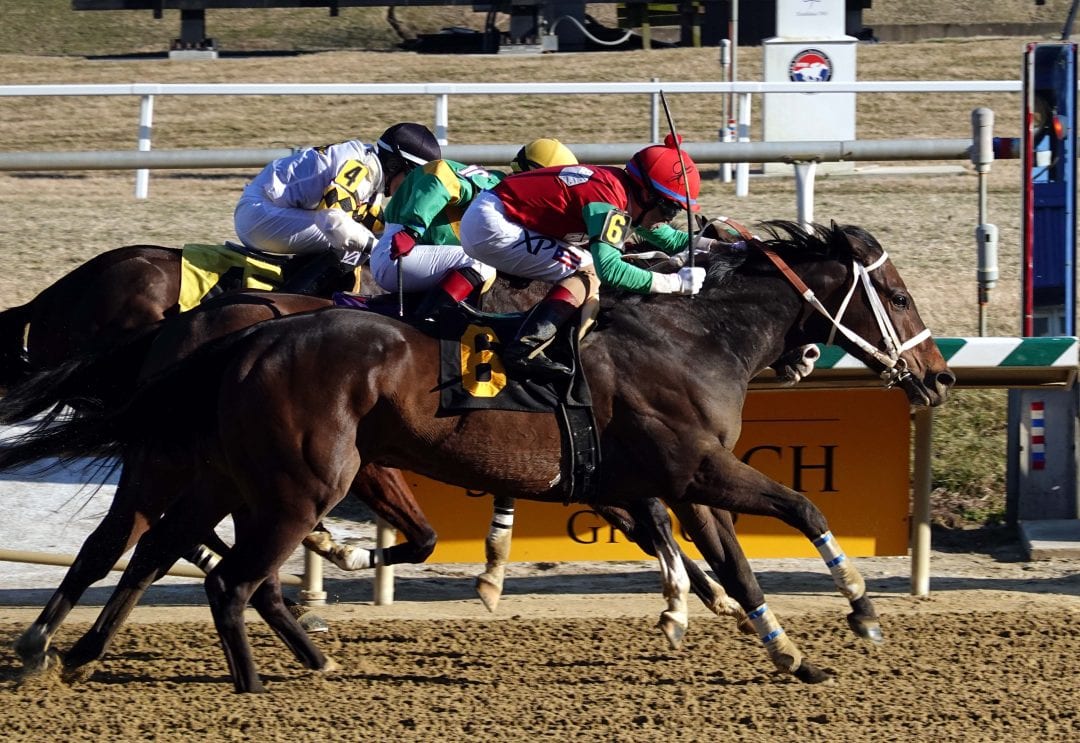 Anna's Bandit. Photo by Laurie Asseo.
In which we pick the races from Laurel Park each day…
Post time: 12:40 p.m.
Carryovers: Rainbow Jackpot Pick 6 — $6,947  Super High 5 — $0 Late Pick 5 — $4,217
Notable: Until further notice, no fans are allowed to attend the races at Laurel Park. For more info, click here.
ANALYSIS
RACE 1: CLAIMING $16,000 (CONDITIONED), 3-YEAR-OLDS AND UP, 1 1/16 MILES (GRASS)
2-10-1-9 (DIRT: 1-7-9-11)
#2 The Walk (9/2): Disappointed against slightly tougher in his first start off the bench. Even though it was a visually unimpressive race, he comes in here with the best last-out brisnet figure of the bunch. Trainer Damon Dilodovico is 24% with horses second off the bench.
#10 Souper Catch (8/1): Fair Grounds invader raced wide all the way last out, and didn't have much of a chance. He has a very strong grass race way back in his lines at Gulfstream Park, when he set a fast pace against allowance horses, and held on to finish third. The key here, of course, will be to save as much ground as he can. 
#1 The Magical One (4/1): Comes in here off a win against n/w2L horses, where he furiously closed to get up in the last few jumps. Trainer John Robb is 27% second off the layoff. Has the class edge as the only one to have never lost against these types.
RACE 2: STARTER OPTIONAL CLAIMING $25,000, 3-YEAR-OLDS AND UP, 6 FURLONGS
8-4-1-2
#8 Day the Music Died (6/1): In his last start, he opened up a big lead in the stretch after a slow start, before he got run down by the promising Wonderwherecraigis. I don't think anyone in here can match that one's closing speed, so if Day the Music Died can recapture that big turn move, he's going to be tough to reel in. 
#4 Whirlin Curlin (10/1): Makes his second start in seven days, after not being seen for almost a year. He raced well in his first start off the bench, battling well for the minors behind dominating winner Hammerin Aamer. From a figure standpoint, he jumped right back to where he had been racing last year before going on the sidelines. The cutback from a mile should benefit him.
#1 Shane's Jewel (2/1): From a speed and pace figure perspective, he towers over these. However, the Ness shippers from Parx have been underperforming as of late, so I'm a bit wary. Tread lightly at low odds. 
RACE 3: MAIDEN CLAIMING $10,000, 3-YEAR-OLDS AND UP, 5 1/2 FURLONGS
5-10-2-4
#5 Kevin Witte (6/1): Ran a good race on debut in December, losing a tight photo for second after opening up a clear lead in the stretch. The field he faces here is tougher, but it's also full of proven losers. The long layoff is the only thing that could slow him down. 
#10 Bayano (3/1): He came into his last race off a six-month break, and finished an even third after failing to change leads late. One of the few in here who can consistently run in the high 60s/low 70s, putting him in a good shot to win it. I'd like to see more of a closing punch, but it's not like anyone else in here really runs on, either.
#2 Little Bay (9/2): Closed well in his last start, just missing catching loose leader Let Me Ask Bob. That rival is better than anyone he'll see here, and I don't think anyone's going to open up a big lead, either. As such, anyone who he has to reel in will be easier to catch. 
ANALYSIS
RACE 4: MAIDEN CLAIMING $40,000, 3-YEAR-OLDS AND UP, 1 1/16 MILES (GRASS)
4-10-13-12 (DIRT: 4-7-6-9)
#4 Silent Malice (7/2): Received some action at this level on dirt last out, but had a bad break and was compromised. In spite of that, he raced on well to get third, with a career-high brisnet figure. The grass breeding appears to be solid, and he's not catching the strongest bunch here.
#10 Sandy Lane Kitten (3/1): Runs for the first time since December. He was disappointing against better horses in New York last year, flattening out almost every time out. However, his figures stand out over these, including some numbers in the 80s. Has he finally found a field he can beat?
#13 Crazy Kater (10/1): Battled gamely in his last race, which was his first start off a layoff. Takes a jump in class by condition, but based on the quality of each race, it's not a significant step up.
RACE 5 – CLAIMING $10,000 (CONDITIONED), 3-YEAR-OLDS AND UP, FILLIES AND MARES, 5 1/2 FURLONGS
5-2-1-4
#5 Chicken Dinner (6/1): In her last race, she stalked the leader, pounced on the turn, and drew off to the win. There's lots of speed in this race, as well, so she could get a very similar setup. 
#2 Always Talking (2/1): Couldn't get to the lead in a two-turn 6 1/2 furlong contest at Charles Town last out, and stopped badly. Over the winter at Laurel, she flashed dominant speed every time out, and she has an advantageous post position here. If Avery Whisman is aggressive enough. 
#1 Nightmare (9/2): Another one of the non-speed horses, she's been racing evenly and getting checks at this level in her last few. Should be good for a piece, but I don't think she has the needed closing punch. 
RACE 6: MAIDEN CLAIMING $10,000, 3-YEAR-OLDS AND UP, 7 FURLONGS
10-7-2-4
#10 Rare Notion (5/1): Flashed speed and tired in his last start, which was his first in more than a year. His races from 2019 are more than good enough to win this race, and he should get closer to that form second off the bench. 
#7 Aleph (5/1): Tried to make up ground at Charles Town in his last two, which is never a good combination. In spite of that, he hit the board twice, with strong figures both times. Makes his first start for Wayne Potts here. 
#2 Just Chill Out (3/1): He's had numerous cracks at the level, without success, but closed well in his last race to get second. Three starts back, he had the lead in the stretch going a mile and lost it very late. 
ANALYSIS
RACE 7 – ALLOWANCE OPTIONAL CLAIMING (N/W2X), 3-YEAR-OLDS AND UP, 5 1/2 FURLONGS (GRASS)
1-3-8-9 (6-5-2-11)
#1 Sky Magician (7/2): A perfect 2-for-2 on grass so far in his career, he catches a mediocre bunch, by n/w2x allowance standards, in his seasonal debut. Should take them gate-to-wire from the inside if he's anything like he was last year. 
#3 Clever Triad (4/1): Another one taking a big drop in class first off the layoff. He spent last year mostly in stakes-quality races, where he ran good figures, but they were never enough to get the job done. Recent works have been strong. 
#8 Tempt Me Twice (9/2): Like his stablemate Clever Triad, he'll make his first start off the bench, after a string of good races at the level last year. As noted, this is not as good as the n/w2x allowances he was in last year, so you can consider it a class drop. He should be on or near the pace.
RACE 8: ALLOWANCE (N/W1X), 3-YEAR-OLDS, FILLIES, 6 FURLONGS
3-6-7-5
#3 Hello Beautiful (4/5): She didn't do much in her last race, but it was her first start in a few months, and it was on grass. On dirt as a 2-year-old, she was blazingly fast, winning two stakes against Maryland-bred in supersonic fashion. This is going to be her first start as a sophomore on dirt, and I expect big things. 
#6 Pretty Edgy (7/2): Coming off a big win against starter optional claiming horses in her last race, where she won gate-to-wire with a big figure. Hello Beautiful is going to be tough to catch on the lead; hopefully this one will be able to stalk a little bit. 
#7 Leaveuwithasmile (8/1): She won twice at Laurel last year, then was dull in her season debut at Aqueduct in February, where she raced wide the whole way around. This is her first start off that brief freshening, and she should improve when returning to this track.
RACE 9: CLAIMING $16,000 (N/W2L), 3-YEAR-OLDS AND UP, 6 FURLONGS (GRASS)
8-9-1-13 (DIRT: 8-9-2-3)
#8 Cooke Brothers (3/1): Ran some good races on the grass at Ellis Park, including a strong closing effort against maiden special weight foes last August. Most recently broke his maiden for $15,000 on dirt at Churchill Downs in November, now tries winners for the first time. 
#9 Alleria (4/1): Showed speed going longer last fall, now cuts back in distance for her first start off the layoff. She's another one racing against winners for the first time, and looks like the controlling pacesetter. 
#1 Shelly Island (5/1): Flashed great closing speed last fall, and picked up some checks at this level. Makes his first start since January, but has been working lights out.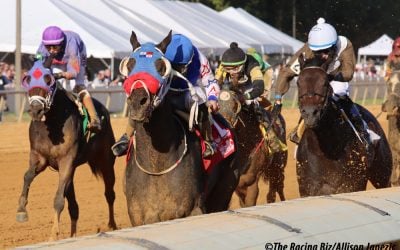 We provide full-card picks and analysis for this afternoon's races at Laurel Park.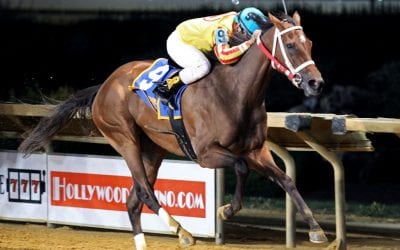 We provide picks and analysis for this evening's card at Charles Town Races.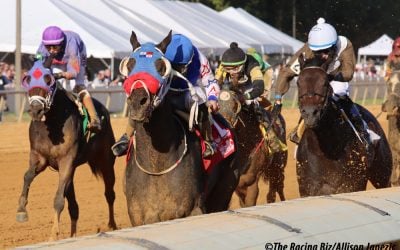 We provide full-card picks and analysis for this afternoon's races at Laurel Park.