Shortened Delaware Handicap to highlight DelPark meet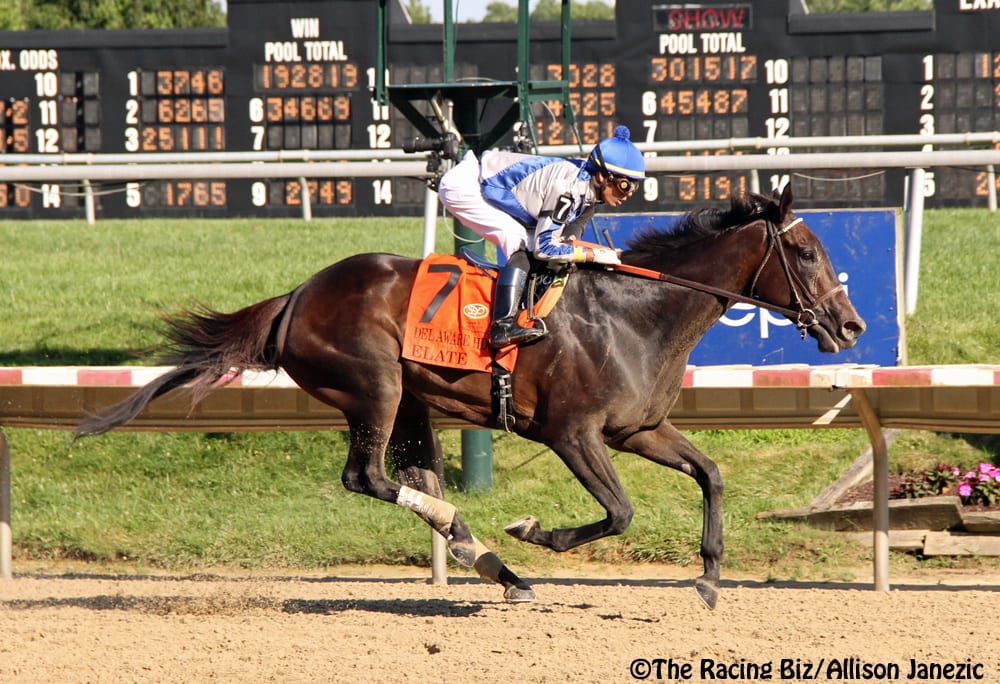 Elate won the Delaware Handicap twice. Photo by Allison Janezic.
After a delay of three weeks because of the COVID-19 pandemic, Delaware Park is ready to kick off its 83rd season of live racing on Wednesday, June 17.
The Stanton oval will race 65 days, 20 fewer than had been originally scheduled before the pandemic erupted. Post time is 1:15 p.m., and racing will be conducted Mondays, Wednesdays and Saturdays, with Thursdays added July 16 through October 1. The meet concludes on Saturday, October 17.
While Delaware's overnight purse levels are expected to remain substantially siimlar to prior years, Delaware's stakes schedule was slashed by 35 percent, and the purse for the Grade 2 Delaware Handicap, the track's signature event that's set for July 11, was reduced as well. That's a result of the shuttering of the casino and the curtailment of sports betting, both of which help fuel purses.
 "We lowered the purse of the Delaware Handicap by $300,000 (making it $400,000), and shortened the length to a mile-and-an-eighth (from its traditional mile and a quarter)," said executive director of racing John Mooney. Both are one-year changes.
Bessie Gruwell, executive director of the Delaware Thoroughbred Horsemen's Association, said that local horsemen have long wanted a change in the Del 'Cap's distance but that tradition had always prevailed.
"We requested to decrease the distance for quite some time, with it being 1 ¼ miles in the July heat," she said.
The Grade 3, $300,000 Delaware Oaks on July 4 has some added spice, as the 1 1/16-mile test for 3-year-old fillies is now a "Road to the Kentucky Oaks" race. The first four finishers in the Delaware Oaks will earn 50-20-10 and 5 points towards a possible entry in the Gr. 1 Kentucky Oaks at Churchill Downs September 4.
The highlight of Delaware's opening day program is the $100,000 Obeah Stakes for fillies and mares at 1 1/16 miles, one of the traditional prep races for the Delaware Handicap.
Last year, Delaware presented 20 stakes races, while this year 13 have been scheduled. Three of last year's stakes that won't be run are MATCH series events – the Hockessin, Just a Kiss and Glasgow stakes. The MATCH Series was canceled this year because of the pandemic.
The DTHA's Owner's Day celebration will be held Saturday, September 26, with six stakes – four of them for Delaware-bred or Certified horses – on the docket.
Although short fields have plagued Delaware Park in recent years, Mooney was cautiously optimistic that there would be a sufficient horse population to ensure robust wagering opportunities, especially in the first few weeks of the meet before Parx Racing begins racing (no date has been set as of this writing). Also working in Delaware's favor is that its first condition book features turf races, whereas the first condition book at Parx Racing does not.
"We should have an ample supply of horses," said Mooney, who said more than 1,000 horses are expected to be in the stable area by opening day.
There will be some familiar faces returning to Delaware's bucolic backstretch, as well as some newcomers.
McLean Robertson, who was a leading trainer several years ago, will bring a string of 50 horses from Canterbury Park, while Steve Klesaris will bed down 15 head. Brett Brinkman will be shipping 10 horses from Louisiana, Kieron Magee will be sending a string, and seven-time training champion Jamie Ness will also be well represented, with 60 horses. Jose Camejo, who will be stabling at Delaware for the second year after winning 18 races in limited 2019 opportunities, has 60 stalls.
Last year, Ness won 44 races from 168 starters and maintained a strike rate of 26 percent to capture the Delaware crown. He was well clear of several trainers who won in the 20-25-race range.
Among the jockeys listed in the first condition book are last year's champ Carol Cedeno, Parx riding aces Mychel Sanchez and Frankie Pennington, as well as returning stalwarts Alex Cintron, Victor Carrasco, Trevor McCarthy, and Angel Suarez. Double-bug apprentices Rebecca LaBarre and Charlie Marquez are also in the book.
In accordance with state regulations, Mooney said that all employees will continue to be tested for Covid-19, and that masks are required to be worn. To gain access to the backstretch, horsemen will have their temperatures taken daily and be given a color-coded wrist band, which changes each day of the week, to be worn as evidence that they are not sick.
As the casino and simulcast areas of the grandstand have opened for business, Mooney said he expects horse racing patrons to be allowed near the paddock and on the track apron. The expansive Picnic Grove offers room for fans to practice social distancing.
"I'm personally really excited for this meet," said Gruwell. "Things were going in the right direction before the coronavirus caused us to lose racing days, and I still think it's going to be a good meet."
Gruwell said that there is a possibility that days could be added to the end of the meet if revenue is greater than expected.
In addition, the Delaware Certified Thoroughbred Program, which was created in 2002, will again this year pay Delaware Certified horses (those who have spent at least 90 days at a Delaware farm or training center prior to March 31 of their 2-year-old year) 50 percent bonuses on purses earned from from first through fifth place. The bonuses are split, with 25 percent going to the owner and 25 percent to the certifier.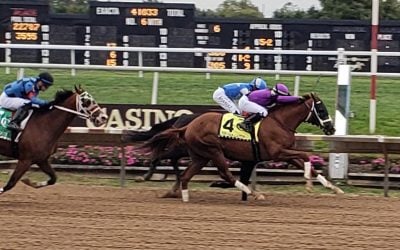 Delaware Park will race 85 days in 2023, about the same as last year, under a schedule approved Jan. 17 by the state Racing Commission.