Pennsylvania racing inches closer to return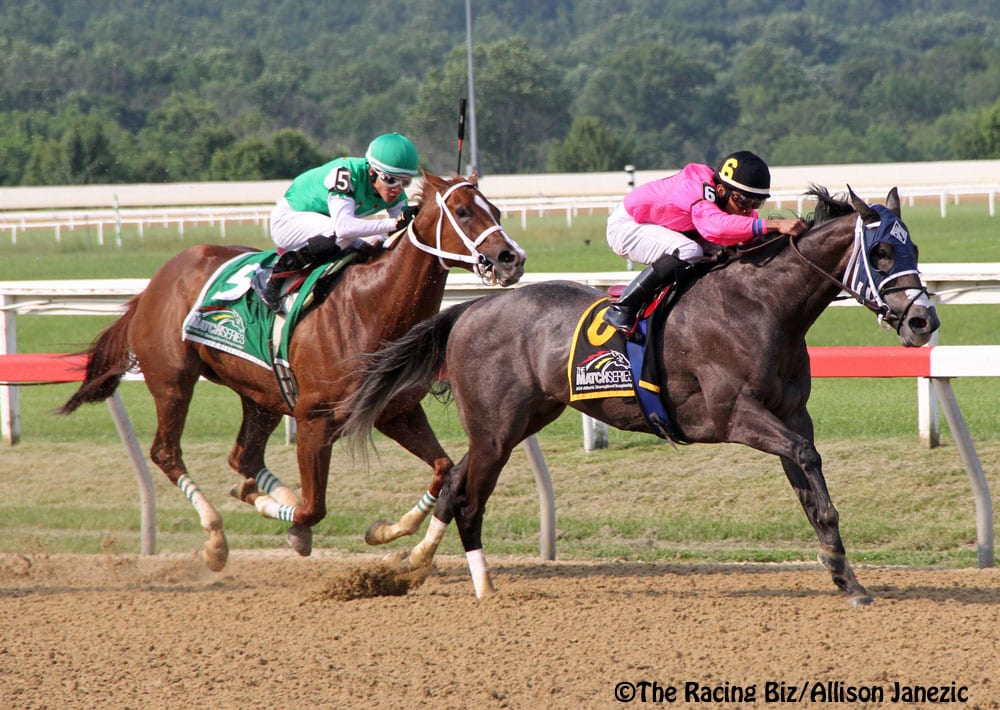 Bronx Beauty proved best in the 2019 Penn Ladies Dash at Penn National. Photo by Allison Janezic.
Horse racing in Pennsylvania could resume in early July following a May 28 meeting between the state's Horsemen's Benevolent and Protection Association (HBPA), the Pennsylvania Department of Health and representatives from Governor Tom Wolf's office.
The tentative schedule calls for the stable area to re-open at Presque Isle Downs in Erie County June 15 with racing resuming July 6. There was no firm date cited for racing to resume at Penn National Race Course in Grantville, Dauphin County.
Both counties are in Wolf's "yellow" reopening phase. Wolf released a professional sports reopening plan May 27 that would allow training and racing to resume at both venues.
Wolf's plan permits sporting events at which the participants are paid by a league or team, or at which individuals or teams receive prizes or purses, to practice or play in the yellow and green phases of reopening without on-site spectators.
Any reopening is dependent on an approved COVID-19 safety plan. A press release from HBPA Executive Director Todd Mostoller states that safety protocols will be submitted to the state's Department of Health by the Pennsylvania Horse Racing Commission by June 1.
"We will do everything we can to receive an expedited approval," Mostoller said in the release.
The release specifically cites the June 15 and July 6 dates for Presque Isle but cautions horsemen not to ship horses there until those dates are firmed up.
A May 20 HBPA release states that the board approved for both Presque Isle and Penn National a waiver claiming rule permitting horses that have not raced in 90 days to race in claiming events without being eligible to be claimed. The board also passed a resolution giving entry preference to trainers already stabled on the backstretch of both tracks.
The Board also approved payment for continued training at Penn National through June 30 on a five-day-per-week schedule.
Presque Isle Downs was scheduled to run 125 live racing dates from May 11 through October 21. Penn National Race Course was in the midst of a 164-program season spanning January 3 through December 19 when live racing was halted in mid-March due to COVID-19.
No information was made available for the resumption of training or live racing at Parx Racing in Bensalem, Bucks County. Bucks County remains in the red phase of stay-at-home lockdown through June 5. Parx Racing was schedule to race 166 live dates spanning January 1 through December 29.
In related news, the fate of the state's Race Horse Development Fund is on hold until November. State legislators passed a temporary five-month budget that runs through November 30 due to the COVID-19 outbreak.
Earlier this year, Wolf announced his intention to re-direct the development fund, derived from a percentage of the state's casino slot take, to fund college scholarships for students attending state universities.
Horsemen and Republican state legislators vowed to fight Wolf's edict during a rally held in February.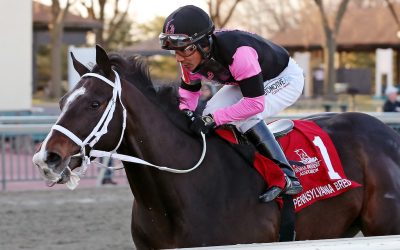 Pennsylvania-bred Ninetyprcentmaddie, a sharp last out stakes winner at Parx, could try the G2 Wood Memorial next, said trainer Butch Reid.