Shotski headed home after World Cup cancellation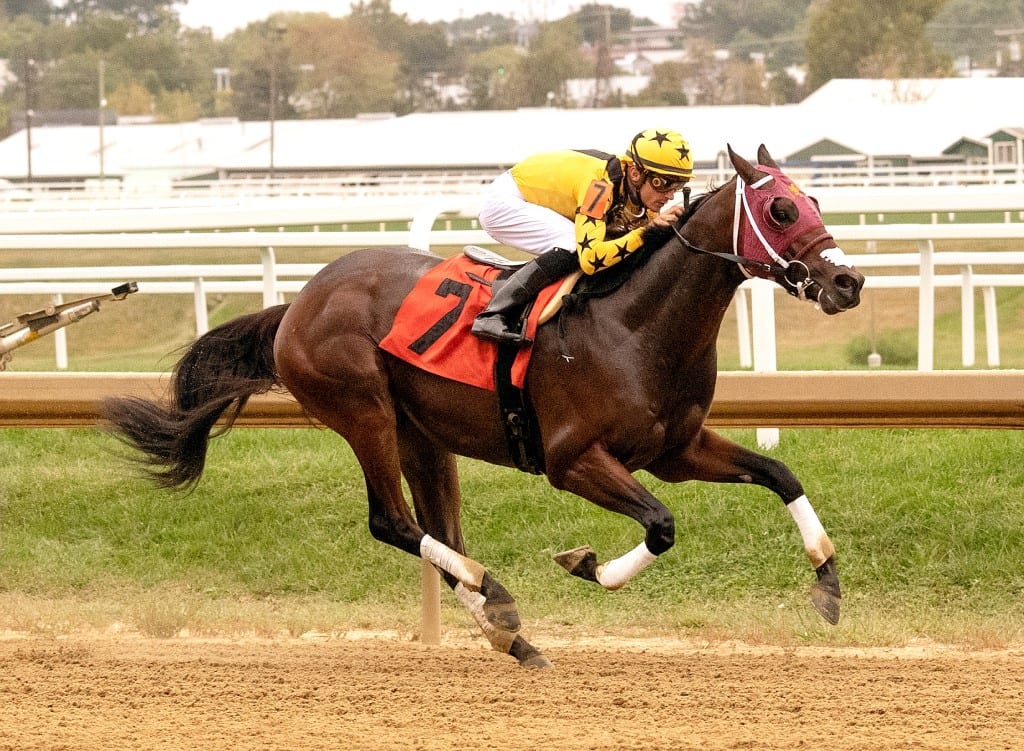 Shotski broke his maiden at Laurel Park with Sheldon Russell in the irons. Photo by Jim McCue, Maryland Jockey Club.
Having arrived safely back in the United States from Dubai, Gary Barber, Wachtel Stable, Pantofel Stable and Howling Pigeon Farms' 3-year-old Shotski will get some time off as his connections ponder what's next for the Grade 2 winner.
Laurel Park-based trainer Jerry O'Dwyer said Shotski landed in Newark, N.J. Thursday along with other American horses that traveled overseas for the Dubai World Cup program that was ultimately canceled five days before the scheduled March 28 event at Meydan Racecourse due to the coronavirus pandemic.
Winner of the Remsen (G2) at 2 and most recently fourth, a neck and a head out of second behind runaway winner Ete Indien in the Fasig-Tipton Fountain of Youth (G2) Feb. 29 at Gulfstream Park, Shotski flew from South Florida to Dubai March 17, followed two days later by O'Dwyer.
"I was there for 17 hours and turned around and got a 2:30 a.m. flight out. It was unfortunate," O'Dwyer said. "I touched down, checked into my hotel, went and saw the horse and that was it. After leaving the stable I was going back to the hotel so I could get an early night and I was just about to sit down for a bit of dinner and we got the call. They put us on an early flight out, so I didn't even spend a night in Dubai."
"I think everybody was shocked when we were all out there. I understand they're trying to do the best they can for everybody and it's always hard to make the right decision at the right time. You're not going to keep everybody happy, unfortunately," he added. "I would have loved to know before I flew out so I wouldn't be missing any more time at my main barn, but I'm just trying to do my part and stay away from the barn. We've got a good team keeping the show on the road."
While in self-quarantine, O'Dwyer has adjusted the training for his main string at Laurel, where live racing has been paused since March 20 in accordance with Maryland Gov. Larry Hogan's Executive Orders as part of the continuing effort to protect the health and safety of essential personnel and the horses they care for amid the current environment.
"We've just backed off all the horses that are in full training and had been running a little bit, and we have some young horses that haven't run yet but we're going forward with those and hoping to get them as ready as we can for when we start racing again," O'Dwyer said. "I guess everybody's different but me, in particular, my horses that have been running we'll lighten up their training.
"Shorter gallops, lighter gallops, some of them will jog for a week or two, freshen them up and then back off them a little bit. They won't breeze every week," he added. "Most of the horses are fit and they don't need a lot of hard training after that; you just need to keep them maintained and happy and well. We've had a lot of luck doing that so we're going to keep going that way."
The initial plan is for the horses from Dubai to remain in quarantine in New Jersey until Sunday. If Shotski is unable to rejoin his main string at Laurel, where the backstretch has been closed to horses shipping in other than Pimlico Race Course since March 19, O'Dwyer said he will be rerouted to the Fair Hill Training Center in Elkton, Md.
In the meantime, the regular reports O'Dwyer has been receiving from Dubai personnel who accompanied the horses back to the U.S. all indicate Shotski handled the trip well.
"They've been very good about keeping everybody posted about what's going on," O'Dwyer said. "They said everybody looked well and everybody traveled good without a hitch. They'll be quarantined up there for a couple days and they get to release them Sunday and the horses will travel to their respective destinations after that."
A maiden winner last fall at Laurel, the only time he has raced over his home track, Shotski was fourth in the Street Sense Stakes in Kentucky, won the Remsen and was second in the Withers (G3) in February in New York prior to his Fountain of Youth run.
Shotski currently sits 21st with 19 qualifying points for the Kentucky Derby (G1), which has been rescheduled from May 2 to Sept. 5. The $750,000 Curlin Florida Derby (G1) Saturday at Gulfstream offers 170 points, with seven horses – Ete Indien, Tiz the Law, Candy Tycoon, Independence Hall, As Seen On Tv, Ajaaweed and Gouverneur Morris – on the points list entered to run.
"We'll have to regroup and take it day by day. We don't know when races are going to be rescheduled for so, we'll back off his training a little bit and let him freshen up. We've been traveling a lot, between going down to Gulfstream then flying over to Dubai and then flying back from Dubai. He deserves a little bit of freshening up.
"He's seemed to handle it all well. I'm very happy with how he looked and was acting out in Dubai. He was full of energy and he really seemed to enjoy the sunshine," he added. "He's kind of a free-sweater so I was worried the hotter weather was going to impede him a little bit, but he seemed to thrive in it both down at Gulfstream and over in Dubai. I guess we're all a little happier with the sun at our back."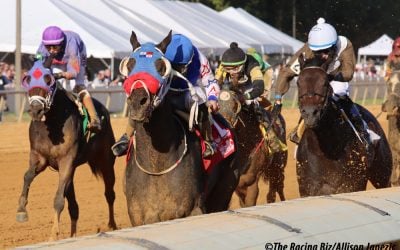 We provide full-card picks and analysis for this afternoon's races at Laurel Park.