Laurel Park picks and ponderings February 29, 2020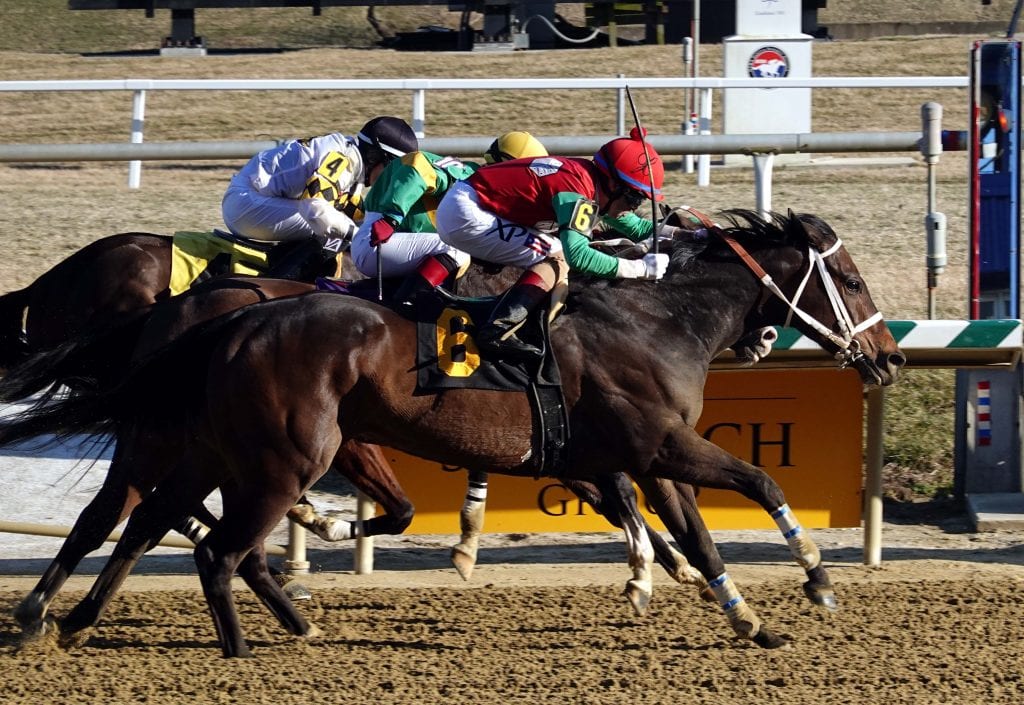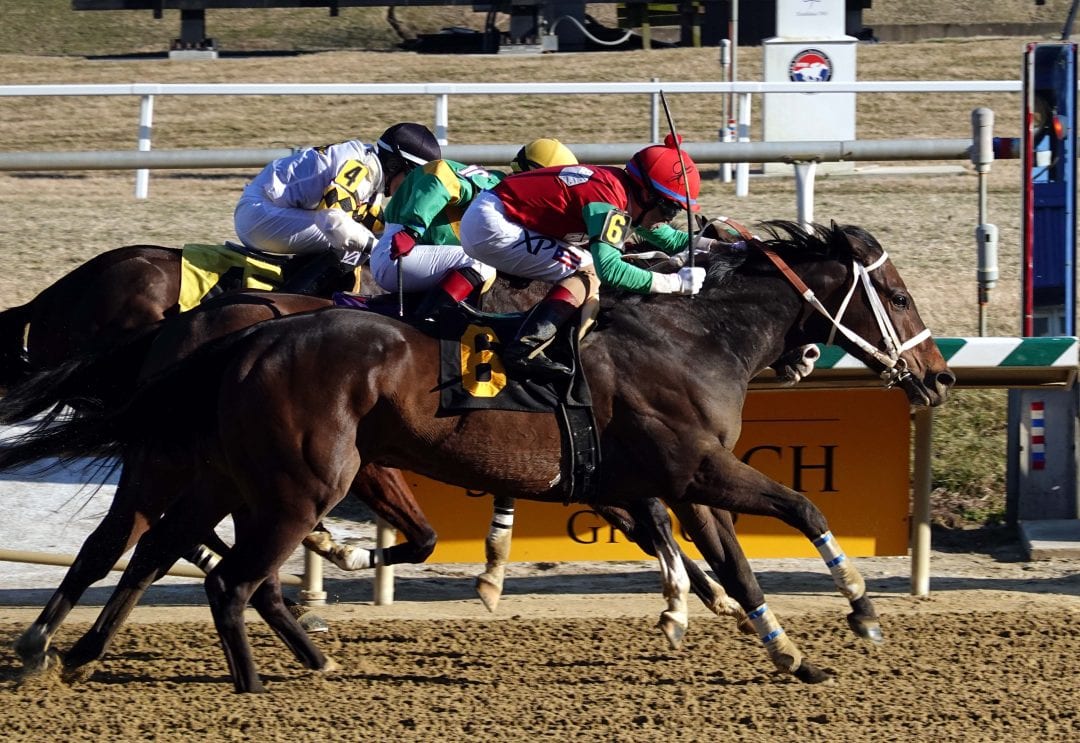 Anna's Bandit. Photo by Laurie Asseo.
In which we pick the races from Laurel Park each day…
Post time: 12:25 p.m.
Carryovers: Rainbow Jackpot Pick 6 — $4,879; Super High 5 — $605; Late Pick 5 — None
Notable: 
ANALYSIS
RACE 1
5-4-3-2
#5 Self Awareness (4-5):

Ran a giant second in his debut at this level. As long as he runs anywhere close to that race again, he should have this group at his mercy. Apprentice Charlie Marquez keeps the mount; he's been holding a hot hand as of late.

#4 Robber Bob (4/1):

Improved sharply in his first race off the layoff after a wide trip. It's technically a jump in class, but the opponents in this one aren't much tougher than what he's been facing.

#3 Supercross (9/2):

Re-rallied nicely on debut to lose to Robber Bob by ¾ of a length. Marquez jumps off, but he picks up Trevor McCarthy: not a bad substitution.
RACE 2 
3-1-6-7
#3 Chuck's Dream (7/5):

Since coming back from a long break, he's been in good form, with a second and a runaway win to his credit. He's also the only member of the field to never lose against winners.

#1 Allthewrongreasons (5/2):

Another recent maiden breaker, he's hit the board three times in a row when facing winners. He's lost a bit of his early speed in his last few starts, but has proven enough at this level to merit respect.

#6 Mr. Chesapeakecity (6/1):

Held well to finish second at 47/1 last out, running his best figure in nine months. Encouraging to see Karamanos jump back aboard.
RACE 3 
4-7-9-1
#4 Smoking Baby (8/5):

How do you like a Marquez hat trick to begin the card? She's got lots of early speed in a race largely devoid of it, so she'll try to go as fast as she can, as far as she can.

#7 Hoss Kitten (6/1):

Tried to stretch out last time, and it didn't go so well. Has hit the board in her last four starts at the distance, and should get a good stalking trip.

#9 Infinitypowersiwin (9/2):

Drops to a career-low level, after showing speed and fading against tougher. Has been steadily improving in her last three starts, so cannot discount.
ANALYSIS
RACE 4
4-5-7-2
#4 Devotion in Motion (7/2):

Didn't embarrass himself in his first start off the layoff, finishing fourth after showing brief speed. Hugh McMahon is 21% second off the bench.

#5 Dr. Rusty Raymond (6/1):

Drops in class from the $40,000 level, where he finished agame third after setting the pace two starts back.

#7 Let Me Ask Bob (4/1):

First-time Gonzalez and a jockey upgrade to Victor Carrasco make him an automatic contender.
RACE 5 
6-4-3-7
#6 Unnamed Soldier (5/2):

Goes first time for the Magee barn, and had a sharp four-furlong work since his last race. It doesn't look like there's much speed to run with him, so he'll try to take them as far as he can, as fast as he can.

#4 Jonathan McD (9/2):

Made a menacing rally last out before falling flat. Outside of a dull effort on the Charles Town bullring two back, his figures have consistently been in the mid-to-high 70s, which should be good enough to contend.

#3 Drive at Nite (7/2):

A longtime veteran of the scene (all but five of his 49 starts have come at this track), he's sucked up to hit the board in his few races. If he wins, it'll be in desperation style. Closing kick does merit a look for the exotics, though.
RACE 6 
1-2-4-5
#1 I Idolize You (3/1):

Didn't do so hot when going a mile two back behind local stalwarts like Monkey's Medal and Cause He's Western. Last out on the bullring at Charles Town, it was a disaster. Cross out those two races, however, and you'll find a horse who has been doing well at sprints and should get a good stalking trip.

#2 Bucked Tooth (2/1):

Has won his last two while going gate-to-wire. It's not going to be easy for him to get the lead in a race like this, but if he can, he'll be tough.

#4 In Him With Him (3/1):

The primary challenge to Bucked Tooth's dominance on the front end. The only downsides are that he's not really a sprinter, and he's making his first start since July 4. It looks like Dilodovico is using this race as a prep for more serious targets down the road.
ANALYSIS
RACE 7
5-6-1-2
#5 Fort Peck (9/2):

The dull effort in his local debut is somewhat concerning, but the figure was good, it was over a wet track, and it was his first start off a layoff. Two back, he got a good stalking trip and easily beat a claiming field at Churchill Downs. Should work out something similar here.

#7 Pretty Good Year (5/2):

His looping closing style has worked well at Laurel so far: he's won two of his last three. His last win came at 1 1/16 miles, and the extra eighth should only play to his favor.

#3 Tattooed (5/1):

Couldn't catch DeGrom in his last start, but narrowly missed to Jefazo two back,when running a big figure. Tim Keefe is surprisingly poor second off the layoff, so he might still need a race.
RACE 8
1-8-5-3
#1 Bow Maker (3/1):

Got involved in a speed duel going a mile last out, but hung on well to finish third. Now takes a drop in class.

#8 Queen of Tomorrow (5/2):

She lost that speed duel with Bow Maker, flattening out to finish fifth. McCarthy jumps aboard for the first time, and she had been in better form going shorter distances in the past.

#5 Truly Red (6/1):

Showed some promise as a 2-year-old, with mild closing rallies in her first three starts. Makes her first since since mid-August here.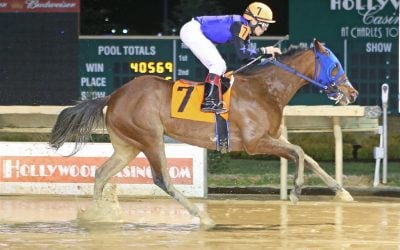 Which Charles Town trainers are off to hot starts? Asking for a friend; no, wait, actually asking for the betting public. Answers within…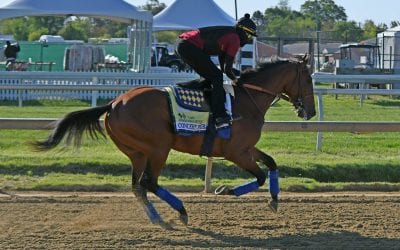 The fourth Kentucky Derby future wagering pool will kick off Friday, and 2yo champ Forte is the top individual choice on the morning line.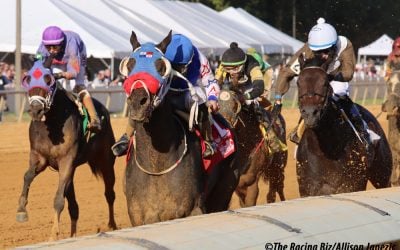 We provide full-card picks and analysis for this afternoon's races at Laurel Park.