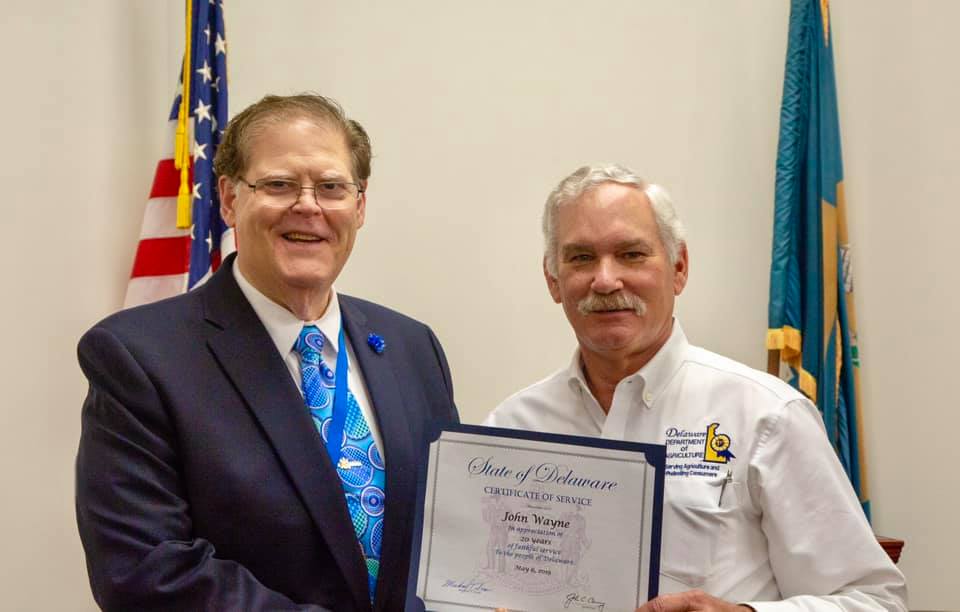 In May 2019 John Wayne received a certificate recognizing his 20 years of service from Del. Secretary of Agriculture Michael Scuse.
The last time I spoke with John Wayne was February 12. It was a bad day for him in the midst of a bad week.
Wayne, the 65-year-old longtime Executive Director of the Delaware Thoroughbred Racing Commission, passed away suddenly February 26.
I'd called him because, the day prior, the Commission had voted to overturn a stewards' decision suspending trainer Anthony Pecoraro and owner David Neilson for six months and imposing on them matching $1,000 fines.
It was the second time in recent months the Commission had decided, in a high-profile case, to overturn its stewards, and Wayne was frustrated.
When I reached him, he also informed that his long-ailing mother had passed away earlier in the day.
It would have been a lot easier for Wayne not to have answered the phone, or to have said it wasn't a good time.
But he didn't.
"I think I'm still in shock," he told me.
And we spoke for 20 minutes or so, about racing, its rules, and its miscreants. And also about life, and family, and loss.
When we at The Racing Biz began to ramp up our presence in Delaware, some people told me Wayne might be tough to deal with: might be prickly or difficult or unresponsive.
That was never true. Wayne was consistently responsive to questions, insightful where he could be, and helpful in obtaining information: exactly what you'd hope for from a racing regulator.
John was a serious man doing serious work that he took seriously. But he also delighted in recalling his days in track management at Atlantic City: its raffish characters and the sometimes rough-and-tumble way in which he said he dealt with them.
He spent the last 20-plus years of his career in Delaware. In recent years, that had become surprisingly high-profile: there was the case of Princess of Sylmar's medication positive and the Commission's surprising decision to capitulate on the case; the lifetime ban the stews had imposed on an Arabian trainer and breeder; the Pecoraro case cited above; and the Marcus Vitali episode.
The Vitali case was something of a comedy of errors, but one with real consequences for the trainer and the game. The stewards had imposed a one-year ban on Vitali, who earlier had had issues in Florida and in Maryland. When the trainer sought a stay of the ruling pending his appeal — typically granted — Wayne refused to grant it.
Calling Vitali a "breach of integrity," he said, ""It's my decision and mine alone. I stand on principle that I'm not going to allow him to continue to operate like this."
The Commission later upheld the one-year penalty.
A burly bear of a man, John was a frequent, and easily recognizable, presence in the paddock at Delaware Park and in the winner's circle. He took special joy in taking photos of what he saw there and posting them on social media, particularly his Facebook page, which is enlivened by dozens of pictures, many of him at racetracks or racing regulators meetings, with family, and elsewhere.
It's a tricky matter to assess, in the days after a person's death, what their "legacy" might be. Trickier still when that person is a regulator, paid to operate unobtrusively and behind the scenes.
In my experience, John was a man who believed in the integrity of the sport of racing and consistently tried to do what he thought would further it. Sometimes, he missed the mark; sometimes he stepped on the wrong toes.
But in an industry frequently criticized as too small, too clubby, and too disinterested in rooting out the problems in its ranks, the John Wayne I knew tried to push it in the right direction.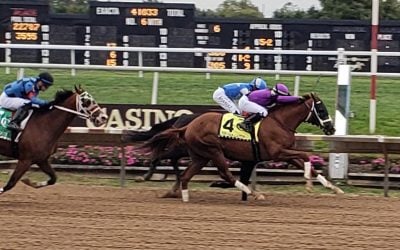 Delaware Park will race 85 days in 2023, about the same as last year, under a schedule approved Jan. 17 by the state Racing Commission.