Where Are They Now? Exercise rider Wayne Mount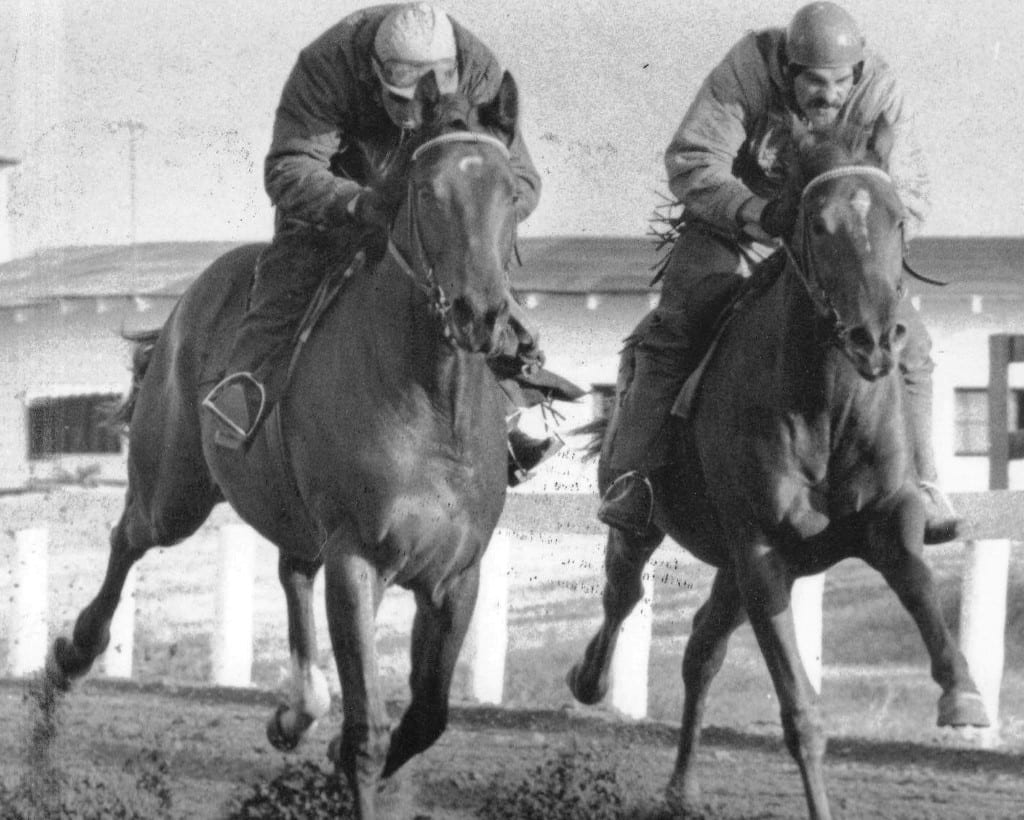 Wayne Mount (on rail, with mustache) riding Lefty. Photo courtesy of Wayne Mount.
This story kicks off our new "Where Are They Now?" series, in which we will catch up with Mid-Atlantic horsemen and -women whose names may (or may not) be familiar to you.
The proper early training and foundation for a young thoroughbred are critical to its success on the racetrack. That's why skilled exercise riders are such a prized commodity at major farms and training centers.
One of those top exercise riders who was entrusted with the breaking and training of blue-blooded yearlings is Wayne Mount, who worked at famed Meadow Stud during its heyday between 1963 and 1975.
Now 77, Mount has fond and vivid memories of his time at the Doswell, Virginia farm, and of being astride two of its most famous horses: Riva Ridge and Secretariat.
And Mount still is active in the sport today, having been honored last season at Colonial Downs as its oldest pony person. Although he lives in Saluda, Va., about 60 miles east of Richmond, Mount was born and raised in Hunterdon County, New Jersey, where his father owned a farm in Ringoes. "My father was a trainer; he had cheap horses that he ran at the Massachusetts and Pennsylvania fairs," recalled Mount. "He had all kinds of jobs. He worked for (standardbred trainer and driver) Stanley Dancer, but he liked thoroughbreds much better. When he bought the farm in Ringoes, he'd run horses at the Flemington Fair.
"Back when I was 10, 11 years old, I took care of the horses and went to the Massachusetts fairs with my father during the summer," he continued. "On the farm, it was a lot of hard work, it was a rough life. We lived in a big old house with little heat in the winter. My father was smart, but poor."
When Mount was about 16, he learned to break horses and upon graduating high school got a job with a trainer at Garden State Park. The trainer had a farm near Cherry Hill, where Garden State was located, and after working all morning at the track, Mount would go break his babies.
In 1963, to escape the ice and snow, Mount drove to Hialeah in Florida, sleeping in his car on the way. Upon his arrival on the backstretch, the first person he saw was an old acquaintance from New Jersey who was working with Christopher Chenery's Meadow Stable string. He told Mount they were also looking for help at Meadow Stud in Virginia, and Mount was hired there.
"I met Mert Bailes (William Meredith Bailes) when I arrived at Meadow Stud in February, 1963," said Mount. "His father, Bobby Bailes, was the trainer. We broke yearlings in the fall and then galloped them for the next couple of months. We each had five yearlings, sometimes six. We worked six days a week and had Sundays off. There were only three of us."
The following year, in 1964, Mount was assigned to exercise a 5-year-old mare who had been retired as a broodmare, but failed to become pregnant and was returned to training. Little did he know that he would be climbing aboard champion Cicada.
"I rode Cicada at the farm and at that time she was the winningest filly or mare in the country," said Mount. "I was really nervous riding her. I said to myself, 'Please don't let her run off or break down with me.' She was nicer to ride than I thought, though."
Later, Mount left Meadow Stud to go back to New Jersey to see his family and take care of things after his divorce. Sometimes he would go to Monmouth Park and gallop horses, and eventually returned to Meadow Stud.
"When I came back, Mert Bailes was breaking Upper Case, and he was supposedly the best horse on the farm. He was a son of Round Table," said Mount of the colt who would go on to win the Florida Derby and Wood Memorial. "They gave Riva Ridge to me, he was more or less considered a 'cull horse,' meaning nobody thought too much of him at that point. Nobody had an idea he'd win the (Kentucky) Derby and Belmont Stakes.
"Riva was close to 16 hands, and was really tough to hold," he continued. "He didn't like to be alongside or in-between horses, he wanted to be out front. I wanted to change his bit, but they wouldn't let me, and kept threatening to take me off, but I said, 'Don't do that, this is my horse.'"
The following year, Mount was able to ride a young horse who became one of the most famous thoroughbreds in America.
"I got on Secretariat one time," said Mount. "Mert Bailes had broken him, but he went to play baseball one day and I filled in. Secretariat was much easier to ride than Riva. He was smooth and easy, a pleasure.
"I remember when Mert was breaking Secretariat," he said. "The colt jumped, or crow-hopped, three times with all four feet off the ground. But that was it, he settled down into his business from then on. It was amazing."
Mount said he also broke a horse that Penny Tweedy always asked about – Lefty, a son of Prince John-Kushka, by First Landing, who was bred by Meadow Stud and named after her son. Lefty became a stakes winner, capturing the Gotham Stakes in New York (then a Grade 2).
At Meadow Stud, Mount lived in an old farmhouse at the end of the woods. He bought a motorcycle and would ride down trails and cross the road to get to the training track.
"When Mr. Chenery visited the farm, you'd say, 'Yes sir, no sir' when he talked to you," said Mount. "One time, I got really sick and was running a high fever, and I didn't work for a couple of days. Mr. Chenery had come to the farm and we were galloping in the indoor shed. He asked how I felt and I said I felt great. He said, "Uh-huh," like he didn't believe me, but I really was sick. He'd talk to us some, but he was more interested in talking to Bob Bailes, the trainer. Miss Tweedy talked more with us, always wanting to know about the horses."
Mount has nothing but good memories of his years spent at Meadow Stud, not just because of the famous thoroughbreds he galloped, but also because of the people he worked with.
"We were like a family there," he said. "They just took me in, and I felt right at home. We all got along."
After leaving Meadow Stud in 1975, Mount stayed active with thoroughbreds while working other jobs. When Colonial Downs opened in 1997, he exercised horses and then in 2019 heard they needed a lead pony person.
"By June, I knew my hip would have to be replaced," he said. "It didn't bother me while I was riding, but once I got off a horse, I couldn't walk."
Today, Mount keeps busy with his business of selling custom car parts, either through auto shows and swap meets, or online at kingofdice.com or through eBay. He volunteers as a wrestling coach at a local local high school, and lives on a 22-acre farm, where he has five horses and a three-eighths mile track.
"I go trail riding sometimes, too," he said. "I just can't stay away from horses."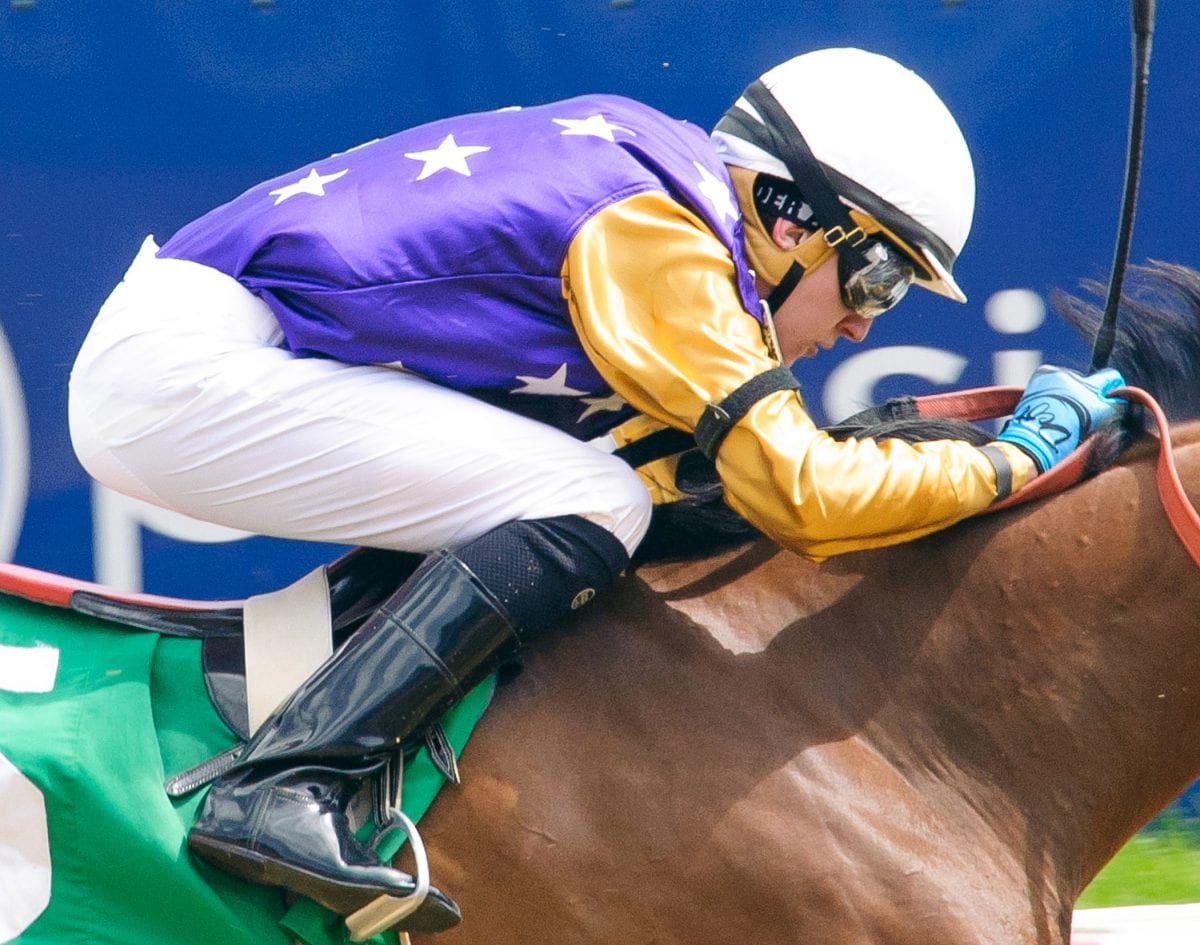 Our correspondent caught up with some jockeys who previously rode regularly at Delaware Park to learn their fondest moments or memories in the First State.