"Mr. February" Contreras doubles up at CT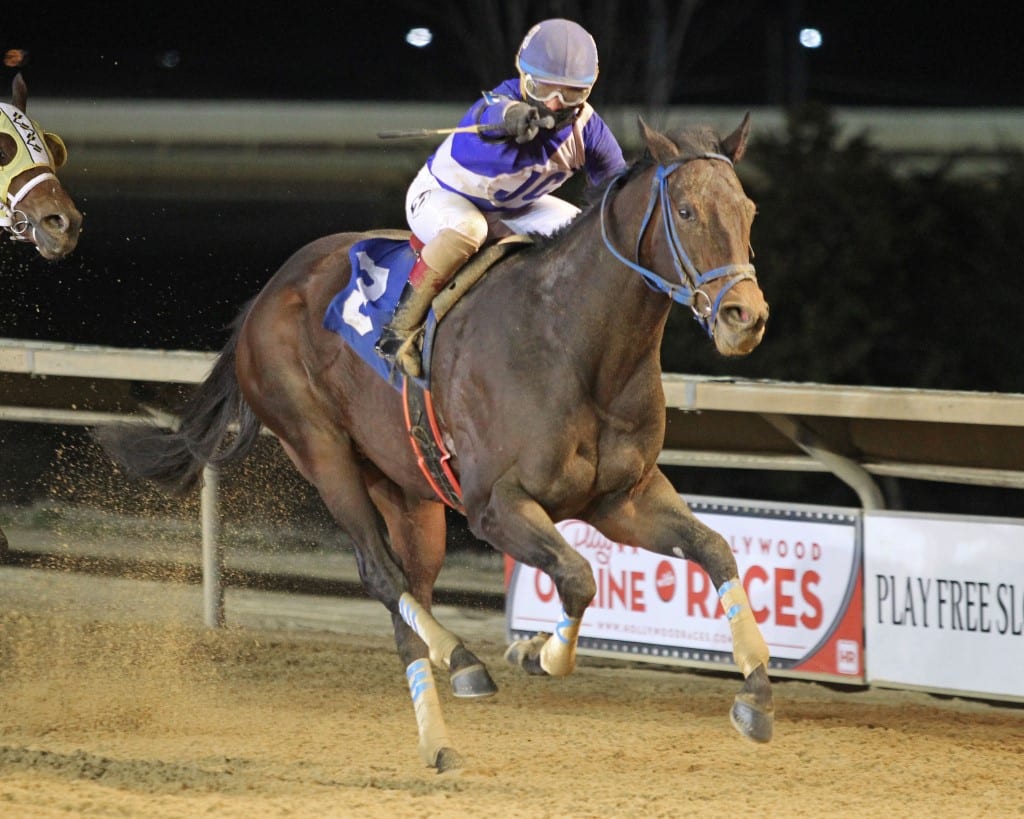 Here's looking at you! Last Print wins the Gold Watch Overnight S. at Charles Town Races. Photo by Coady Photography.
Maybe February is just Javier Contreras' month.
Two years ago, the Charles Town-based conditioner won three races on Valentine's Day. Last year, his star pupil Late Night Pow Wow gave him arguably the biggest win of his career when she won the Grade 3 Barbara Fritchie Stakes at Laurel Park – on February 16.
And this year, Contreras locked down both of the stakes his home track carded during February.
On February 22, Last Print won the inaugural running of the $35,000 Gold Watch Overnight Stakes under Carlos Delgado by getting the one-turn dash distance in 51.77. The win came roughly two weeks after Chiefs Kingdom had captured the $35,000 Valentine's Day Overnight Stakes for fillies and mares on Valentine's Day by getting the 4 1/2-furlongs in 52.94 with Sunday Diaz, Jr. aboard.
Both sprint specialists notched their first stakes scores in those events, both in the 15th starts of their respective careers and both are trained by Javier Contreras.
At the outset of the year, Contreras' most talented trainee, Late Night Pow Wow, was retired from racing to begin a second career as a broodmare, and the conditioner perhaps speculated that stakes victories would be few and far between with her gone. Not so fast.
"It wasn't easy to see Late Night Pow Wow retire," Contreras said. "Everybody at the barn loved her. She just had a way of picking up everyone when they saw her in the morning. Chiefs Kingdom tried that [Willa On the Move] stakes at Laurel, but that was awfully tough. She came back out of that race okay, so I tried in her in the overnight stakes and she was perfect. She loves 4 1/2 furlongs. There's a stakes for her up here next month, but it's at 6 1/2 furlongs, so I'll have to see if she can go in there."
Chiefs Kingdom was ninth in the Willa On the Move, a race won by Majestic Reason, who came right back to capture this year's edition of the Grade 3, $250,000 Barbara Fritchie Stakes in her next outing.      
Chiefs Kingdom, a daughter of Our Entourage out of the winning Successful Appeal mare Heavenly Appeal, is owned by breeder David Bloom, who is no stranger to stakes success. In 2005, Bloom's Taste of Paradise captured the Grade 1 Vosburgh Stakes at Belmont Park and then finished second in the Grade 1 Breeders Cup Sprint there for trainer Gary Mandella.
Last Saturday night in the inaugural running of the Gold Watch — named in honor of the one-turn sprint specialist who became the first horse in the long history of the track to eclipse the 51-second barrier for 4 1/2-furlongs in 1982 for then-trainer Lee Couchenour — Last Print benefited from an early speed display from  Phonemyposseagain and Strong Like Bull, then swept to command on the far turn and edged clear late to a three-length score under confident handling from Delgado.
"I was happy to see the race set up the way it did," Contreras said. "I told Carlos just let the speed horses go and then move on the turn. They went fast early [21.37 opening quarter], and when he moved they were starting to tire. Last Print has been racing well for a long time. He's always been consistent. I think there's also a race for him up here next month and then another one on Charles Town Classic Day."
Last Print, who now owns an 8-3-1 slate and $125,000 bankroll from 15 career outings, is a five-year-old Fiber Sonde gelding out of the Richter Scale mare Bootprints, whom Contreras trained during the last two years of her career.
Bootprints spent much of that time in claimers but concluded her career with a 6-10-1 slate and $110,000 banked from 34 career starts. She then appeared to be one of his promising broodmares, but when Last Print was an unnamed yearling, Bootprints died several months after being bred back to Fiber Sonde, so Contreras knew precisely what to name him.
"He was the last foal out of Bootprints," Contreras said. "So, that's why he's named Last Print. She was a good mare and a good broodmare. I was hoping to have her for a long time. But those things happen in horse racing. I was happy for Last Prints and his dam the other night with him getting his first stakes win."
LATEST WEST VIRGINIA NEWS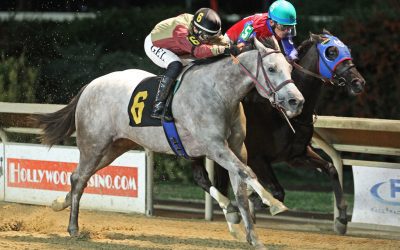 King Kontie and Jubawithatwist shared top honors as they dead-heated for the Henry Mercer Memorial Stakes win at Charles Town.