Firenze Fire, Majestic Reason "accidental" G3 winners at Laurel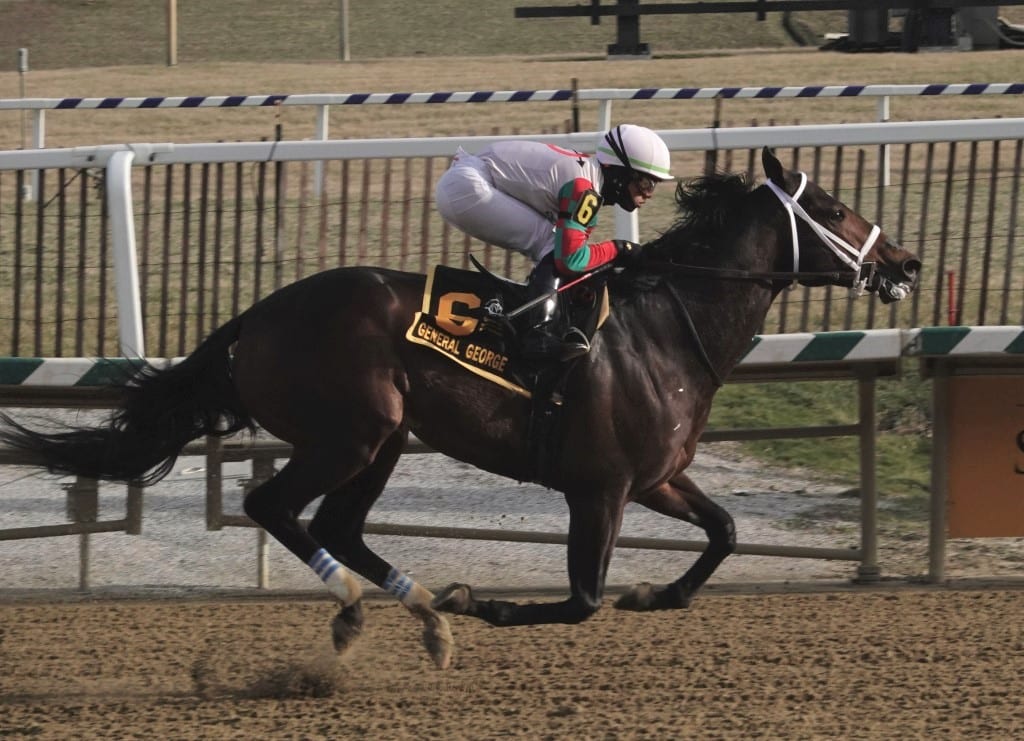 Firenze Fire was much the best in the Grade 3 General George. Photo by Laurie Asseo.
Call it the year of the accidental Sprintfest winners.
On a cold mid-February Saturday at Laurel Park, Majestic Reason, the longest shot on the board in the Grade 3 Barbara Fritchie, and Firenze Fire, a towering favorite in the Grade 3 General George, got the money. But that either was in central Maryland was, if not an accident, not exactly the result of a grand plan.
"Well, we thought about putting her away for the winter, but I just couldn't not point to this race," said Graham Motion, trainer of Majestic Reason. "It's just too big a deal, a graded race and right here at Laurel. She loves it here; she was doing great coming off a big win, so you know, there was discussion about retiring, about giving her the winter off, but I'm glad we stayed the course."
"Jason [Servis, the trainer] and I talk all the time, and, you know, he pretty much sets it," said Ron Lombardi, a New Jerseyan whose Mr. Amore Stable races the homebred Firenze Fire. "I look forward; I'm a little bit more aggressive, but this this was totally Jason to come here. And obviously he made the right choice."
Firenze Fire spent most of 2019 in graded company, with his top performances coming in a pair of runner-up efforts, in the Grade 1 Forego and the Grade 1 Vosburgh. He also was a good fifthin ni the Breeders' Cup Sprint before finishing up his 2019 campaign with a pair of wins in ungraded company.
But after his December 22 win in the Gravesend at Aqueduct, Firenze Fire's future was uncertain, and Lombardi had a decision to make.
"Honestly, back in November, I was truly considering racing him through the end of the year and the putting him out to stud for February, March, and April, and then bringing him back for Saratoga," Lombardi said, outlining one plan he considered.
"But he ran so well last time out," the owner added. "It's been going and [the General George] fit on the map really well. And so it's a new year; let's race some for the year. I'm in no rush."
It would have been one of the more unusual campaigns any horse of recent vintage has had, but then again, Lombardi has done well zigging when the racing industry suggests zagging. In fact, Firenze Fire was the product of a breeding between the stallion Poseidon's Warrior — whose main attraction, Lombardi said, was that he was standing in Florida at the time — and his mare My Every Wish, by Langfuhr, whom he claimed for $25,000 out of her second, and final, career race.
But it's worked like a charm. Firenze Fire has won 10 of his 24 career starts, while earning more than $1.7 million. He's won five graded stakes, including the Grade 1 Champagne, and does nothing but run good races.
In the General George, Firenze Fire broke alertly, and two-time Eclipse Award-winning jockey Irad Ortiz, Jr. put him in a comfortable spot just off the lead and perched off a pair just to his inside. It was clear then that if Firenze Fire was right, he wouldn't lose from there.
"You saw Irad just take him back," Lombardi recalled. "He wanted to settle him in… I mean, Irad never moved his hands. So I was totally confident in it, and then once he got near the top of the stretch, he just let him go."
The final margin was four lengths over longshot Threes Over Deuces, who rallied for second just ahead of Still Having Fun. Running time for the seven furlongs was 1:22.38.
With three straight wins in the bank, Lombardi expects Firenze Fire to return to Grade 1 company in the Carter at Aqueduct in April.
"It's really a storybook," Lombardi said. "You know, it's a fairy tale."
Another pretty good tale is that of Fritchie winner Majestic Reason. The five-year-old Majestic Warrior mare had a good week, earning laurels as top Maryland-bred older filly and mare at Tuesday's Renaissance Awards and following that up with the first graded win of her career this afternoon.
"I was hoping she could come and justify being champion, and she really did, which didn't surprise me at all," Motion said. "She always steps up."
Majestic Reason had lost to two of the Fritchie's logical players; she'd fallen twice recently to Anna's Bandit and, three races back, finished well behind Saguaro Row, who went off the 4-5 favorite.
But today, Majestic Reason turned the tables on both, stalking the pace, coming wide in the lane, and powering to a two-length victory in 1:23.35 for seven furlongs under jockey Trevor McCarthy.
"She's run two beautiful races," said Ellen Charles, who co-owns and co-bred Majestic Reason with Richard Golden's Sycamore Hall Thoroughbreds operation. "I think she's better than she's ever been. I think she's getting better."
Victim of Love pressed the early pace of Blue Eyed Girl, took over in the stretch, and though she could not contain Majestic Reason, she held second by a half-length over Anna's Bandit, who rallied late for the show spot.
It was Majestic Reason's sixth win from 13 career starts, and it pushed her earnings past the $460,000 mark.
Majestic Reason races for Charles' Hillwood Stable and Golden's Sycamore Hall, and that's a story in itself. Charles had owned Love's Reason, the Not for Love mare who is the dam of Majestic Reason. She was a stakes winner as a two-year-old, but her three-year-old season wasn't quite up to snuff.
"She just annoyed me," Charles said with a laugh. "And she said, 'I don't wish to be a three-year-old.'"
So Charles thought to put her in for a $25,000 claiming tag, but Golden contacted her to talk her off that plan, and they worked out an arrangement that has benefited both.
Trainer Motion said he hadn't decided on a next step for Majestic Reason, but a bit of a break for the Majestic Warrior mare is likely in the offing.
"I would like to give her a little freshening, even if it's just kind of giving her a month of not doing much," he said.x "Maybe look at the summer, you know… I don't know what there is at Laurel now, but she loves this track. So there's something to be said for keeping it here today."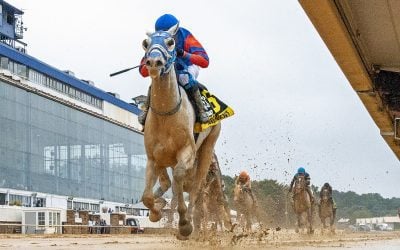 Congruent, winner of last fall's Laurel Futurity, has a shot in Saturday's Jeff Ruby Steaks at Turfway, where a win would earn him a Kentucky Derby berth.