Sharing named Maryland-bred Horse of the year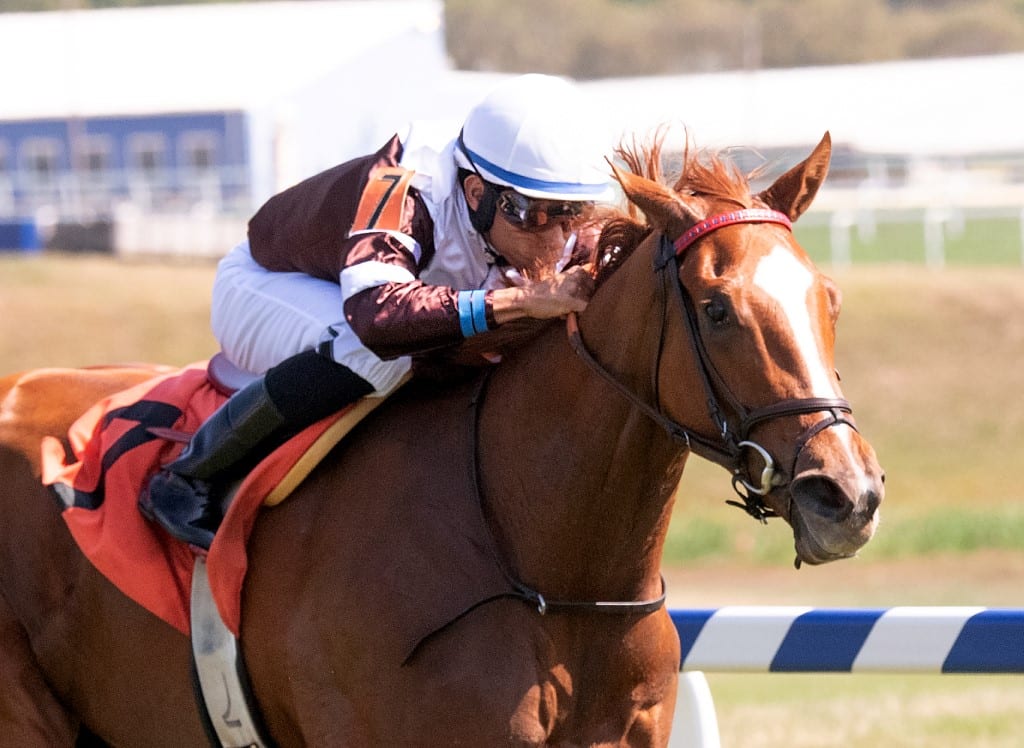 Sharing. Photo Maryland Jockey Club.
The third annual Renaissance Awards, a collaborative effort among the Maryland Horse Breeders Association, Maryland Thoroughbred Horsemen's Association and Maryland Jockey Club which recognizes excellence in Thoroughbred racing and breeding in Maryland in the past year, was held on Tuesday evening, Feb. 11, at the Guinness Open Gate Brewery in Halethorpe. Awards were presented to the top Maryland owner, trainer, jockey, breeder, broodmare and stallion, Backstretch Workers of the Year, one for Pimlico Race Course and one for Laurel Park, as well as the champion Maryland-breds of 2019.
Maryland-bred champions of 2019—Sharing takes top honors
Grade 1-winning juvenile Sharing took home top honors as Maryland-Bred Horse of the Year, champion 2-year-old filly and champion turf runner.
Owned by Eclipse Thoroughbred Partners and Gainesway Stable (Antony Beck) and trained by H. Graham Motion, Sharing wrote herself into the history books when capturing the $1,000,000 Breeder's Cup Juvenile Fillies Turf-G1 at Santa Anita, becoming just the fourth Maryland-bred to win a Breeders' Cup race. She went into the Breeders' Cup after taking her stakes debut in the $200,000 Selima Stakes at Laurel Park. With three wins and a third-place finish during her campaign, the Speightstown filly earned $730,300.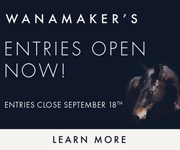 Sharing, bred by Sagamore Farm, was sold as a yearling for $350,000 at Fasig-Tipton's Saratoga sale to Eclipse Thoroughbred Partners. In addition to being by a Breeders' Cup Sprint winner, she is out of the Pleasantly Perfect mare Shared Account, the 2010 Breeders' Cup Filly and Mare Turf-G1 winner trained by Motion. Shared Account also captured the Lake Placid Stakes-G2 and All Along Stakes-G3 while earning $1,649,427 in Sagamore's colors.
Other divisional champions:
Champion 2-year-old male: Laddie Liam (b.c., 2017, Golden Lad—Buffgirl, by Quiet American). Bred by Hillwood Stables; owned by Joseph E. Besecker; trained by Hugh I. McMahon.
Champion 3-year-old male: Alwaysmining (dk.b./br.g., 2016, Stay Thirsty—What Will Be, by Anees). Bred by Avla Pitts; owned by Runnymoore Racing; trained by Kelly Rubley.
Champion 3-year-old filly: Las Setas (b.f., 2016, Seville-Ger—Tanca, by Polish Numbers). Bred by Robert T. Manfuso and Katharine M. Voss; owned by Wayne A. Harrison, Robert T. Manfuso and Katharine M. Voss; trained by Katharine M. Voss.
Champion older male: Cordmaker (ch.g., 2015, Curlin—Tanca, by Polish Numbers). Bred by Robert T. Manfuso and Katharine M. Voss; owned by Hillwood Stable LLC; trained by Rodney Jenkins.
Champion older female: Majestic Reason (b.m., 2015, Majestic Warrior—Love's Reason, by Not For Love). Bred by Sycamore Hall Thoroughbreds LLC and Ellen Charles; owned by Hillwood Stable LLC and Richard L. Golden; trained by H. Graham Motion.
Champion sprinter: Lewisfield (b.g., 2014, Great Notion—Smart Crowd, by Crowd Pleaser). Bred and owned by Linda L. Zang; trained by Jeff C. Runco.
2019 Maryland Breeder, Broodmare and Stallion of the Year Awards
Maryland Breeder of the Year: SAGAMORE FARM
Sagamore Farm led all breeders of Maryland-breds by earnings in 2019, with a big boost provided by 2019 Maryland-bred Horse of the Year, champion 2-year-old filly and champion turf runner Sharing. The winner of the Breeders' Cup Juvenile Fillies Turf-G1 and two other races in four starts, the Speightstown filly earned $730,300.
Sharing was one of three stakes winners bred by Sagamore last year. Graded stakes-winning Blamed, the Maryland-bred champion 3-year-old filly of 2018, returned at 4 to take the Grade 3 Royal Delta Stakes at Gulfstream Park in one of her two starts in 2019. And Sagamore campaigned home-bred Where Paradise Lay, winner of his stakes debut last August in the Star de Naskra for 3-year-old Maryland-breds at Laurel. Sagamore-bred runners made 219 starts in 2019, won 34, with 36 seconds and 36 thirds, and earned more than $2 million.
Maryland Broodmare of the Year: TAFT LIL QUEEN
Ch.m., 1995, by Irish Open—Eston, by Ancestral (Ire)
Owned by Charles and Cynthia McGinnes
Taft Lil Queen has left a lasting mark as the dam of two Maryland-bred champions, a million-dollar sales horse and 2019 Maryland Broodmare of the Year. Owned by Charles and Cynthia McGinnes her entire broodmare career, from 2001 until her death in 2015, Taft Lil Queen was represented in 2019 by stakes winner and $407,156-earner Pete's Play Call (by Munnings), her final foal.
The McGinneses purchased the stakes-winning daughter of Irish Open from an Adena Springs sale in 2001 for $48,000 while carrying her first foal. Her most accomplished runner is four-time stakes winner and Grade 1-placed Kiss to Remember (by Big Brown), the champion Maryland-bred older female of 2015 and 2016. She is also the dam of El Viento (by El Corredor), champion 2-year-old colt in Puerto Rico and co-champion Maryland-bred 2-year-old male of 2005, and two stakes performers by Not For Love – stakes-winning juvenile filly For Royalty and multiple stakes-placed The Prince. For Royalty was sold in the name of the McGinneses' Thornmar farm as a yearling for $250,000, a record price for the breeders, and as a broodmare sold for $2.1 million at the 2017 Keeneland November sale. She is the dam of four stakes performers from five to race, led by Grade 1-winning filly Constellation, who brought $3.15 million at Fasig-Tipton's Kentucky fall sale while carrying her first foal. Another of Taft Lil Queen's daughters, winner Kiss the Breeze (by Kafwain), is the dam of stakes winner Kiss the Daddy.
Maryland Stallion of the Year: GREAT NOTION
B.h., 2000, by Elusive Quality—Evening Primrose, by Dayjur. Stands at Northview Stallion Station, Chesapeake City.
For the fourth year in a row, Great Notion has been named Maryland Stallion of the Year. He led all stallions in the state by earnings, winners and wins.
Great Notion sired 94 runners last year, the earners of $3,195,902 (for an average of $33,999 per runner), and his 55 winners won 103 races. He was represented by three stakes winners, led by 2019 Maryland-bred champion sprinter Lewisfield, and Anna's Bandit, tied for the winningest horse in the U.S. and winner of seven stakes last year.
Now 20, the son of Elusive Quality has made his career at Northview Stallion Station in Chesapeake City.
Backstretch Worker of the Year
Urizar "Uri" Velazquez, who works for trainer Brandon McFarlane, is the Backstretch Employee of the Year for Pimlico. The 27-year-old native of Mexico is known for his passion for horses and those who work with them, and for assisting his colleagues in times of need. He is enrolled at Howard Community College where he takes courses in English, grammar and history.
"I thank God for being here tonight," Velazquez said. "I thank every single one of you guys who made this happen. I really appreciate it."
Troy Singh, the Backstretch Employee of the Year for Laurel, is the primary assistant for Claudio Gonzalez, leading trainer by wins in Maryland. A 38-year-old native of Guyana, Singh started in the business as an owner and decided he wanted to work hands-on with the horses in the stable area.
Singh oversees the grooms who work for Gonzalez's 60-horse operation at Laurel and steps in when some grooms aren't available.
"It's a lot of hard work but it's very fulfilling when you win a race," he said. "Working with Claudio, I learn a lot."
Maryland Trainer, Jockey and Owner of the Year
Trainer: Mike Trombetta
Based at Laurel and the Fair Hill Training Center, Trombetta's trainees won 62 races in Maryland in 2019 and another 40 races around the United States and in Canada. "We couldn't do all this without owners who trust our ability and staff members who work so hard to make our horses the best they can be," Trombetta said while accepting the award.
Jockey: Trevor McCarthy
Trevor McCarthy won 170 races at Maryland tracks last year and 253 overall. He won 14 stakes in Maryland with 14 different horses including the Grade 3 General George at Laurel with Uncontested.
"I'd like to congratulate all the finalists and give a huge shout-out to all the jockeys here who are great competitors," McCarthy said. "I'd like to thank my agent, Scott Silver, and all the owners, trainers and backstretch workers. I'm very privileged."
Owner: Hillwood Stable
Ellen Charles' Hillwood Stable accounted for 75 starts, 92% of them in Maryland, and $765,528 in earnings.
Two Hillwood runners were voted 2019 Maryland-bred champions. Cordmaker, trained by Rodney Jenkins, was named champion older horse, while Majestic Reason, trained by Graham Motion and co-owned by Richard Golden, was selected champion older female.
"I'd like to thank the trainers and the entire staff who made all of this possible last year," said Eveline Kjelstrup, the assistant to Jenkins who accepted the award on behalf of Hillwood Stable.
Voting for this year's Maryland-bred champions and the owner, trainer and jockey awards were made by Mid-Atlantic Thoroughbred editors Joe Clancy and Cindy Deubler and senior writers Sean Clancy and Tom Law, Maryland Jockey Club vice president of racing development Georganne Hale, racing secretary Chris Merz, stakes coordinator Coleman Blind, track announcer Dave Rodman and racing analysts Tim Tullock and Ty Ehlis, Keith Feustle of Equibase, THAracing.com managing editor Tom LaMarra, freelance writers Andy Beyer, Ted Black, Maggie Kimmitt, Vinnie Perrone, John Scheinman and Dan Tordjman, The Racing Biz publisher Frank Vespe, photographer Lydia Williams and WBAL NewsRadio reporter Scott Wykoff. The board of directors of the Maryland Horse Breeders Association selected the Maryland Breeder, Stallion and Broodmare of the Year awards.
Proceeds from ticket sales for the Renaissance Awards program go to support the work of Beyond The Wire, the Maryland Horse Industry Foundation and the Maryland Racing Media Association.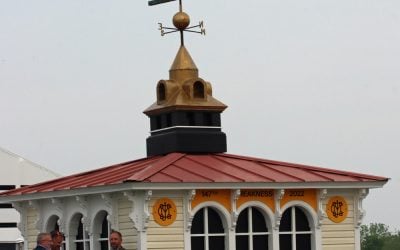 Pimlico will not race Saturday, Sept. 23 as a result of Tropical Storm Ophelia, the track announced Saturday morning.