Muad'dib, Late Night Pow Wow's bro, among recent maiden stars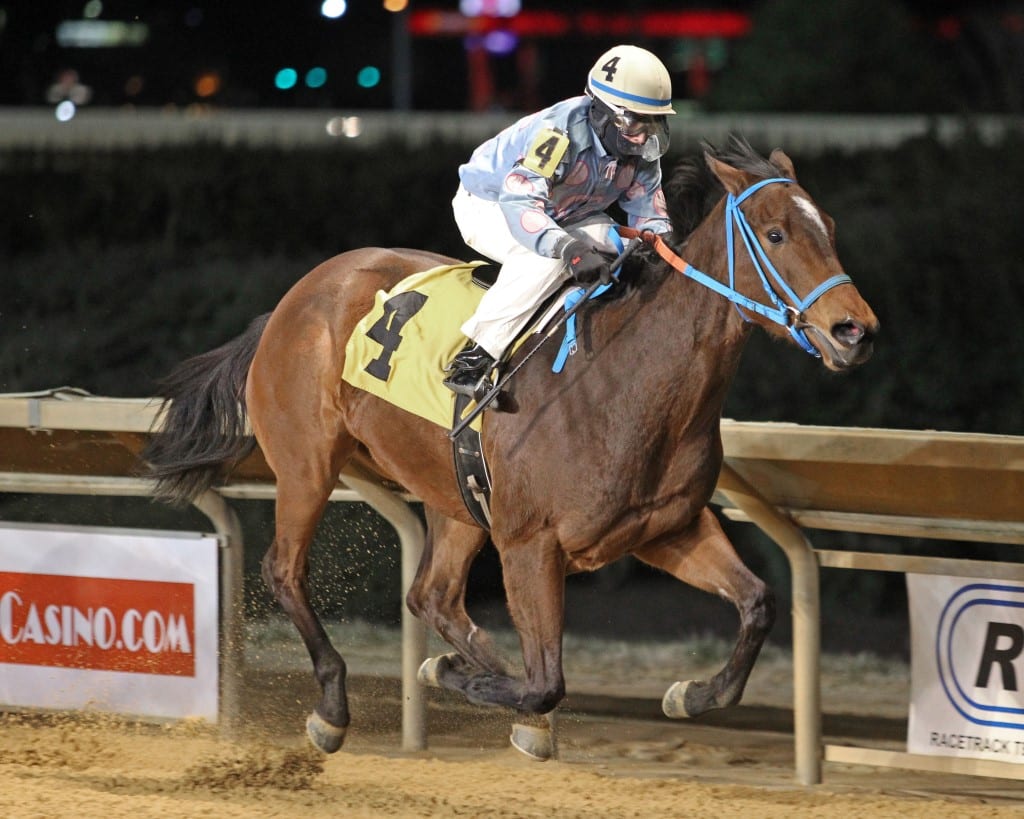 College Kid impressed at first asking for owner-trainer-breeder James W. Casey. Photo by Coady Photography.
A trio of recent Charles Town maiden winners earned their diplomas in manners that suggest they will be visiting the winner's circle in allowance races sometime in the near future for a pair of trainers accustomed to being there.
First came College Kid, who looked more like a post-doc in a first-out, front-running sprint score. Then came Star of Night, who dazzled in a 5 ½-length triumph in her second career start. And finally, February 5, Muad'dib, a full-brother to recent WV-bred graded stakes star Late Night Pow Wow, who won by five at first asking.
Last Friday evening in the second start of her career, Star of Night (Arnaldo Bocachica) easily lived up to her role as the 3-10 favorite in a two-turn maiden special weight event for state-bred three-year-old fillies when she drew clear in the lane to a five-length score by stopping the timer in 1:20.97 for the 6 1/2-furlongs. A sophomore daughter of Creative Cause trained by Jeff Runco for owner Huntertown Farm [Heinz and Eric Steinmann], Star of Night prevailed handily in her seasonal debut and rebounded from a second-place finish as the odds-on choice in her career debut last fall.
"She's definitely got plenty of ability," Runco said. "She really trained well for her debut, but she was really unlucky that night. The track was sloppy and she was wide on both turns, and she still rallied to take the lead turning for home and just got beat. She came out of that race really well. She was good the other night. I was glad she won it for the Steinmann brothers. They're good clients, and they had a good year last year, too."
Huntertown Farm won 15 races and posted purse earnings of more than $340,000 in 2019 and already has three wins thus far in 2020. Heinz Steinmann also owned Creative Cause, a son of Giant's Causeway trained by Mike Harrington, who enjoyed a quietly successful but brief career on the track. Creative Cause posted a 4-2-3 slate and just over $1 million banked from 10 lifetime tries, competing in six Grade I events, including a third-place finish in the 2012 Preakness Stakes and a victory in the 2011 Norfolk Stakes. Star of Night had been well backed in her career debut on December 13, but was unlucky throughout while being parked four-wide on both turns then settling for the runner-up spot as the odds-on choice. She had a pair of three-furlong breezes in the interim and was well backed again, although this time the daughter of Creative Cause easily prevailed as the 3-10 choice. With two, two-turn races under her belt, Runco looked forward with cautious optimism. "I knew if she bounced back from that first race okay then she would be ready for her next start," Runco said. "She was just so unlucky that first race. But the other night she looked good. I'll look for an allowance race for her this month and she how she does in there. It's early in the year, so she has time to improve. I'd like to see her do well for the Steinmann brothers — they're good clients."
One night earlier in a one-turn maiden special weight dash for state-bred three-year-old fillies, College Kid (Denis Araujo) displayed ample early speed and then some grit when she scored as the 2-1 choice in a one-turn maiden special weight dash in her career debut. A sophomore daughter of Windsor Castle owned, bred and trained by James W. Casey, College Kid broke alertly to duel with Irish Knockout down the backside and through the far turn, shook loose from that one nearing the sixteenth pole and went on to a 1 ½-length score while stopping the timer in 53.35 at first asking.
"She's got a lot of speed, but I think she'll do well stretching out," Casey said of College Kid, whose final clocking was more than a second faster than Zippy Jo posted on a one-turn, open maiden special weight event for older fillies and mares earlier on the card. "I think she'll be a lot better going two turns. Most of my horses are better going two turns. She showed a lot of ability last year at age two, but she wasn't quite ready to run last year. I had a lot of good two-year-olds, but not all of them made it to the races."
College Kid displayed a hint of speed in four published workouts, one of which was a gate drill that was 11th of 48 at the distance. She had not fired any 'bullet' workouts leading up to her debut, but any doubts about her early speed were erased in the opening jump when she and Irish Knockout darted clear of the field and dueled for the lead down the backside and through the far turn.
"I think she'll be even better going two turns," Casey said. "I'll just have to wait and see what comes up next in the [condition] book. She showed speed the other night, so if she has to go one turn next time out, then we'll do that. But I think she'll be better going two turns."
On Wednesday, Runco continued his rampage with first-time starters – he's won with four of seven debut runners thus far in 2020 – when Muad'dib powered to a 5 ¼-length win in 1:27.81 for seven furlongs that brought to mind memories of his big sis, Late Night Pow Wow, who also romped at first asking and went on to win two graded events and more than $700,000 in her 15-race career.
Both Muad'dib and Late Night Pow Wow were bred in West Virginia by John McKee, but while Javier Contreras trained – and for the first part of her career owned – the latter, Muad'dib is owned by David Raim.
Muad'dib had posted a couple of zippy works in December in preparation for her debut. On Wednesday under Bocachica, he stalked an early speed duel, took over rounding the far turn, and drew away to the easy win. He went off as the 4-5 favorite in the six-horse field.
LATEST WEST VIRGINIA NEWS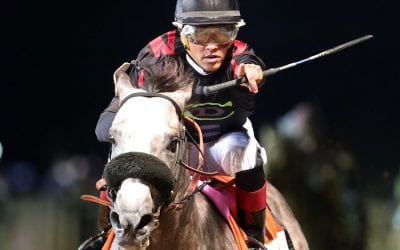 We've got Charles Town picks and preview today as the track presents its Friday card!