Laurel Park picks and ponderings January 24, 2020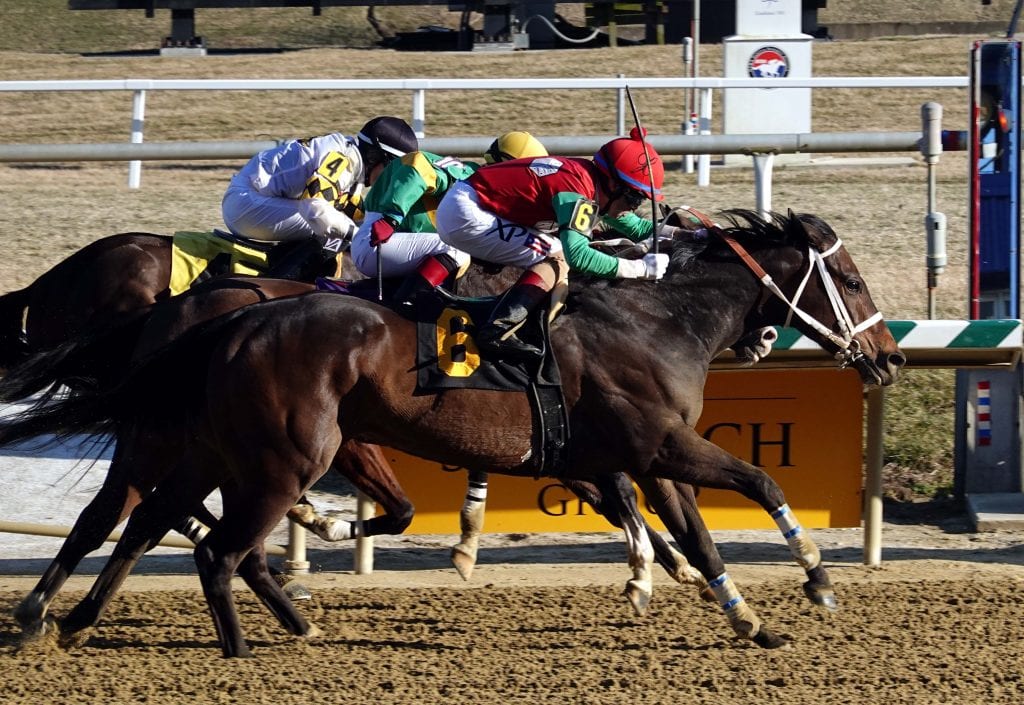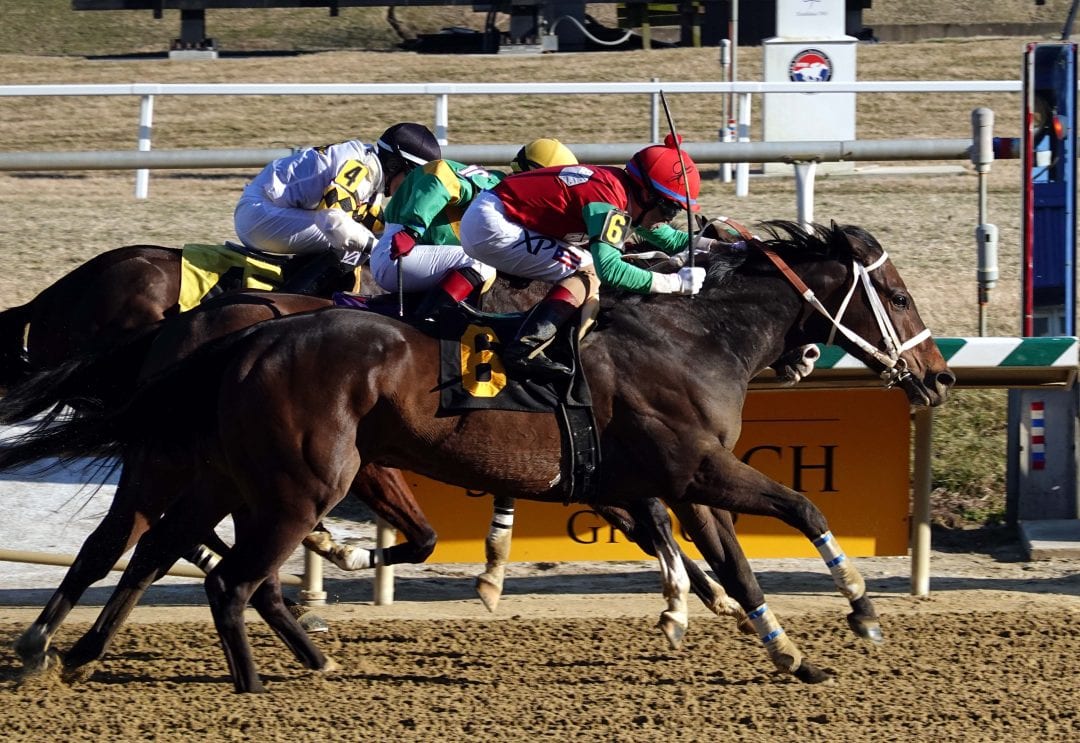 Anna's Bandit. Photo by Laurie Asseo.
In which we pick the races from Laurel Park each day…
Post time: 12:25 p.m.
Carryovers: Rainbow Jackpot Pick 6 — $1,280; Super High 5 — None; Late Pick 5 — $6,433
Notable: Trainer Carlos Mancilla is 3-for-6 second off the claim in the last five months.
ANALYSIS
RACE 1
7-4-6-5
Morning line favorite #4 Princess A'go Go (3-5) could be tough in here, but, as the great Mel Brooks would say, a bettor'd have to be N-V-T-S nuts to take those odds on a horse that has lost at this never-two level repeatedly… Put her on the ticket by all means, but let's see if we can get an improved effort out of #7 Youknowwhatitizzz (3-1), who ran just OK – and finished behind the favorite – last time out in a somewhat disappointing effort on the drop-down; in a race devoid of speed, this one may be the one to lead or to sit a good trip just off the speed…
RACE 2 
5-2-4-7
Sneaky good effort last time for #5 Roof Top Bar (7-2); the Lacey Gaudet trainee was up close early, steadied back out of contention midway on the turn, regrouped and came through inside to be a willing second behind the promising Mine Not Mine; he hasn't run in two months but has fired a.m. bullets his last three moves, and rider Cintron picks this one over the other Gaudet trainee… Graham Motion adds blinks to #7 Security Breach (3-1) who has run two pretty OK races, though he did finish behind our top choice on debut…
RACE 3 
4-2-6-3
Nice effort to earn the win last out by favorite #2 Easy River (9-5) in his first try in the Magee barn, and a repeat would be no surprise; but we're wondering if the added half-furlong does him any favors here, as his wins on the page all are at 5 1/2 for 6… We've always been partial to horses that rise multiple levels from one race to the next, run credibly, and then drop down to an interim spot, which is exactly what our top choice #4 Unbridled Outlaw (7-2) is doing; he's also making his second start in the Farrior barn, and in his last, he ran OK behind Stroll Smokin, who came back to be a good third another level higher up… 
ANALYSIS
RACE 4 
2-5-7-4
Not every day that a Grade 1-placed runner shows up in an a-other-than allowance at Laurel, but that's the case with #2 Reflect (9-2), who ran second in the G1 Alcibiades as a juvenile and then ran up the track in that year's Breeders' Cup Juvenile Fillies; she hasn't quite gone on since then, but here finds an easier spot after an evenish effort against similar at AQU and will have blinks on for her second start for trainer O'Dwyer… Morning line favorite #5 Three Hawk (9-5) ran a huge one last out to be third in the Politely behind hard-hitters Anna's Bandit and Majestic Reason; a repeat will get the money here, but we're inclined, at least in the top spot and at short odds, to make her prove she can repeat… Doesn't seem like leaving Steve Asmussen off the ticket would be wise, even if #7 Break Curfew (10-1) has not performed well in her last couple…
RACE 5 
5-2-3-1
The short comment isn't lying on #5 Pearl Gem (4-1); she broke slowly in her last, came flying up in between horses to take the lead, and then stuck with it willingly until the final furlong to be a good second; a better break would help; she makes her second start off a two-month break here, and the cutback to seven furlongs may not hurt a horse who may be controlling speed… 
RACE 6 
4-2-6-1
A bunch of these have spent some time beating up on each other, trading the top spot back and forth, which leads us to think perhaps a horse not of that group might be worth a look, a horse like, say, #4 Floyd Unger (6-1); the Jeremiah Englehart trainee pretty much got his head kicked in last out in an allowance at Aqueduct, but back at the nickel level – a level at which he won by 10 three back – he should have the chance to strut his stuff to best effect… #2 Twin Valor (7-2) takes a big drop into this spot, but it is the level at which trainer Rodolfo Sanchez-Salomon claimed him, so that's perhaps not much of a concern; #6 Homeofthe Lombardi (5-1) drops in off a poor effort, but trainer Carlos Mancilla is 3-for-6 second off the claim in the last five months…
ANALYSIS
RACE 7 
6-8-3-7
Dropped to the bottom, #6 Castle Ridge (7-5) romped by 10 lengths, trainer Jerry Robb sees fit to wheel her right back in a similar spot, and rider Xavier Perez picks this one over another live contender trained by Robb; the only concern is whether she bounces, but she just looks to be better than these… #3 Cocktail Waitress (6-1) won a starter allowance last time out, which ought to be a better group than this straight claiming event…
RACE 8
5-8-4-2
Good try last time by #5 Father's Luck (10-1), who led a long way before tiring in the final furlong; in his second off a six-month break, he should be fitter, and the slight reduction in distance helps, too… Morning line favorite #8 Chuck's Dream (5-2) is a bit of a mystery: a $25,000 claim a year ago who hasn't run since and makes his first start for the new barn at the bottom level; if he's remotely close to the horse he used to be, he wins for fun here; if not, there'll be some upset bettors… #4 Outside the Box (8-1) finds a manageable group to make his debut against and is showing a bullet move two works ago; two of his five siblings to race won at first asking…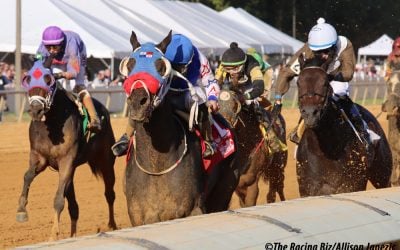 We provide full-card picks and analysis for this afternoon's races at Laurel Park.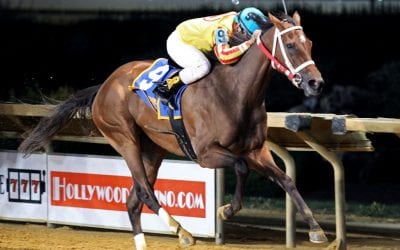 We provide picks and analysis for this evening's card at Charles Town Races.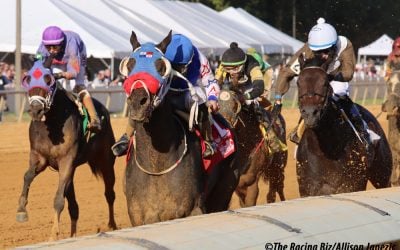 We provide full-card picks and analysis for this afternoon's races at Laurel Park.