Besecker dispersal powers boffo Fasig-Tipton sale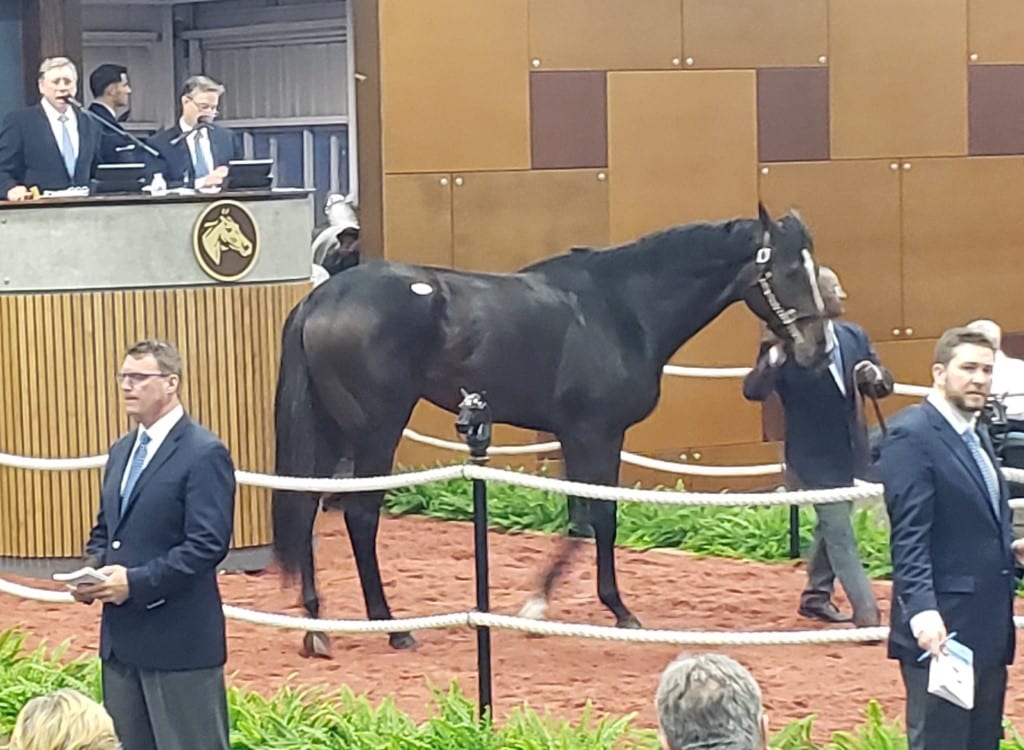 Mine Not Mine brought a top bid of $210,000 at the Fasig-Tipton Midlantic Mixed Sale. Photo by The Racing Biz.
A year ago, Joe Besecker bought eight horses a the Fasig-Tipton Midlantic Sale. At this year's event, which took place December 10, Besecker dispersed his stock, putting 97 through the sales ring.
Those horses helped power a sale at which the gross, average, and median all blew past their 2018 counterparts. And even with a larger catalog, the buyback rate was down.
"I'm ecstatic. What a great way to end this year," said Fasig-Tipton Midlantic sales director Paget Bennett, who said she believe the gross sales to be a record for this event.
All told, the sale's gross more than doubled this year, as the 249 horses to sell fetched a grand total of $4,383,700 versus last year's gross of $1,911,100 on 201 hips sold. The average nearly doubled, reaching $17,605, an 85% increase over 2018, and the median was up by 60% to $8,000.
The buyback was down this year. Last year's buyback rate was a solid 22.4%, but this year's was even lower at 18.9%. In all, only 58 of the 307 horses through the ring did not find a new home.
The top three horses to sell were all horses of racing age out of the Besecker dispersal, and all were consigned for him by Northview Stallion Station (David Wade).
The list was topped by a pair of two-year-old colts — Laddie Liam and Mine Not Mine — who ran first and fourth, respectively, in Saturday's Maryland Juvenile Futurity. The former brought a winning bid of $450,000 from DJ Stable LLC, while the latter fetched $210,000 from Charles Zacney.
The third of the trio was a winning two-year-old filly named Panthera Onca. A winner once in three starts this year, she is a half-sister to two stakes winners and to the stakes producer Grazie Mille, who is the dam of Grade 1 winner Mo Town. Lane's End Bloodstock picked her up for $175,000.
The Besecker-Northview combination also teamed up to sell the top broodmare at the sale, the Broken Vow mare Altar Issues. In foal to Practical Joke, she is a stakes producer and brought a winning bid of $105,000 from Three Diamonds Farm.
The top yearling to sell also came from the Besecker dispersal, though she was consigned by Crane Thoroughbred Services. The Pennsylvania-bred daughter of Jump Start brought a winning bid of $57,000 from Mo Thoroughbreds.
Besecker was not involved in the top weanling to sell, however. That was a West Virginia-bred colt by Runhappy out of the stakes-producing Numerous mare Grey Traffic who was consigned by Takaro Farm. Jeff Runco, as agent for David Raim, signed the ticket for $60,000.
In all, 95 of the Besecker horses sold, and they accounted for more than $3,005,000 of the event's total.
Bennett said that her company, which learned in mid-October of the dispersal, was able to use the "Besecker stock as a building block."
Indeed, of the seven horses that brought six-figure winning bids, two came from sellers other than Besecker. Last year, no horse brought a top bid above $87,000.
"If people looked around to see who was here as owners and buyers, why not (bring a nice horse to the sale)?" Bennett wondered.
The sales pavilion was about as crowded as it's ever been in recent years for this sale, and Bennett described the audience as "a who's who of Maryland racing."
It was, notably, a big day for young sire Golden Lad, whose first foals are two-year-olds. He sired the top two sellers, and in all, his six offspring to sell brought a total of $727,000.
"He's a lovely horse, and I think they expected big things from him," Bennett observed.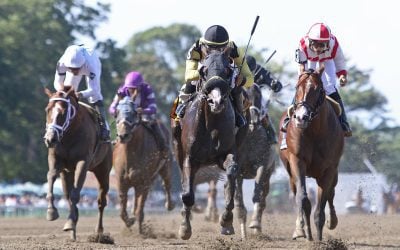 A flurry of dueling press releases heralded the onset Monday of the Horseracing Integrity and Safety Authority's (HISA) new drug rules.