Genaro: Breeders' Cup shows sport I love – and hate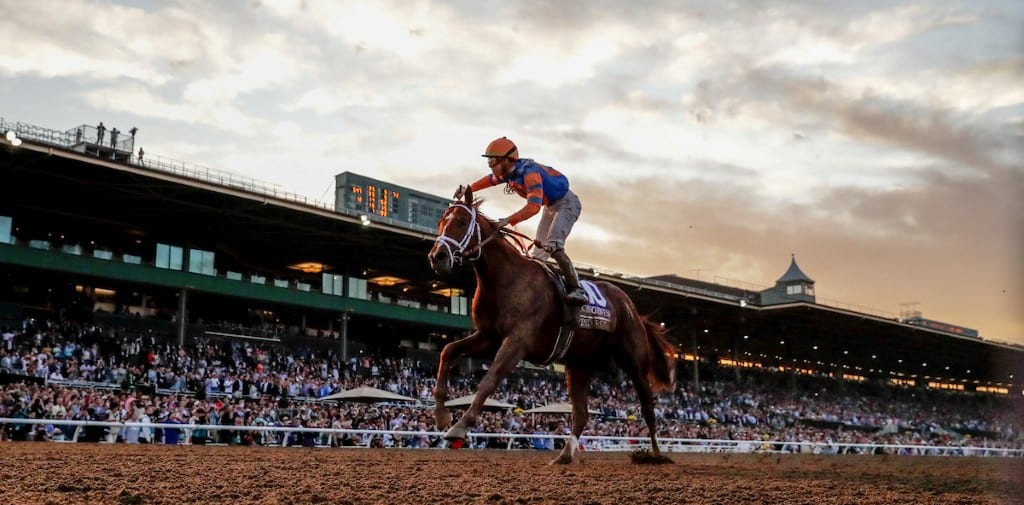 Vino Rosso was all by his lonesome in the final strides of the $6 million Breeders' Cup Classic. Photo Alex Evers/Eclipse Sportswire/Breeders' Cup/CSM
I didn't start watching the Breeders' Cup Classic until the horses were at about the quarter pole.
The race was on my television; I'd been tuned into the broadcast since it began at 3:30pm, but as has been my rather unconscious practice since 2012, I was listening to the races more than I was watching them.

One more way a love-hate relationship can manifest itself.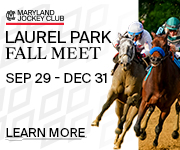 The winter of 2012 was that dreadful winter at Aqueduct, the one in which so many horses died, the one that launched a New York Times investigation, the one that led to a state task force and a 209-page report that included 10 pages of recommendations for improving the health and safety of New York's horses.
That winter induced a sort of PTSD that made me keep my head down until I felt confident that the horses were all going to come home safely. Seven years later, I sometimes watch full races, but on Saturday, with so much at stake, that old feeling returned, so first I listened, then I watched.
With a name like mine, how could I not love a horse named Vino Rosso, owned by men named Repole and Viola? The stunning chestnut by Curlin was my pick that year, and putting aside any semblance of objectivity, I had rooted for him within the bounds of professionalism since he had won the Wood Memorial earlier that year.
His disqualification in the Jockey Club Gold Cup in September was wrenching, the kind of loss that makes you think that maybe that was his shot to win a Really Big Race, and now it was gone. Those chances don't come along very often.
Fortunately, Team Vino didn't see it that way, and so during the Breeders' Cup Classic, when I heard Larry Collmus' call, I glanced over to see that big red machine flying down the stretch. I jumped off the couch. I yelled. I pumped my fists. I threw my body into pulling him closer to, and then past, McKinzie, with so much noise and movement that my cats scrambled for cover.
I only had eyes for Vino, and I sank back onto my couch, grabbed my laptop, and went to Twitter, as one does (or at least I do), for the post-race reaction.
And then I saw this:
Almost. Damn.

— Jay Privman (@DRFPrivman) November 3, 2019
There was only one thing that Privman could be talking about.
I had missed it on the broadcast, missed Mongolian Groom being pulled up, but it was impossible to miss the social media reaction, complete with blame, diagnostic opinions, and apocalyptic predictions.
We had hoped and wished that we'd get out of the Breeders' Cup without a tragic headline, and we knew that if we didn't, a horse fatality would get more attention than any equine accomplishment.
The people who love horse racing and who make their living in it are rightly uneasy. The future of the industry seems to be in the hands of people who don't spend a lot of time at the racetrack, and the fact that that is really the industry's own fault is a bitter irony and of no comfort to those who fear that the death of Mongolian Groom is a harbinger of the death of the industry.
Zero deaths is an impossible standard. An incident-free Breeders' Cup would not have stopped the reporting or the PETA and United States Humane Society press releases; they would resume the next time a horse dies at Santa Anita, or Belmont Park, or Churchill Downs.
On Saturday night, Jessica Chapel raised the issue of the ethics of horse racing, suggesting that those of who participate in it implicitly endorse it as ethical.
Maybe so.
Or…we could—or, I should say, I could acknowledge…hypocrisy? denial? wishful thinking?—that allows me to wrestle with my concerns about horses' welfare, especially as that welfare is in the hands of an industry that so often proves itself to be haplessly, carelessly arrogant and unaccountable, preferring, time after time, to close ranks, to stifle criticism, and to keep quiet and hope that nobody notices what's really going on.
I use only cruelty-free, and vegan where possible, personal and home care products, but I sometimes eat meat. I abhor the way chickens and pigs are raised in factory farms and think such practices should be outlawed, and I also recently relished a prosciutto sandwich. I tried wearing vegan boots for two years, and after two pairs sprung holes in less than a season, I don't automatically reject leather any longer. We all makes these big and small compromises.
When I am on the backstretch in the morning, when I talk to trainers and see for myself the care that so many horses get, when I attach myself to a horse that helped get me through one of the hardest periods of my life, when I watched Vino Rosso, gleaming in the Santa Anita gloaming, triumphantly find redemption at the finish line of the biggest race of his life, I push aside, at least for a little while, my awareness of the risks inherent in the sport that I love. But the next time the starting gate opens, that awareness comes rushing right back, and I wonder how long I'll be able to live with that.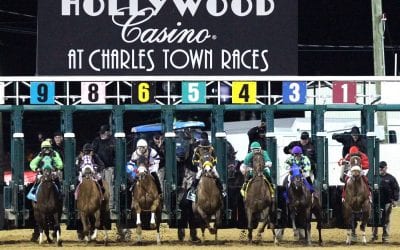 Saturday night Hollywood Casino at Charles Town Races will celebrate its 90th anniversary and look back on an eventful near-century.