Laurel Park picks and ponderings November 3, 2019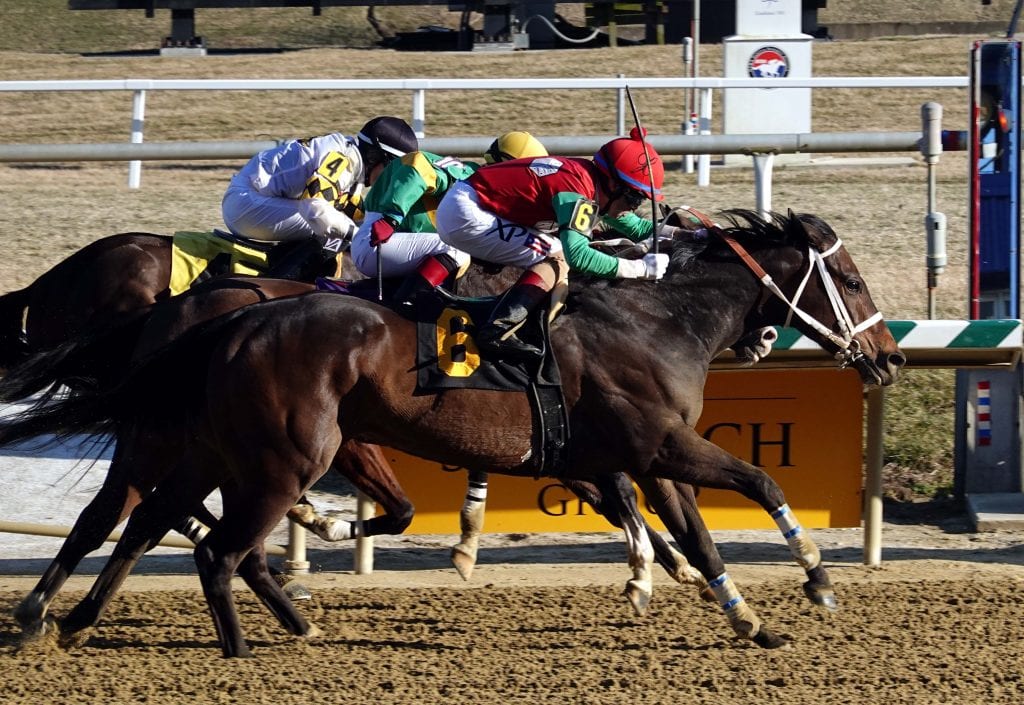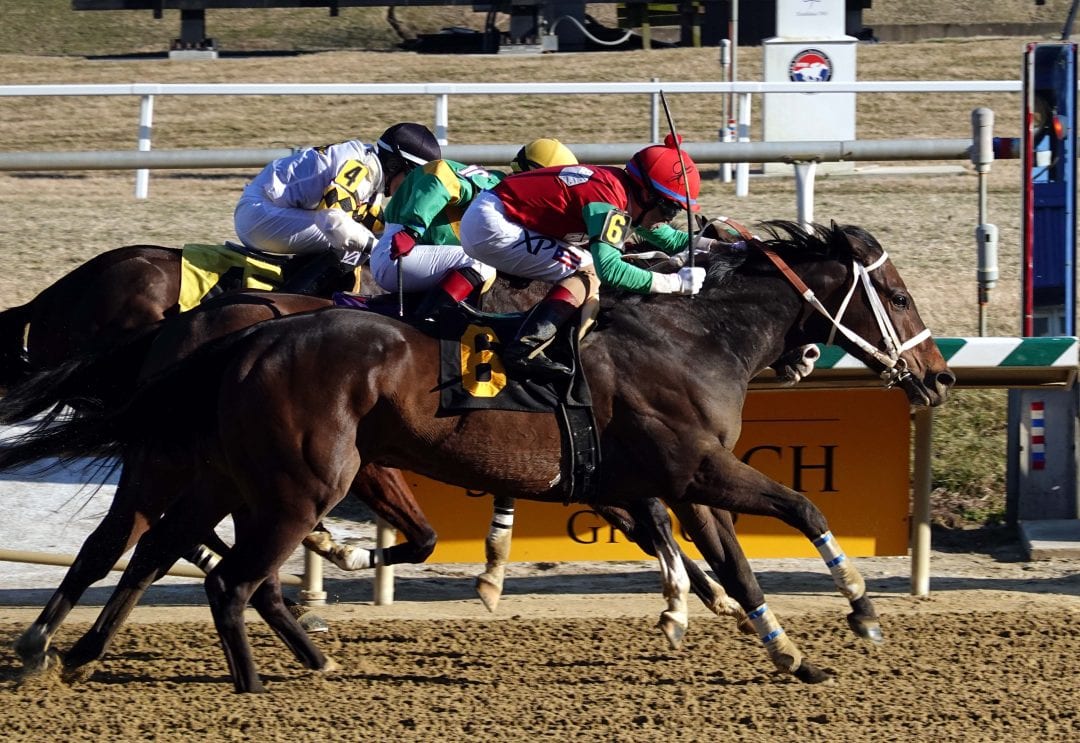 Anna's Bandit. Photo by Laurie Asseo.
In which we pick the races from Laurel Park each day…
Post time: 12:25 p.m.
Carryovers: Rainbow Jackpot Pick 6 — $3,515; Super High 5 — $622; Late Pick 5 — None
Notable: Trainer Claudio Gonzalez is 4-for-7 with 2-year-olds making their career debuts in the last 90 days.
ANALYSIS
RACE 1
4-7-5-9
#4 Thirsty Again (6-1) makes first start after claim for top camiing trainer Capuano, gets blinks on; trainer and rider Whisman 11-for-40 together… Favorite #7 Gottaflathaveher (5-2) sheds blinks after four straight with them; last out sneaky good as winner Our Star was also dropping from MSW company…
RACE 2 
8-4-7-2
Top choice #8 Owesaycanyousee (8-1) dusted $8k claimers three back in off-the-turf contest in most recent try on main track, has been moving in right direction… #2 Bath And Tennis (9-2) adds intrigue on drop from $30k level, switch to main track for first-ever dirt try; was in the money in all five synthetic starts abroad…
RACE 3
3-8-4-1
Trainer Pecoraro drops #3 Hufflepuff (6-1) in for $25k after better-than-it-looks try in Small Wonder at DEL; winner Pink Caddy looks like the real deal (two 75+ Beyer figs in four starts), and this one had a bit of a rough trip; rider Cedeno lands here having previously ridden #6 Revolving Love (6-1) in all five of her starts… Trainer Farrior sends out uncoupled entry in #1 Whoisaprettygirls (5-1) and #8 Naughty Thoughts (3-1), the latter of which finished ahead of the former last time out, a result flattered this weekend when winner Ilchester Cheetah returned to win at N1X level…
ANALYSIS
RACE 4
2-4-7-8
Trainer Robb gave #2 Make It a Double (4-1) an ambitious first task, entering her in a salty edition of Md. Million Lassie; she responded well, running in contention into the lane before getting bumped around and tiring late; she can move forward here… Trainer C. Gonzalez sends out #4 Lucky Trinity (6-1), has won with two juvenile first-timers this weekend and is 4-for-7 with debut 2yo in last 90 days…
RACE 5 
6-1-5-3
Favored #6 Bunting (9-5) gets the nod in this Md-bred allowance after winning N1X against open foes last time; she looks to have a chance to control up front or press early pace and draw off… #1 No Mo Lady (7-2) finds easiest main track assignment since winning allowance against open foes last November; she followed that with three stakes tries and, most recently, a grass race; makes second start after a seven-month break…
RACE 6
3-1-8-4
Wide-open nickel claimer here, as favored #8 Allaboutmike (8-5) arrives on what looks to be a bit of a downturn in form… #3 Harlan's Hunch (5-1) has a couple of decent tires at this level, should be involved from the early going… #1 Finbar (9-2) fits snugly in this spot, but deep closer figures to have a lot to do late…
ANALYSIS
RACE 7
6-11-7-1
Favored #11 Patriotic Punch (5-2) figures to get plenty of action at the windows and rates a big shot at a level at which she ran third two back; two from that race returned to graduate next out; but she has lost at the level twice, so you can't be criticized for looking around for other value… #6 Dancer's Melody (9-2) comes from the barn of Tim Ritchey (18% this year and 2-for-9 with juvenile first-timers in recent years); she's a daughter of Alternation who's a half to a bunch of useful runners… Interesting to see #7 Isabellaalexa (10-1) rising off a defeat at $25k level; you have to assume trainer Gonzalez saw something he liked…
RACE 8 
3-5-4-1
Trainer Gary Capuano sends out two in this three-other-than allowance, with #1 Showalter (3-1) likely to be in the early vanguard, probably leading or pressing #5 Oldies But Goodies (6-1), with his other runner, #3 Threes Over Deuces (2-1), poised to pounce after what should be an ideal trip… Curious to see #4 Saratoga Bob (8-1) in here; he did not run well last time out in Md. Million Classic, but that was his first start in 4+ months and two of four to run back from that have won next time out…
RACE 9
9-10-4-8
We'll give the nod to #9 Lookin At Blessing (4-1) in the nightcap, as Lookin At Lucky gelding makes first start after claim in Farrior barn (25% first off the claim)… #10 Le Gros Bill (8-1) ran willingly in last against similar despite a bit of a tough trip when bumped from both sides near furlong grounds…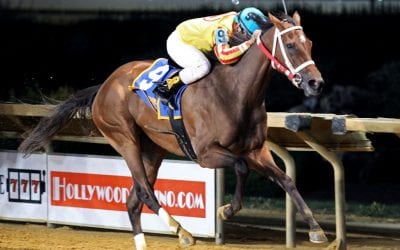 We provide picks and analysis for this evening's card at Charles Town Races.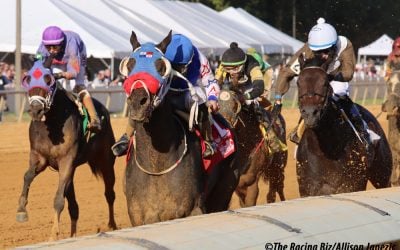 We provide full-card picks and analysis for this afternoon's races at Laurel Park.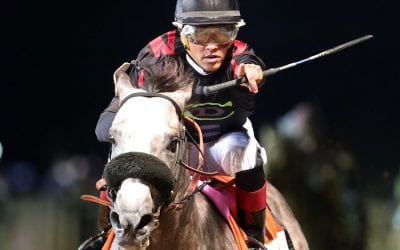 We've got Charles Town picks and preview today as the track presents its Friday card!