Zonda denies threepeat bid in Md. Million Ladies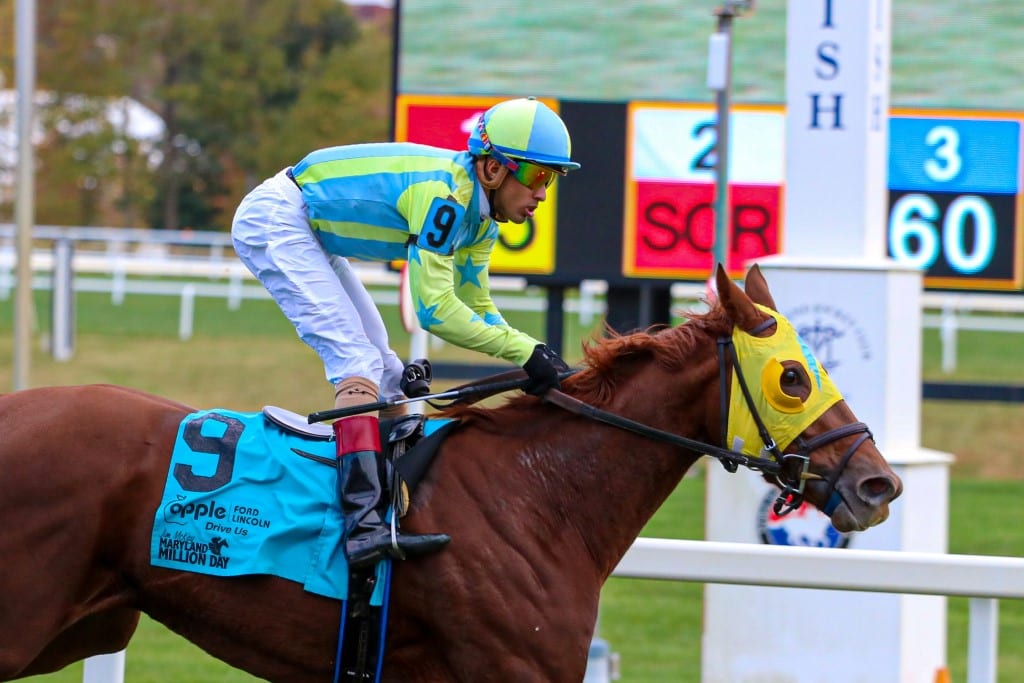 Zonda scored a minor upset in the Maryland Million Ladies when she denied My Sistersledge's bid for three consecutive wins. Photo by Dottie Miller for The Racing Biz.
Heading into the latest edition of the $125,000 Maryland Million Ladies at 1 1/8 miles on the turf, most of the attention was focused on My Sistersledge. A win would have given the the five-year-old Etched mare her third consecutive victory in this event and made her one of just seven horses to triple in the Marland Million.
But as often the case in turf races, the combination of pace and trip proved to be beneficial to the winner and a burden to several others, including My Sistersledge as the John and Cheryl Benner homebred settled for second behind Zonda, who forged a mild 5-1 upset for trainer James L (Chucky) Lawrence.
Zonda drew in from the also-eligible list because of the late defection of Sipping Champagne. Zonda, a three-year-old daughter oif Scat Daddy, had faced the boys in her previous start and was en route to Laurel Park from Fair Hill when Lawrence got word from the stewards that she drew into the race.
"We were bringing her down here this morning and I called the stewards at 10 a.m and they said she had drawn in," Lawrence said. "I thought this would be a great spot for her. We were getting a lot of weight from the favo9rite, and she was just training so good coming into this race. If we didn't get in here, I was going to take her to Belmont next week for a stakes on the turf up there. I thought this was a softer spot and I'm glad that she drew in because we were heading down here anyway."
Through much of the early stages of the Ladies, Zonda enjoyed a stalking trip behind Something Magical through somewhat modest fractions of 24.79, 49.85 and 1:14.19 through the first three calls.
My Sistersledge, off at 9-10, had trailed through the early stages and then moved up widest of all down the backside. She loomed a menacing presence4 on the far turn. But as rider Julian Pimentel started to ask the two-time defending champ for more, rider Victor Carrasco still had not moved much aboard Zonda.
"When I looked over and saw [Pimentel] start asking his filly, I knew she wasn't going to catch me," Carrasco said. "When I started smooching to my filly leaving the quarter pole, she really responded. Chucky really had her ready to run today. She just sat right off the pace the whole trip and when I asked her to run she was really good. At the top of the stretch, I knew they weren't going by her today."
Zonda had tried male rivals in the $150,000 Bald Eagle Stakes here in her previous start and led through much of race before being severely impeded inside while fading off the scene. Prior to that she ran fourth in the $150,000 Virginia Oaks at Colonial Downs, but Saturday afternoon she recorded her third win in eight starts and nearly doubled her lifetime earnings toward $150,000.
"I was very confident that she would run a big race today,' Lawrence said. "This was the race I wanted to go in for a while, but I wasn't sure that I would get in. If we had not gotten in today, I would have taken her to New York for another stakes next weekend."
Trainer Michael Trombetta offered no excuses for My Sistersledges's runner-up effort in the Ladies, instead commending Zonda for running a big race. Trombetta noted that My Sistersledge was in tight quarters passing under the finish line the first time but generally avoided any serious traffic trouble and was simply outkicked by the winner in the final furlong.
My Sistersledge has won twice in six outings this year and now owns an 8-3-7 slate and nearly $430,000 banked from 26 career outings after being foiled in her Ladies' three-peat bid.
"You know, other than a little trouble before the first turn, I thought my filly ran her race," Trombetta said. "I thought Chucky's filly just ran a tremendous race. My mare came to her on the far turn and his filly just sprinted away from her. Even Julian said told me he really had no excuse. Even if she avoids that little bit of trouble before the first turn, she's still going to sit back and make one big run and hope to get there. Other than that she had a great trip – Chucky's filly was just better than her today. Hats off to her."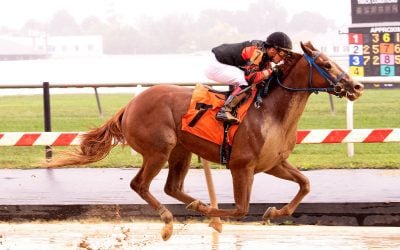 Malibu Moonshine, the undefeated Maryland-bred filly, will put her streak on the line in Saturday's Ruthless Stakes at Aqueduct.