Md. Million Classic: Forest Fire wins as sires spread the riches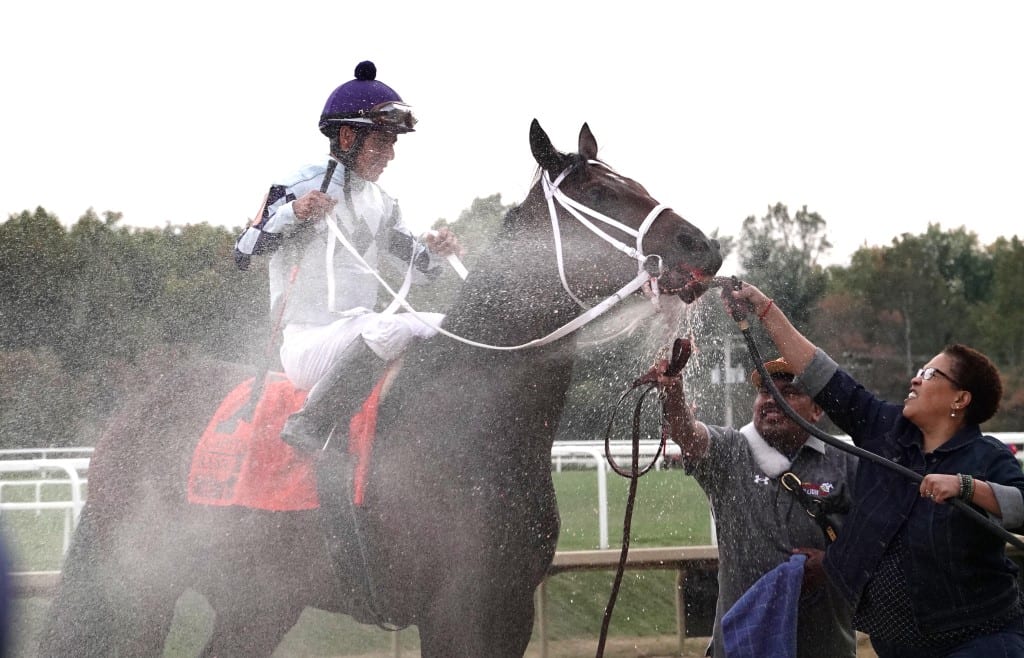 Forest Fire gets a well-deserved bath following the Maryland Million Classic. Photo by Laurie Asseo.
Maryland Million is a day to celebrate the Free State's sires, and in this year's event, the riches were spread around.
The winners of the day's seven primary stakes races were sired by seven different stallions, a mix of old and new, living and deceased, and in-state and out-.
Great Notion extended his lead among living sires when his daughter Anna's Bandit took the Distaff early on the card. That gave Great Notion 13 Maryland Million winners, and while that number is far behind Not for Love's record of 36, it's well clear of any other active stallion.
Northview's Golden Lad, whose first foals are two-year-olds, earned his first Maryland Million win when the speedy juvenile filly Hello Beautiful romped home almost four clear in the Lassie.
And Country Life Farm's Friesan Fire extended a quirky but promising mark when his Pennsylvania-bred son Forest Fire just outslugged Prendimi to win the featured $150,000 Maryland Million Classic by a half-length in 1:50.42 for 1 1/8 miles.
Friesan Fire now has just two Maryland Million winners — but both have won the biggest race. His son Saratoga Bob took last year's Classic but, off a long layoff, was 10th today.
"He's really been unheralded; he's really a pretty good stallion," said Country Life's Mike Pons. "I think days like today, people will appreciate him more. You win the Classic twice, that's not a fluke."
This year's Classic, contested on a lovely fall day in central Maryland, turned out to be a race-long duel between two horses — Forest Fire and Prendimi, a Dance With Ravens gelding — with none of the other runners making much impact.
Prendimi was ahead of Forest Fire by less than a length for the first three points of call under Jorge Vargas, Jr. The pair traveled the opening six furlongs in a modest 1:13.40, a somewhat surprising figure in a race that, on paper, looked to have some speed.
But in the final three-eighths, the John Servis-trained Forest Fire gradually wore down his rival, poking a head in front leaving the furlong grounds and inching away to the win. Tappin Cat rallied mildly into third.
"John told me, 'Paco, put the horse right there. You have a very good post so if somebody wants to go crazy, let them go and you can sit second or third,'" said winning rider Paco Lopez. "I just wanted to see how the race played out. I had great position and the pace was good, and turning for home he was just going easy and was able to hold off that horse."
The win put Pons in a buoyant mood.
"This is a sires' day," Pons said. "Jim McKay created this 35 years ago just for moments like this. Maryland sires have been overlooked a little bit, and days like this put you front and center. It kind of legitimizes who you are."
The four-year-old Forest Fire now has won three straight and seven of 13 overall. His first career stakes win pushed his earnings to nearly $270,000.
And, on a day when Baltimore mayor Jack Young and Anne Arundel County executive Steuart Pittman were seen palling around in the winner's circle, when Maryland Racing Commission chairman Michael Algeo's Irish-themed Black and Tan Band entertained racegoers in the VIP area, it was a day of optimism for the future.
"Brick by brick we're rebuilding this game," Pons said. "We have a tailwind now instead of a headwind. I see things for Maryland racing that wee've never seen before. If we have the facilities they're talking about building, this is going to be a fascinating place. People love coming to Maryland. This is a fun place to come to."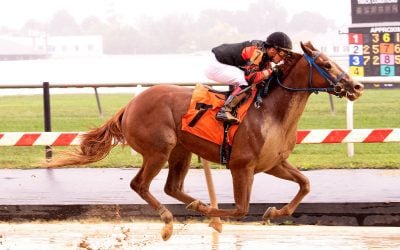 Malibu Moonshine, the undefeated Maryland-bred filly, will put her streak on the line in Saturday's Ruthless Stakes at Aqueduct.