Taco Supream rallies to Md. Million Sprint win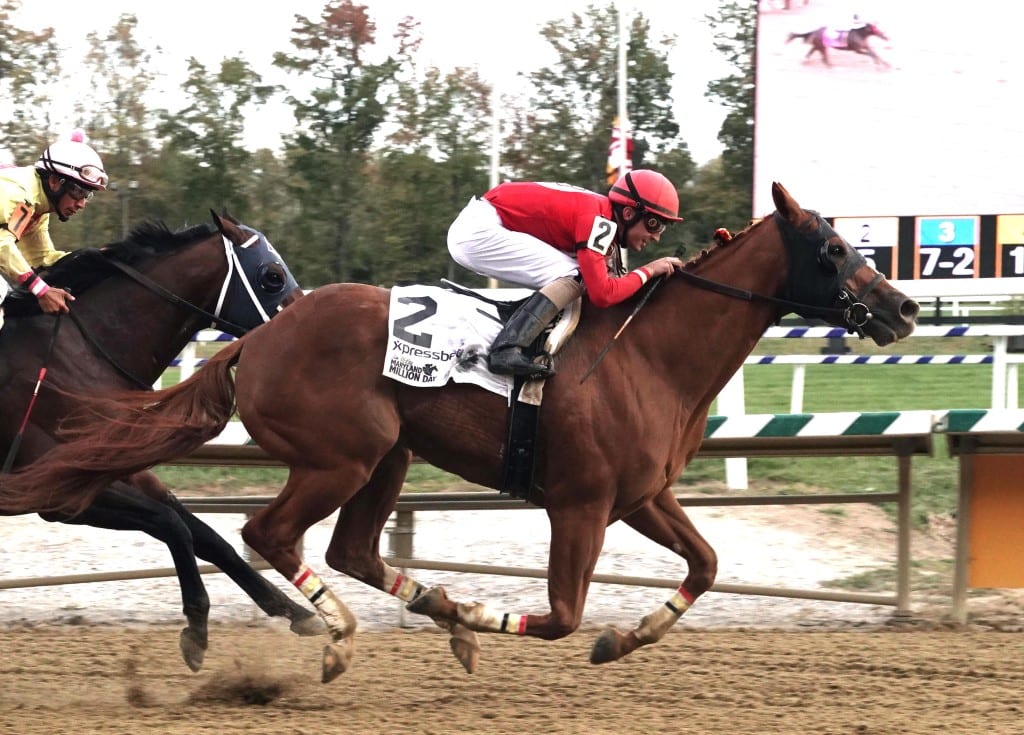 Taco Supream rallied from the rear of the field to secure a minor upset under Sheldon Russell in the Maryland Million Sprint. Photo by Laurie Asseo for The Racing Biz.
At first glance, the $100,000 Maryland Million Sprint on the main track looked to be among the most contentious races on the program, as defending champ Lewisfield returned to face multiple graded stakes winner Call Paul and the hard-hitting Maryland-bred sprint champion, Laki, trained by Damon Dilodovico.
While those three clearly had superior resumes to their rivals, it was Dilodovico's other trainee, Taco Supream, who rallied from well off the pace and widest of all under Sheldon Russell to forge a mild 5-1 upset while stopping the timer in 1:08.80 for the six panels. A four-year-old El Padrino gelding, initially a $1,600 yearling purchase, was claimed for $25,000 by Dilodovico for owner Big Bertha Stable in January 2018 and has paid ample dividends since then.
"This horse is great for the little guys like us," said Big Bertha's Ed Buxbaun. "He was a $1,600 yearling that we claimed for $25,000, mainly because Damon wanted to claim him. When Damon speaks, we listen. He has a great eye for these types of horses. When I watched the race today, I thought it wasn't going to be his day. He was way behind early and usually he's up near the lead."
Taco Supream, who now owns four wins and earnings of nearly $200,000 from seven starts this year and boasts a 7-7-1 slate and over $300,000 banked from 19 career tries, displayed a much different tactic on Saturday. Normally in close proximity to the leaders, Taco Supream was reserved in sixth, 10 lengths off the pace, as Call Paul and Fearless Terp displayed the best early speed, with Lewisfield and Laki in mid-pack.
Midway on the far turn, Call Paul surged to command and appeared a certain winner nearing the eighth pole, while Taco Supream, under Sheldon Russell, looked to launch his bid while widest of all. A sixteenth from home Call Paul still appeared destined to succeed as the 4-5 choice, but Taco Supream continued his late bid and ran down the odds-on choice in the final yards to score by nearly a length in 1:08.80.
"This horse was doing so good coming into this race," Dilodovico said. "But this was a really tough field. There was a lot of nice horses in here, including my other one and Jason Servis's horse (Call Paul). I thought that if this horse ran his race, he could get a good piece of it. But the track has been favoring speed all week, so when he dropped back to last early, I wasn't sure he could rally to win on this track. He's going to get a little break and then we might run him back in December or January and we might try him in the General George in February."
Jockey Sheldon Russell, who had piloted Hello Beautiful to a three-length score in the $100,000 Maryland Million Lassie an hour earlier, spoke about his change of tactics and Taco Supream's ability to overcame a wide journey and speed-favoring oval to overhaul several quality sprinters, including the odds-on choice in Call Paul and defending champion Lewisfield.
"I've ridden 'Taco' a couple of times and usually he is pretty aggressive early," Russell said. "Luckily enough, we broke from the inside and didn't have a game plan. He didn't break running. I had no choice but to sit on him and get him to relax. He switched right off and gathered himself. At the three-eighths pole, I was just clocking Paco [Lopez aboard Call Paul]. Turning for home when he gave me his run he really exploded. I was very happy for Damon and his team. He's a cool horse."
Call Paul was game in defeat in his second straight stakes try against older runners. Hero of the $100,000 New Castle Stakes at Delaware Park in his previous outing, Call Paul settled for second in a gritty effort and now owns 3-2-1 slate and nearly $290,000 banked from eight starts this year and he sports a 6-2-3 slate and almost $570,000 bankroll from 13 career tries. Lewisfield settled for third after early traffic trouble in his title defense in the Sprint.
Taco Supream returned $12.20 to win and topped a one-dollar exacta worth $18.00.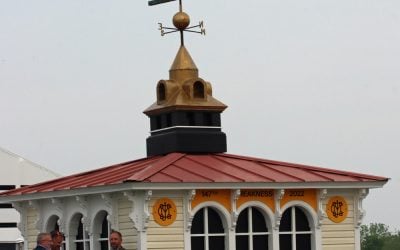 Pimlico will not race Saturday, Sept. 23 as a result of Tropical Storm Ophelia, the track announced Saturday morning.