Maiden Ournationonparade looks to graduate in Md. Million Nursery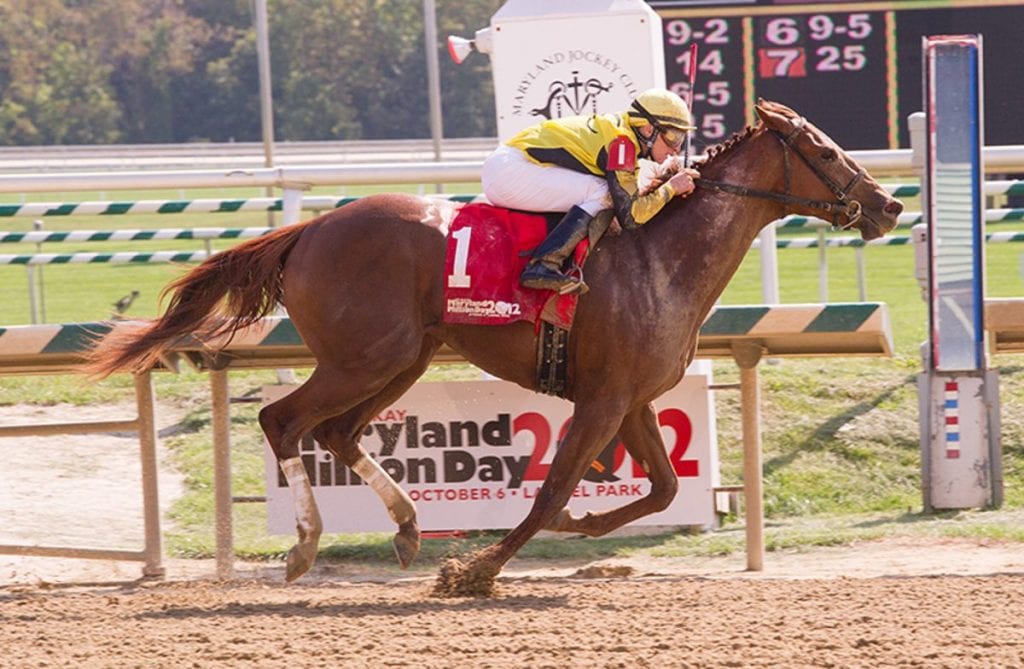 Back in 2012 trainer Bernie Houghton won the Maryland Million Lassie with maiden Classy Coco. Photo by Jim McCue, Maryland Jockey Club.
Seven years ago, trainer Bernie Houghton brought a maiden named Classy Coco to Maryland and raced off with a win in the Maryland Milion Lassie.
He'll try to duplicate that feat with a strapping Cal Nation gelding named Ournationonparade in Saturday's $100,000 Maryland Million Nursery.
Ournationonparade, bred by long-time Maryland owner-breeeder John Williamson, was installed as the 3-1 morning line favorite for the Nursery off a debut that saw the gelding go the lead at the start of a six-furlong sprint, set quick fractions of :22.2 and :45.3 then came home through a final quarter in a sizzling 24.42 seconds only to be run down in the final strides by Double Crown in 1:10.18.
It was seven lengths back to the third horse that day and the performance turned a lot of heads, including that of Dean Reeves, owner of Reeves Racing LLC.
The people at Reeves purchased the horse privately after that race, and Saturday he will run in the Reeves silks that Mucho Macho Man made famous when he won the 2013 Breeders' Cup Classic.
"We got the horse about this time last year, and he's just been a joy to be around," Houghton explained. "If you looked at him, you'd think he was a 3-year-old; he's a big horse but he's not like he's growing into himself. He's been carrying himself like an older horse for some time. He's just so much more developed and matured than the normal 2-year-old."
It's not just the horse's physical attributes that have wowed Houghton, who won Maryland Million events in 2017 and 2018 with the popular Crabcakes taking the Distaff both years.
"He's so smart, it's really something," Houghton said. "You don't have to school or teach him anything over and over again. He pretty much picks it up the first or second time you show him. He loves to train, and he's really focused when he goes out there."
As is usually the case in 2-year-old races, there's a good bit of early speed in the Nursery. But, while Ournationonparade showed plenty of early zip in his debut before tiring, Houghton said he wasn't concerned.
"Not at all because he's not a one dimensional speed horse" the horseman noted. "When he trains he lays off other horses and goes on when he's asked. We were a little surprised to wind up in front last race, but he broke good and was able to clear to the lead pretty easy so the rider just let him go. I wouldn't be surprised for him to be sitting back a little off the early pace. We know he can come home strong, and he's so smart he seems to understand what you need from him. He may be a maiden in a stake race, but this is not your run-of-the-mill maiden."
It's a wide-open group in the Nursery. Top rivals include the turf stake winner So Street (7-2), first-out winner D C Fireman (6-1) for trainer Claudio Gonzalez, and two-time winner Tommy Shelby (9-2), who ran second in the the First State Dash at Delaware Park.
The Reeves people have told Houghton they will decide what to do with Ournationonparade after Saturday's race, and the trainer understands this may be the last time he'll get to run the horse.
"That's part of the business," Houghton said. "The Reeves have their trainers but if he goes I'm gonna miss him. I confident he's going to like going longer, and even if somebody else has him I'll be following his career. He's just a real nice young horse. I'm hoping he'll break his maiden in style Saturday."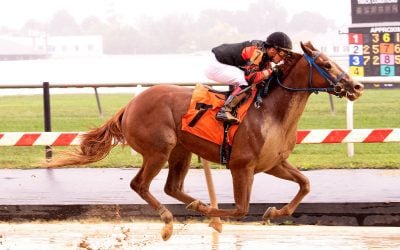 Malibu Moonshine, the undefeated Maryland-bred filly, will put her streak on the line in Saturday's Ruthless Stakes at Aqueduct.