Anna's Bandit aiming for rare double in Md. Million Distaff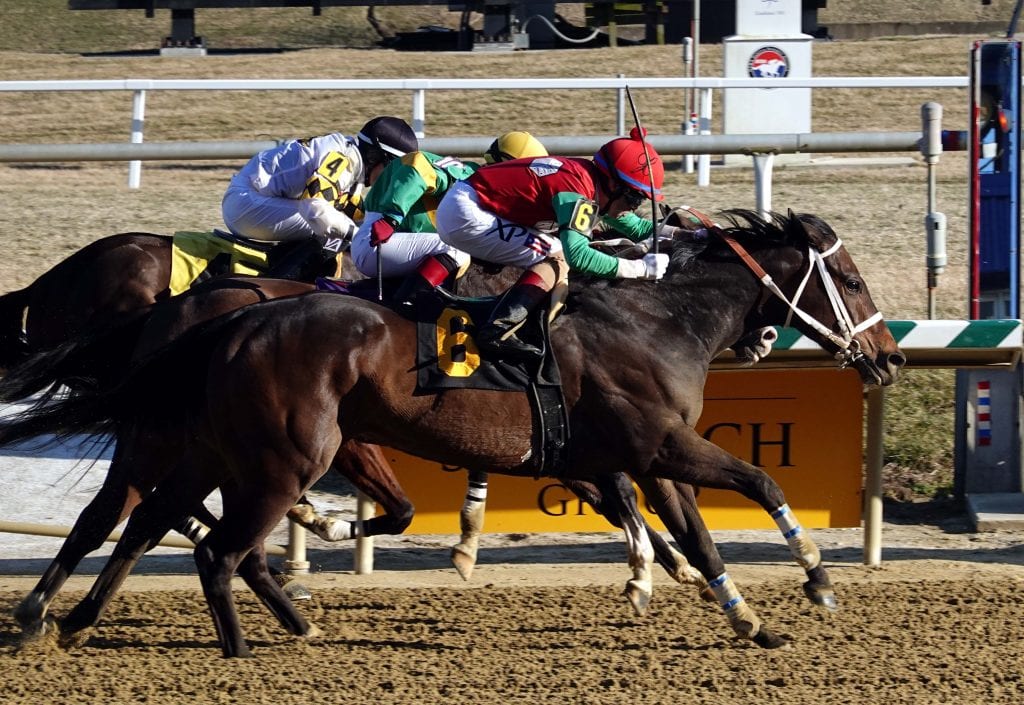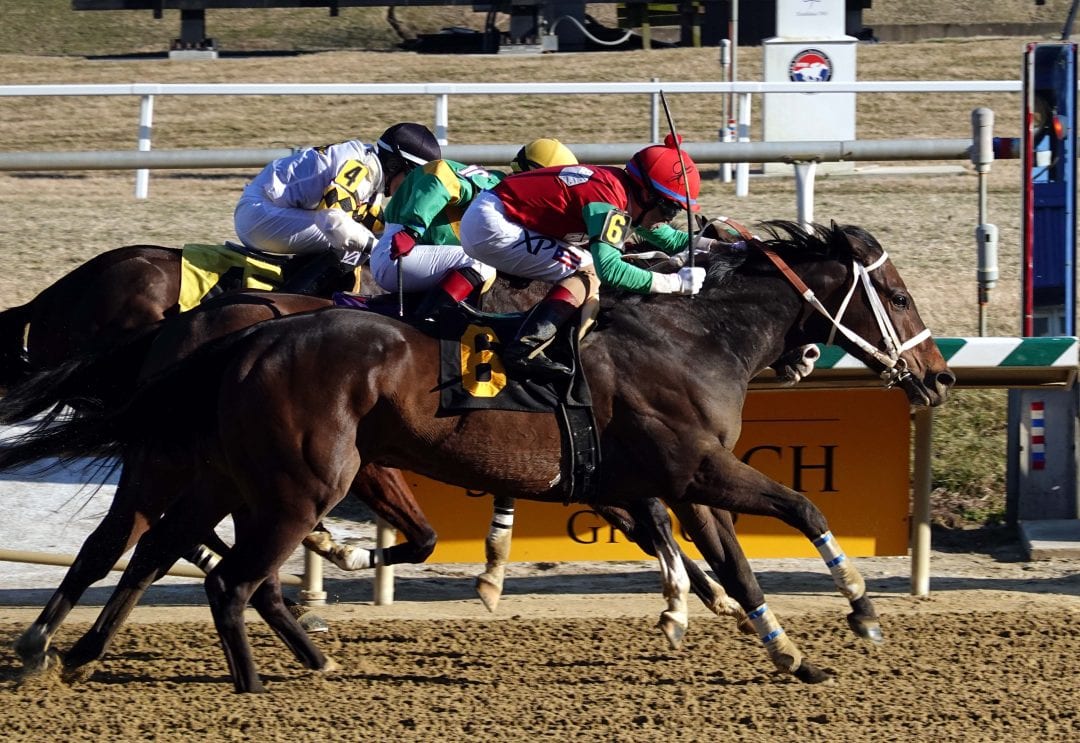 Anna's Bandit rallied to win the 2019 Conniver Stakes at Laurel Park with Xavier Perez in the irons. Photo by Laurie Asseo.
History doesn't repeat itself, Mark Twain is reputed to have said. But if often rhymes.
Jerry Robb and Gina Rosenthal, the husband-and-wife team behind Anna's Bandit, sure hope that's the case.
A year ago, Anna's Bandit finished third in the West Virginia Breeders' Classics Cavada and then returned just a week later to finish third once again in the Maryland Million Distaff Handicap.
Fast forward a year, and, lo and behold – none of the four horses that finished ahead of her in those two races in 2018 will make the starting gate in the 2019 editions.
The result in last week's Cavada was resounding. Off at 1-9, Anna's Bandit romped to a five-length win in the biggest race for West Virginia-bred fillies and mares. The win was her fourth in a row.
And with the Maryland Million scheduled for Saturday, Anna's Bandit has been installed by Laurel Park linemaker Keith Feustle as the 7-5 morning line favorite in the $100,000 Distaff, in which she is also the 126-pound highweight. Only two other runners — the Mark Reid-trained She's Achance Too (5-2) and Cee Bee Gee Bee (6-1) from the Kelly Rubley barn — are less than 10-1 in the seven-furlong test.
But, Rosenthal said, Anna's Bandit will only race if the horse tells them all systems are go.
"She came out of (the Cavada) amazing after she finished the race amazing," Rosenthal said. "It's not over 'til it's over, but she'll tell us by Saturday what she wants to do. We work as a unit; we're a team. As we were coming over here today, we said, 'She's doing great, we'll make the decision the day of.'"
That gives her rivals something to hope for, at least: that the consistent mare will scratch. Because if not, it'll take a big effort to beat her.
Anna's Bandit has won 14 of 30 career starts, and her facile win in the Cavada pushed her career earnings past the $600,000 mark. Nearly half of those earnings have come in 2019, her five-year-old season.
Rosenthal nearly was rendered speechless by Anna's Bandit's win in the Cavada. She said she'll likely have an even tougher time finding words if the daughter of Great Notion adds a Maryland Million strike to her resume.
"Honestly, when we think of her, we think of amazing," Rosenthal said. "We just have so much emotions wrapped up in her for so many reasons. There's a lot connected with her in so many ways."
Robb paid $13,500 at the 2007 Fasig-Tipton Midlantic Fall Yearling Sale to obtain the No Armistice filly Onearmedbandit. She began her career with four consecutive wins, the last of which came in Charles Town's Miss Shenandoah Stakes. She finished her career with seven wins and over $300,000 in earnings – figures which her daughter Anna's Bandit has roughly doubled.
Anna's Bandit was born three weeks early, Rosenthal said, and then had various physical issues that slowed her career. She made three starts as a juvenile, breaking her maiden and placing in a pair of stakes, but then didn't return to action until September of her three-year-old season. Since then, she's danced most every dance and done virtually nothing but run good races.
"Just the whole history of Anna has been amazing," said Rosenthal. "And owning her mother, and having her mother on the farm and all of that history with the family, it just all comes into play."
Anna's Bandit is one of five Robb-trained runners slated to run on Saturday's Maryland Million card and offers him by far his best shot at getting the money.
She won't be anything close to the 1-9 she was last weekend, but, the trainer said, that's just fine by him.
"The pressure — I always want to be the favorite but I don't like to be 1-9. At 2-1 or 3-1, you want to win for the horse and the connections," said Robb, a winner of nearly 2,000 races. "When you're 1-9, you know you have people in the grandstand waiting to jump."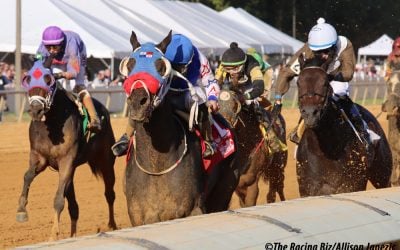 We provide full-card picks and analysis for this afternoon's races at Laurel Park.