No Bull Addiction back for seconds in Md. Million Turf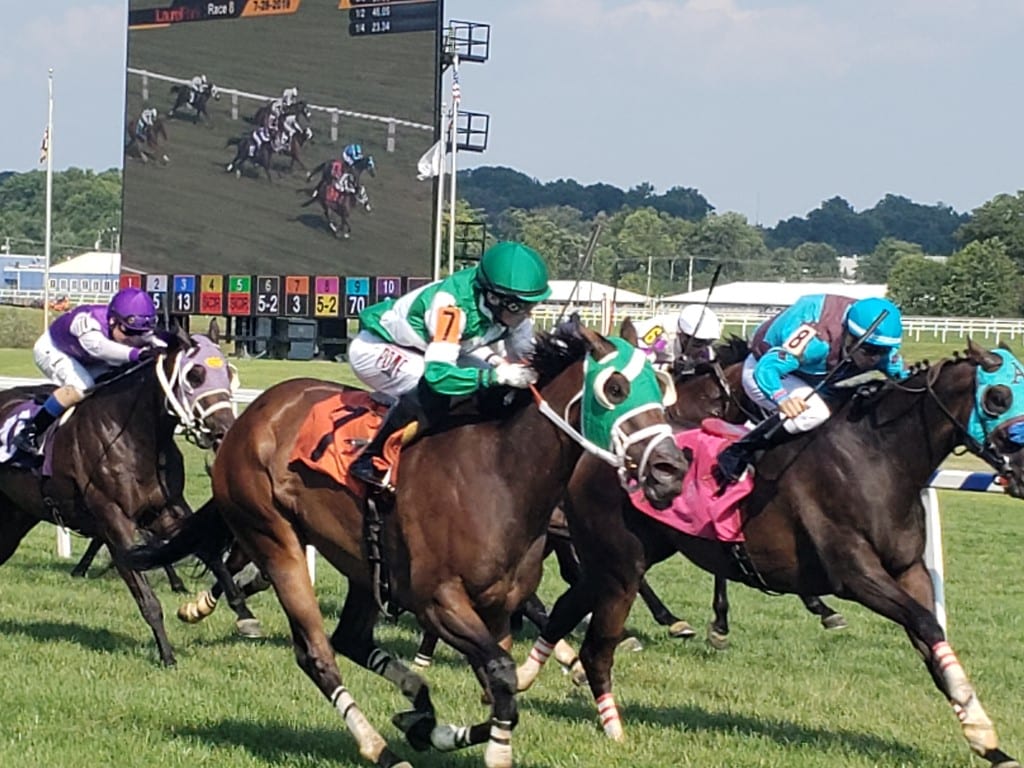 Love You Much (#8) just missed in a July allowance at Laurel Park. Photo by The Racing Biz.
If Saturday's $125,000 Maryland Million Turf had a slogan, it would likely be, "Why not us?"
In a 14-horse field with a 4-1 favorite, there's plenty of room for a dreamer. Like, for example, Fred Wyman.
Wyman, who races as Drift Rock Farm, will send out No Bull Addiction, a modestly bred Bullsbay gelding who is 8-1 on the morning line. No Bull Addiction is one of just two horses that Drift Rock has raced, the other being a five-race maiden named Holly's Lady who is entered at Laurel Park on Sunday.
"Everything has been an experience for us," Wyman said Wednesday. "A lot of people, I always tell don't go into horse racing thinking you're going to make money. You've got to do it for the experience, and it's the most amazing experience."
No Bull Addiction, who has won three of 27 career starts and banked a bit over $100,000, is out of the Mr. Zill Bear mare In the Crease, whom Drift Rock obtained when her owner, William Dixon, passed away.
"She was never that great of a racehorse, but she did race," Wyman said. "We didn't care. She's ours."
When Wyman approached successful local breeder Dr. Tom Bowman with the notion of breeding her, Bowman was cautious. Breeding modest stallions to bad mares, after all, is rarely a winning formula.
"He told me, 'You've got to decide: do you want a racehorse or do you want a pet?'" Wyman recalled. "I said, 'Well, I'd kind of like both.'"
Which, according to Wyman, is exactly what No Bull Addiction has turned out to be. Wyman gushes about how smart No Bull Addiction is, and his racing resume — which includes two allowance wins and a good try in last year's Maryland Million Turf — speaks for itself.
"What he's accomplished, considering maybe his pedigree and everything, has been amazing," Wyman said.
Retirement has made this year's Turf a wide-open affair. Between them, Phlash Phelps (2016-2017) and Talk Show Man (2014 and 2018) had won four of the last five editions of the Turf, but though both did run earlier this year, they both were retired in recent months.
The hard-hitting Taxable Goods, for trainer Lynn Ashby, is the tepid 4-1 morning line favorite. The Street Magician gelding has been in good form of late, with placings in restricted company in the Find Stakes and the Alphabet Soup.
Another runner who, like No Bull Addiction, is making a return engagment from last year's Turf is the speedy sprinter Love You Much (9-2). The five-year-old Not for Love gelding faded from the scene in last year's Turf, contested over yielding ground, but trainer Ferris Allen, whose Warwick Stable operation owns the horse, is hoping for a different outcome Saturday.
"Last year we ran him and it didn't work, but he's a year older, and this year he's better and he's more mature," Allen said.
With no turf sprint on the schedule, it's also the lone shot for Love You Much in the Maryland Million. Stretching out from sprints, he likely will be forwardly placed in the early going under Jorge Ruiz.
"It amounts to getting a real smart ride and a good trip," Allen said. "Ruiz has been riding him all season and gets along with him famously."
Love You Much has won six of 24 career starts and posted earnings in excess of $200,000.
"He's been a great horse for us," said his trainer.
Fred Wyman, meanwhile, gets a faraway look when he imagines the party if No Bull Addiction were to win the Turf.
"I'm 76 years old now. I don't have much time left," Wyman said. "He's our baby. So to make it into the Md Million for the 2nd year in a row is pretty darn cool."
And if he won?
"Oh my God," he said with a laugh. "It would be out of control."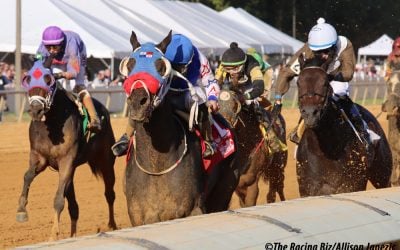 We provide full-card picks and analysis for this afternoon's races at Laurel Park.