My Sistersledge gunning for Md. Million Ladies threepeat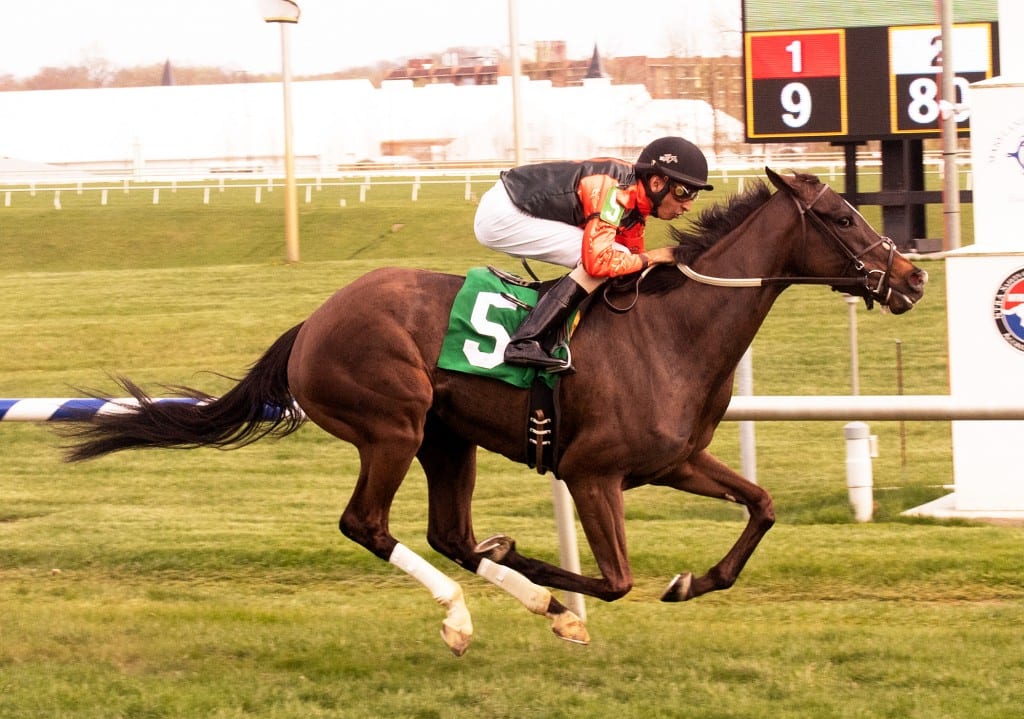 My Sistersledge won an allowance race at Laurel Park in April 2018. Photo by Jim McCue, Maryland Jockey Club.
There are many words you could use to describe My Sistersledge, but perhaps the best words to use are: reliable, gritty, and tough. The dark bay mare has made a name for herself as a two-time winner of the Maryland Million Ladies Stakes, while banking more than $400,000 in career earnings.
This Saturday, My Sistersledge will load into Laurel Park's starting gates to try for her third consecutive Maryland Million Ladies Stakes.
Trained by Mike Trombetta for owner-breeders John and Cheryl Banner, My Sistersledge is the solid 7-5 favorite on the morning line.
After winning the 2018 Maryland Million Ladies Stakes, My Sistersledge was given a long layoff from the races. She didn't return until May of 2019, when she finished 6th in the Miss Liberty Stakes.
She then finished fourth in the Gr.3 Eatontown Stakes before winning an allowance race at Laurel Park and following that up with a score in the All Brandy Stakes at the same track. Her most recent start was a ninth-place finish in the All Along Stakes, but trainer Mike Trombetta says not to fret over that race.
"It's not as bad as it looks on paper," Trombetta said. "She was wanting to run."
He cited her bad trip in the race and said that her ninth place finish is no cause for concern because she had a reasonable excuse.
Trombetta likes the way his mare looks coming into this race, mentioning that she is "coming back off of three weeks full rest" since the September 28 All Along.
If My Sistersledge, a daughter of Etched, were to threepeat in the Ladies, she would join just a half-dozen other runners who have won three Maryland Million races. The most recent of those was Ben's Cat, who won the Maryland Million Turf Sprint from 2010-2012, before that race was scrapped.
But the threepeat is by no means guaranteed. Ghoul's Night Out (9-5) finished just a half-length behind My Sistersledge in the All Brandy and actually finished ahead of her in the All Along. Ghoul's Night Out, trained by Ham Smith, was fifth that day while My Sistersledge was a troubled ninth. And the Phil Schoenthal trainee Something Magical (5-1) has been on the improve and will look to carry her speed a route of ground after running several good races sprinting.
"It'd be a first for all of us," Trombetta said of the prospect of a threepeat. "I'm sure things have happened like that before, but not very often.
BACKGROUND
In 2013, Cheri and John Banner bred the unraced mare Blushing Bride, a daughter of European Gr.3 winner Miesque's Son, to Etched. The husband and wife had a strong connection to Etched because of his dam, Unbridled Elaine.
Unbridled Elaine had been bred by David Schwartz, a close friend of the Banners. Because of that, the Banners followed Unbridled Elaine's career and rooted for her as she won races like the 2001 Gr.1 Breeders' Cup Distaff.
When Unbridled Elaine's son Etched entered stud, John Banner purchased an interest in him and sent some of his best mares to him. Unsurprisingly, the Banners were smitten with Blushing Bride's filly by Etched. They loved the way she looked as a yearling, so they decided to race the filly as a homebred.
Initially, My Sistersledge struggled to make it past the maiden level, taking about eight months to do so. It took her six tries to break her maiden, finally winning on March 30, 2017 at Gulfstream Park.
Her trainer immediately tried stepping her up in class, running her in two stakes races where she finished fourth and third. She then finished in the money in back-to-back allowance contests at Laurel Park.
Though My Sistersledge hadn't won a race since breaking her maiden earlier on in the year, she went off as the 5-1 third choice in the eight-horse Maryland Million Ladies Stakes in 2017.
She proved herself worthy of the recognition by soaring down the rail to get up late over the Great Soul, the even-money favorite, by a nose. It was the first Maryland Million win for her owners – in their first-ever start.
My Sistersledge raced just once more a three-year old but continued to race through the winter, running in a couple of allowance contests at Gulfstream Park before coming north to run back at home at Laurel. She added three allowance wins and a third in the Jameela Stakes for Maryland-breds to her resume heading into the 2018 Ladies.
When My Sistersledge loaded into the starting gates for her second try at the Maryland Million Ladies Stakes, she was the 3-5 favorite in a race contested over yielding ground.
My Sistersledge sat far off the pace with just two horses behind her for the first half-mile in the Ladies. As the field approached the far turn, My Sistersledge began her move on the outside. She picked off her rivals one by one, flying towards pacesetter My Vixen. That pair dueled in the lane before My Sistersledge inched away to win by a neck for her second consecutive win in the Ladies.
My Sistersledge
Career Record: 25:8-2-7, earnings of $404,182
Breeding: Etched-Blushing Bride, by Miesque's Son
Bred in Maryland and owned by John and Cheryl Banner
Trained by Michael Trombetta
Career highlights: Won 2017 and 2018 Maryland Million Ladies, won 2018 All Brandy Stakes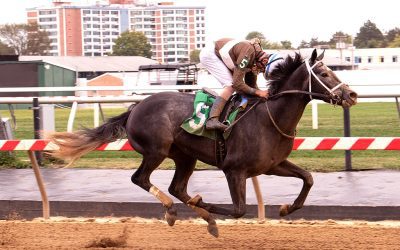 Last year's champion 2-year-old Maryland-bred made his first sophomore start in impressive fashion, winning the PImlico allowance feature.