Laurel Park picks and ponderings October 14, 2019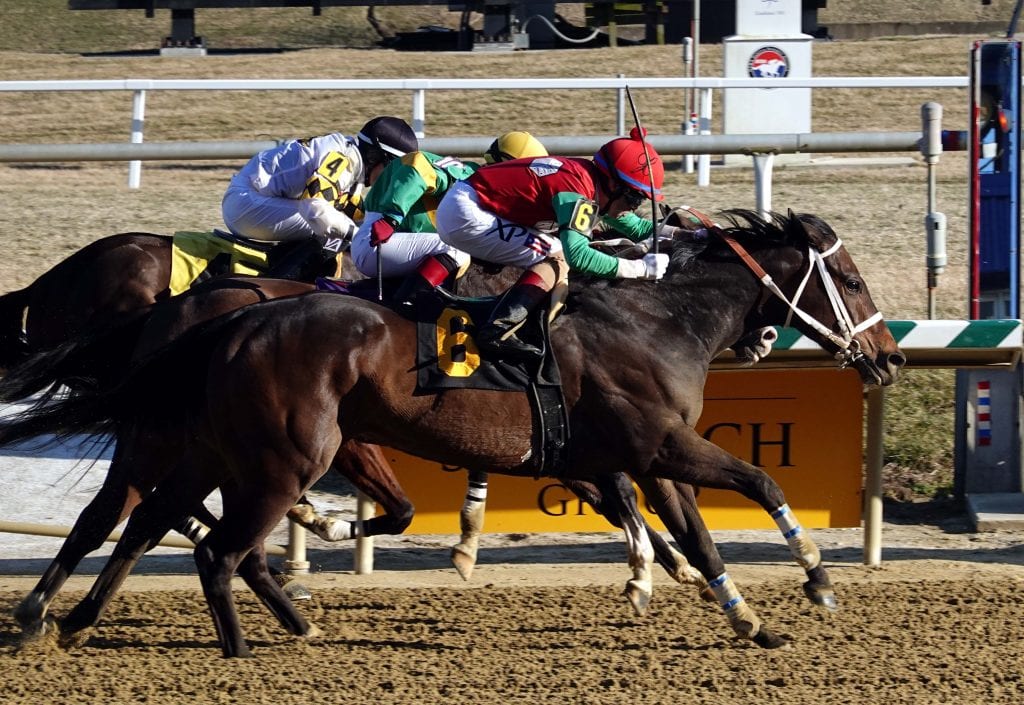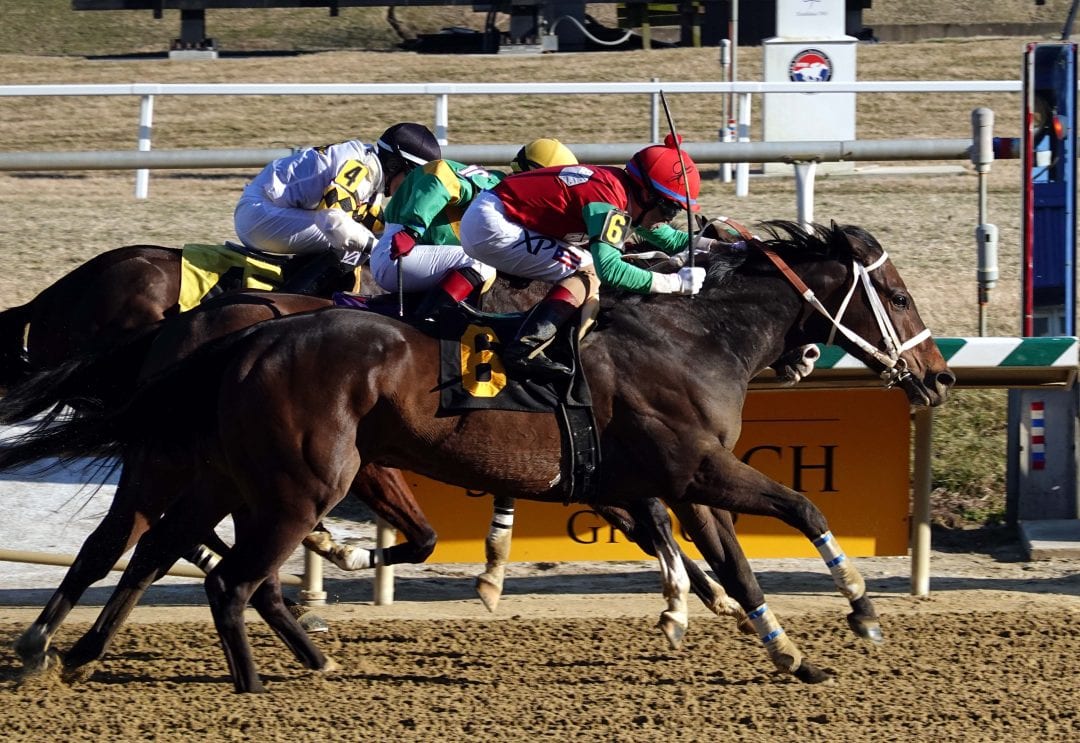 Anna's Bandit. Photo by Laurie Asseo.
In which we pick the races from Laurel Park each day…
Post time: 1:10 p.m.
Carryovers: Rainbow Jackpot Pick 6 — $5,132; Super High 5 — None; Late Pick 5 — None
Notable: My Friends Beer (race 7, 6-1 ML) is a half-brother to Shamrock Rose, the 2018 Eclipse champion female sprinter.
ANALYSIS
RACE 1
Last time out #2 Magical Luna (8-5) led for a long way, slugged it out with a rival in the lane, and prevailed, only to be taken down for drifting out and herding her rival. Those two were more than 10 clear of their rivals, which is a good sign she can come right back to win again today… A runner from that same race to whom we'll give another crack is #10 Notroubleatall (8-1), who was very wide and well out of it in the first parts of the race before running on late to grab fourth and just miss third. She'll get blinkers on today… #5 Revelment (9-2) ran very poorly last time out and switches into Kent Sweezy's barn today, but his debut was competitive with these types and he should appreciate class relief, while #8 Moravian Prayer (10-1) is a half to The Factor…
Selections: 2-10-5-8
RACE 2 
Top choice #6 Baytown Glory (3-1) enters this one in good form, with back-to-back wins (and four straight in the triple), and the runner-up from his last came right back to win. The Morning Line colt loves this sprint trip (4:2-1-0) and is one of just two in here with three wins to his name, the other being #2 Higher Purpose (5-2), who also arrives in good form but is switching barns after being claimed by Annette Eubanks; this one should appreciate added ground after two four-furlong tries at TIM… #7 Zitarrosa (3-1) has run first or second in three of four main-track tries and figures to be one of a couple of thse on the engine early, which may aid Baytown Glory's cause…
Selections: 6-7-2-3
RACE 3
Penn National shippers like #4 Witch (6-1) tend to get a little bit dismissed by bettors at Laurel, but in this case, that feels like a mistake: she was runner-up to Jabuticaba last time out, and that runner returned to Laurel to win an allowance next out and then run second in a $75,000 stake at Parx. This miss has done nothing but run good races on the lawn, and trainer Bernie Houghton knows where the winner's circle is… Note that leading rider Trevor McCarthy gets off #8 Janelle Dreams (5-1) to ride #1 Holiday Prayer (6-1); the latter rallied for second last time out against similar at DEL but has won just one of 20 career starts on turf (with eight second- and third-place finishes)…
Selections: 4-1-10-7
ANALYSIS
RACE 4
New condition for Laurel in this one, a two-year-old filly racefor horses that have started for $40,000 or less and never won two (or $40k claiming and never won two). A horse who barely squeezes in for the starter condition is #3 Chick's Shadow (5-1). This one was impressive on debut at Colonial, biding his time inside and then, at the top of the stretch, boldly shooting through along the rail to win easily. Subsequent events have validated that race: three of nine to run back graduated next out and overall seven of nine came back to finish in the money. This one tried the main track at Parx and faltered, but back on the green stuff, he can bounce right back… Notably, when our top choice in race one today (Magical Luna) was DQed last time out, the beneficiary of that was #5 Valle Luna (5-1), who made a bold wide move that day but couldn't go by while being herded out. You'll get a bit of a read on this one by how the first goes today… One worth a look at a price is #7 Wicked T (12-1), who did not run well in her last turf try, last out, but gave a good account of herself three back in her first on the lawn, rallying into third despite running off pre-race. She gets trainer O'Dwyer's go-to jock Sheldon Russell in the irons today…
Selections: 3-9-7-5
RACE 5
Last time out # 3 Maybe an Omen (6-1) simply ran 'em off their feet en route to a three-length maiden-breaking score. Three of six to run back from that event have earned their diplomas next out… The lone turf try for #8 Light in the Sky (2-1) was a good-looking one, a win against NY-bred maiden rivals at the Spa. Her two dirt tries aren't much to look at, but that's of no matter today on the lawn, and trainer Linda Rice has won a ton of races shipping down to LRL.. We're using #6 Midship Lady (7-2), who didn't run poorly last out when fourth in the Selima around two turns and cuts back to the distance at which she graduated today, but it's worth noting that none of her nine rivals from that maiden win who have run back has finished in the top three…
Selections: 3-8-6-4
RACE 6 
Four of the six runners in this $25,000 claimer — everybody but the #2 and #4 — look pretty much similar to each other. We're just a little leery of #4 Sir Orinoco (5-2) first off the bench, and the other two main contenders both will be looking to close in a race without a ton of early pace, which leads us to #3 Irish Colonel (2-1), who has beaten similar recently, loves this six-furlong trip, and probably sits a mid-pack trip close enough to reel in the early speed…
Selections: 3-6-4-1
ANALYSIS
RACE 7 
Off two competitive tries versus similar, you've got to respect #9 Whiskey and You (5-2), who'll be making his second start with Lasix after a good try last time when he led a long way before giving up the rail, which was exactly where the winner came to get him… #1 Toy (7-2) is out of the Pure Prize mare Plum, who won three times as a juvenile… #2 My Friends Beer (6-1) is a half to Eclipse champion female sprinter Shamrock Rose…
 Selections: 9-1-6-2
RACE 8 
Another new-to-Laurel condition, a $30,000 claimer on the turf for fillies and mares that have never won four or three-year-old fillies. This out to be a good spot for #4 Bath And Tennis (5-1), whose two-back try against allowance foes would suffice in this spot. Notably, that was her only route try on firm ground since she arrived in North America… The favorite here is the improving #1 Neva's Gal (8-5), whose presence here is something of a mystery; she won for fun last out against allowance foes at DEL but shows up here for the tag rather than trying a second-level allowance — and on the turf, where she has one inconsequential try, to boot…
Selections: 4-1-6-5
RACE 9
This starter allowance looks to run through three of these: #3 Rein Supreme (5-2), #5 Lonely Drifter (2-1), and #1A My Chesa Charm (7-2). We'll give the slight edge to Rein Supreme, who won here against similar last out and has four wins at the trip, but honestly, none of the three would be a surprise…
Selections: 3-5-1A-6
RACE 10
It's pretty clear that trainer Milan Milosevic has decided that #10 Wise Men (7-2) wants as much ground as possible — more, most likely, than the 1 1/16 miles he'll see today. Still, he's been running pretty good races, appears to be on the improve, and has been facing much tougher competition than these. The odds are square on a horse whose last three all would win in this spot… Curious to see first-timer #5 Stucco (6-1) for trainer Dale Capuano, who's 7-for-30 with debut maiden claimers and attracts McCarthy in the irons… The class-dropping #7 Moo Lah (5-1) for trainer Michelle Nevin can have an impact…
Selections: 10-5-7-6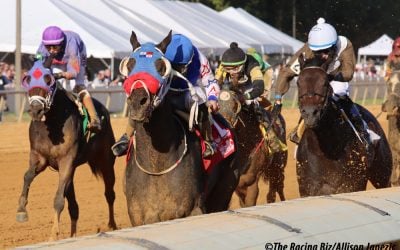 We provide full-card picks and analysis for this afternoon's races at Laurel Park.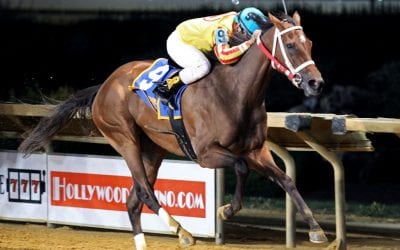 We provide picks and analysis for this evening's card at Charles Town Races.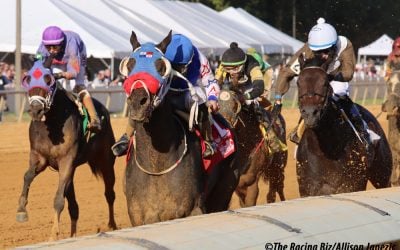 We provide full-card picks and analysis for this afternoon's races at Laurel Park.