Md. Million: WVBC winners Anna's Bandit, Parisian Diva under consideration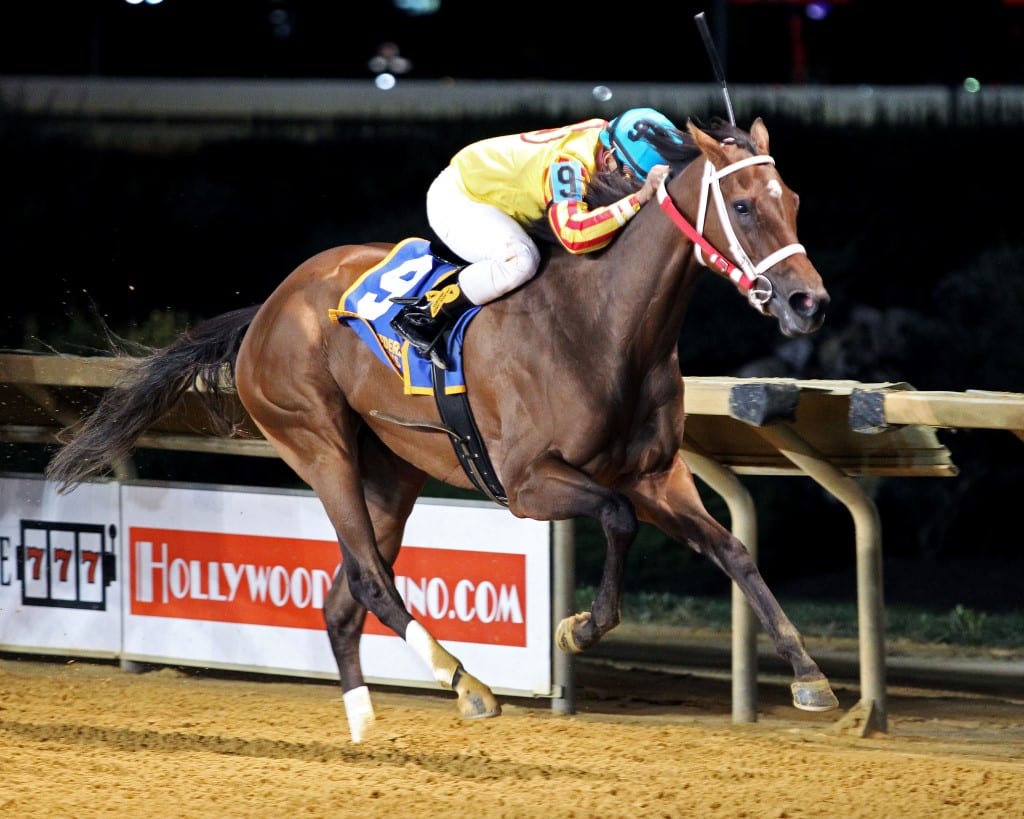 No guarantees, but two runners who were dominant winners Saturday in West Virginia Breeders Classics races might wheel right back in next weekend's Maryland Million.
And if they do, though they competed in different races in the WVBC, they will almost certainly square off at Laurel Park.
Parisian Diva, 1-5 at post time, turned back a challenge at the head of the lane and went on to win by the $75,000 WV Tourism Office Breeders' Classic, for sophomore fillies, by 2 1/2 lengths. Trained by Stacey Viands for Melinda Golden, it was Parisian Diva's fourth stakes win, all over her home track.
Three races later, the hard-hitting Anna's Bandit, the bettors' 1-9 choice, romped home by 5 1/2 lengths in the co-featured $175,000 WV Cavada Breeders' Classic. It was her 14th win in 30 starts and pushed her career earnings past the $600,000 mark for owner No Guts No Glory Farm and trainer Jerry Robb.
But if both go Million-ward, they'll likely converge in the Maryland Million Distaff, a seven-furlong test for fillies and mares three years-old and up. That's because, unlike the Breeders' Classics, the Maryland Million does not have any races restricted to straight three-year-olds.
"I'm not gonna push her," Jerry Robb, Anna's Bandit's trainer, said in the immediate aftermath of the Cavada. "If she's teelling me she wants to run, we'll run. If she's not, we won't."
Last year, he sent his star pupil postward in both races. In the Cavada, she was a well-beaten third, behind the now-retired Moonlit Song and Late Night Pow Wow, whose connections opted to skip the Cavada. Then, a week later, she ran third again in the Maryland Million Distaff, finishing behind Crabcakes and My Magician, neither of which will be back.
Depending on who posts in the Distaff, it has the potential to be one of the more interesting races on the Maryland Million card. It'd be only more interesting if Parisian Diva joins the fray.
"She's the best three-year-old on the grounds here. And when she went down to Maryland, she sure didn't embarrass herself," Diva's owner and breeder Melinda Golden said. "I think we're going down to Maryland again… We'll see; if she's kicking down the barn, we might (go to the Maryland Million). You're darn right."
Parisian Diva has now won eight of 13 career starts with more than $240,000 in earnings. She's made just a single start outside the friendly confines of her Charles Town home, but it was a promising one; she ran second to the speedy Please Flatter Me in the mid-June Alma North Stakes at Laurel. In her start prior to the WVBC, the horse Golden simply calls Diva was a troubled fourth in the Grade 3 Charles Town Oaks.
"When we were in the Oaks, I don't think we would have won it, but she had a terrible trip," Golden said. "She could have been placed, and that would have been important to her value."
No such luck, as it happened, but Golden said she hopes to keep the daughter of Freedom Child going perhaps through her five-year-old season — "if she's running to her level. She's not going to drop down to the claiming ranks," the owner added — so she may have chances to follow in the footsteps of fellow Charles Town denizen Late Night Pow Wow. That runner won last year's Charles Town Oaks and followed that with three wins at Laurel, including the Grade 2 Barbara Fritchie.
But that's a problem for a different day. Meanwhile, Golden and Viands — and for that matter, Robb and his wife, Gina Rosenthal, who races as No Guts No Glory — have a more immediate decision to make. Run in the Maryland Million or wait?
"If she's kicking down the barn, we may," said Golden, who has had an owner's license, she said, since 1969. "It's not going to be something I do every time. She hasn't raced that much."
Regardless of the decision, the horse that Golden calls "the adventure of a lifetime," will get the winter off.
Entries for the Maryland Million are scheduled to be drawn on Wednesday. Post time for the Saturday card will be 12 noon.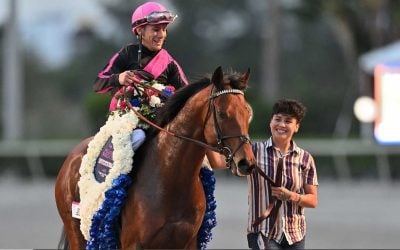 Art Collector drew off in the stretch for a dominant win at long odds in Saturday's G1 Pegasus World Cup at Gulfstream Park.