Laurel Park picks and ponderings October 12, 2019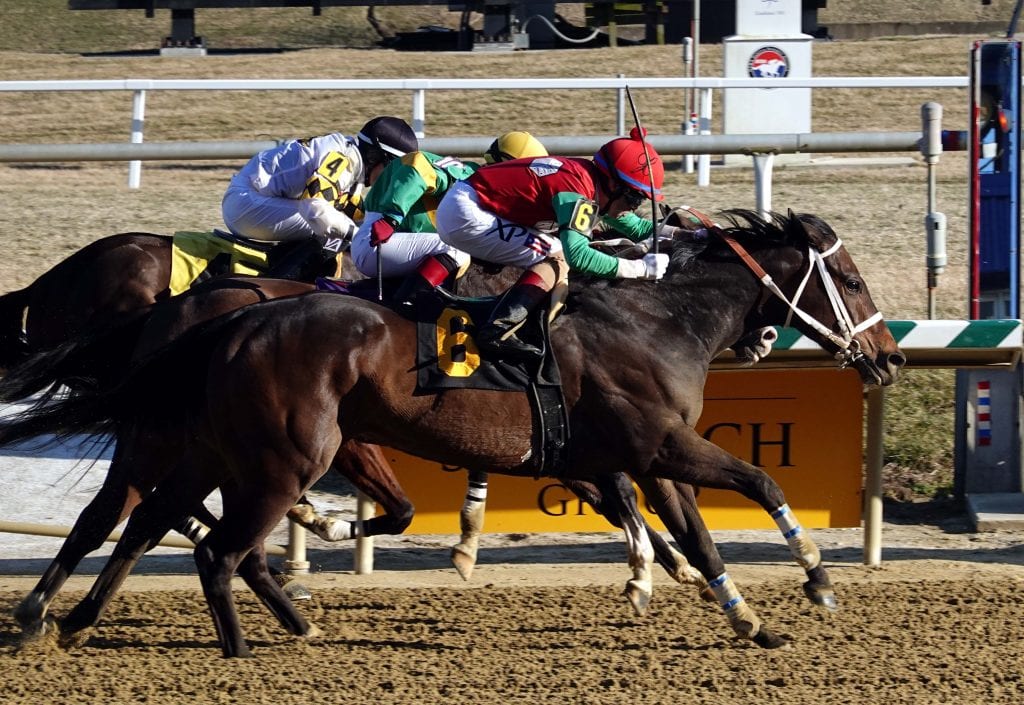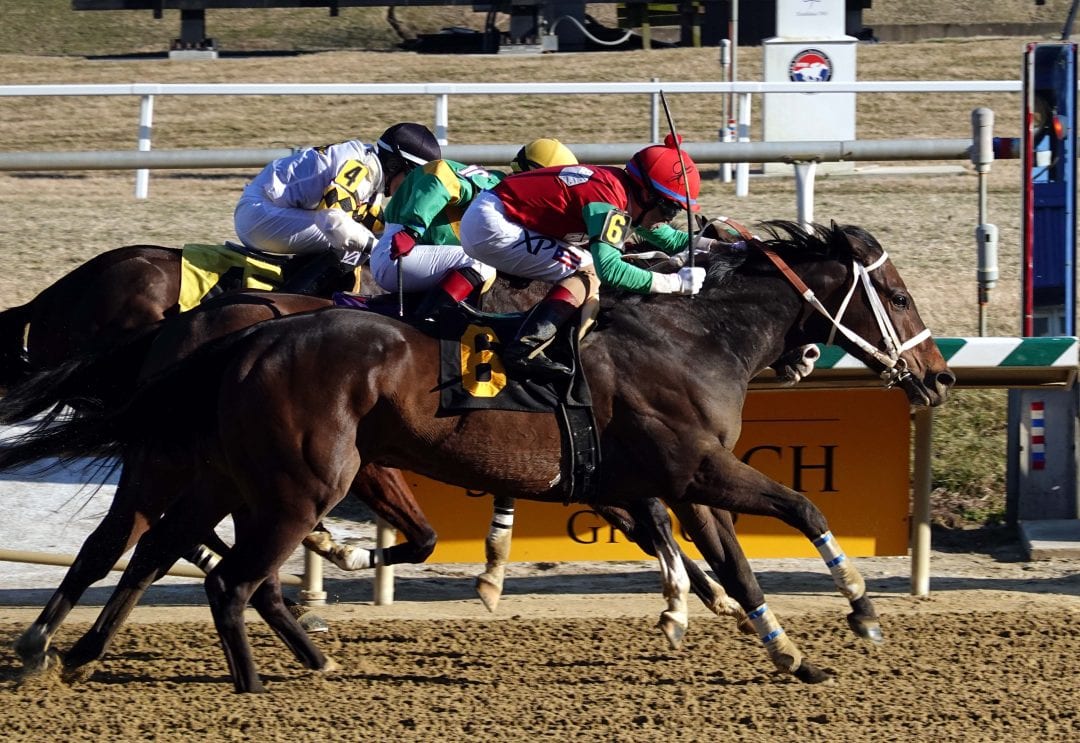 Anna's Bandit. Photo by Laurie Asseo. 
In which we pick the races from Laurel Park each day…
Post time: 1:10 p.m.
Carryovers: Rainbow Jackpot Pick 6 — $2,891; Super High 5 — $2,816; Late Pick 5 — None
Notable: 
ANALYSIS
RACE 1 
#1 Quit Your Moanin (9/2): A winner of two of his last three, he closed well against similar last out to lose by a just a neck. Comes in here with the best last-out brisnet figure and should get prime position off the pace.
#10 New York Hero (4/1): Belmont invader was terrible in his last race, but held his own against better over the summer. Turned in a sharp workout on September 28 to get him acquainted with this track. He almost has to do better than last time, and if he does, he's a contender.
#11 Drive at Nite (8/1): Stone-cold closer rarely gets the money, but he's got enough late speed to pick up a piece.
Selections: 1-10-11-8
RACE 2 
#7 Passport (6/1): Almost wired a better field going 1 ½ miles last out, before getting run down late. Gets some class and distance relief in this spot. It'll be interesting to see if jockey Dennis Araujo will put him on the lead again, or take him off the pace.
#2 Bandito (5/2): Won at this level two grass starts back, then had to endure a wide trip and missed by a head last out. In spite of that, his figure improved three points. Should be heard from late.
#9 Market Bubble (9/2): Second three times in a row at Monmouth Park, running consistent figures every time. The Colts Neck/Jorge Duarte owner-trainer team is a strong one.
Selections: 7-2-9-10
RACE 3
#2 Jumping Michelle (9/5): Received a brief layoff after showing declining form. Returns for the first time since August for the Claudio Gonzalez barn. Kept knocking on the door without much success at the level this summer, but this is the easiest field she's faced in a while.
#1 Happiness (5/1): This one-time impressive maiden winner returns for her original trainer, making her second start in nine months. Her form from the start of her career would win this one, and in a wide-open race, I'm banking on her to get it back.
#4 Jump for Sally (6/1): Gets a big cutback in distance after a dull try in her first race against winners. Lost the whip in her last sprint race at this track, but still battled well and ran a career-best figure. Her disguised good form may cause her to go off at a big price.
Selections: 2-1-4-3
ANALYSIS
RACE 4
#8 Belmullet (8/5): Drops for a career-low tag, and ran his best races over this track. Showed speed in his debut for the Mark Reid barn last out, and should do the same thing here.
#2 Power Back (6/1): Just missed with a strong rally in his grass debut last out. That was his first start off the layoff; should do even better second time out.
#5 Leading Man (9/2): He disappointed against similar in his last start, but was in sharp form prior to that. Two back, he finished third in this class, with a career-best figure. Victor Carrasco gets the mount back; he was aboard for the best races of this one's career.
Selections: 8-2-5-3
RACE 5
#7 Pugilist (7/5): Kentucky Downs shipper has won twice in three tries at Laurel Park, the only exception being when she tried stakes company. She's been facing much better, and should find this level a piece of cake.
#2 Cartabianca (5/2): Closed sharply last out at Saratoga, but left herself with too much to do. Needs to show a bit more early pace to be a serious win contender. 
#8 Fed Up Fired Up (4/1): She hasn't missed the board in her last six races, and finished well after a wide trip last out.
Selections: 7-2-8-1A
RACE 6 
#8 Spartatis (7/2): Improved sharply in his second race off a six-month layoff, now makes his third start off the vacation. Not sure how well he'll run when not in the care of Rudy Rodriguez, but he might still be the best even if he doesn't run up to those lofty standards.
#1 Team Tim (12/1): Raced very well against better earlier in the year at Delaware Park, then raced wide throughout last out and was a total non-factor. Obviously, losing ground should not be a problem here.
#7 Cash Exchange (7/2): Had the misfortune of running into The Great Provider last out, but managed to get up over the rest. There's no one of that caliber in here, so things should be easier. The only big question is the quick turnaround.
Selections: 8-1-7-4
ANALYSIS
RACE 7 
#6 Too Much Minutia (5/2): Missed by half a length in her first start off the layoff last out, showing good closing kick in the stretch. Threw down a bullet workout on September 26 in anticipation of this spot.
#4 Don'tbaggagecheck (2/1): Trombetta firster catches a weak group on debut. A good sign to see Vargas pick up the mount.
#1 Kickstartmyheart (4/1): Showed promise when debuting at this level, finishing a good second. Didn't do much against maiden special weight horses last out, but should find things easier here.
 Selections: 6-4-1-7
RACE 8 
#5 Tunstall (6/1): Overcame a wide trip to show some some good closing kick on debut. Trainer Dale Capuano hits at 30% with second-time starters.
#4 Bahamian Royalty (7/2): Cal Lynch firster has shown some promise in his workouts. Going to watch the board with him to try and get a grip on his potential.
#1 Thedevilmademedoit (3/1): Pulled clear against similar last out, and was run down in the last sixteenth. Hoping for a better-timed move here.
Selections: 5-4-1-14
RACE 9
#3 Bruja Bug (5/1): Presque Isle Downs shipper has shown good tactical speed, and has used it to full advantage, never missing the top four all year. With the likely favorite a speed-and-fade type, she'll be in prime position to take advantage.
#1 Proud Mandate (2/1): Finally drops in class after numerous tries against better. Should be forwardly placed from the inside.
#7 Perfect Exchange (12/1): I don't think she's got enough early speed to be a contender, but her late speed figures look good enough to pick up a piece.
Selections: 3-1-7-5
RACE 10
#8 Ummu Ummu Ummu (7/2): Tries winners for the first time after a very impressive maiden claiming victory. He's got the best last-out brisnet figure by twelve points. Lots of upside with this one.
#1 Lucky Leonard (6/1): Lost a tough stretch battle last out at Delaware Park. Now goes first off the claim for Gerald Brooks.
#9 Kosher Kontract (9/2): Didn't do anything in his last dirt start at Timonium, but should do better getting off the bullring.
Selections: 8-1-9-7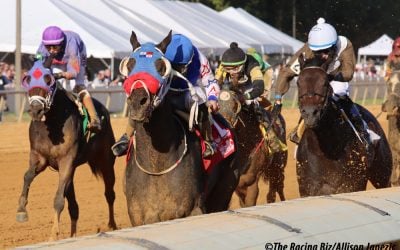 We provide full-card picks and analysis for this afternoon's races at Laurel Park.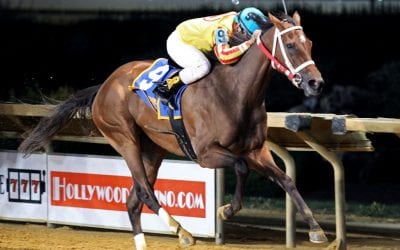 We provide picks and analysis for this evening's card at Charles Town Races.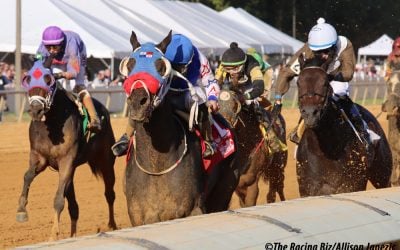 We provide full-card picks and analysis for this afternoon's races at Laurel Park.