WV Breeders' Classics 2019 preview: In Focus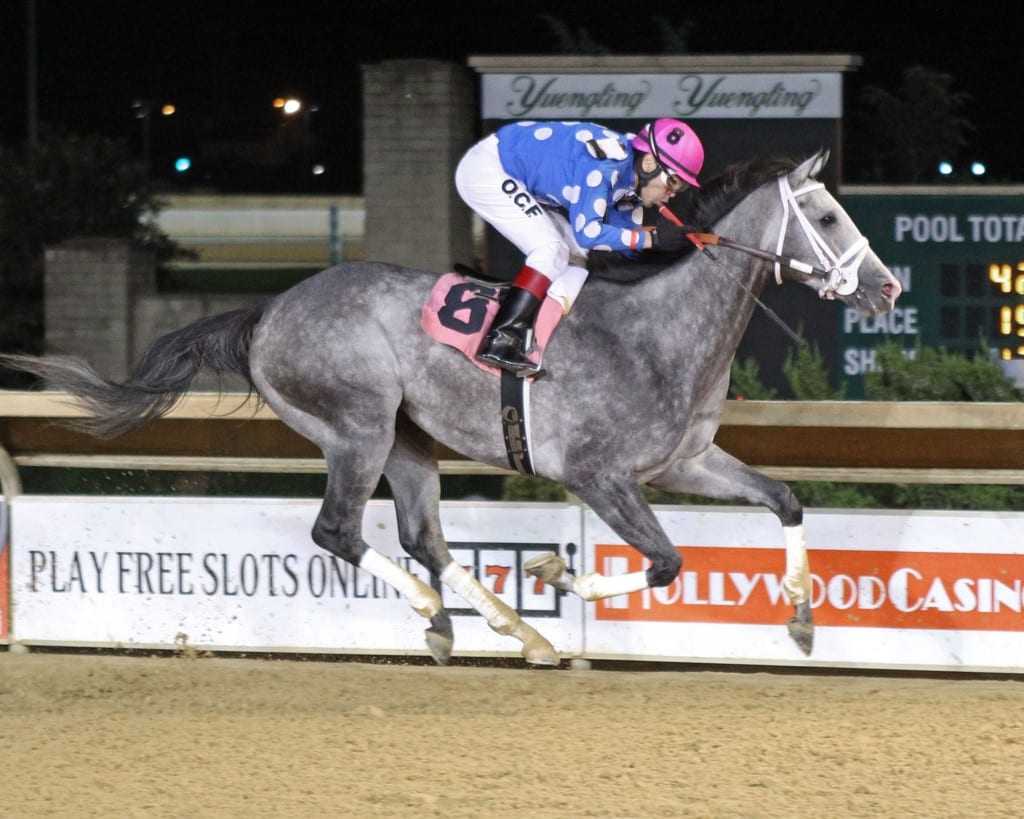 Runnin'toluvya took the 2018 WV Breeders Classic. Photo by Coady Photography.
West Virginia Breeders Classics is one of the biggest cards of the Charles Town racing year and it takes place on Saturday with a first race post of 7:00 p.m.
Get this document as a 2-page PDF file here.
And don't forget to play in our free handicapping contest. You can enter here.
OTHER WVBC CONTENT
Wins for Twirling Owen, Hypothesis have connex thinking of WVBC
ALL STAKES PICK 4
Race 6 – 4, 5, 6, 10
Race 7 – 1, 4
Race 8 – 2,6, 10
Race 9 – 6, 7
TOTAL COST – $24.00 on a 0.50 ticket
WEST VIRGINIA DASH FOR CASH BREEDERS' CLASSIC
RACE PARTICULARS: Race 6 (9:32pm EDT), $75,000 guaranteed purse for 3yo and up, 4 1/2 furlongs
Defending champ #8 Scythe (20-1) will look to defend his title in the Dash, but he'll be a major longshot to do so. The Smarty Jones gelding is winless in seven tries in 2019 and has just a single in-the-money finish, a third-place showing four races back.
That suggests looking elsewhere might be a wise play, and the most likely place to look is to the favorite, #4 Dr. Feelgood (2-1). The Crystal Pickett trainee enters on a two-race win streak, was easily best last out against several of these in the $35,000 Last Enchantment, is 6-for-7 in his career, and is 3-for-3 at this trip. All told, that looks like a winning resume.
But going 4 1/2 furlongs, it's all in the break; if he stumbles or is unprepared at the start, that could throw this race into disarray. Breaking from the far outside, #10 Last Print (5-2) certainly rates a big shot here, and if you toss the two two-turn tires, you're looking at a runner with six wins in seven tries at the trip.#5 Aaron's Tap (4-1) and #6 Rescue Five (8-1) — second and third, respectively, in the Last Enchantment — also are worth a look.
Pick 4 Notes A couple of these races look like chalk, but we think this is one to spread out on. On best, Dr. Feelgood should be tough, but with a full gate — the race even has a couple of also-eligibles — anything can happen. These one-turn sprints are all about the break, and if the favorite doesn't, that might set it up for any number of of others…
THE PICKS
#4 Dr. Feelgood (2-1): Two big efforts to start his season, and a hat trick here would make him three-for-three; as long as he breaks, he'll be tough
#10 Last Print (5-2): Improving sort 6-for-7 at the trip, can spoil the party for the chalk
#5 Aaron's Tap (4-1): Six-time winner at the distance needs to get away from the gate in better order than last; third in this spot a year ago, he won the It's Only Money at this distance in May
#6 Rescue Five (8-1): Lucas trainee needs career-best effort to contend for top honors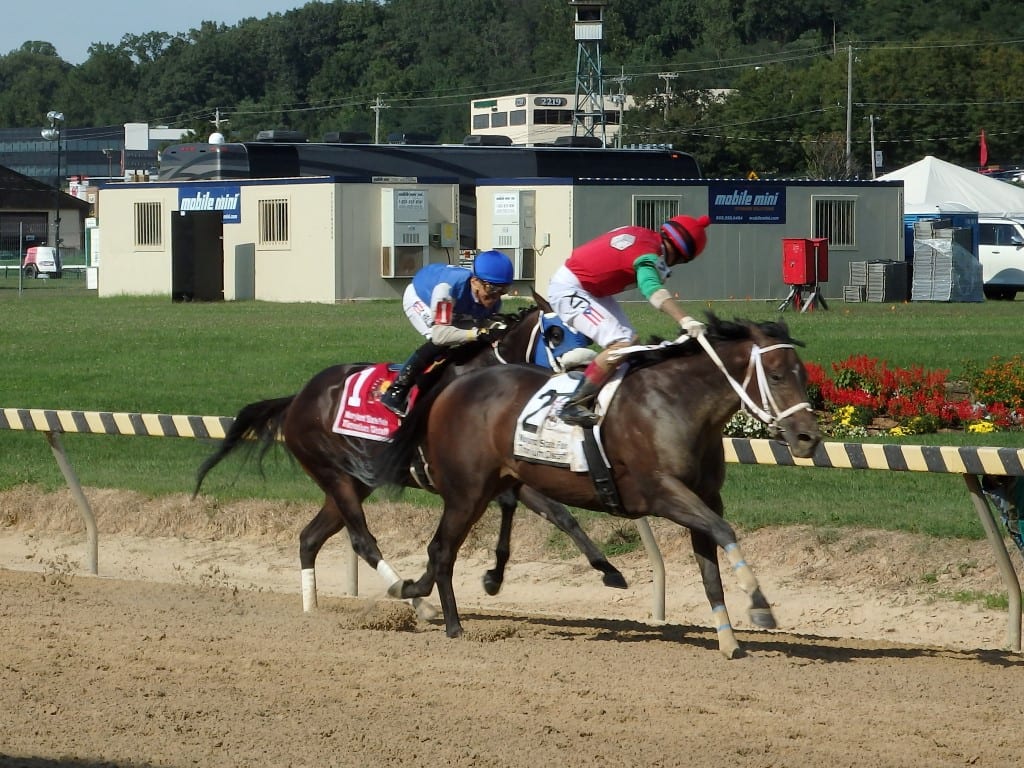 Rider Xavier Perez waves goodbye as Anna's Bandit overcomes Past Perfect in the Timonium Distaff. Photo by The Racing Biz.

Race 7 — WV CAVADA BREEDERS CLASSIC
RACE PARTICULARS: Race 7 (10:02pm EDT), $175,000 guaranteed purse for fillies and mares three-years-old and up, 7 furlongs
The scratch of projected favorite Late Night Pow Wow turns out not to muddy the waters all that much.
Instead, odds-on favoritism falls to #4 Anna's Bandit (3-5), who with a win will clear the $600,000 hurdle. She's six-for-nine at the distance and four-for-six at the track, with her only defeats having come to Late Night Pow Wow and Moonlit Song.
Can she be beaten? Sure; it is horse racing, after all.
Among the runners who'll take a swing are #1 Prime Lime (10-1), the Jeff Runco trainee who's won three of four and projects as lone speed, and the John McKee-trained veteran #7 Lies and Scandals (6-1). The latter is winless in seven tries this season but has some solid tries to run back to.
Pick 4 Notes If you're looking to economize on your Pick 4 ticket, this looks to be a place to do so. Anna's Bandit is just better than these, is fast enough to be forwardly placed if that's how the race shakes out, and versatile enough to come from off it if circumstances dictate. If she's right, she wins…
THE PICKS
#4 Anna's Bandit (3-5): Only local defeats came to Moonlit Song, Late Night Pow Wow, and she won't have to contend with those here; too good for these, on best
#1 Prime Lime (10-1): Runco trainee figures to control the early pace, try to hold off the favorite in the lane; he finished in the money all five tries at trip
#7 Lies and Scandals (6-1): Veteran well beaten by #4 in last but usually runs her race
#8 See Ya Manana (5-1): Owns right to improve in second off a five-month break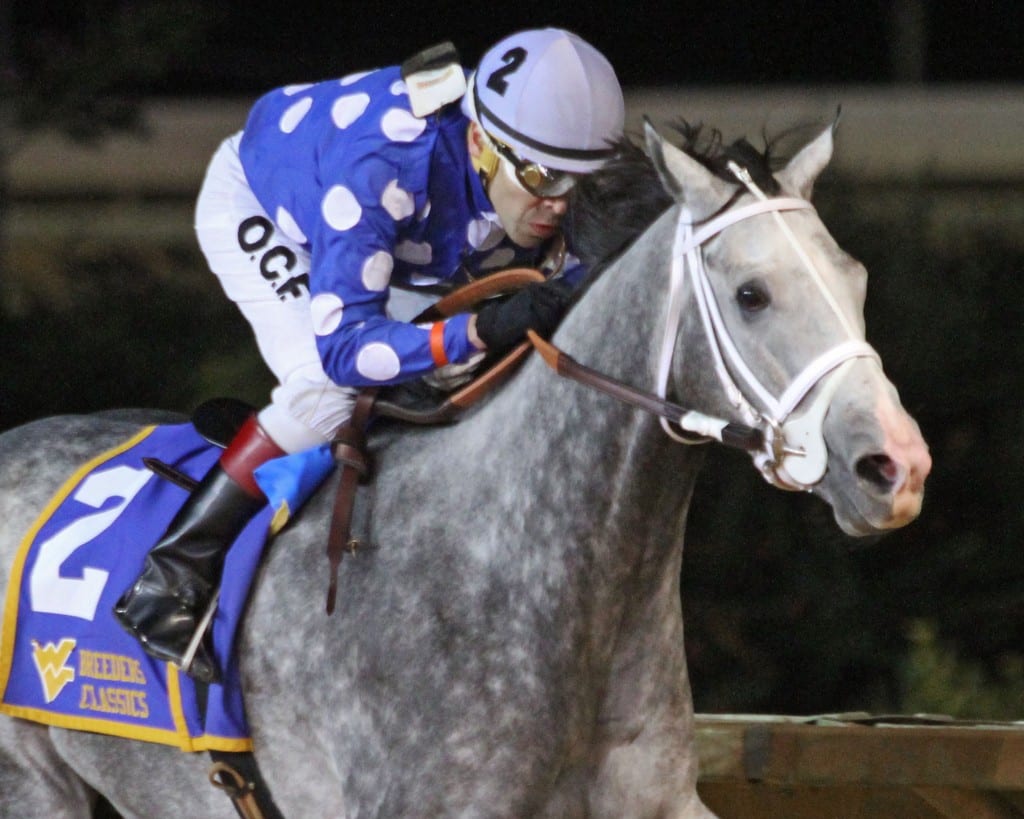 Runnin'toluvya won the 2019 West Virginia Breeders Classic. Photo by Coady Photography.

Race 8 — WV BREEDERS' CLASSIC
RACE PARTICULARS: Race 8 (10:32pm EDT), $300,000 purse for three-year-olds and up, 1 1/8 miles
A couple of months ago, the $300,000 WV Breeders' Classic seemed very much like an open-and-shut case: it looked like #6 Runnin'toluvya (6-5) and then everybody else.
And why not? The Tim Grams trainee compiled a 10-race win streak between June 2018 and June of this year. Included in that run were three wins at this three-turn trip, including one in this event and one, this past April, in the Grade 2, $1 million Charles Town Classic.
Since then, however, he's lost two straight, one in the G3 Iselin and one, locally, when upset at 3-10 in the Frank Gall Memorial. He got left at the gate that day, which didn't help matters, but couldn't really make any progress on winner Penguin Power, either.
Who can score the upset? Trainer Jeff Runco has a pair in here, and it seems likely that #9 Opera Nite (8-1) will pose the sternest early test for Runnin'toluvya, which might just weaken that rival enough for the late run of #2 North Atlantic (3-1), who's never been worse than second in eight tries at the trip and who was runner-up in this event a year ago. A year ago, North Atlantic was parked on the dreaded far outside; this time, drawn inside, he might be able to work out a better trip.
Pick 4 Notes You can't ignore the favorite in this one, and maybe we're grasping at straws, but he feels a bit vulnerable to us. Seems worth spreading out a little bit just in case the champ gets knocked off…
THE PICKS 
#2 North Atlantic (3-1): Loves the trip (8:4-4-0) and may get the right setup if stablemate puts the pressure on fave; drawn better inside than a year ago when he left from out in the parking lot
#6 Runnin'toluvya (6-5): By far the most accomplished runner here; if he slips away to the lead, he may not come back to 'em
#10 Buff's Eye View (6-1): Improving sort won the 7-furlong WV Lottery last year, tries three turns for first time
#9 Opera Nite (8-1): Should be a forward factor early in this one and may weaken favorite up for stablemate North Atlantic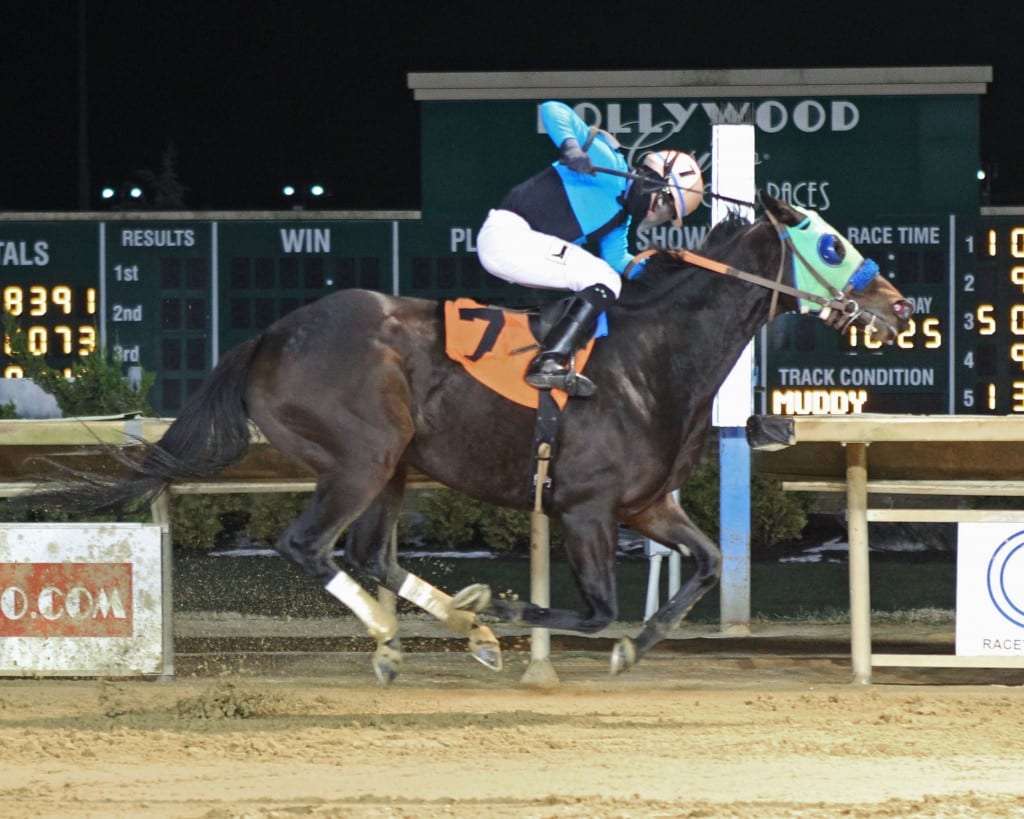 T Rex Express. Photo by Coady Photography.

Race 9 — WV ROGER RAMEY BREEDERS' CLASSIC DISTAFF
RACE PARTICULARS: Race 9 (11:02 pm EDT), $75,000 guaranteed purse for fillies and mares 3yo and up, 1 1/8 miles
Last year's winner, #6 T Rex Express (7-5), returns to defend her Distaff crown against a pretty manageable field.
The Jeff Runco trainee ran second to the hard-hitting Anna's Bandit – the morning line choice in the Cavada – last time out and here stretches out to a three-turn distance at which she is undefeated in three tries. She also appears likely to be controlling speed under Gerald Almodovar.
Elsewhere on the ticket, this looks like a race to seek longer shots. #7 Flatter Me Owen (10-1), a daughter of Flatter, won a Mountaineer allowance by a dozen last out and is bred to relish the added ground she'll get today. #5 Scottish Denis (12-1) was the runner-up in this event a year ago and, in her third start off a break, can improve here. And the late-running #10 B's Wild Cork (5-1), also third off a break, can move forward.
Pick 4 Notes The favorite here looms tough to beat; she's at a distance she likes, enters in good form (eight straight in the triple), and looks to be the controlling speed. This is another spot where you could single or go skinny if you want to fatten up your ticket elsewhere…
THE PICKS

#6 T Rex Express (7-5): Defending champ ran second last out behind Anna's Bandit, but there's no Anna's Bandit here, and she looks to be controlling speed at preferred distance
#7 Flatter Me Owen (10-1): Speed figs don't really stack up, but breeding says added ground should be to her liking and enters off 12-length win
#5 Scottish Denis (12-1): 2018 runner-up looks to regain better form in third off a layoff
#10 B's Wild Cork (5-1): No impact in last, must step forward here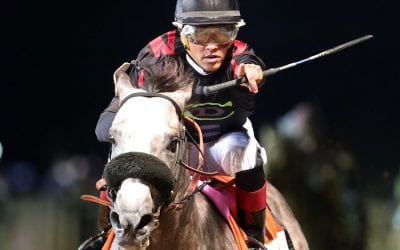 We've got Charles Town picks and preview today as the track presents its Friday card!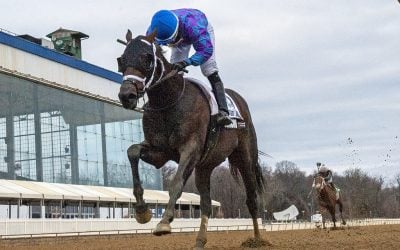 Which Laurel Park jockeys are off to hot starts? Asking for a friend; no, wait, actually asking for the betting public. Answers within…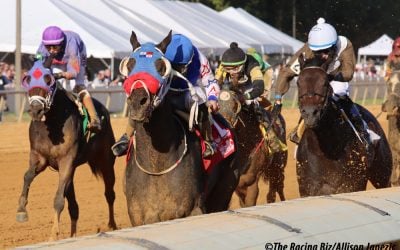 We provide full-card picks and analysis for this afternoon's races at Laurel Park.