Shimmering Aspen retired after repeat Owners' Day score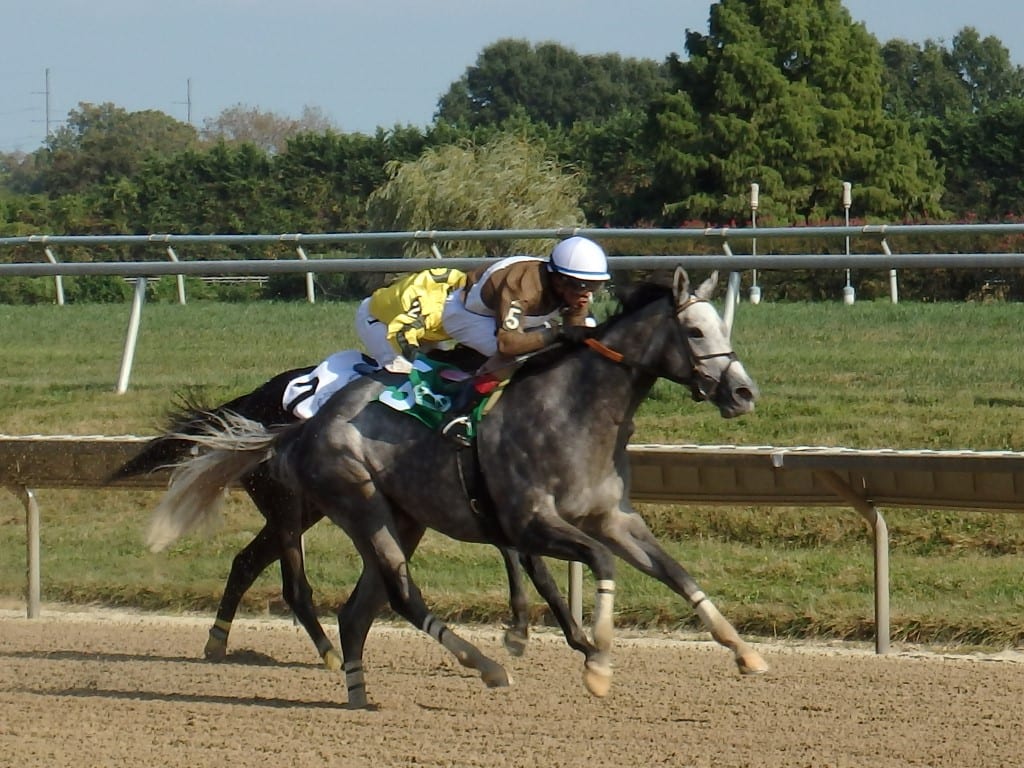 Shimmering Aspen took home the money in the Tax Free Shopping Distaff. Photo by The Racing Biz.
After 20 starts, nine wins, and more than $400,000 in career earnings, it's time for Shimmering Aspen to move on to the next stage.
The five-year-old Malibu Moon mare went out in style today, defending her title with a win in the $100,000 Tax Free Shopping Distaff Stakes on Delaware Park's Owners' Day. Next year, it'll be on to the breeding shed.
"You want to retire them on the top of the game, and she's been a wonderful horse for both of us," said Shimmering Aspen's owner, Ellen Charles, who races as Hillwood Stable LLC.
Shimmering Aspen never won a graded stake — a pair of sixth-place finishes her best efforts in graded company — but other than that, she checked plenty of boxes. She won three of the first four races in her career, scored five times in stakes company, and won at least one stake at ages three, four, and five.
"This is her last race today," trainer Rodney Jenkins said afterwards. "I'd planned to retire her, but I wanted to run here in this race, and that's it."
And as Rick famously said that Casablanca was "a good spot" to die, the Tax Free Shopping Distaff turned out to be a good spot for Shimmering Aspen to retire.
Under regular pilot Victor Carrasco, Shimmering Aspen rated in fourth off the early lead of 40-1 outsider Had the Notion, swooped up while wide on the course to the lead, and went on to win by 1 1/2 lengths in 1:11.28 for six furlongs on a fast main track. She paid $2.60 to win as the 3-10 favorite.
The win pushed Shimmering Aspen's career earnings to more th $415,000, much of it with Carrasco in the irons.
"She's a little gritty, and Victor rides her beautiful. It's a good combination," Jenkins explained. "She's a little feisty, and he's brilliant at being quiet on a horse, and brilliant with his hands, and he's brilliant with pace. He doesn't make many moves until it's time either we win or lose."
Jenkins said that Shimmering Aspen "has a little stuff to her — that's what I like." But not with Carrasco.
"She loves him, I can tell," the trainer added. "She's never feisty with him the way she is with a lot of people."
By this time a year from now, if all goes to plan, Shimmering Aspen will be in foal, though Mrs. Charles said she had not yet picked out a prospective father.
And Hillwood Stable will be without a horse that has been its third-leading earner, just behind Cordmaker, who won earlier on the card, and Phlash Phelps, who was retired earlier this year.
But not to worry: Charles said she plans on going to the sales in Timonium this coming Monday and Tuesday.
"It's her addiction," Jenkins said with a laugh, and Charles did not disagree.
"It is. It's awful," she said. "It's hard to stay away from the sale."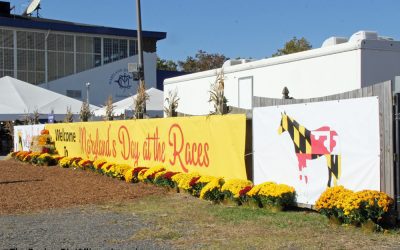 A bevy of defending champions and local stars headline the pre-entries for Jim McKay Maryland Million, which will take place at Laurel Park on Oct. 14.