Bronx Beauty earns MATCH Series title with Regret win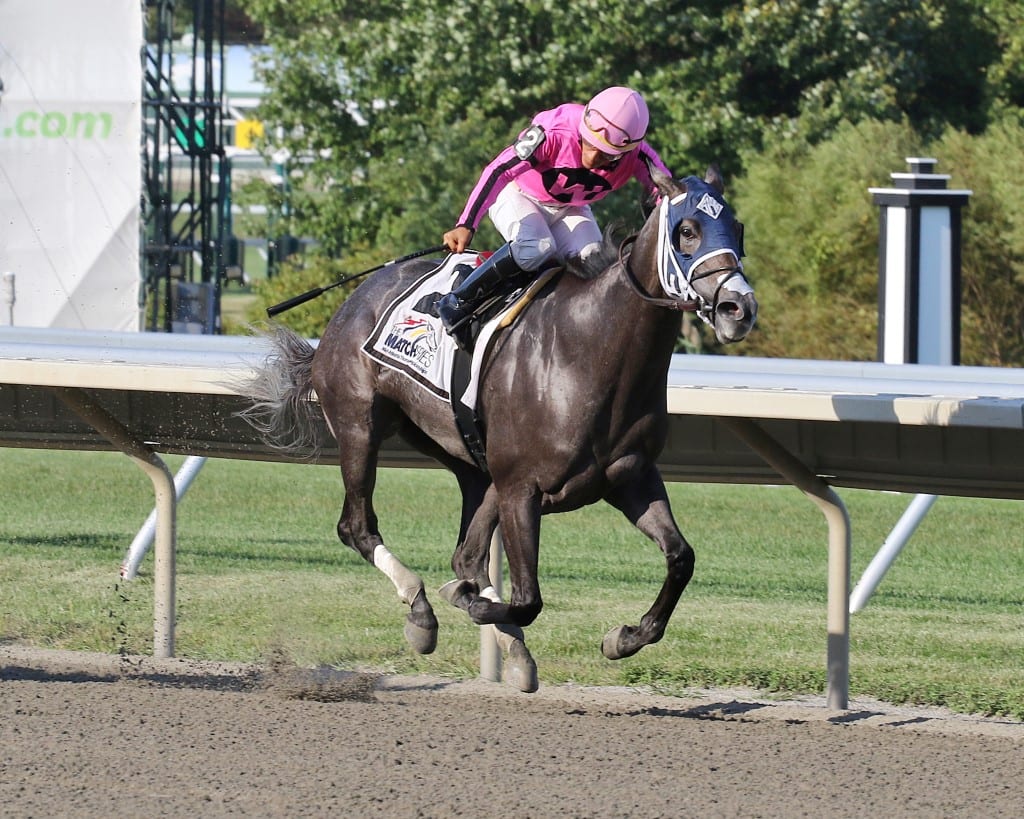 Bronx Beauty won the Regret Stakes at Monmouth Park to secure the MATCH Series title. Photo by Ryan Denver/EQUI-PHOTO.
Bronx Beauty earned both a stakes victory and a MATCH championship with one gritty performance.
The 4-year-old filly survived a taxing early speed duel with chief rival Ms Locust Point, holding on for a one-length victory in Saturday's $100,000 Regret Stakes at Monmouth Park to win both her division and the overall MATCH championship.
Though Bronx Beauty and Ms Locust Point finished tied with 40 points in the series, Bronx Beauty was awarded the overall championship of the four MATCH divisions on the basis of her three victories in the series.
"She was tested and she passed again," said winning trainer Anthony Margotta, Jr. "She's a resilient filly. She earned this MATCH championship. I'm happy for her. She deserves it.
"It's a tremendous accomplishment for the team I have. I'm extremely proud of them. This is the result of their teamwork – and of having a great player like Bronx Beauty."
In addition to the $60,000 winner's share, owner Richard Woll (2W Stables LLC) earned a $50,000 bonus for the overall championship and an additional $20,000 for Bronx Beauty winning her division (Filly and Mare Dirt Sprint). Margotta received bonuses of $25,000 for the championship and $15,000 for winning the division.
Bronx Beauty and Ms Locust Point, the only two with a shot at the overall championship, hooked up from the outset, going the opening quarter in :21.73 and reaching the half in :44.22. Under urging from jockey Paco Lopez Bronx Beauty opened daylight coming out of the turn and then held on, with Ms Locust Point second.
Time for the six furlongs was 1:10.39. It was another three-quarters of a length back to Last True Love.
"You never want to see 21-seconds and change and 44-seconds and change when you're on the lead. But it's a testament to this filly and how good she is," said Martgotta.
Bronx Beauty paid $5.40 to win for her eighth victory in 14 career starts.
"I think have the inside post (2) really helped when the two outside horses went with me early," said Lopez. "I wanted the lead and Ms Locust Point wanted the lead from the outside post but having the rail made the difference early. Then I just let her go.
"We started to get away around the turn and I tried to get away because I knew she might tire because of how fast we went early and it was under pressure. She did get a little tired. I had to work hard to the wire. But she's a nice filly with a lot of class."
The victory was the second of two for Lopez on the four stakes lineup, following a 1½-length score with the Jason Servis-trained Lasting Legacy in the $100,000 Mr. Prospector Stakes.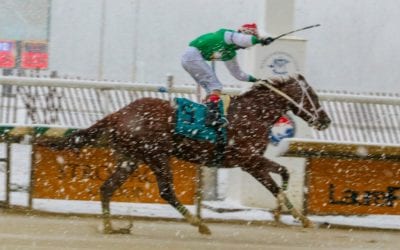 The nominations for the Barbara Fritchie Stakes upcoming at Laurel Park include several local runners, among them last year's show horse Fille d'Esprit.