Ashby taking swing with formful vet Shifra Magician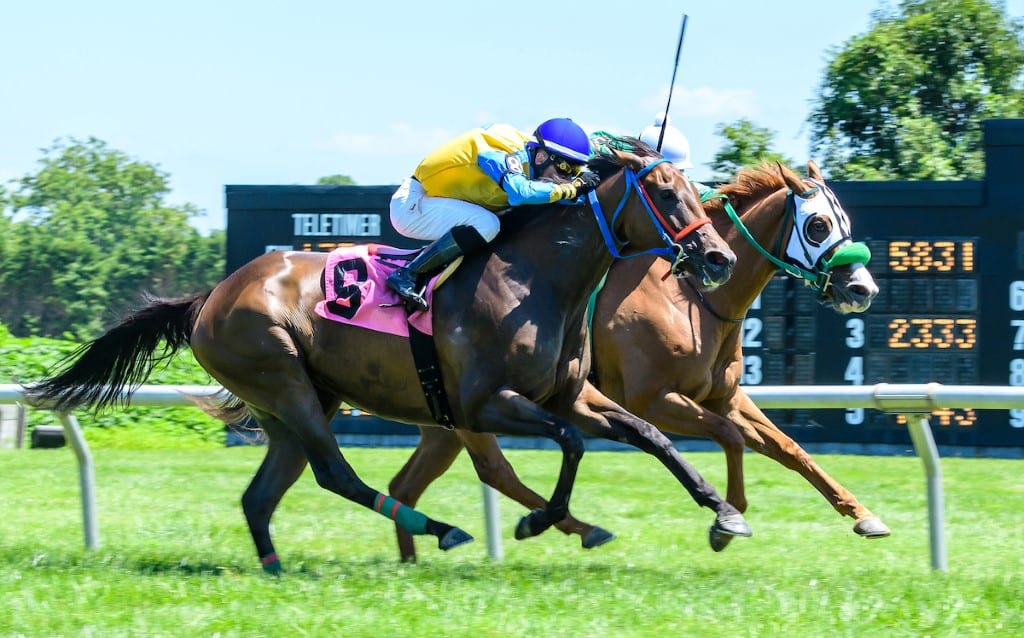 Shifra Magician (inside, green shadow roll) won a race in July at Delaware Park. Photo by HoofprintsInc.com.
At first glance one might think trainer Lynn Ashby is going bear hunting with Shifra Magician in Saturday's $75,000 George Rosenberger Memorial Stakes at a mile and a sixteenth over the Delaware turf course.
But anyone who's followed the veteran horsewoman throughout her career has learned not to underestimate an Ashby horse, no matter the race.
In the case of Shifra Magician, Ashby brings in a seasoned and consistent runner who has won three of her last five races while finishing second in her other two outings. All five of those races were run over a firm or hard turf, and Ashby says the racing surface is the key for her 7-year-old star.
"It's all about the footing," Ashby explained recently, "The harder the surface, the better she likes it. She just loves to hear her feet rattle."
Shifra Magician, a seven-year-old Street Magician mare, is a Maryland-bred who cost just $1,000 as a yearling at the Fasig-Tipton Midlantic yearling sale in 2013. But she's gone on to earn more than $220,000 in her career.
"She's just a classy horse to begin with," Ashby said. "She's got a great personality, very outgoing, and she loves the attention. And during a race she's just unflappable; nothing puts her off her game."
That last is a positive attribute, indeed, for a runner who often seems to find trouble but now, at seven, is in career-best form.
"For some reason she's been in tight quarters or got bounced around in several of her races, but she manages to get through it, just stays calm and collected and bides her time," Ashby said. "Last time out I thought they were going to put her over the inside rail in the first turn. I was screaming, 'Oh no, not again, please don't go down.' But she just stayed calm and cool, waited for her chance, and lo and behold the waters parted in the stretch and she motored right on through to win it."
When she won at Delaware she had a bad trip that day but overcame it to win by a scant nose. Ashby has looked over the field for the Rosenberger carefully and believes Augustin Stable's Pamina, the 5-2 favorite, is the horse to beat. Shifra Magician is 12-1 on the morning line.
"She's a very nice filly by Street Sense and won a Grade 3 in Canada this year, so there's little question she's the horse to beat," Ashby said. "But take her out of the race, and I think it's a wide-open affair. We know our horse likes the Delaware course, and it looks to me like there's enough speed in the race that she should be able to sit within striking distance and do what she does best, which is wait for the right time. Jose (Garcia) seems to fit her and is a patient type rider, so all we can hope for is a reasonably clean trip in the big field and some racing luck."
With clear weather in the forecast, that would be a nice win for the home team.
"She's good right now, and with no rain forecast, the footing should be very firm, and that's what we're looking for," said Ashby. "All the connections are local folks, so it would really be nice to win a big one on Owners' Day."
OWNERS' DAY NOTES The Rosenberger Memorial will go as the eighth race on a 11-race card. Post time is is 4:45 p.m. Only two runners other than Pamina — Raining Lemons and Monkey Mind — are in single digits… There are six stakes on the card, the first of which, the DTHA Governors Day, is the fourth race (post time 2:45)… All six, along with four MATCH Series races from Monmouth Park, are part of our FREE handicapping contest…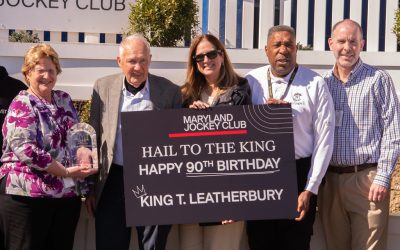 Hall of Fame trainer King T. Leatherbury, 90 years old today, was feted with a small ceremony at Laurel Park.