WV Breeders Classics clearer after WV-bred stakes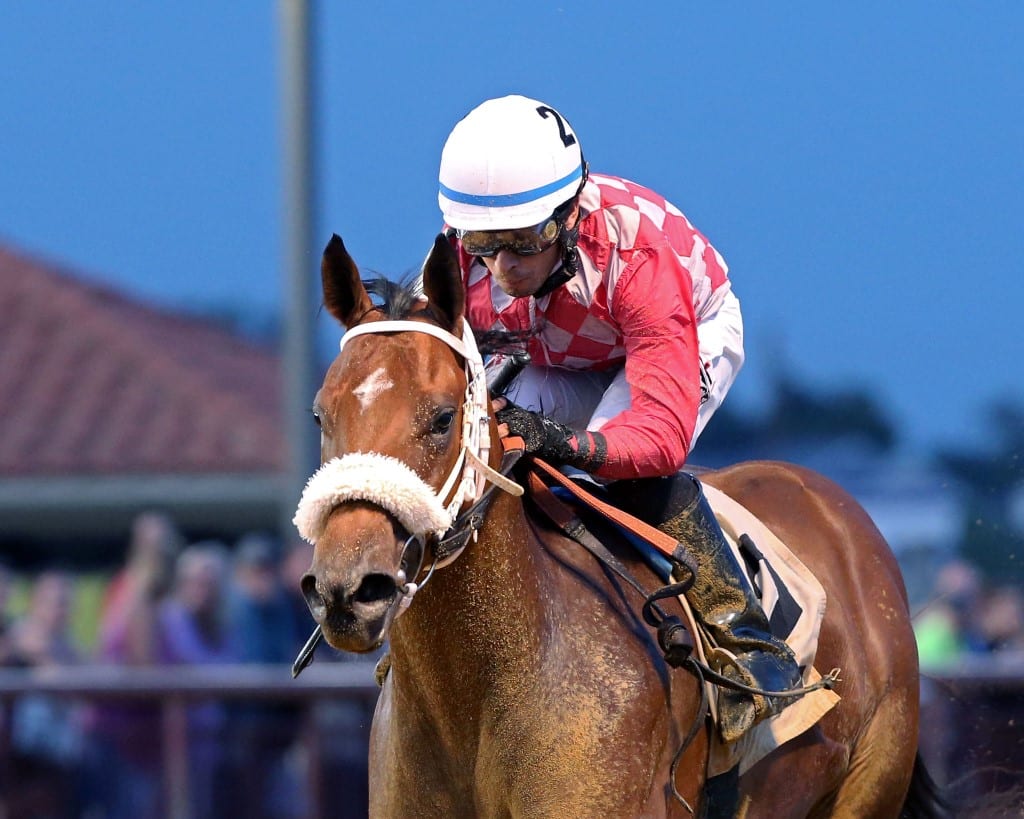 Hypothesis and Gerald Almodovar won the Henry Mercer Memorial Stakes. Photo by Coady Photography.
In the days after Charles Town hosted a handful of state-bred stakes designed as preps for the upcoming West Virginia Breeders Classics Night on October 12, several trainers were looking ahead to next month.
Although he was handed a rare defeat over the strip while second to the improving Penguin Power, winner of five straight, in the $50,000 Frank Gall Memorial for West Virginia-bred older males, Runnin'toluvya came out of the race in ideal condition and was set to resume training on Wednesday morning following a brief respite. Trainer Tim Grams said the five-year-old Fiber Sonde gelding is on schedule to defend his title in the $350,000 West Virginia Breeders Classic next month.
"He came out the race on Saturday night in good shape and he's starting to get a little anxious after being in the stall for the last three days," Grams said on Tuesday afternoon. "He's not used to being in the stall for a few days. I told my wife, Judy, he's got to get back to the track [Wednesday]. He's feeling good and he needs to get back on the track and gallop a few days this week."
Runnin'toluvya won last year's Gall in emphatic fahion and used that score as a stepping stone to the Classic which he also won handily. This year, Runnin'toluvya returned to win the Russell Road Overnight Prep and then forged a mild upset in the Grade II, $1 million Charles Town Classic this past April. His 10-race win streak was eventually snapped in the Grade III, $150,000 Philip Iselin at Monmouth Park.
"I really don't have to do much with him between now and the Classic," Grams said of Runnin'toluvya, who owns three wins in five starts this year and 13 victories in 19 career tries. "He's been at the track for a long time and I really can't wait to get him back to the farm."
Runnin'toluvya, who also won the West Virginia Vincent Moscarelli Memorial Breeders' Classic as a two-year-old, would become the first Grams trainee to surpass $1 million in career earnings with a one-two finish in the Classic.
Another state-bred star who suffered a rare defeat over the strip on Saturday night was Parisian Diva, a sophomore daughter of Freedom Child trained by Stacey Viands for owner-breeder Melinda Golden. Parisian Diva finished fourth after a troubled early trip in the Grade 3, $300,000 Charles Town Oaks.
A West Virginia-bred by a Maryland sire, Parisian Diva could tackle either one of two WVBC events here on Oct. 12 or bypass the local card and go into the Maryland Million one week later. Viands said the decision would be made over the next two weeks after discussing the matter with Golden.
"I was really hoping to win it the other night or at least be graded stakes-placed," Viands said. "Neither of those things happened, but I thought she ran a tremendous race. She was just really unlucky that first eighth of a mile. I think if she gets away cleaner and sits up near the pace, she's going to be first or second at the end, in my opinion. She overcame a lot just to get fourth. I was proud of her and she came out of it okay."
Parisian Diva finished third in the WV Triple Crown Nutrition Breeders' Classic for two-year-old fillies last fall. She has made one previous trip to Laurel Park, where the Maryland Million is held. She ran second to the graded stakes-placed Please Flatter Me in the Alma North Stakes in June.
"I'll talk it over with Melinda and see what she wants to do," Viands said. "She's shown that she can go to Laurel and run well there. She's capable of running her race on any sized track."
While Viands and Golden are going to discuss a next move for Parisian Diva, trainer John (Jerry) Robb said that his decision to run Sadie Hawkins repeat winner Anna's Bandit in either the $175,000 Cavada on WVBC night or the Maryland Million Distaff one week later would hinge largely on whether Late Night Pow Wow returns to Charles Town to defend her title in the Cavada.
Last year, Anna's Bandit was third behind Late Night Pow Wow and Moonlit Song in the Cavada and then came back one week later to run third in the Maryland Million Distaff. Robb hinted that running in both would likely not be an option this fall, but the basis of his next move would be determined by Late Night Pow Wow's potential Cavada title defense.
"She's eligible to both stakes and last year I ran her in both," Robb said after Anna's Bandit won the Sadie Hawkins on Saturday night in 1:26.06 for her sixth win in eight starts this year, one that pushed her lifetime earnings past $520,000. "My decision is really going to come down to whether or not Late Night Pow Wow comes back here. If she comes here, I'll wait for the Maryland Million. If she doesn't, then I'll probably be here."
Trainer Crystal Pickett saddled a pair of stakes winners on Saturday night, taking the $35,000 Last Enchantment with Dr. Feelgood and then the $50,000 Henry Mercer Memorial Stakes with Hypothesis, both of which are owned by Jill Daniel. Pickett noted that both would be on hand for their respective events on West Virginia Breeders Classics night, with Dr. Feelgood likely for the West Virginia Dash For Cash at 4 1/2 furlongs and Hypothesis for the Vincent Moscarelli Memorial at 6 1/2 furlongs.
"I wanted to keep Dr. Feelgood running short in his first couple of starts back off the layoff," Pickett said. "I think he could win going two turns. He won the [Robert] Leavitt [Memorial] last year. I think he would do okay going seven furlongs, but I think he'll stay in the 4 1/2 race for now. I'll have to look over the noms. I can't wait to run Hypothesis back in the two-turn stakes here that night. I think he's going to love going 6 1/2-furlongs."
LATEST WEST VIRGINIA NEWS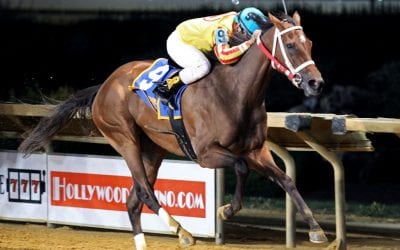 We provide picks and analysis for this evening's card at Charles Town Races.