MATCH Series: Who can win in final weekend?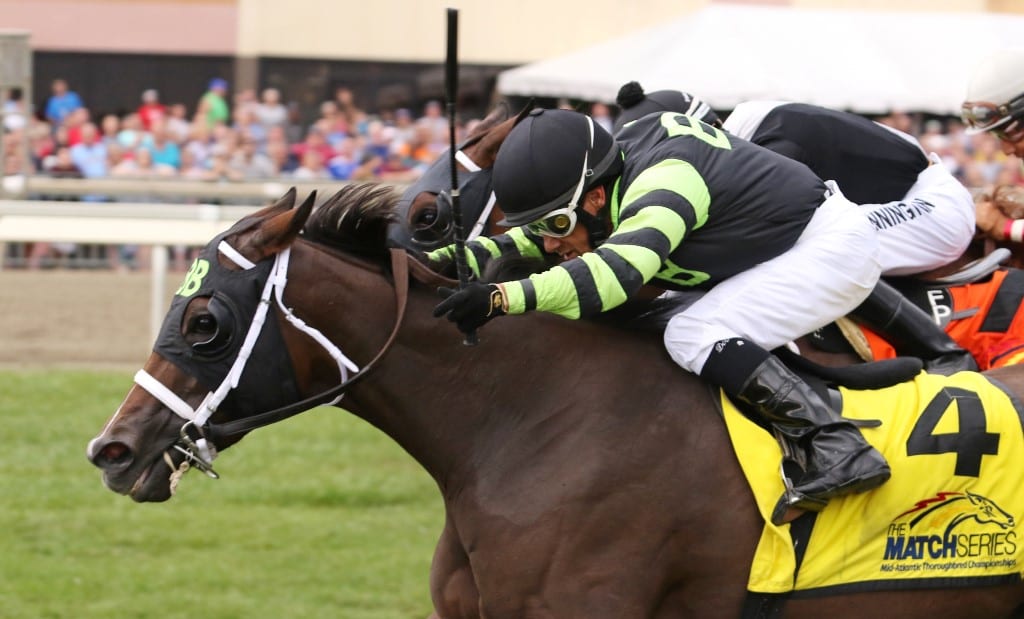 Dynatail and Chris DeCarlo narrowly took the Sal DeBunda PTHA President's Cup at Parx Racing, part of the MATCH Series. Photo by Bill Denver, EQUI-PHOTO.
The final day of MATCH Series racing is on tap Saturday at Monmouth Park, with races in each of the four divisions.
Here are the scenarios as we reach the final day:
FILLIES AND MARES, DIRT SPRINT DIVISION
Ms Locust Point holds a 31-25 lead over Bronx Beauty heading into the final day, and both are among the dozen nominees to the $100,000 Regret Stakes.
Ms Locust Point has run in all four legs of the Series to date, with an overall record of 4:1-2-0. Last time out, she finished fifth in the Roamin Rachel Stakes at Parx Racing, but that day's winner, Chalon, is not nominated to the Regret.
Bronx Beauty, meanwhile, has run in three of the legs with two wins and a third-place finish. Her third-place effort came in the Roamin Rachel, and in her two wins, the runner-up each time was Ms Locust Point.
If both runners start Saturday, Ms Locust Point will receive two bonus points – she's already received five – for making her fifth start of the Series. Bronx Beauty will receive five bonus points for making her fourth start of the Series.
The means that Ms Locust Point would have a four-point advantage, and as a result, if she finishes first or second in the Regret, she will win this division for 2019. If she finishes third or worse, that opens the door for Bronx Beauty to steal the division with a victory.
3-YEAR-OLDS AND UP, DIRT SPRINT DIVISION
Laki has wrapped up the division. Though his 18 points leave him only a seven-point advantage over his nearest pursuer, Midtowncharlybrown, he is the only runner among the division's top four to be nominated to Saturday's $100,000 Mr. Prospector Stakes.
Laki has run in three of the MATCH Series races to date, with a record of 3:1-0-1. With a start Saturday, Laki will earn a five-point bonus for making his fourth start and finish with a minimum of 24 points (including a minimum of one point for completing the course).
It will mark the second straight year that Laki won this division.
3-YEAR-OLDS AND UP, TURF SPRINT DIVISION
This is one crowded division, and the top three in it all are nominated to Saturday's Series-ending, $100,000 Rainbow Heir Stakes.
Abiding Star, with 17 points, has a narrow two-point advantage over second-place Completed Pass, who has 15, and Paret is just another three points farther behind with 12.
Abiding Star has raced in just two of the first four legs to date, so he must race Saturday to qualify for bonus money. The Ned Allard trainee ran second in the 7 ½-furlong Glasgow Stakes at Delaware Park in July and won the Neshaminy Stakes, at that same distance, at Parx Racing in early September. Saturday's Rainbow Heir, unlike those two contests, is at 5 ½ furlongs, which has not typically been his best distance.
Completed Pass has earned his 15 points over three Series starts. The Claudio Gonzalez trainee ran second in the King T. Leatherbury Stakes at Laurel in April and was the runner-up again in the Pennsylvania Governor's Cup at Penn National in early June. He has not raced since finishing up the track in the Glasgow Stakes.
Paret, like Abiding Star, will make his third Series start if he posts in the Rainbow Heir. He was third in the Glasgow – one spot behind Abiding Star – and second, just a neck behind Abiding Star, in the Neshaminy.
Of the trio, it's actually Completed Pass who's in the strongest position. Because the son of Pass Rush has already raced in three legs of the Series, he will receive a five-point bonus for running in a fourth leg, which essentially means he will start with 20 points, rather than the 15 he's earned to date. Additionally, the Rainbow Heir is contested at a short sprint distance, which has been his specialty.
FILLIES AND MARES, LONG ON THE TURF DIVISION
Dynatail doesn't quite have this division locked up – but it's close.
The Mike Dini trainee has 20 points thus far, and the only one of her nearest pursuers nominated to Saturday's $100,000 Regret Stakes is Souper Striking, who has seven.
Dynatail has only raced in two of the four legs to date. She won the Susquehanna Stakes in June at Penn National and also took the PTHA President's Cup last time out at Parx Racing. She must post on Saturday to qualify for bonus money, and by racing, she'll receive at least one point, giving her a total of 21.
That would leave Souper Striking, with seven points, the only runner with a chance to catch her. The Mike Trombetta trainee has run in three legs to date – the Dahlia at Laurel, Susquehanna, and PTHA President's Cup – with her best finish a third-place effort in the Susquehanna. In the two races in which she has seen Dynatail, she has finished well behind that runner each time. Were she to win the Regret, she would finish with 22 points, meaning that Dynatail would need to finish fourth or better to retain her lead.
The owner and trainer each of the top three qualifiers in each division will both receive bonus money — $20,000 to the winning owner and $15,000 to the winning trainer — and the overall winning owner and trainer will receive $50,000 and $25,000, respectively. The overall winner will likely be either Ms Locust Point or Bronx Beauty.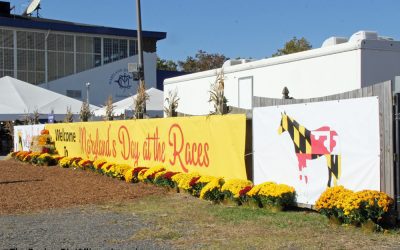 A bevy of defending champions and local stars headline the pre-entries for Jim McKay Maryland Million, which will take place at Laurel Park on Oct. 14.