Delaware Park Handicappers' Notebook 2019 Vol. 19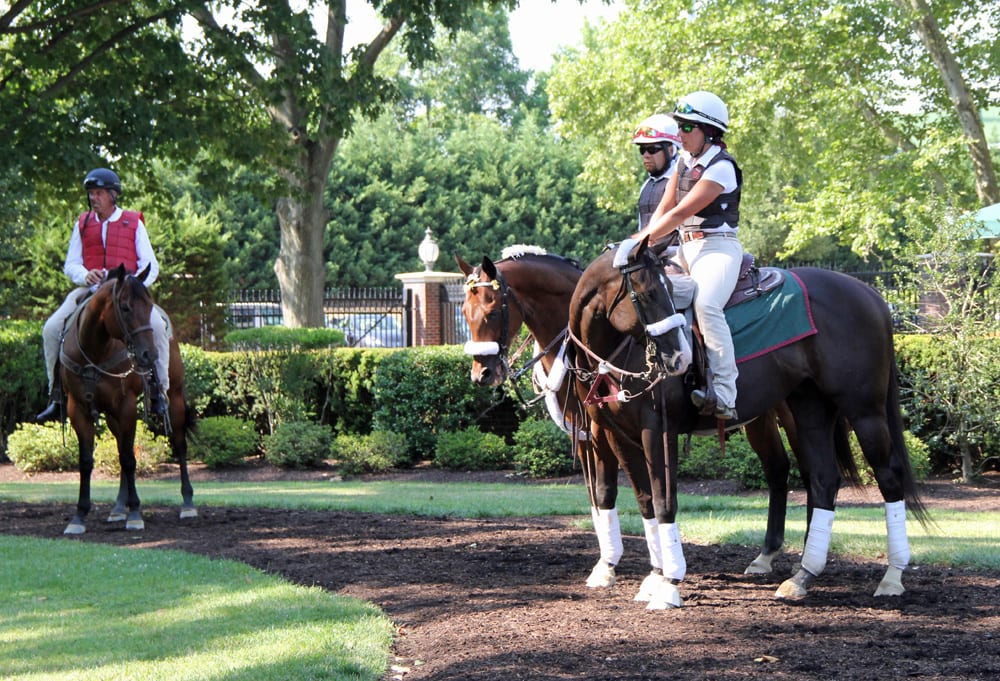 In the paddock on Delaware Handicap day. Photo by Allison Janezic.
Correspondent Doug McCoy returns with his weekly Delaware Park Handicappers' Notebook, featuring horses to watch, bet-backs, and more.
Horses and races to watch
ALEXBABE (SEPTEMBER 18, RACE 1): Made a good middle move to lead into the stretch then continued gamely before just hanging late. Fits well at $6250 level.
SHORE MAGIC (SEPTEMBER 18, RACE 7): Well-bred Clement first-time starter made a strong middle move in grass debut to be in striking distance into the stretch but couldn't stay with 2-5 favorite through the stretch in a mile race run in 1:35.51. Has talent.
TRAINFOURTWENTYONE (SEPTEMBER 19, RACE 7): This one found more speed last time to duel through more than six furlongs of a claiming route and then resisted a horse that got a perfect stalking trip to the late stages before weakening. Sitting on a big effort next start.
PALIMPSEST (SEPTEMBER 21, RACE 1): Came running from far back to be a fast-closing second when moved back to the main track following several poor turf efforts pressing the pace. Change in tactics and surfaces may be enough to make this win his first race soon.
Jock/trainer Watch: Performers of the week
One of the most successful trainer-jockey partnerships at Delaware Park this meeting has been that of Jamie Ness and Trevor McCarthy. Last week McCarthy won on five of the 12 horses he rode at Delaware Park while Ness won with four of 10 starters; McCarthy was aboard two of those winners. Ness holds a sizeable lead in the training race with 38 winners while visiting the winner's circle at a 25% clip. McCarthy has 40 winners at the current stand while winning at a healthy 27% rate.
Handicapper's tool box
THE SINGLE AND THE ALL BUTTON
Every horseplayer strives to generate maximum return from minimum investment; that's what often separates the winners from the losers.
Two tools we find most helpful in stretching betting dollar are the the single and the all button. In Pick 3, Pick 4, trifecta, superfecta, and other gimmick wagers, being able to single one horse can help you spread out in races where you don't have an opinion. 
Let's start with the single. As a handicapper, it's important to have the courage of your convictions; if you love a horse in a race – let's say you think he's the best horse, he's in good form, and the pace scenario works to his advantage – then in multi-race wagers it often makes more sense to single that horse and spread out elsewhere. Handicappers often hedge a little – "Well, I love the 2-horse, but I could see a remote possibility where the 3 wins, so I'll use both" – but in races where you have a strong opinion, put your money where your mouth is, so to speak, and then use the savings to add depth in races where you don't have a strong opinion.
This is a particularly good strategy if, say, those other two races in a Pick 3 have full or near full fields. For example, a single x 5 horses with 5 horses in a $.50 Pick 3 costs just $12.50.
What about the all button? As a handicapper, you often come across races that are inscrutable. Maybe all the horses look kinda the same, or it's a terrible field of bottom-level maidens – the kind of race that any horse in the field could win. When you've conserved your powder by singling a horse, that makes it a lot easier to spread out with the all button in a race you can't make sense of.
Back to our Pick 3: if you like horses in two of the three Pick 3 races, you can go single-single-all. Even if the two singles are short prices, using the all button in a wide-open field can often produce a big-priced winner for that third and crucial leg.
So, remember: singles can save you money, and there's no shame in hitting the all button when warranted (and when you can afford it).
LATEST DELAWARE RACING NEWS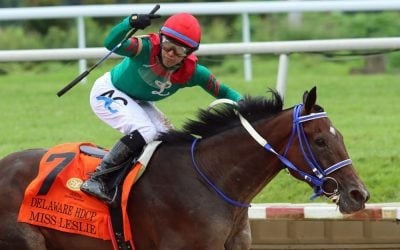 Racing returns to Delaware Park May 24, and we return with Delaware Park picks and analysis for the track's 86th racing season.